Course Code
International Code: HLSH023
Location
Coventry University (Coventry)
Study mode
Full-time
Part-time
Duration
1 year full-time
Start date
September 2022
January 2023
---
Course overview
Study level: HNC/HND courses
The Food Control CertHE course is designed to meet statutory requirements for food inspectors.
Designed for those who wish to become Food Safety Inspectors or Auditors by covering the requirements of the Chartered Institute of Environmental Health's (CIEH) Higher Certificate in Food Control (HCFC).
You will have the opportunity to study food regulation and law, food microbiology, food standards and food inspection, hygiene management systems and current issues affecting the food chain.
Study in the state-of-the-art Alison Gingell Building which features a suite of analytical and biological laboratories where you can gain hands-on experience.
Develop transferable skills in accessing, evaluating and reporting scientific information, decision-making, teamwork, entrepreneurship and communication.

Global Ready
An international outlook, with global opportunities

Teaching excellence
Taught by lecturers who are experts in their field

Employability
Career ready graduates, with the skills to succeed
Why Coventry University?
An award-winning university, we are committed to providing our students with the best possible experience. We continue to invest in both our facilities and our innovative approach to education. Our students benefit from industry-relevant teaching, and resources and support designed to help them succeed. These range from our modern library and computing facilities to dedicated careers advice and our impressive Students' Union activities.
No.6
The Complete University Guide 2021
Accreditation and Professional Recognition
This course is accredited and recognised by the following bodies:

Chartered Institute of Environmental Health (CIEH)
This course is accredited by the Chartered Institute for Environmental Health (CIEH) to deliver the academic content of the CIEH Higher Certificate in Food Control, the baseline qualification for food hygiene and standards, official controls and the inspection of food premises within the UK. Eligibility for membership of the CIEH is gained upon successful completion of the Higher Certificate in Food Control academic content, Competency Development Portfolio and professional discussion. As the course is accredited by the CIEH, you will be entitled to apply for Affiliate membership. Additional costs are payable to the CIEH for membership.
---
---
The CertHE in Food Control is available over 1 year full-time (3 semesters) or 2 years part-time (5 semesters). Whilst we would like to give you all the information about our part-time offering here, it is tailored for each course each year depending on the number of part-time applicants. Therefore, the part-time teaching arrangements vary. Please contact admissions for more information about studying this course part-time.
Modules
Skills for Food Control Sciences

This module aims to assist CertHE students to develop key skills that are essential for the successful study of level 5 and level 6 modules and are of value for future employment. You will be introduced to, and practice, effective literature searching and retrieval, the expectations for scientific writing at university level, numerical and problem-solving skills, oral presentation and effective team working. The ability to work safely in both the laboratory and the academic kitchen, to design experiments and to analyse and present experimental data will be covered. An introduction to key principles necessary for the comprehension of other module topics will be facilitated by online workbooks. This will ensure that, regardless of entry route, you have the fundamental principles and terminology in these areas. You will also be encouraged to reflect on your learning and develop effective study strategies in order to improve performance. You will also reflect on employability skills and career options.

Food Microbiology - 20 credits

Microorganisms play beneficial roles in food production and digestion, but also result in health and economic concerns through food spoilage and food borne infection. This module considers the role of a variety of microbes in food fermentation and in food contamination, leading to spoilage or food poisoning. The gut microbiome and human health, plus host defences to microorganisms are considered. Natural antimicrobials derived from plants and other microorganisms and microbial aspects of food preservation are discussed. This module also aims to develop skills and competencies that are essential for modern food microbiological analysis.

Assessment: Coursework and test

Methods in Food Production - 20 credits

This module will extend some topics to discuss the principles of food production and preservation for reasons of food safety, along with the application of different packaging technologies to extend shelf life. You will learn about common key food production methods and how these are assessed to ensure the safe production of foods. You will learn how processes are designed to control hazards and what can happen when these processes go wrong. The food manufacturing environment can also introduce food safety hazards such as foreign bodies. You will have the opportunity to learn about the different foreign body detection methods and further laboratory analysis techniques that assist in identifying them.

Assessment: Coursework and presentation

Food Inspection and Food Standards - 20 credits

This module assesses the competence to inspect food for safety and apply common food standards legislation at the point of retail sale. It introduces you to a comprehensive range of foods which might be encountered by a Food Inspector or by food industry personnel. It develops the theory and practice behind assessing food safety, food composition and food authenticity. You will gain experience in inspection techniques and the communication skills needed to inspect food competently for safety and standards, as well as the ability to decide upon the most appropriate intervention when issues arise.

Assessment: Coursework and test

Food Law - 20 credits

The module aim is for you to understand the main framework of UK and European food safety hygiene legislation, UK enforcing regulations and relevant standards and guidance. You will also learn to apply appropriate risk-based judgement to the determination of offences and the application of appropriate enforcement tools. You will therefore be able to interpret legislation and determine the most appropriate course of action and intervention in relation to a variety of food-based scenarios. You will also have the opportunity to become familiar with techniques for food premises inspection and auditing, through classroom workshop learning, mock inspection and participation in an interactive online food safety inspection.

Assessment: Coursework and portfolio

Hygiene Management Systems - 20 credits

This module aims to integrate knowledge and skills from previous modules by applying this knowledge and understanding into different food safety management systems such as HACCP, ISO quality systems and allergen management. You will have the opportunity to learn the legally defined steps within the HACCP risk assessment process and be able to develop HACCP plans and critically evaluate them for food safety and legal compliance. You will also see how such systems can be applied to specific hazards such as allergens. The operation of quality systems will also be evaluated to demonstrate how they complement food safety systems. You will also explore how HACCP is applied internationally and how it links with UK national policies on the reduction of foodborne disease. HACCP itself is built upon the foundation of pre-requisite underpinning systems such as cleaning management and pest control management. The principles and appropriate application of such systems are taught for how they exist in isolation and also their application into broader food safety management systems.

Assessment: Coursework and test

Food Law Enforcement Case Studies - 20 credits

The application of the law will be developed further in this module with applying the rules of evidence gathering under the law. Interviewing and evidence gathering under the Police and Criminal Evidence Act 1984 and associated codes of practice will be explored. You will be expected to carry out an inspection or audit of a catering or a manufacturing premises and then apply knowledge and principles gained in the previous modules to assess health risks and then apply appropriate legal controls abiding by legal rules of evidence. The inspection or audit process will therefore require the application of activities such as sampling, photographing, interviewing, evidence gathering and critical evaluation of food safety management systems along with the preparation of legal correspondence and notices. You will furthermore be prepared to write up a prosecution file and present this work during a mock trial role play exercise. This will involve you both planning and presenting your evidence in both the correct legal file format and furthermore presenting the evidence during examination and cross-examination of evidence, as in magistrates' court of law hearing.

Assessment: Coursework and viva
We regularly review our course content, to make it relevant and current for the benefit of our students. For these reasons, course modules may be updated.
---
How you'll learn
The course is taught by a mixture of lectures, laboratories, kitchen-based sessions and interactive workshops and discussion groups. Real life scenarios and current and recent case studies involving food quality and safety issues are used extensively.
As part of the assessments within the course, students will have opportunities to undertake practical inspections of food and food premises and to prepare and present a court prosecution case along with other real-life application of key skills and knowledge such as Hazard Analysis and Critical Control Points, assessing microbiological food sampling results and applying current food safety legislation. These applied assessments are also supported by traditional written assignments and examinations. Outside of the classroom, you will be further supported by online course materials which you are expected to complete in their own time.
In a typical teaching week, you will have up to 15 'contact' hours of teaching. This generally breaks down as:
Personal tutorial/small group teaching: 6 hours of workshops each week.
Medium group teaching: 3 hours of laboratory work each week
Large group teaching: 6 hours of lectures each week.
In addition, you will be expected to undertake a further 24 hours of self-directed study each week eg. working on coursework assignments.
---
Assessment
Each module contains between one and three summative assignments which you must pass with an average mark of 40% or greater. In order for you to show your potential you will be assessed in a variety of formats, including traditional timed assessments, scientific report writing, verbal and written presentations, and participation in group activities.
The Coventry University Group assessment strategy ensures that our courses are fairly assessed and allows us to monitor student progression towards the achieving the intended learning outcomes.
---
Job ready
The course aims to produce competent people who are ready to further their careers within the food industry, especially with regulatory bodies as food safety inspectors.
There is a big emphasis on practice during this course and you will be taught by an experienced teaching team who impart their own research and professional expertise into their teaching. This is supplemented by practitioners and professionals from industry and various regulatory authorities (please note that staff may be subject to change).
You will have opportunities within the course to undertake practical inspections of food and food premises and to prepare and present a court prosecution case, together with many more practical teaching sessions. The course aims to produce graduates who are ready for careers within the food industry, with regulatory bodies and as food inspectors.
---
Five GCSEs graded 9-4 / A*- C including Mathematics, English Language and Science, or specified equivalents, and:
Suitable experience and background from working within the food industry and/or employment and sponsorship from a local authority.
CIEH Intermediate Certificate in Food Safety or any of their other previous Level 3 qualifications such as the Level 3 Award in Supervising Food Safety in Catering, Food Safety Supervision for Manufacturing, HACCP in Catering, HACCP for Food Manufacturing, Food Safety Manufacturing or equivalents from the RSPH or similar.
Applicants will be interviewed by course staff members to assess their experience and suitability to study the qualification
Typical offer for 2022 entry
Select your region to find detailed information about entry requirements:
You can view our full list of country specific entry requirements on our Entry requirements page.
Alternatively, visit our International hub for further advice and guidance on finding in-country agents and representatives, joining our in-country events and how to apply.
English language requirements
IELTS: 6.0 overall, with no component lower than 5.5.
If you don't meet the English language requirements, you can achieve the level you need by successfully completing a pre-sessional English programme before you start your course.
For more information on our approved English language tests visit our English language requirements page.
---
2022/23 Tuition fees
| Student | Full time | Part time |
| --- | --- | --- |
| UK | £5,460 per year | Not available |
| International | £7,500 per year | Not available |
For advice and guidance on tuition fees and student loans visit our Undergraduate Finance page and see The University's Tuition Fee and Refund Terms and Conditions.
We offer a range of International scholarships to students all over the world. For more information, visit our International Scholarships page.
Tuition fees cover the cost of your teaching, assessments, facilities and support services. There may be additional costs not covered by this fee such as accommodation and living costs, recommended reading books, stationery, printing and re-assessments should you need them. Find out what's included in your tuition costs.
---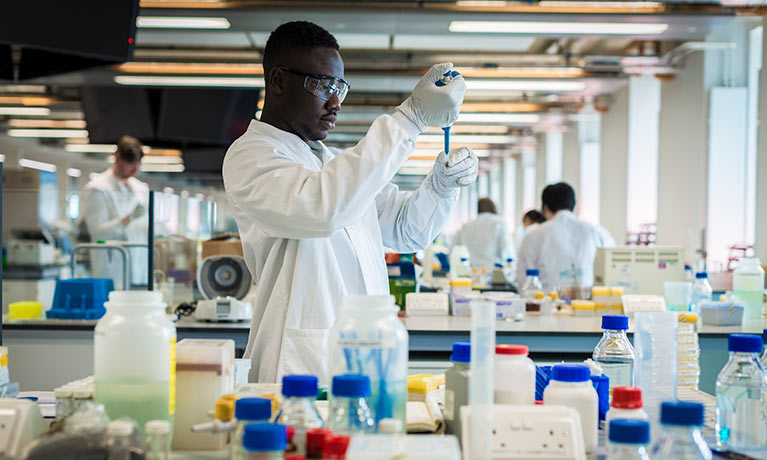 SuperLab
The Alison Gingell Building contains a state-of-the-art SuperLab. The lab's facilities include equipment for microscopy, DNA testing and more.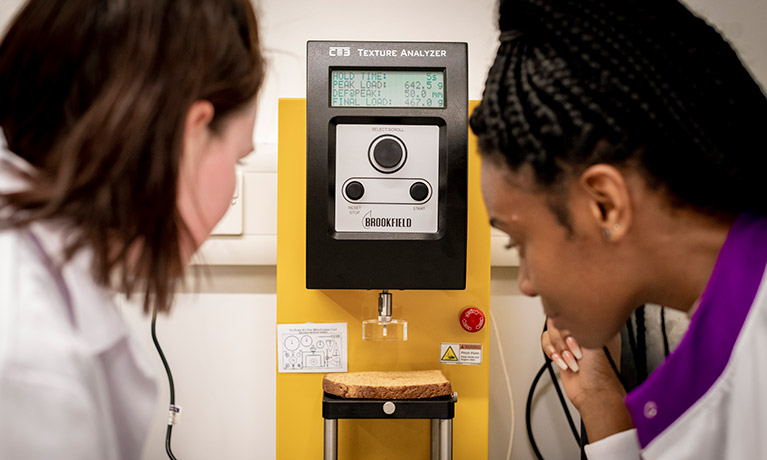 Specialist equipment
Specialist industry-standard facilities include analytical equipment such as Gas Chromatography and High-Performance Liquid Chromatography machines. You will also have access to facilities for texture profile analysis of food and drink.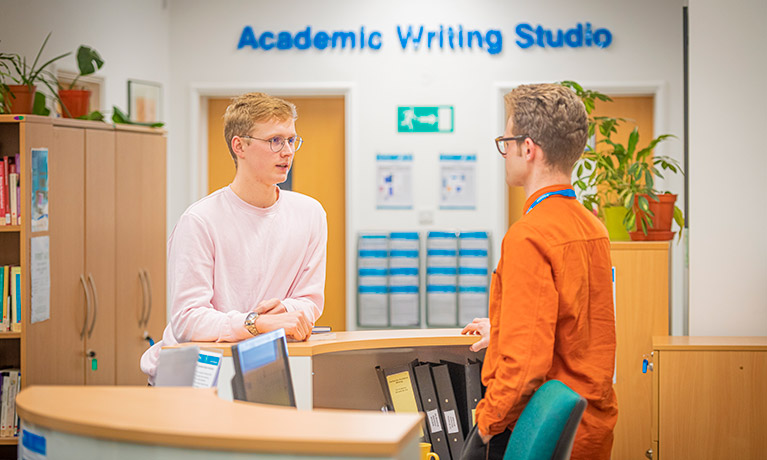 Academic support
No matter which degree you're studying, you'll find a lot of support on campus including the Centre of Academic Writing and sigma, which offers mathematics and statistics support.

---
Careers and opportunities
The course has been designed for those who wish to become Food Safety Inspectors or Auditors by covering the requirements of the Chartered Institute of Environmental Health's (CIEH) Higher Certificate in Food Control (HCFC) qualification (see Accreditation and Recognition section).
Graduates of this course have the opportunity to work in a range of environments related to food control, either in ensuring safety standards or enforcement.
Where our graduates work
Graduates of this course can work in a range of environments related to food control, either in ensuring safety standards or enforcement.
Working as a chef I always interested in food safety, but this course changed my life! All tutors have experience in food control so it was great to hear what it is like when you get a job. All the tutors are very helpful and understanding and the course itself is so well-organised and fun. It was challenging at times, but it felt great to achieve something I never thought I could. It is an amazing course, students very well prepared for what the job is all about.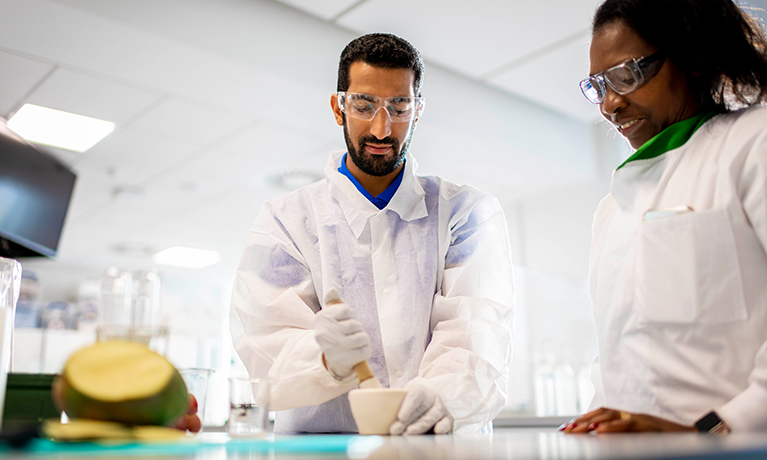 ---
How to apply
UK Students

Students applying to this course should apply directly to the university. Please email our Course Director, Mary-Jane Hawkes.

If you'd like further support or more information about your course get in touch with us today.

Email admissions

---

If our Course Director is not available please contact.

International Students

Students applying to this course should apply directly to the university. Please email our Course Director, Mary-Jane Hawkes.

If you'd like further support or more information about your course get in touch with us today.

Email admissions

---

If our Course Director is not available please contact.
You may also like
Coventry University (Coventry)

Food Safety, Inspection and Control BSc (Hons)
Coventry University (Coventry)

Nutrition and Health BSc (Hons)
---
Disclaimer

Student Contract

By accepting your offer of a place and enrolling with us, a Student Contract will be formed between you and the university. A copy of the 2021/22 Contract can be found here. The Contract details your rights and the obligations you will be bound by during your time as a student and contains the obligations that the university will owe to you. You should read the Contract before you accept an offer of a place and before you enrol at the university.

Tuition fees

The tuition fee for the course that is stated on the course webpage and in the prospectus for the first year of study will apply. We will review our tuition fees each year. For UK and EU students, if Parliament permit an increase in tuition fees, we may increase fees for each subsequent year of study in line with any such changes. Note that any increase is expected to be in line with inflation. Following the UK's exit from the European Union, EU students should be aware that there may be a change to UK laws following the UK's exit, this may change their student status, their eligibility to study part time, and/or their eligibility for student finance. We will act in accordance with the UK's laws in force in relation to student tuition fees and finance from time to time.

For International students the tuition fee that is stated on the course webpage and in the prospectus for the first year of study will apply. We will review our tuition fees each year. For international students, we may increase fees for each subsequent year of study but such increases will be no more than 5% above inflation.

Accreditations

The majority of our courses have been formally recognised by professional bodies, which means the courses have been reviewed and tested to ensure they reach a set standard. In some instances, studying on an accredited course can give you additional benefits such as exemptions from professional exams (subject to availability, fees may apply). Accreditations, partnerships, exemptions and memberships shall be renewed in accordance with the relevant bodies' standard review process and subject to the university maintaining the same high standards of course delivery.

Facilities

Facilities mentioned on this page may not be relevant for every course. Due to the ongoing restrictions relating to COVID-19, some facilities (including some teaching and learning spaces) and some non-academic offerings (particularly in relation to international experiences), may vary from those advertised and may have reduced availability or restrictions on their use.

Placements and study abroad opportunities

Please note that we are unable to guarantee any placement or study abroad opportunities and that all such opportunities may be subject to additional costs (e.g. travel, visas and accommodation etc.), competitive application, availability and/or meeting any applicable visa requirements. To ensure that you fully understand the requirements in this regard, please contact the International Office for further details if you are an EU or International student.

Additional costs

This course may incur additional costs associated with any field trips, placements or work experience, study abroad opportunities or any other opportunity (whether required or optional), which could include (but is not limited to), equipment, materials, bench fees, studio or facilities hire, travel, accommodation and visas).