Biomedical Science/Applied Biomedical Science BSc (Hons)
Study level:

Undergraduate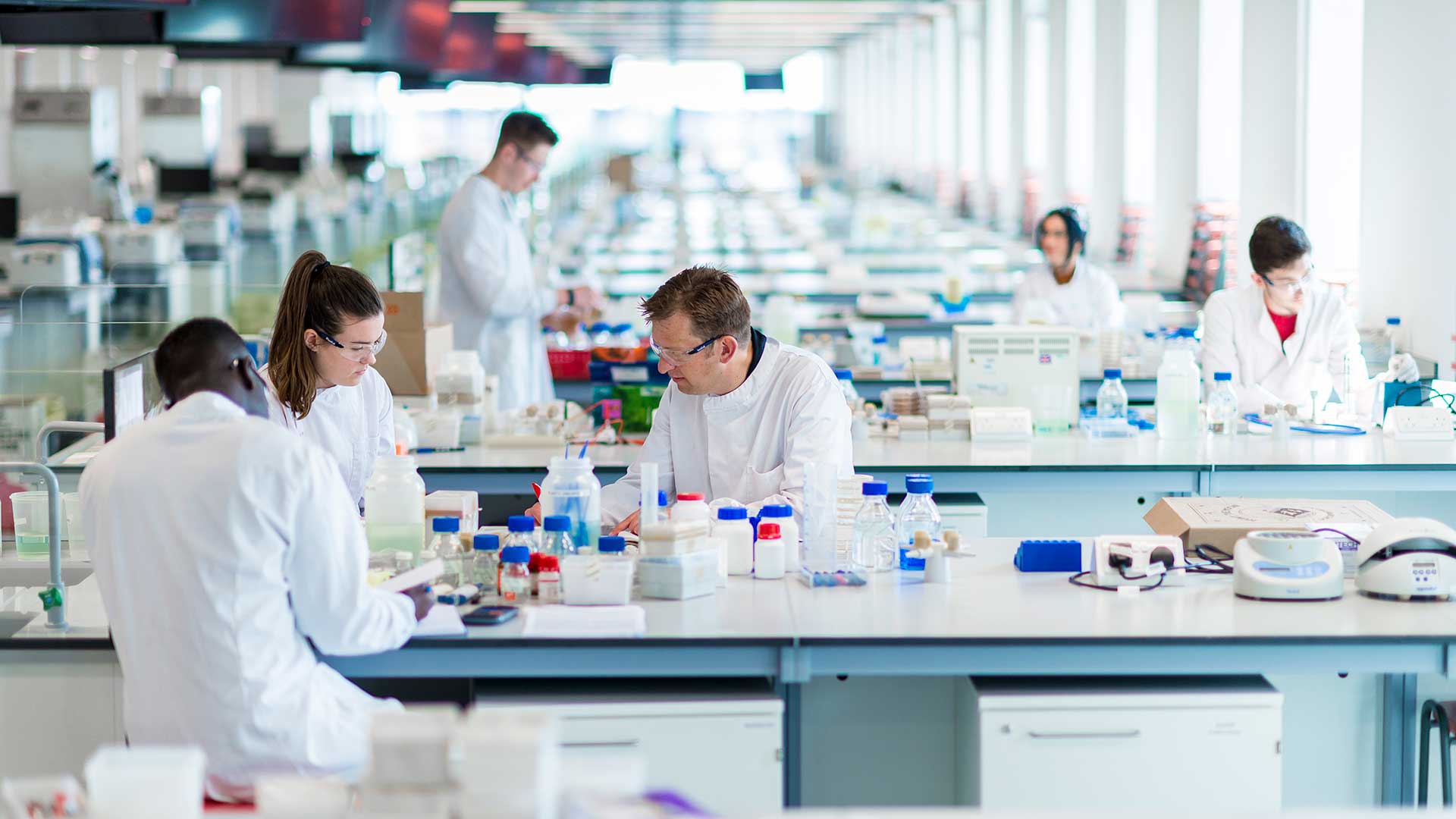 Our Biomedical Science/Applied Biomedical Science degree integrates a range of biological disciplines to promote understanding of how the human body works and the biology of disease.
Location
Coventry University (Coventry)
Study mode
Full-time
Sandwich
Duration
3 years full-time
4 years sandwich
Start date
September 2023
January 2024
---
Course overview
Key contributors to modern healthcare, biomedical scientists play a vital role in the diagnosis, prevention and treatment of disease, monitoring treatments and developing advanced diagnostic tools or novel therapeutic strategies.
Throughout the course you will gain practical experience in the laboratories based in our state-of-the-art Alison Gingell Building. Here you will learn and develop the key skills and techniques required for working in a laboratory.
You will explore the human body in health and disease, from the functioning of whole body systems down to cell and molecular processes.
Course content provides knowledge in the mechanisms, diagnosis and therapeutics of human disease with particular emphasis placed on the specialist areas of biomedical science: clinical biochemistry, medical microbiology, cellular pathology, haematology, immunology and genetics.

Joint Top Modern University for Career Prospects
Guardian University Guide 2021 and 2022

5 QS Stars for Teaching and Facilities
QS Stars University Ratings

Top 5 UK Student City (Coventry)
QS Best Student Cities Index 2023
Why you should study this course
Well-equipped suite of analytical and biological laboratories where you can gain hands-on experience using industry-standard techniques4.
Support applying for placements in laboratory and industrial settings to gain crucial real-world experience2.
We focus on student-centred teaching in which you devise and carry out your own laboratory experiments so that you can demonstrate your ability to work independently and solve problems to future employers.
You'll be taught by experienced academic staff who have a range of hospital and research laboratory experience, bringing their expertise into their teaching (staff subject to change).
To practice as a biomedical scientist, you must hold an IBMS (Institute of Biomedical Science) accredited degree1 and also be registered with the Health and Care Professions Council (HCPC). Students are enrolled on Biomedical Science BSc (Hons) - those who undertake a 12-month placement between years two and three in an approved laboratory, and complete a training portfolio, are then transferred on to Applied Biomedical Science BSc (Hons) for the final year of study. The academic content of both courses is the same, however those on Applied Biomedical Science are eligible to apply for HCPC registration and biomedical scientist roles upon graduation (additional costs may apply).
Accreditation and professional recognition
The degree is accredited1 and recognised by the following bodies:

Institute of Biomedical Science - Accredited Programme
Both the Biomedical Science and Applied Biomedical Science courses are accredited by the Institute of Biomedical Science (IBMS) for the 2023/24 intake.
---

Health and Care Professions Council
Applied Biomedical Science is approved by the Health and Care Professions Council.
---
Our Award-winning Green Superlab
With space for over 250 students and packed full of industry-standard equipment, the Coventry University Superlab is an amazing place to learn, experiment and discover. Find out what we're doing in our Superlab to make it greener and reduce our waste and carbon emissions.
The thing I enjoy most about the course is the labs - the staff are so prepared and we are doing lots of interesting experiments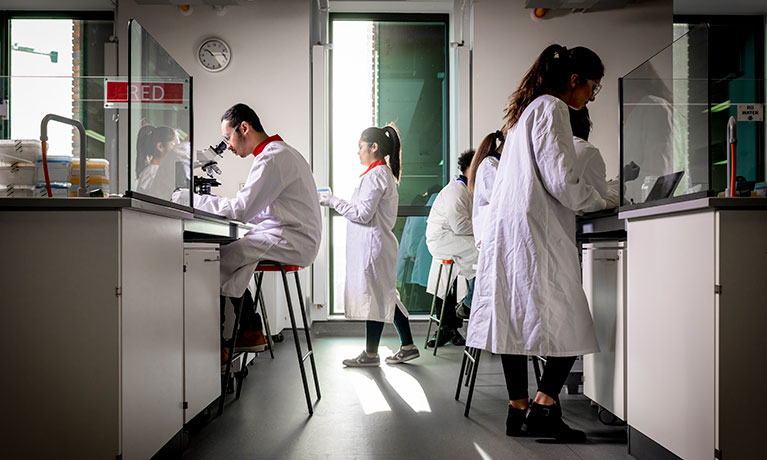 ---
This course has a common first year.
The common first year enables you to work alongside students doing similar courses to you, to widen your knowledge and exposure to other subject areas and professions. You will have the opportunity to collaborate with other students, so you can share your insights and experience which will help you to develop and learn.
If you discover an interest in a specific subject you have studied, upon successful completion of your first year, you could swap degrees with another course in your common first year (subject to meeting progression requirements).
Common first year courses
Biological and Forensic Sciences BSc (Hons)
Human Biosciences BSc (Hons)
Pharmacology BSc (Hons)
In the first year, the curriculum is shared across related courses allowing you to gain a broad grounding in the discipline before going on, in the second and third years, to specialist modules in your chosen field.
Modules
Human physiology: Homeostasis and Health - 20 credits

You will study the physiology, organisation, structure, and function of key physiologic/organ systems (e.g., nervous, musculo-skeletal, endocrine, cardiovascular, respiratory, reproductive, gastrointestinal, and renal systems). You will investigate cause-and-effect mechanisms and the interaction between systems in maintaining homeostasis and good health. There will be some discussion of consequences of homeostatic mechanisms breaking down to foster an understanding of human body function with an appreciation of disease states. You will be introduced to laboratory-based techniques e.g., electromyography, electrocardiograms, and spirometry, for the measurement of different physiological variables. You will also develop study skills such as accessing scientific literature, appropriate referencing and academic writing.

Genetics, Heredity and Evolution - 20 credits

This module will introduce the fundamental principles of inheritance, human genetics, population genetics and evolutionary principles. Inheritance patterns including human blood groups and mitochondrial inheritance patterns will be explored. Ethical issues surrounding access to genetic information will be discussed as well as the impact of historical events and projects. You will take part in collaborative working and develop presentation and peer feedback skills.

Structure, Function and Analysis of Biomolecules - 20 credits

This module examines the structure and function of key biological molecules. Chemical principles relating to proteins, carbohydrates and lipids will be considered and linked to function. This module will also place emphasis on the fundamental techniques used to analyse biological molecules and the principles of these methods. The theory and practical application of relevant analytical methods will be considered. Throughout this module there will also be the development of Good Laboratory Practice and fundamental laboratory procedures and techniques. You will be introduced to R, a programming language for statistical computing and graphics, and use it in the analysis of data.

Cell Communication, Structure, and Function - 20 credits

You will examine cellular structure, communication, enzymes and metabolic pathways in this module. Cellular interactions and cell signalling will be included and considered alongside aspects of pharmacodynamics and pharmacokinetics. The energy used to drive these processes will be considered especially in relation to the role of enzymes of catalysts. Key metabolic and signalling pathways will be explored and considered in relation to drug development processes.

The Microbial World - 20 credits

This module introduces the different types of infectious agents that are relevant to human health and considers the different ways in which these agents can be cultured, enumerated, controlled and analysed. Relevant laboratory techniques are also developed and used to consolidate the theoretical teaching. The immune system and the key components are also introduced and examined in the way in which these are relevant to preventing and eliminating infection. Current and emerging topics such as vaccination and antimicrobial resistance are also discussed.

Applied Techniques in Biology - 20 credits

In this module you will explore the application of fundamental biology principles to practical exercises, to mimic real-life scenarios in commercial and applied biology. The module considers, among other things, our genetic information, its structure, function and inheritance (genotype), and how this determines the characteristics of an individual (phenotype). The module introduces you to human individual variation and the central dogma of DNA to RNA to protein (transcription and translation). In addition, you will seek to gain knowledge and skills relating to the retrieval and analysis of biological sequence information using bioinformatics tools and analytical software such as Excel and R. Ethical issues, such as increased access to genomic information, quality control and accreditation issues, will be considered. You will be supported to understand and practice effective collaboration strategies, including record keeping and use of collaborative software, plus giving and receiving of feedback.
In Year two, you will develop more advanced knowledge and skills to do with infectious disease and immune defence, genetic basis of disease, haematology and blood disorders, cellular basis of disease and metabolic and endocrine disorders, among others.
Modules
Genetic Basis of Disease - 20 credits

In this module you will consider the consequences of mutations and chromosomal abnormalities in human inherited disease states, and the methods used for their detection and diagnosis. You will examine a number of well-characterised examples of single gene disorders and chromosomal aneuploidies, integrating understanding of genetic changes with altered molecular and cellular function leading to pathophysiological symptoms. You will also consider prenatal and neonatal screening and technologies that permit reproductive choices and gene technologies that offer potential therapeutic strategies. The ethical and societal implications of these technological advances will be debated.

Infectious Disease and Immune Defence - 20 credits

In this module you will explore the links between pathogenesis and the causative agents of communicable disease. Notable and current communicable diseases will be studied with a focus on how infection presents in human hosts and the virulence factors that enable pathogens to establish infection. You will also investigate the different types of antimicrobial agents available, their mechanisms of action and use in treatment. You will consider the body's immune defence to pathogen attack, both through the innate and adaptive immune response, extending the depth and breadth of this topic from your previous studies. You will study the development of lymphocytes and the ability of the immune system to distinguish self and non-self cells and molecules, including the immune response to tissue transplants. The use of biotechnology to create recombinant antibody-based therapies will also be considered.

Haematology and Blood Disorders - 20 credits

This module aims to introduce you to the key principles of haematology from the formation and function of blood cells through to understanding of common blood disorders. Nutritional anaemia is covered including blood morphology, along with sickle cell anaemia, bone marrow turnover and the reticulocyte. You will also have the opportunity to study an introduction to the coagulation cascade and laboratory diagnosis for bleeding/clotting disorders. The module also introduces you to key concepts and processes in transfusion science, including blood grouping systems, compatibility testing of blood products and practices for safe and effective transfusion. You will then be able to apply this understanding to patient case studies and laboratory practice.

Cellular Basis of Disease - 20 credits

In this module you will explore the life cycle of eukaryotic cells, cell signalling pathways, interactions between cells and their extracellular environment, and protein folding, trafficking and modification pathways. You will extend your understanding of normal cellular processes considered in Year 1 and take a more detailed focus on control mechanisms. You will also consider the consequences of aberrations in these cellular events and the resulting disease manifestations, based on contemporary research literature. Laboratory sessions will include histopathological examination and introduce you to contemporary techniques to assess gene expression changes.

Metabolic and Endocrine Disorders - 20 credits

During this module you will consider the mechanisms that operate within the human body to enable maintenance of key biochemical parameters within defined limits (homeostasis), and the consequences of disease processes. You will undertake a detailed examination of human nutrition, appetite control, digestion, absorption and metabolism of key nutrients, integrating these aspects to then explore dysfunction and associated disease states. You will also consider aspects of the endocrine system that control growth and metabolism (pituitary and thyroid hormone functions) and reproductive function, together with associated disorders. You are introduced to key diagnostic procedures within the clinical biochemistry laboratory linked to these topics.

Biomedical Science Professional Practice - 20 credits

This module will enable you to further develop your professional competencies. This includes enhancement of skills in experiment design, literature research, statistical analysis of data, laboratory confidence and competence, and transferable skills including teamwork and communication. You will be expected to collaborate with other professionals within the healthcare arena, and with service users, and to exhibit professional standards of conduct and behaviour. You will be supported to prepare for application, interview and selection processes for future employment or further study opportunities. The placement process and opportunities available will be introduced, as well as support for those wishing to undertake a placement2.
There's no better way to find out what you love doing than trying it out for yourself, which is why a work placement can often be beneficial. Work placements usually occur between your second and final year of study. They're a great way to help you explore your potential career path and gain valuable work experience, whilst developing transferable skills for the future.
If you choose to do a work placement year, you will pay a reduced tuition fee3 of £1,250. For more information, please go to the fees and funding section. During this time you will receive guidance from your employer or partner institution, along with your assigned academic mentor who will ensure you have the support you need to complete your placement.
Modules
Professional Experience Sandwich Year (Approved Biomedical Science laboratory with IBMS portfolio completion)

Professional Experience Sandwich Year

Enhancement Year
Year three aims to bring you to the level to enter the world of work by consolidating your knowledge and skills from years one and two. You could also work on a large final project in an area of your interest, with the support of a mentor and your Academic Personal Tutor.
Modules
Medical Microbiology and Virology - 20 credits

In this module you have the opportunity to investigate the pathogenesis, diagnosis, and treatment of clinically relevant microorganisms. The epidemiology of current and relevant infectious diseases will be studied, as well as the role of interventions such as vaccination programmes and public health and infection control policies in the control of the spread of infection. You will also study implications of antimicrobial resistance (AMR) both globally and locally, particularly the identification and treatment of resistant infections, consideration will also be given to current strategies to tackle AMR.

Clinical Biochemistry and Immunology - 20 credits

This module aims to enable you to understand the scientific underpinning for laboratory investigations in clinical chemistry and immunology. It builds on the knowledge and skills you developed in the Metabolic and Endocrine Disorders module previously studied to consider laboratory investigation of patients for disorders of water and electrolytes, acid/base balance, further aspects of endocrine disorders and toxicology investigation. Quality control and quality assurance within the clinical chemistry laboratory, and the development of Point of Care Testing (POCT) devices are considered in greater depth and detail. The immunology section of the module extends your understanding of the immune system as a defence against infectious disease to focus on topics such as the links between chronic inflammation and disease, immunodeficiency (both innate and adaptive), autoimmunity and hypersensitivity.

Cancer Biology - 20 credits

This module extends your learning from Year 2 to explore, in detail, the molecular, genetic and cellular mechanisms of cancer. You will discuss inherited cancer syndromes, inherited predisposition to cancer and somatic mutations and cancer. You will focus on the key hallmarks of cancer which define and explain the properties of malignant cells. These concepts are linked to applications in biomedical science including improved diagnostic approaches, personalised therapies and preventative strategies. During the module you will consider -omics-based approaches, and their current and future potential.

Clinical Haematology and Transfusion Science - 20 credits

This module extends your previous learning on haematology to a more advanced consideration of haematological disorders and safe transfusion practices. Coverage of anaemias is focussed on the thalassemias and more complex clotting disorders and anticoagulation therapies are discussed. You will also consider haematological malignancies. Transfusion science aspects of the module will focus on the role of the laboratory in ensuring safe transfusion, potential hazards and adverse transfusion reactions, and haemolytic disease of the newborn.

Research Design in Biomedical Science - 20 credits

This module aims to support and prepare you through the process of defining your research question, planning your experiments and considering the most appropriate data analysis methods for your final year research project. The module is designed to enhance your skills in literature searching, experimental design, scientific writing, data processing and statistical analysis. You will be required to submit your proposal for ethical and health and safety approval, and to address key aspects of project management and logistics. You will also consider how novel ideas and findings can be harnessed to deliver commercial value. You will have the chance to discuss the multidisciplinary nature of enterprise and innovation, opportunities for commercial development of ideas and an awareness of intellectual property.

Independent Project in Biomedical Science - 20 credits

The aim of this module is for you to conduct a piece of investigative research, which may be laboratory or non-laboratory based, in a specialised area of Biomedical Science. This module follows from the Research Design in Biomedical Science module, and you implement your research proposals in this module. The variety and scope of projects allows you to pursue your own interests, potentially linked to future career aspirations, and to integrate prior skills and knowledge. You are supported and guided by your supervisor, but are encouraged to develop independence of thought, and the ability and confidence to adapt and evolve your research ideas, based on reflective practice.
We regularly review our course content, to make it relevant and current for the benefit of our students. For these reasons, course modules may be updated.
---
Throughout your studies, you will have the opportunity to develop a good knowledge of a range of disciplines and how they apply to human health and disease. Your course will be predominately taught via campus-based sessions, in the multi-million-pound Alison Gingell Building, and will include both theory classes, such as lectures and workshops, as well as laboratory-based practical classes4.
Our experienced teaching team currently includes staff with a variety of both research and industrial backgrounds including staff who are HCPC registered with interests and expertise in a wide range of disciplines which align to the course content (please note staff may be subject to change). The practical laboratory sessions will be supported by an extensive suite of biological and analytical laboratories, staffed by experienced technicians, allowing you to work in a professional environment from day one4.
---
Teaching contact hours
In a typical teaching week, you will have around 17 'contact' hours of teaching. The contact hours may be made up of a combination of face-to-face teaching, individual and group tutorials, and online classes and tutorials. In addition, you will be expected to undertake a further 20 hours of self-directed study each week e.g. working on coursework assignments.
As an innovative and enterprising institution, the university may seek to utilise emerging technologies within the student experience. For all courses (whether on-campus, blended, or distance learning), the university may deliver certain contact hours and assessments via online technologies and methods.
In response to the COVID-19 pandemic, we are prepared for courses due to start in or after the 2023/2024 academic year to be delivered in a variety of forms. The form of delivery will be determined in accordance with Government and Public Health guidance. Whether on campus or online, our key priority is staff and student safety.
---
Assessment
This course will be assessed using a variety of methods which will vary depending upon the module.
Assessment methods include:
Core tests
Essays
Group work
Presentations
Reports
Projects
Coursework
Case studies
Portfolios
Competency tests
Individual Assignments
The Coventry University Group assessment strategy ensures that our courses are fairly assessed and allows us to monitor student progression towards achieving the intended learning outcomes.
---
International experience opportunities
Our sandwich degree option allows a work placement or study year, which can be taken abroad2. Previous students have undertaken fieldtrips to Malawi where they have educational engagement with groups of children participating in diverse community projects at local primary and nursery schools, assisted in monitoring the state of boreholes in rural villages, made sun dried bricks for building projects and climbing the challenging mount Mulanje.
We have previously run a number of field trips to European cities including Brno in the Czech Republic and Amsterdam.
With the SuperLab, we can use so many different types of specialised equipment that are the same as those used in industry. One of my favourite things was designing an experiment as a group, which was really interesting because it was like a snippet of what my future career as a biomedical scientist could be.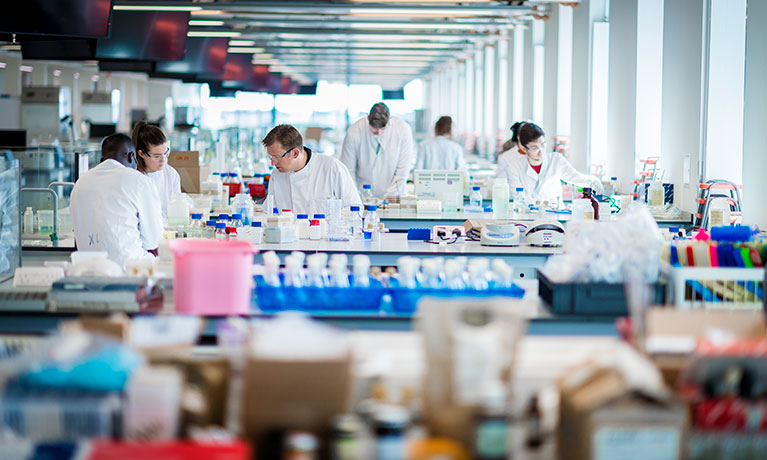 ---
Entry requirements
Typical offer for 2023/24 entry.
---
Fees and funding
2023/24 tuition fees.
Student
Full-time
Part-time
UK, Ireland*, Channel Islands or Isle of Man
£9,250 per year
Not available
EU
£9,250 per year with EU support bursary**
£18,300 per year without EU support bursary**
Not available
International
£18,300 per year
Not available
If you choose to do a work placement2, you should consider travel and living costs to cover this. There is also a tuition fee3 of £1,250 that will cover your academic support throughout your placement year.
For advice and guidance on tuition fees and student loans visit our Undergraduate Finance page and see The University's Tuition Fee and Refund Terms and Conditions.
We offer a range of International scholarships to students all over the world. For more information, visit our International Scholarships page.
Tuition fees cover the cost of your teaching, assessments, facilities and support services. There may be additional costs not covered by this fee such as accommodation and living costs, recommended reading books, stationery, printing and re-assessments should you need them. Find out what's included in your tuition costs.
The following are additional costs not included in the tuition fees:
Any optional overseas field trips or visits: £400+ per trip.
Any costs associated with securing, attending or completing a placement (whether in the UK or abroad)
*Irish student fees
The rights of Irish residents to study in the UK are preserved under the Common Travel Area arrangement. If you are an Irish student and meet the residency criteria, you can study in England, pay the same level of tuition fees as English students and utilise the Tuition Fee Loan.
**EU support bursary
Following the UK's exit from the European Union, we are offering financial support to all eligible EU students who wish to study an undergraduate or a postgraduate degree with us full-time. This bursary will be used to offset the cost of your tuition fees to bring them in-line with that of UK students. Students studying a Degree with a Foundation Year with us are not eligible for the bursary.
How do you know if you need to pay UK or international tuition fees?

We carry out an initial fee status assessment based on the information you provide in your application. Your fee status determines your tuition fees, and what financial support and scholarships may be available to you. The rules about who pays UK (home) or international (overseas) fees for higher education courses in England are set by the government's Department for Education. The regulations identify all the different categories of student who can insist on paying the home rate. The regulations can be difficult to understand, so the UK Council for International Student Affairs (UKCISA) has provided fee status guidance to help you identify whether you are eligible to pay the home or overseas rate.

If you meet all the criteria required by any one category, including any residence requirements, your institution must charge you the home rate. You only need to find one category that you fit into.
---
Facilities
This course is taught predominantly in the Alison Gingell building, Coventry University main campus. You will benefit from the outstanding facilities4 in our purpose-built Alison Gingell building, including our biomedical science SuperLab. This outstanding facility enables you to gain hands on experience in contemporary laboratory techniques including flow cytometry, real time PCR and automated analysers as used in hospital diagnostic laboratories.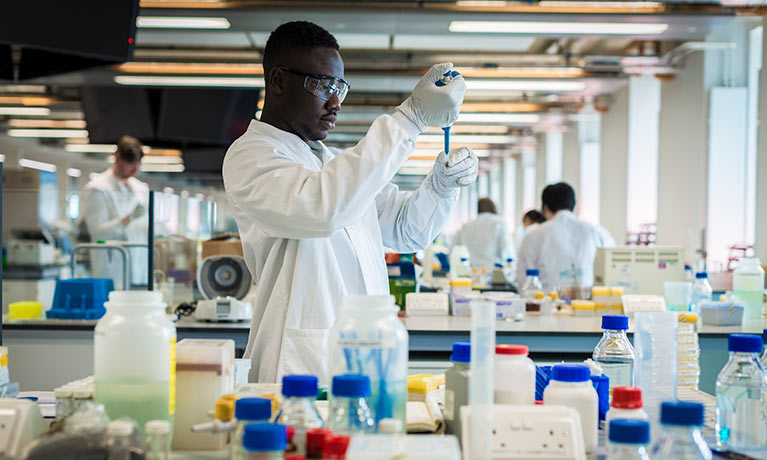 SuperLab
Our state-of-the-art SuperLab can hold up to 250 students at one time and has equipment that allows you to gain skills and experience with techniques and equipment that you will encounter in your graduate careers including biosafety hoods, flow cytometers and DNA sequencers.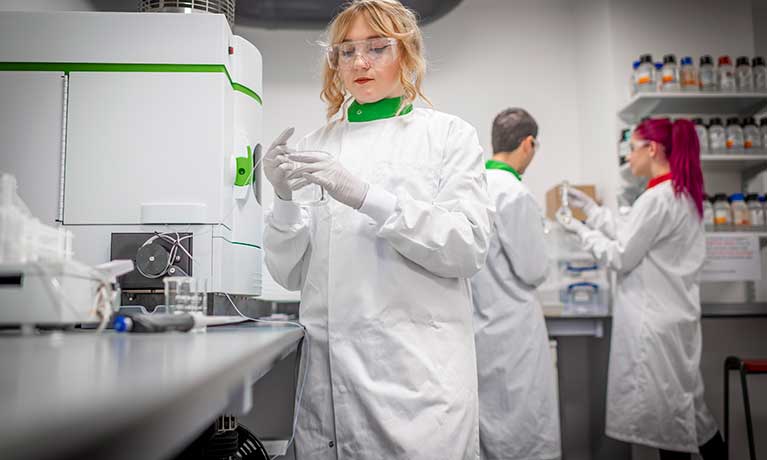 Analytical Chemistry suite
Students apply their practical and theoretical knowledge to real-life working scenarios. We use a new generation chromatography technique to analyse products ranging from pharmaceutical agents, to cosmetics, drinks and toxins.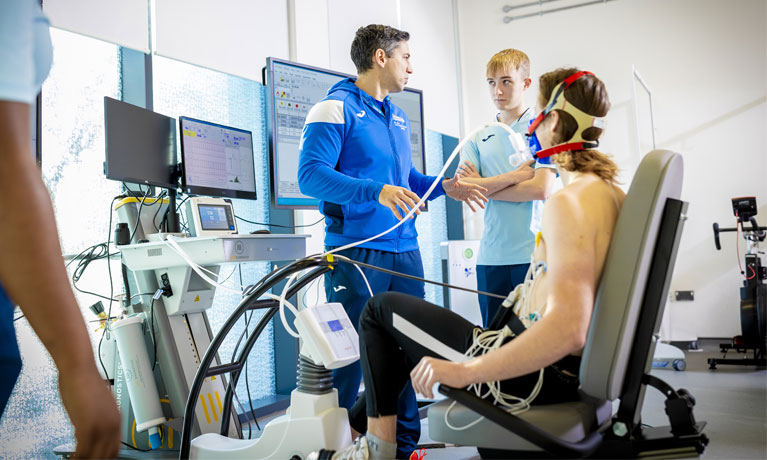 Physiology suite
Separate physiology and health laboratory facilities enable the measurement of physiological parameters such as heart rate, blood pressure, lung function test and neuromuscular functioning.
---
Careers and opportunities
Biomedical Science BSc (Hons) enables you to develop knowledge, skills and competence to prepare you for a variety of careers in biomedical and biological science or for other graduate level roles.
These courses aim to prepare you for professional practice within the NHS or private sector as biomedical scientists (subject to further training, application and registration which may incur additional costs) and a range of other careers including research.
You will be supported in your studies by a team of academically and professionally qualified staff, who also bring their research and commercial expertise to the classroom. Students on placement are supported by a visiting university tutor. Our dedicated and committed staff team are passionate in supporting students through their studies and empowering them to succeed within their chosen career routes.
Possible destinations include hospital, public health and other diagnostic providers, clinical sciences, biotechnology, pharmaceutical, cancer research, microbiology, genetics and genomics laboratories. You may choose to continue your studies to MSc or PhD level to develop your specialist knowledge and research skills, or consider graduate entry to medicine or dentistry, Physicians Associate or teaching qualifications. Equally, the skills you will develop, such as problem-solving, analytical skills and written and oral communication, will enable you to access non-scientific careers such as graduate training schemes, civil service or managerial roles. Thus, the opportunities for graduates of biomedical sciences are diverse and exciting.
Where our graduates work
You will have the opportunity to receive guidance during your studies on the professional routes available to you and the expectations of health professionals. We have excellent links with local employers and are actively in liaison with laboratory managers, training officers and other universities via the West Midlands Biomedical Science Training and Workforce Planning Group and the West Midlands Regional Training Committee (South).
On successful completion of the Biomedical Science BSc (Hons) degree, without a training placement, you can apply for Trainee Biomedical Science posts to enter NHS Health Care Scientist registration training programmes, for which you will typically undergo one to two years of further training to obtain an IBMS certificate of competence so that you can apply for HCPC registration, a legal requirement for anyone who wishes to practice using a title protected by the HCPC.
The scientific knowledge and skills you acquire during the course can be a useful basis for a career in teaching; technical and scientific writing; clinical trials; drug registration, patenting or monitoring; medical publishing or other information services; regulatory affairs or sales and marketing.
Further study
The course is an excellent foundation for further postgraduate studies leading to a MSc or PhD. We run a range or related taught MSc courses that allow our graduates to specialise in the area that they have a passion for and would like to pursue a career in. These courses also have a 'with professional experience' option, allowing students to apply for and complete an extended period of experience in a professional environment.
During my sandwich year, I completed a year-long placement at Public Health England that not only enhanced my personal and professional development but also solidified my ambition to work as a biomedical scientist. I had the opportunity to gain expertise and proficiency in laboratory skills and procedures during the placement year. Throughout the application process and interview preparation, I received one-to-one support and guidance provided by Coventry University's employability team and placement tutors.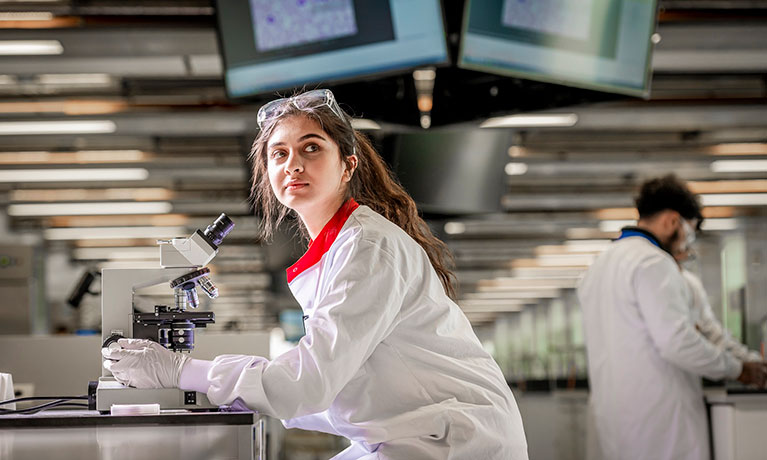 ---
How to apply
UK students

Full-time students applying to start in September 2023 can apply for this course through UCAS from 6 September 2022. Read our application pages to find out your next steps to apply.

Part-time students should apply directly to the university.

---

If you'd like further support or more information about your course get in touch with us today.

International students

International codes:
HLSU249
HLSU231

Full-time students applying to start in September 2023 should apply directly to the university.

How to apply

For further support for international applicants applying for an undergraduate degree view our International hub.

You can also download our International guide which contains lots of useful information about our courses, accommodation and tips for travel.

---

Get in touch with us today for further advice and guidance.
Disclaimers

Coventry University together with Coventry University London Campus, CU Coventry, CU London, CU Scarborough and Coventry University Online come together to form part of the Coventry University Group (the "University") with all degrees awarded by Coventry University.

1Accreditations

The majority of our courses have been formally recognised by professional bodies, which means the courses have been reviewed and tested to ensure they reach a set standard. In some instances, studying on an accredited course can give you additional benefits such as exemptions from professional exams (subject to availability, fees may apply). Accreditations, partnerships, exemptions and memberships shall be renewed in accordance with the relevant bodies' standard review process and subject to the university maintaining the same high standards of course delivery.

2UK and international opportunities

Please note that we are unable to guarantee any UK or International opportunities (whether required or optional) such as internships, work experience, field trips, conferences, placements or study abroad opportunities and that all such opportunities may be subject to additional costs (which could include, but is not limited to, equipment, materials, bench fees, studio or facilities hire, travel, accommodation and visas), competitive application, availability and/or meeting any applicable travel COVID and visa requirements. To ensure that you fully understand the visa requirements, please contact the International Office.

3Tuition fees

The University will charge the tuition fees that are stated in the above table for the first Academic Year of study. The University will review tuition fees each year. For UK (home) students, if Parliament permit an increase in tuition fees, the University may increase fees for each subsequent year of study in line with any such changes. Note that any increase is expected to be in line with inflation.

For International Students, we may increase fees each year but such increases will be no more than 5% above inflation. If you defer your course start date or have to extend your studies beyond the normal duration of the course (e.g. to repeat a year or resit examinations) the University reserves the right to charge you fees at a higher rate and/or in accordance with any legislative changes during the additional period of study.

4Facilities

Due to COVID-19, some facilities (including some teaching and learning spaces) and some non-academic offerings (particularly in relation to international experiences), may vary from those advertised and may have reduced availability or restrictions on their use.

Student Contract

By accepting your offer of a place and enrolling with us, a Student Contract will be formed between you and the university. A copy of the 2023/24 contract can be found here. The Contract details your rights and the obligations you will be bound by during your time as a student and contains the obligations that the university will owe to you. You should read the Contract before you accept an offer of a place and before you enrol at the university.
---
---