Course Code
UCAS Code: W211
International Code: AHU090
Location
Coventry University (Coventry)
Study mode
Full-time
Sandwich
Duration
3 years full-time
4 years sandwich
Start date
September 2023
We are reviewing this course for 2023-24 entry and the validated module information will be added shortly. Please keep checking back on this course page to see our latest updates.
---
Course overview
Study level: Undergraduate
The future graphic designer is visionary, informed, responsible and technically adaptable. Coventry University's Graphic Design BA (Hons) course challenges and guides you to become just that.
The course aims to get you industry-ready, whether that means joining a design business or starting up your own. During the course you will develop an all-round grasp of graphic design and a bespoke portfolio of work that suits your personal career aspirations.
The course aims to offer you:
A comprehensive design foundation: the course equips you with key design principles and experience across a wide range of design contexts. Through an intensive exploration of today's vast graphic design landscape and crucial design theory you'll delve into branding, advertising, packaging, mapping, editorial design, web design, font design and app design.
Creative ownership: the course empowers you to shape your learning alongside preferred routes. Through select modules you will get to choose your own briefs, practice skills you're passionate about and formulate your own views on design.
Expand your portfolio: Your aim will be to develop a strong portfolio of work, and proactively define and pursue your own interests and long-term goals.

Global Ready
An international outlook, with global opportunities

Teaching excellence
Taught by lecturers who are experts in their field

Employability
Career ready graduates, with the skills to succeed
Why you should study this course
Graphic designers harness the power of visual language to shape our perceptions of the world. With this kind of power comes responsibility. Graphic Design at Coventry University isn't just about making 'pretty pictures. Instead, the course enables you to practice graphic design as a means of making meaningful contributions to the world. Here is how:
Exploration: The course fosters ways of working that encourage creative discovery. Play and experimentation with analogue and digital mediums, methods and techniques is embedded in all modules. The course is attuned to industry standards, but it does not aim to replicate the working world; instead, it provides a safe space for innovation and uninhibited imagination.
Employability: The course prepares you to be a productive force within industry. You will gain confidence and key professional skills by working on authentic design briefs, with real clients, taking part in studio visits and portfolio reviews, attending guest and alumni talks and showcasing your work through participation in renowned competitions such as D&AD2. All opportunities with real clients are subject to availability
Technical Skill: The course wants you to take pride in the work that you make. Attention to detail and industry standard designs are developed through practiced skill and iteration. Craftsmanship is considered just as important as a clever idea.
Critical Thinking: The course believes that an inquisitive and investigative mindset leads to original designs. You will learn to gather data, ask questions and draw conclusions to justify design decisions. In a world of questionable news and misinformation, an informed, inquisitive designer can begin to make a change in local, national and global communities.
Storytelling: The course channels the power of design to connect and engage with people. Not only will you use design to solve problems, but through storytelling methods you will also access design's ability to enchant and activate emotions.
---
What you'll study
This course has a common first year.
The common first year enables you to work alongside students doing similar courses to you, to widen your knowledge and exposure to other subject areas and professions. You will have the opportunity to collaborate with other students, so you can share your insights and experience which will help you to develop and learn.
If you discover an interest in a specific subject you have studied, upon successful completion of your first year, you could swap degrees with another course in your common first year (subject to meeting progression requirements).
Common first year courses:
Automotive and Transport Design BA (Hons)
Graphic Design BA (Hons)
Product Design BA (Hons)
We are making some exciting changes to our courses, and we want to get it just right so we can make your learning experience the best it can be. Please keep checking our website to see the great opportunities coming your way and learn more about what you'll study.
In the first year, the curriculum is shared across related courses allowing you to gain a broad grounding in the discipline before going on, in the second and third years, to specialist modules in your chosen field.
In year two, you will continue to develop the skills and knowledge you've learnt. We do this by embedding the following four principles into the curriculum and developing your:
Technical skills – digital fluency, backed with the right academic knowledge
Study skills – to be an adaptive, independent and proactive learner
Professional skills – to have the behaviour and abilities to succeed in your career
Global awareness – the beliefs and abilities to be a resilient, confident and motivated global citizen
In Year 2, you will develop more advanced knowledge and skills to do with: design narratives, design professionalism, and design as a cause, amongst others.
There's no better way to find out what you love doing than trying it out for yourself, which is why a work placement2 can often be beneficial. Work placements usually occur between your second and final year of study. They're a great way to help you explore your potential career path and gain valuable work experience, whilst developing transferable skills for the future.
If you choose to do a work placement year, you will pay a reduced tuition fee3 of £1250. For more information, please go to the fees and funding section. During this time you will receive guidance from your employer or partner institution, along with your assigned academic mentor who will ensure you have the support you need to complete your placement.
For more information please go to the fees and funding section.
Year three aims to bring you to the level to enter the world of work by consolidating your knowledge and skills from years one and two.
We regularly review our course content, to make it relevant and current for the benefit of our students. For these reasons, course modules may be updated.
---
How you'll learn
The course prides itself on a holistic approach which exposes you to a wide range of graphic design contexts and outputs. You will experiment and practice with materials, methods and technologies as you learn about the creation, production and distribution of design work.
Theory, research and critical enquiry are seen as integral to the design process and will guide the development of work on most modules. Technical skills instruction sessions introduce you to fundamental practical and software tools, including the Adobe suite. The course encourages play and whilst it has employability at its core it does not aim to fully replicate the industry environment, making space also for creative exploration and the uninhibited investigation of ideas that could pave the way to future innovation.
You will achieve increasing levels of control over what you make and how you make it as your confidence and creative voice becomes more established during your Coventry University Graphic Design journey.
This course is taught through a combination of lectures, tutorials, seminars and workshops. The course is not prescriptive, instead it proposes lines of inquiry which you are encouraged to engage with and study outside of class.
---
Teaching contact hours
We understand that everyone learns differently, so we'll look to manage your learning journey to match your strengths and aspirations. Your learning experience on each of our courses will consist of structured teaching sessions, which can include:
On campus lectures, seminars and workshops
Group work
Self-directed learning
Work placement opportunities.
If you would like more information, you can request information about teaching hours.
Part of university life is undertaking self-directed learning. During a typical week you will have time that allows you to work independently to apply the skills and knowledge you have learnt in taught or facilitated sessions to your projects or assignment briefs. This self-directed learning allows you to use your research skills, consolidate your knowledge or undertake collaborative group work.
As an innovative and enterprising institution, the university may seek to utilise emerging technologies within the student experience. For all courses (whether on-campus, blended, or distance learning), the university may deliver certain contact hours and assessments via online technologies and methods.
---
Assessment
This course is assessed using a variety of methods that recognise module-specific skills and learning. You are predominantly assessed by coursework and assessment methods prepare you for the diverse contexts in which your design work may exist.
Assessment methods include:
Practical coursework
Digital coursework
Individual work
Group work
Live presentations
Video presentations
Video essays
Academic essays
The Coventry University assessment strategy aims to ensure that our courses are fairly assessed and allows us to monitor student progression towards achieving the intended learning outcomes.
---
International experience opportunities
There are opportunities for exchange with students on a similar course in overseas universities. For example, second and third year students will be provided with opportunities to visit an international university as part of their studies. European cultural visits will be offered to all students in all years.
Throughout the course, graphic design projects are set with an international focus, enhancing your global experience and broadening your mindset. Students will also engage in Collaborative Online International Learning (COIL) projects with partner institutions and other international universities around the world.
Please note that all international experience opportunities may be subject to additional costs, competitive application, availability and meeting applicable visa and travel requirements and are therefore not guaranteed2.
To be a good graphic designer is to be a good communicator, and with that ability students have the potential to achieve within a huge spectrum of creative communications-related fields. We love seeing our students find their voices, grow their knowledge and develop their skills during their time with us.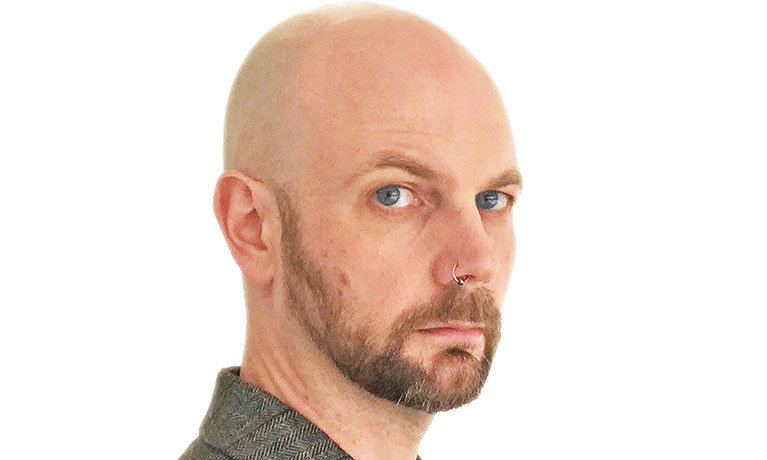 ---
Typical offer for 2023 entry.
| Requirement | What we're looking for |
| --- | --- |
| A level | BBC |
| GCSE | Minimum 5 GCSE's graded 9-4 / A* - C or equivalent, including English |
| BTEC | DMM |
| IB Diploma | 29 points |
We recognise a breadth of qualifications, speak to one of our advisers today to find out how we can help you.
Are you eligible for the Fair Access Scheme?
We believe every student should have the opportunity to dream big, reach their potential and succeed, regardless of their background.
Select your region to find detailed information about entry requirements:

You can view our full list of country specific entry requirements on our Entry requirements page.
If you do not have the typical entry requirements, you may want to consider studying this course with an international foundation year. Upon successful completion our International Foundation Year - Art, Design and Media will provide you with the knowledge and skills you need to progress onto this undergraduate degree.
Alternatively, visit our International hub for further advice and guidance on finding in-country agents and representatives, joining our in-country events and how to apply.
English language requirements
IELTS: 6.0 overall, with at least 5.5 in each component area.
If you don't meet the English language requirements, you can achieve the level you need by successfully completing a pre-sessional English programme before you start your course.
For more information on our approved English language tests visit our English language requirements page.
---
Fees and funding
2023/24 Tuition fees
| Student | Full time | Part time |
| --- | --- | --- |
| UK | TBC per year | Not available |
| International | TBC per year | Not available |
If you choose to do a work placement, you should consider travel and living costs to cover this. There is also a tuition fee of £1,250 that will cover your academic support throughout your placement year.
For advice and guidance on tuition fees and student loans visit our Undergraduate Finance page and see The University's Tuition Fee and Refund Terms and Conditions.
We offer a range of International scholarships to students all over the world. For more information, visit our International Scholarships page.
Tuition fees cover the cost of your teaching, assessments, facilities and support services. There may be additional costs not covered by this fee such as accommodation and living costs, recommended reading books, stationary, printing and re-assessments should you need them. Find out what's included in your tuition costs.
---
Facilities
The Faculty of Arts and Humanities is joining two of our school's completely refurbished Art and Design buildings and adding a range of new facilities4. These will include a hyper studio designed for cross-disciplinary projects; immersive studios with cutting-edge virtual reality and mixed-reality technologies. Our aim is to offer you sector-leading facilities in a unique environment. The new facility is planning to open in late 2022.
Our current digital and industrial workshops are of industry-standard quality and house 3D rapid prototyping, laser cutters and milling machines. These facilities are available to all students on our courses at no extra cost. These are subject to availability.
We also have a ceramic and small-metal-working workshop, a large digital print bureau, and clay modelling studios where you can realise your creative artistic and design solutions.
The fashion workshops have digital embroidery machines, digital printers and a printmaking workshop that includes etching, screen printing and a rare, one of only three in existence in the UK, letterpress studio.
In our Mac and PC CAD labs, you can become digitally literate in presentation and design skills using the Adobe suite of software. You can also learn other software packages including Alias, Toom Boom, Revit, and Maya that maybe relevant to your studies.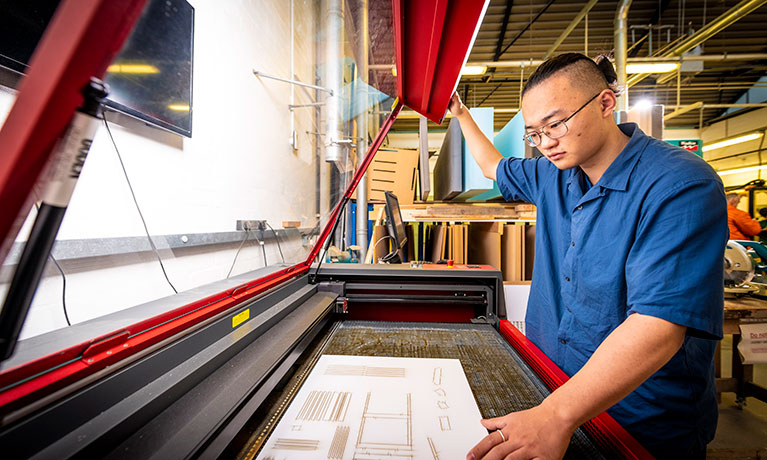 Print-making workshops
Our print-making space features silk-screen printing, relief printing and etching facilities that you can use to generate artwork for your graphic design projects. (Location: Delia Derbyshire Building)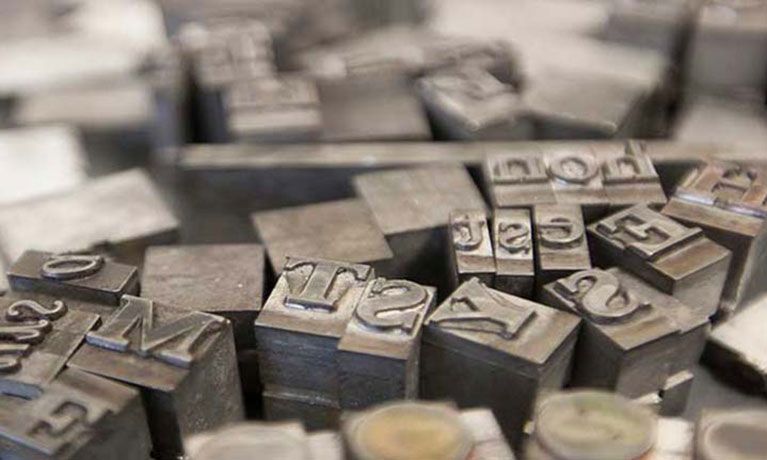 Letterpress workshop
Our letterpress workshop provides the opportunity to typeset using authentic metal and wooden type, and print your text on an original handpress.
(Location: Delia Derbyshire Building).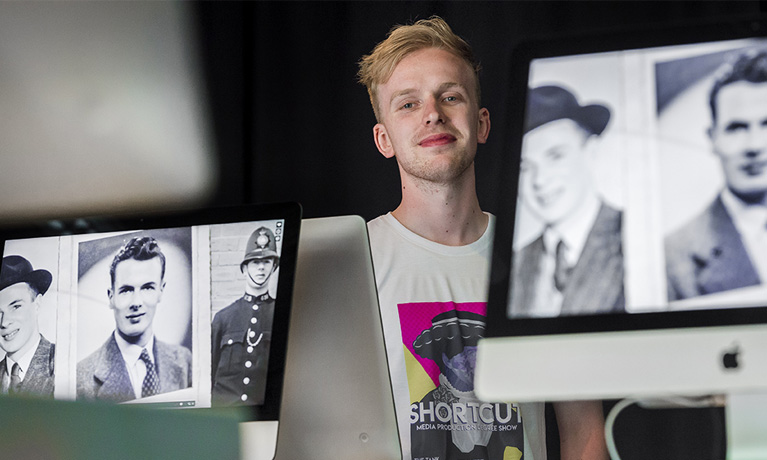 Software suites
Our studios are equipped with the latest Adobe software, meaning you have cutting-edge digital tools with which to design print or multimedia products. (Location: Delia Derbyshire Building).
---
Careers and opportunities
The structure of the course, the experiences and support made available to you are all designed with a view to developing the skills, competencies and imaginative thinking necessary for a creative career in a demanding, competitive and rapidly changing work environment.
Whether you choose to enter employment in a design agency or studio upon graduation, or have dreams of becoming self-employed, the course aims to produce graduates that are flexible, responsive and resilient. Whatever your career trajectory, we work together to make you industry ready.
The university's Talent Team is on hand to offer tailored career and enterprise support if you wish to gain employment or take advantage of professional practice opportunities within course specific industries. It aims to provide specialist careers information, advice and guidance to all our students from their first year through to final year and beyond graduation, helping them receive the opportunities to reach their desired career outcome.
Our graphic design students are regular winners of reputable design competitions such as D&AD and the Penguin Cover Design Award, and they received many YCN commendations. Our graduates have gone on to create award winning advertising campaigns for Silver Spoon and moving imagine work for The Mill, user interfaces for IBM, marketing work for premier UK football teams, and campaign touchpoints for Vintage Books' release of Kamala Harris' New York Times bestselling book 'The Truths We Hold'.
Where our graduates work
BOND Agency
Exient
FutureDeluxe
Kaizen
Rebel Creatives
Sky TV
Simon & Schuster
The Football Association
THG
Tottenham Hotspur Football Club
Whiteroom Agency
Our graduates have also produced freelance work for organisations including MTV, Natwest, Xbox, Nike, HEAD, BBC, Channel 4, Sports Relief and Children in Need.
Further study
Advertising & Marketing MA
Brand Management MA
Illustration MA
International Marketing MA
Digital Marketing Management MSc
International Marketing Management MSc
The course allowed me to gain both practical and theoretical knowledge that I can take into the future. It helped me gain confidence in my design work and enabled me to work alongside different studios in London and Liverpool to gain real experiences and network in the community. In addition, the lecturers were really helpful and encouraged me to produce my best work that allowed me to graduate from the course with a strong portfolio.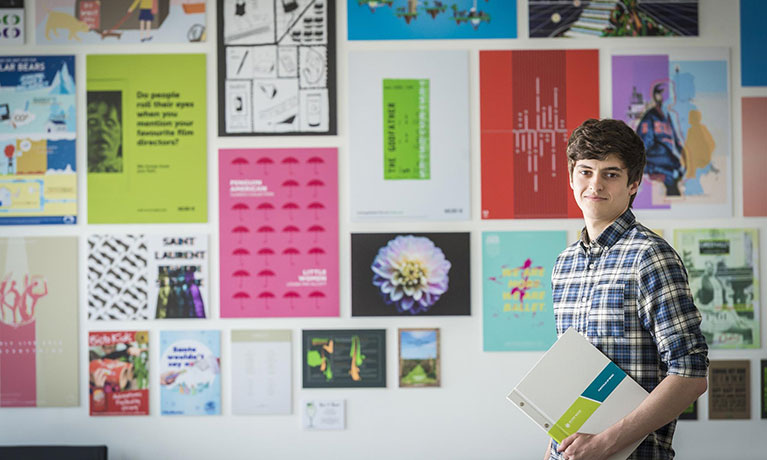 ---
How to apply
UK Students

Full-time students applying to start in September 2023 can apply for this course through UCAS from 6 September 2022.

Part-time students should apply directly to the university. Read our application pages to find out your next steps to apply.

---

If you'd like further support or more information about your course get in touch with us today.

International Students

Full-time students applying to start in September 2023 should apply directly to the university. Applications are due to be open in June 2022, so please return to this page to fill out your application.

How to apply

For further support for international applicants applying for an undergraduate degree view our International hub.

You can also download our International guide which contains lots of useful information about our courses, accommodation and tips for travel.

---

Get in touch with us today for further advice and guidance.
You may also like
Coventry University (Coventry)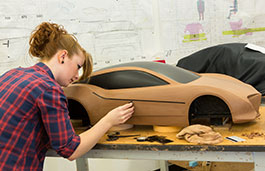 Automotive and Transport Design BA (Hons)
Coventry University (Coventry)

Coventry University (Coventry)
---
---
Disclaimer

1Accreditations

The majority of our courses have been formally recognised by professional bodies, which means the courses have been reviewed and tested to ensure they reach a set standard. In some instances, studying on an accredited course can give you additional benefits such as exemptions from professional exams (subject to availability, fees may apply). Accreditations, partnerships, exemptions and memberships shall be renewed in accordance with the relevant bodies' standard review process and subject to the university maintaining the same high standards of course delivery.

2UK and international opportunities

Please note that we are unable to guarantee any UK or International opportunities (whether required or optional) such as internships, work experience, field trips, conferences, placements or study abroad opportunities and that all such opportunities may be subject to additional costs (which could include, but is not limited to, equipment, materials, bench fees, studio or facilities hire, travel, accommodation and visas), competitive application, availability and/or meeting any applicable travel COVID and visa requirements. To ensure that you fully understand the visa requirements, please contact the International Office.

3Tuition fees

The University will charge the tuition fees that are stated in the above table for the first Academic Year of study. The University will review tuition fees each year. For Home Students, if Parliament permit an increase in tuition fees, the University may increase fees for each subsequent year of study in line with any such changes. Note that any increase is expected to be in line with inflation.

For International Students, we may increase fees each year but such increases will be no more than 5% above inflation. If you defer your course start date or have to extend your studies beyond the normal duration of the course (e.g. to repeat a year or resit examinations) the University reserves the right to charge you fees at a higher rate and/or in accordance with any legislative changes during the additional period of study.

4Facilities

Facilities are subject to availability. Due to the ongoing restrictions relating to COVID-19, some facilities (including some teaching and learning spaces) may vary from those advertised and may have reduced availability or restrictions on their use.

Student Contract

By accepting your offer of a place and enrolling with us, a Student Contract will be formed between you and the university. The 2022/23 Contract is currently being updated so please revisit this page before submitting your application. The Contract details your rights and the obligations you will be bound by during your time as a student and contains the obligations that the university will owe to you. You should read the Contract before you accept an offer of a place and before you enrol at the university.