Civil Engineering BSc (Hons)
Study level:

Undergraduate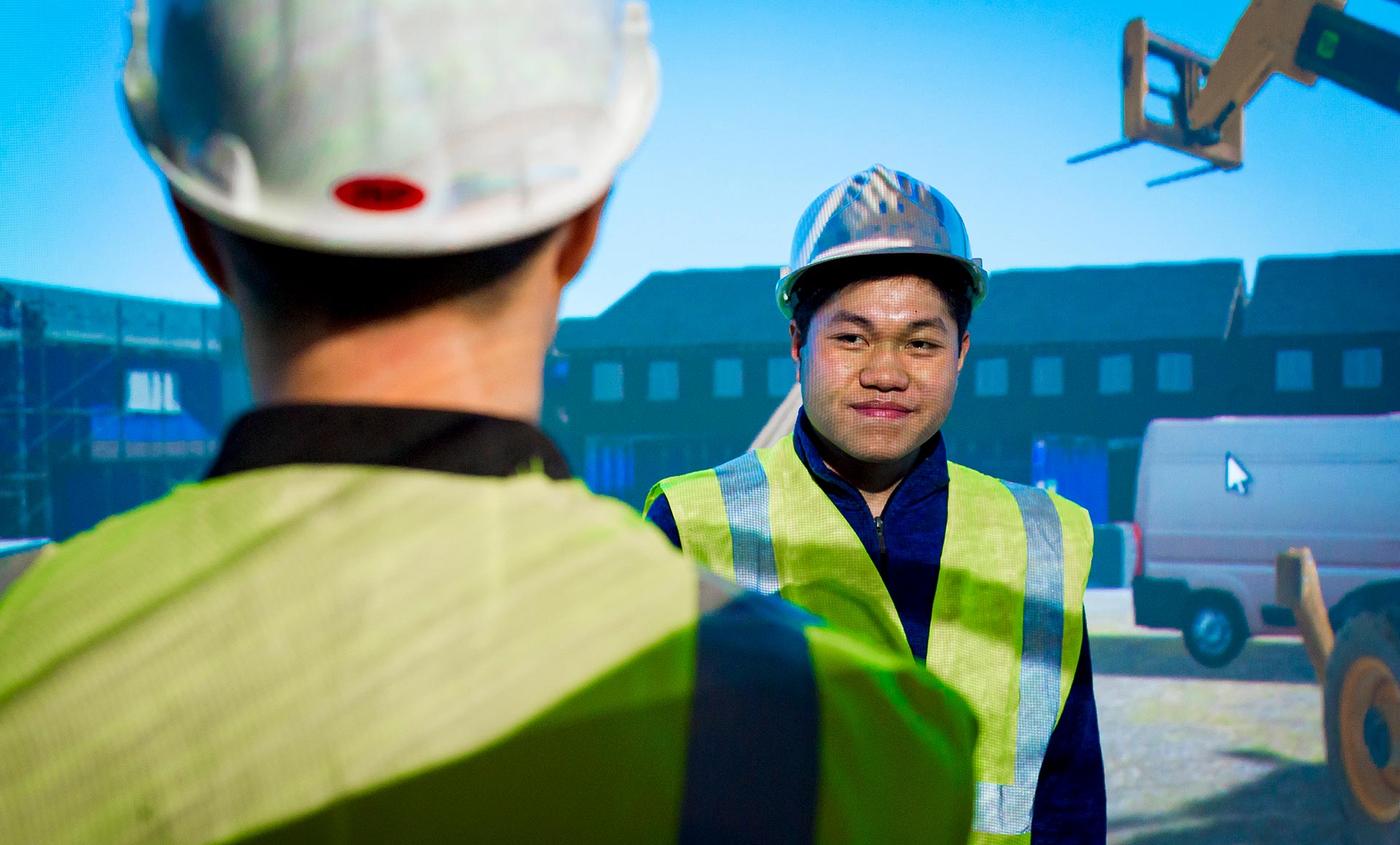 The BSc (Hons) Civil Engineering course is aimed toward students with aspirations to become incorporated engineers and who wish to study civil engineering with an emphasis on practice and construction.
Location
Coventry University (Coventry)
Study mode
Full-time
Sandwich
Duration
3 years full-time
4 years sandwich
Start date
September 2023
---
Course overview
This course aims to develop the technical, practical and managerial skills necessary to analyse, design and manage innovative and complex engineering problems.
You will have opportunities to draw on real-life case studies provided by companies such as Arcadis, CGL, Crossrail and Galliford Try.
You will have access to industry-standard software, widely used by design and consulting engineers4.
You will be presented with opportunities to apply for industrial placements2 at companies which have previously included: Atkins, Balfour Beatty, Interserve, Morgan Sindall, Mott MacDonald, Severn Trent Water and Warwickshire County Council.

Joint Top Modern University for Career Prospects
Guardian University Guide 2021 and 2022

5 QS Stars for Teaching and Facilities
QS Stars University Ratings

Top 5 UK Student City (Coventry)
QS Best Student Cities Index 2023
Why you should study this course
Practical activities and application of knowledge through project-led learning in design project modules.
Exercises in the Simulation Centre4 (a full-scale simulated construction environment) to experience real challenges of construction management in a controlled environment and to develop professional and leadership skills.
Opportunity to apply for an international field trip2 to enhance your global awareness and experiences.
Several optional modules allow you to tailor your course to your specific interests. You can select from Computational Methods in Civil Engineering, Engineering Hydrology, Transport Infrastructure, Strategic Construction Project Management and Structural Design.
Work alongside students from other Construction and Environment related courses such as Surveying, Architectural Technology and Geography to widen your knowledge and exposure to other subject areas and professions.
Accreditation & professional recognition
This course is recognised1 by: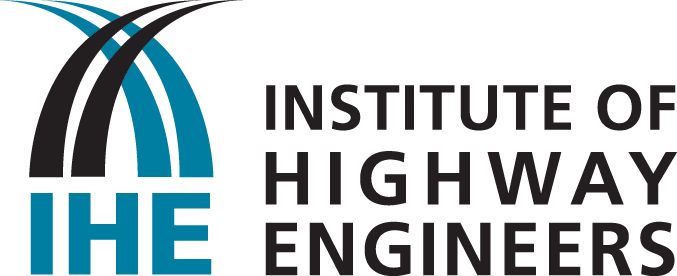 Partnership
Coventry University has signed an academic-professional partnership agreement with The Institute of Highway Engineers (IHE) as part of IHE's Academic-Professional Partnership Scheme. The purpose of the scheme is for the IHE to provide support, advice and guidance on the membership of a professional Institute. The IHE can also provide advice and assistance on the routes toward professional registration for students studying civil engineering with a particular interest in highways and transportation. For more information visit the IHE website.
---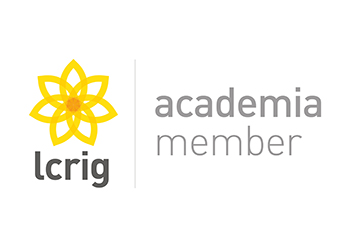 Membership
Coventry University has been awarded a membership of the The Local Council Roads Innovation Group (LCRIG). This network enables the College of Energy, Construction and Environment (ECE) to align its Civil Engineering course to this membership. The LCRIG membership provides the school and its students a chance to join a community of like-minded councils, organisations and individuals, all of whom are driving change through innovation and technological advances across the local roads network.
---
---
In the first year, the curriculum is shared across related courses allowing you to gain a broad grounding in the discipline before going on, in the second and third years, to specialist modules in your chosen field.
Modules
Geotechnics and Construction Materials – 20 credits

This module will introduce you to the fundamentals of engineering geology and soil mechanics. You will develop an ability to identify soil properties and assess their suitability for specific applications within the construction industry, while considering construction methods, safety and sustainability. The module will also introduce you to the sustainability of construction materials and the properties that are used to select them for applications in civil engineering and construction. You will develop an appreciation of the types of materials, issues with their sustainability and examples of their use within the construction industry.

Surveying and Transportation Engineering – 20 credits

The aim of the module is to introduce the concepts of Surveying and Transportation within the field of Construction and Civil Engineering. You will learn practical skills relating to Surveying and Highways design, along with the background knowledge to be able to use them. We will cover how Surveying methods are used on-site to control horizontal and vertical aspects of Construction work.  You will also develop practical knowledge and a critical understanding of Highways and Transport.

Construction Project – 20 credits

The aim of this module is to introduce you to construction industry practice and the breadth of aspects to be considered at various stages of a construction project. You will primarily act as a contractor, tasked with planning the execution of a provided design. Due consideration must be given to meeting the clients' requirements, sustainable construction practice, minimising environmental impact, and health and safety.

Structural Analysis and Mathematics – 20 credits

When tackling real-world problems, Civil Engineers often need to apply mathematical principles and processes or fundamental knowledge in relation to structural mechanics. The aim of this module is to develop your mathematics and problem-solving ability and to introduce you to the fundamental principles of structural mechanics to enable you to solve engineering problems of a routine nature commensurate with the IEng pathway.

Structural Engineering Design Project – 20 credits

The aim of this module is to apply core civil engineering theory to a 'real' Civil Engineering project, demonstrating the link between theory and applied practice. This will incorporate theory previously learned and applied practice taught through the module supported by examples of industry practice.

Sustainable Environments – 20 credits

This module offers you a practical examination of how the United Nations (UN) Sustainable Development Goals (SDGs) can be implemented and furthered within the Built and Natural Environment. The module will introduce you to how individuals, communities and businesses within the Built and Natural Environment could be responding to the UN SDGs and helping to transform the world through their impact. The module will identify how the SDGs impact your course discipline by exploring the 17 SDGs and focusing on the delivery and implementation of a student-led project that encompasses the most applicable SDG or a combination of SDGs to your specific academic discipline.
In year two, you will develop more advanced knowledge and skills to do with: structural analysis, project management, and soil mechanics, amongst others.
Modules
Hydraulics and Transportation Engineering – 20 credits

The aim of the module is to enhance your understanding for two key subjects of Civil Engineering: Hydraulics and Transportation Engineering. For Hydraulics, you will study all the essential theory required to understand pipe and open channel flow at a basic level. For Transportation Engineering, the module will deepen your knowledge and critical understanding of highways and transportation, covering relevant content on Highway and Rail Engineering at an intermediate level 

Structural Analysis and Design – 20 credits

The module aims to develop your knowledge and methods of structural design with the underpinning principles and structural analytical methods.  This module will provide you with fundamental knowledge and skill in structural modelling using industrial standard computer software.  You will be encouraged to make maximum use of knowledge and experience gained in other civil engineering modules for the solution of design problems.  Consideration for Sustainability in design will be highlighted. This module will consider aspects of structural modelling, design and carbon reduction considerations embodied in the design process.

Civil Engineering Design Project – 20 credits

The aim of this module is to apply core civil engineering theory to a 'real' civil engineering project, demonstrating the link between theory and applied practice. This will incorporate theory previously learnt and applied practice taught through the module supported by examples of industry practice. The project will allow students to address some, or all, of Sustainable Development Goals 9, 11, 12, and 13.

Soil Mechanics and Materials – 20 credits

This module will give you more advanced knowledge of the characteristics of construction materials, their application and their environmental impact in a sustainable and durable built environment, along with further understanding of strength and the behavioural response of soils incorporating core engineering knowledge with practical application. This module will also develop the necessary skills to acquire and analyse experimental data for use in solving engineering problems of a routine nature commensurate with the IEng pathway.

Project, Finance and Contract Management – 20 credits

This module will develop your understanding of the tools and techniques of project management and how to prepare and administer a construction contract using a Standard Form of Contract. The module will also explore procurement process for a built asset with a focus on finance, and the critical factors influencing the parties to the contract and the impact of their interactions on the project activities.

Sustainable Environments in Society: Developing Solutions – 20 credits

In this module, you will undertake a critical analysis of a specified location and associated project that has been influenced by the United Nation's (UN) Sustainable Development Goals (SDGs). Your analysis of the project will explore the impact, success or failure alongside possible solutions that will be fundamental to the positive future development of the location. You will research, appraise, critique, develop and then communicate to a wider audience the impact and implementation of the identified SDGs for the location/ project. The focus of the review will be linked to your academic discipline within the Built and Natural Environment and draw upon prior learning from your previous cognate knowledge.
Work placements usually occur between your second and final year of study. They're a great way to help you explore your potential career path and gain valuable work experience, whilst developing transferable skills for the future2.
If you choose to do a work placement year, you will pay a reduced tuition fee3 of £1,250. For more information, please go to the fees and funding section. During this time you will receive guidance from your employer or partner institution, along with your assigned academic mentor who will ensure you have the support you need to complete your placement.
For more information please go to the fees and funding section.
Whilst we would like to give you all the information about our placement/study abroad offering here, it is often tailored for each course every year and depending on the length of placement or study abroad opportunities that are secured. Therefore, the placement and study abroad arrangements vary per course and per student. Request further information about going on a placement or study abroad year.
Modules
UK Work Placement – 0 credits

This module2 provides you with an opportunity to reflect upon and gain experience for an approved placement undertaken during your programme. A placement should usually be at least 26 weeks or equivalent; however, each placement will be considered on its own merits, having regard to the ability to achieve the learning outcomes.

International Study/Work Placement – 0 credits

This module2 provides you with an opportunity to reflect upon and gain experience for an approved international study/work placement undertaken during your programme. A work/study placement should usually be at least 26 weeks or equivalent; however, each placement will be considered on its own merits, having regard to the ability to achieve the learning outcomes.
Year three aims to bring you to the level to enter the world of work by consolidating your knowledge and skills from Year one and two. You should develop more advanced knowledge and skills to do with structural design, engineering analysis, and transport infrastructure, amongst others.
Modules
Interdisciplinary Project – 20 credits

The aim of this module is to demonstrate your skills base through the continued development of critical, transferable study skills that are of practical benefit in the workplace and that promote and enable continued professional development, and by bringing skills developed in other areas of the course(s) to a practical project delivered as part of a group, as well as incorporate internationalisation through an international field trip2, drawing from the wide range of nationalities and experiences of the students as appropriate to the professional body guidance.

Skills are developed through a continuous review of collaborative and communication experiences while tackling an interdisciplinary group project that aims to further develop the students' understanding of industrial collaboration within a Building Information Management scenario. The purpose of the project is to develop key learning skills and personal attributes that are required within the Civil Engineering, Environmental Engineering and Built Environment professions, these will also prepare the students for professional work, demonstrating teamwork, project planning, critical and research evaluation as well as technical and personal reflection.

Research Dissertation – 20 credits

The aim of this module is to enable you to develop your research skills by conducting primary or secondary research focused on a specific problem of relevance to their discipline. You would use different methods and research skills, gained over previous years of study, to effectively communicate research novelties and ideas to the academic and non-academic communities. It will contribute to the research training aim appropriate to your level of study and requires you to demonstrate an understanding of the principles of research and to show an appropriate level of competence in the design, execution, and reporting of a research project. It will enable you to understand the importance of correct and critical analysis of all the factors involved in a problem and develop your initiative as you pursue and execute the investigation, demonstrating originality and creativity. You will be required to ensure that your work conforms to appropriate codes of practice and standards, meeting the ethical requirements of the University. Successful completion of the research investigation will require a methodical approach and planning, self-management, and effective communication. Support and guidance will be provided by a supervisor who will be the primary point of contact for a student on this module.

Engineering Analysis – 20 credits

The module leads on from the "Structural Analysis and Design (BSc)" and "Soil Mechanics and Material (BSc)" in presenting the principles and applications of engineering analysis on plastic collapse of steel beams and foundation design. This module also furthers the study of materials technology focusing on degradation processes, specification and repair of materials used within civil engineering and the construction industry with specific reference to durability and refurbishment consideration to reduce carbon emission in infrastructure development projects. This is to prepare students for civil engineering practice to solve problems in systems with structures, their foundations with considerations of their long-term performance.

Optional module, 1 from the following 3:

Computational Methods in Civil Engineering
Strategic Construction Project Management
Structural Design

Computational Methods in Civil Engineering – 20 credits

This module introduces the main principles of computational methods and computer programming aspects in Civil Engineering. Students will acquire fundamental knowledge of machine logic, will be familiarised with a programming syntax for basic data analytics and will practice their coding skills for solving civil engineering problems. In addition, the module uses basic computational analysis tools to execute numerical methods applicable to both static and dynamic engineering problems. Students will develop and demonstrate knowledge and understanding of computational methods and modelling techniques. Also, the numerical methods learned in this module will be placed in the context of applications within engineering using finite element analysis techniques.

Strategic Construction Project Management – 20 credits

Project Management (PM) is a much needed and indispensable skill in the construction industry regardless of the type and size of organisations or the sectors they work in. A PM's role starts from inception of projects and extends to end-of-life scenarios and includes everything in between. This module will enable critical awareness and deliver a greater understanding of some of the advanced principles of construction management. Project Management helps organisations manage change, deliver against strategic objectives and achieve competitive advantage. It aims to develop and enhance students' understanding and ability to apply project management tools and techniques, especially in a relevant case study scenario. A secondary focus of the module will be the application of leadership skills required by modern construction project managers including research and inquiry skills, interpersonal relationships and an understanding of the students' own cognitive and communication skills applied through the construction simulation centre.

Structural Design – 20 credits

The aim of this module is to apply structural engineering theory to the 'real-life design' of complex structural members of diverse types of building structures. You will develop a wider and deeper understanding of structural design and the use in construction of a range of civil and structural engineering works. The module will consider up-to-date aspects of a more advanced nature and will include references to the latest guidance given in the Eurocodes and associated UK National Annexes. Particular attention will be given to safety and sustainability considerations embodied in design. In appropriate cases, some lectures will be given by practicing engineers from the industry and some self-guided research will be required.

Optional module, 1 from the following 2:

Transport Infrastructure
Engineering Hydrology

Transport Infrastructure – 20 credits

This module is divided into four themes: bridge analysis, fundamentals of tunnelling, railway design, and pavement design and maintenance. The module will examine current aspects in the industry practice using the current design and construction codes underpinned by the relevant research enriched learning (REL) given attention to safety, sustainability and contemporary issues in transport infrastructure planning, design and construction.

Engineering Hydrology – 20 credits

There is a strong need for engineering graduates who can solve problems such as flooding and pollution. This module is designed to cover essential engineering principles like environmental fluid mechanics, hydrology and hydraulic engineering to enable students to apply mathematical and fluid mechanics principles to solve a range of hydrological problems. The course will prepare you for work in areas such as the water industry, sustainable urban development, flood and environmental management.
We regularly review our course content, to make it relevant and current for the benefit of our students. For these reasons, course modules may be updated.
---
How you'll learn
The highly practical nature of the course should enable you to work with staff and students on real-world problems from industry, commerce, and research groups2. This means that while we cover the technical content of your degree, these projects aim to develop the professional skills required to perform in the field, including (but not limited to):
Problem analysis and design
Project, task, and time management
Risk assessment
Teamwork and leadership
Technical report and engineering assessment
Troubleshooting
---
Teaching contact hours
We understand that everyone learns differently, so each of our courses will consist of structured teaching sessions, which can include:
On campus lectures, seminars and workshops
Group work
Self-directed learning
Work placement opportunities2
The number of contact hours may vary from semester to semester, however, on average, it is likely to be around 14-15 contact hours per week in the first and second year dropping to around 11 contact hours per week in the final year as you become a more independent learner.
In addition, you will be expected to undertake approximately 30-35 hours of self-directed study per week depending on the demands of individual modules. This self-directed learning allows you to use your research skills, consolidate your knowledge or undertake collaborative group work.
As an innovative and enterprising institution, the University may seek to utilise emerging technologies within the student experience. For all courses (whether on-campus, blended, or distance learning), the University may deliver certain contact hours and assessments via online technologies and methods.
---
Assessment
This course will be assessed using a variety of methods which will vary depending upon the module.
Assessment methods include:
Formal examinations
Phase tests
Essays
Group work
Presentations
Reports
Projects
Coursework
Exams
Individual Assignments
Laboratories
The Coventry University Group assessment strategy ensures that our courses are fairly assessed and allows us to monitor student progression towards achieving the intended learning outcomes.
---
International experience opportunities
There is a mandatory international field trip2 within the second year. You will need to fulfil a design brief while considering the local climate, physical terrain, resources available, social and cultural environment. The cost of this mandatory field trip is to be confirmed. Please revisit this page before applying.
You may also seek to undertake a relevant professional/international placement year between Years two and three of an undergraduate degree. This opportunity is encouraged to provide students with the depth of experience that such an opportunity affords. Assistance with acquiring a relevant placement is offered by our Talent Team4.
---
Entry requirements
Typical offer for 2023/24 entry.
| Requirement | What we're looking for |
| --- | --- |
| UCAS points | 96 |
| A Level | CCC to include Mathematics. Excludes General Studies. |
| BTEC | MMM in an Engineering or Construction (has to be Civil Engineering Pathway) subject. |
| IB Diploma | 29 to include Mathematics at Higher level. |
| GCSE requirement | 5 GCSEs at grade 4 / C or above to include English and Mathematics |
| Access Grades | To include 30 Level 3 credits at Merit in Mathematics or Physical Science units. Plus GCSE English and Mathematics at grade 4 / C or above. |
For Direct entry to Year 2 an applicant possessing an appropriate HND or HNC in a Civil Engineering discipline or equivalent from another institution will be considered for this course.
We recognise a breadth of qualifications, speak to one of our advisers today to find out how we can help you.
Are you eligible for the Fair Access Scheme?
We believe every student should have the opportunity to dream big, reach their potential and succeed, regardless of their background. Find out more about our Fair Access Scheme.
Select your region to find detailed information about entry requirements:

You can view our full list of country specific entry requirements on our Entry requirements page.
Alternatively, visit our International hub for further advice and guidance on finding in-country agents and representatives, joining our in-country events and how to apply.
English language requirements
IELTS: 6.0 overall (with at least 5.5 in each component area)
If you don't meet the English language requirements, you can achieve the level you need by successfully completing a pre-sessional English programme before you start your course.
For more information on our approved English language tests visit our English language requirements page.
We recognise a breadth of qualifications, speak to one of our advisers today to find out how we can help you.
---
Fees and funding
2023/24 tuition fees.
Student
Full-time
Part-time
UK, Ireland*, Channel Islands or Isle of Man
£9,250
Not available
EU
£9,250 per year with EU support bursary**
£19,850 per year without EU support bursary**
Not available
International
£19,850 per year
Not available
If you choose to do a work placement2, you should consider travel and living costs to cover this. There is also a tuition fee3 of £1,250 that will cover your academic support throughout your placement year.
For advice and guidance on tuition fees and student loans visit our Undergraduate Finance page and see The University's Tuition Fee and Refund Terms and Conditions.
We offer a range of International scholarships to students all over the world. For more information, visit our International Scholarships page.
Tuition fees cover the cost of your teaching, assessments, facilities and support services. There may be additional costs not covered by this fee such as accommodation and living costs, recommended reading books, stationery, printing and re-assessments should you need them. Find out what's included in your tuition costs.
The following are additional costs not included in the tuition fees:
Optional international field trips: £400+ per trip.
Any costs associated with securing, attending or completing a placement (whether in the UK or abroad).
Other additional costs
Mandatory international field trips: Typically between £200 and £400 per trip
*Irish student fees
The rights of Irish residents to study in the UK are preserved under the Common Travel Area arrangement. If you are an Irish student and meet the residency criteria, you can study in England, pay the same level of tuition fees as English students and utilise the Tuition Fee Loan.
**EU support bursary
Following the UK's exit from the European Union, we are offering financial support to all eligible EU students who wish to study an undergraduate or a postgraduate degree with us full-time. This bursary will be used to offset the cost of your tuition fees to bring them in-line with that of UK students. Students studying a Degree with a Foundation Year with us are not eligible for the bursary.
How do you know if you need to pay UK or international tuition fees?

We carry out an initial fee status assessment based on the information you provide in your application. Your fee status determines your tuition fees, and what financial support and scholarships may be available to you. The rules about who pays UK (home) or international (overseas) fees for higher education courses in England are set by the government's Department for Education. The regulations identify all the different categories of student who can insist on paying the home rate. The regulations can be difficult to understand, so the UK Council for International Student Affairs (UKCISA) has provided fee status guidance to help you identify whether you are eligible to pay the home or overseas rate.

If you meet all the criteria required by any one category, including any residence requirements, your institution must charge you the home rate. You only need to find one category that you fit into.
---
Facilities
The faculty's £50m Engineering and Computing Building and new £25m Beatrice Shilling Building are designed to support hands-on learning. Our Sir John Laing Building also houses a variety of industry-standard labs and equipment4.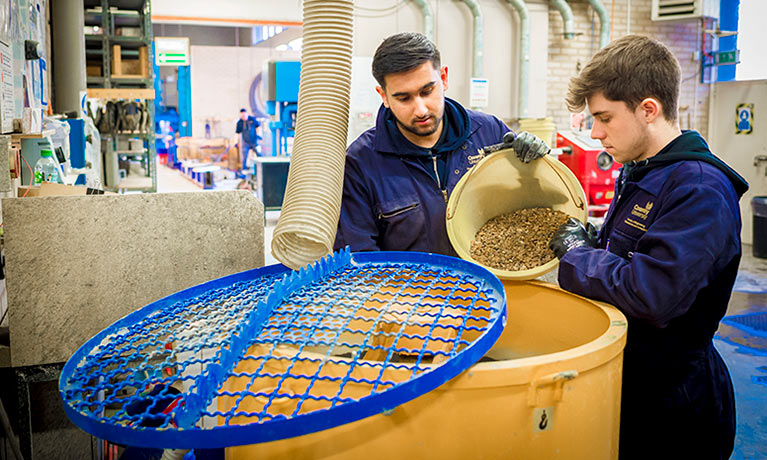 Materials Laboratory
Includes industrial standard timber and steel workshops, a concrete mixing area with 3 pan mixers, programmable environmental chambers, a range of ovens and curing tanks and various materials testing apparatus.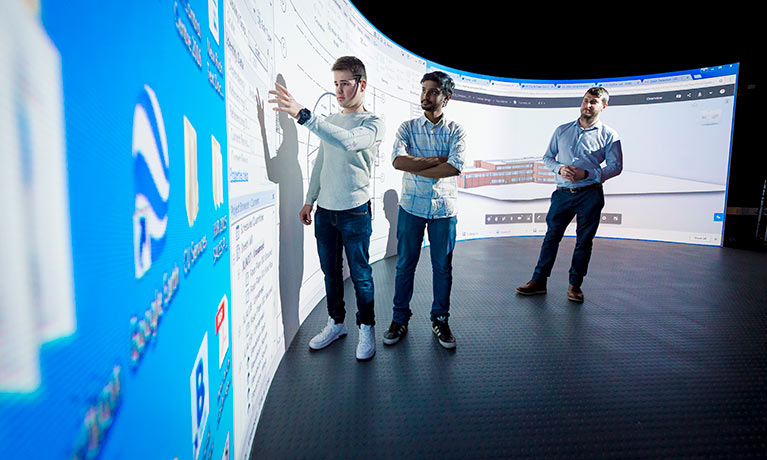 Simulation Centre
Our interactive training centre is used to create a 'virtual' construction site with fully-equipped site cabins and observation deck. Students undertake role play exercises to help prepare them for situations in the workplace.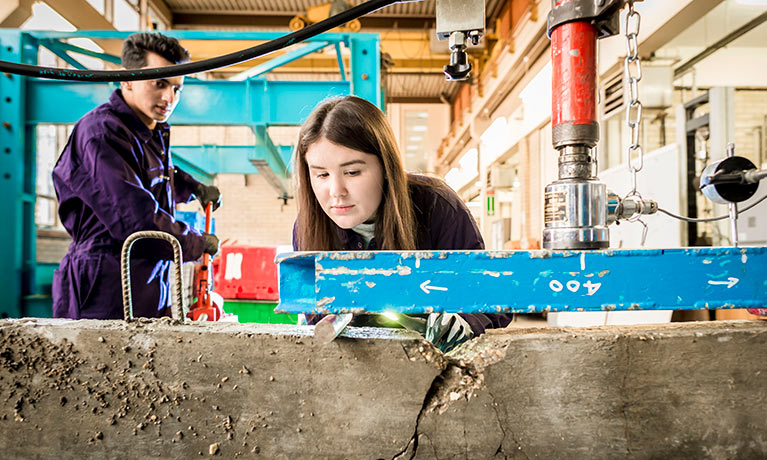 Structures Laboratory
Includes eight test frames, two of which are fully programmable 'top of the range' Instron universal test machines. It also includes a strong floor area with associated framing and ancillary measurement devices.
---
Careers and opportunities
On successful completion of this course, you will be able to:
Work collaboratively with other construction disciplines in the development of engineering solutions through critical evaluation and reflection, and effectively communicate proposals using a variety of media to suit different audiences.
Demonstrate awareness of the conflicting demands of clients, stakeholders and other construction professionals in the planning and execution of appropriate inter-disciplinary design solutions.
Recognise and respond to social, environmental, economic, security and ethical considerations in an international context.
Undertake interdisciplinary teamwork in a respectful and inclusive manner and effective self-management and development.
Conduct independent thinking, critical reflection, and individual initiative as the basis for research, innovation and lifelong professional learning to enhance their skills and knowledge throughout their careers.
Identify, analyse and solve engineering problems and apply their knowledge, technical and practical skills creatively and effectively as required for a successful career as a Chartered Civil Engineer.
Graduates from this course should be well-suited to working in a range of Civil Engineering consultancies, contractors or client organisations and should have a sound base to ultimately become Incorporated Civil Engineers.
Where our graduates work
Coventry University has a long-established reputation for the teaching of Civil Engineering and currently has excellent links with employers like Arcadis, Arup, Atkins, Balfour Beatty, BAM, Buro Happold, CGL, CPUK, Donaldson Associates, Galliford Try, Geotechnics Ltd, Interserve, Kier, Laing O'Rourke, Morgan Sindall, Mott MacDonald, Severn Trent Water, Warwickshire County Council and Willmott Dixon, many of whom provide direct input into course development as members of our Industrial Advisory Board.
Further study
Civil Engineering (Technical Route) MSc
Structural Engineering MSc
Civil Engineering Project Management MSc
---
How to apply
UK students

Full-time students applying to start in September 2023 can apply for this course through UCAS from 6 September 2022. Read our application pages to find out your next steps to apply.

Part-time students should apply directly to the university.

---

If you'd like further support or more information about your course get in touch with us today.

International students

International codes:
EECU123

Full-time students applying to start in September 2023 should apply directly to the university.

How to apply

For further support for international applicants applying for an undergraduate degree view our International hub.

You can also download our International guide which contains lots of useful information about our courses, accommodation and tips for travel.

---

Get in touch with us today for further advice and guidance.
Disclaimers

Coventry University together with Coventry University London Campus, CU Coventry, CU London, CU Scarborough and Coventry University Online come together to form part of the Coventry University Group (the "University") with all degrees awarded by Coventry University.

1Accreditations

The majority of our courses have been formally recognised by professional bodies, which means the courses have been reviewed and tested to ensure they reach a set standard. In some instances, studying on an accredited course can give you additional benefits such as exemptions from professional exams (subject to availability, fees may apply). Accreditations, partnerships, exemptions and memberships shall be renewed in accordance with the relevant bodies' standard review process and subject to the university maintaining the same high standards of course delivery.

2UK and international opportunities

Please note that we are unable to guarantee any UK or International opportunities (whether required or optional) such as internships, work experience, field trips, conferences, placements or study abroad opportunities and that all such opportunities may be subject to additional costs (which could include, but is not limited to, equipment, materials, bench fees, studio or facilities hire, travel, accommodation and visas), competitive application, availability and/or meeting any applicable travel COVID and visa requirements. To ensure that you fully understand the visa requirements, please contact the International Office.

3Tuition fees

The University will charge the tuition fees that are stated in the above table for the first Academic Year of study. The University will review tuition fees each year. For UK (home) students, if Parliament permit an increase in tuition fees, the University may increase fees for each subsequent year of study in line with any such changes. Note that any increase is expected to be in line with inflation.

For International Students, we may increase fees each year but such increases will be no more than 5% above inflation. If you defer your course start date or have to extend your studies beyond the normal duration of the course (e.g. to repeat a year or resit examinations) the University reserves the right to charge you fees at a higher rate and/or in accordance with any legislative changes during the additional period of study.

4Facilities

Due to COVID-19, some facilities (including some teaching and learning spaces) and some non-academic offerings (particularly in relation to international experiences), may vary from those advertised and may have reduced availability or restrictions on their use.

Student Contract

By accepting your offer of a place and enrolling with us, a Student Contract will be formed between you and the university. A copy of the 2023/24 contract can be found here. The Contract details your rights and the obligations you will be bound by during your time as a student and contains the obligations that the university will owe to you. You should read the Contract before you accept an offer of a place and before you enrol at the university.
---
---