MBA (Cyber Security Management)
Course Code
Online - FBLT022, On campus - FBLT164

Location
Coventry University (Coventry)
100% online study
Study mode
Full-time
Part-time
Duration
1 year full-time
2 years part-time
Start date
September 2022
: This course page is currently undergoing maintenance. We should have it finished shortly so please come back later to find out what's been updated.
---
Course overview
Study level: Postgraduate
Studied on campus or 100% online, this course is designed to help provide you with the skills needed to manage the challenges in the field of cyber security management, as the threat of cyber security becomes a focus for companies all around the world.
The cyber security pathway of this MBA course includes two cyber security management specialist modules, additionally, your project will be in this field too.
The course will also support you in clarifying and developing your career goals as you progress and will encourage reflection on how your goals might be met.
You'll also have the chance to apply for a professional experience2 opportunity, designed to further develop your skills and knowledge, with the aim of maximising your employability prospects. See modules for more information. 

Global ready
An international outlook, with global opportunities

Teaching excellence
Taught by lecturers who are experts in their field

Employability
Career ready graduates, with the skills to succeed
As part of this course, you will have opportunities to investigate how management practice relates to wider societal, ethical and intercultural issues. You will be given the chance to consider the need for responsible, ethical and culturally sensitive practices in today's global economy and the challenges this can present. The course will offer you the latest thinking and most up-to-date methods for protecting intellectual property, commercial secrets and critical business assets, as well as the chance to explore the wider external consequences of actions and decisions taken within the organisation, to help develop your responsible management practice.
---
What you'll study
Studied on campus or 100% online, this MBA draws from your current and past experience, ensuring you are constantly applying theory to practice. It aims to enhance your capabilities to think critically, deal with ambiguity, and seek solutions to complex problems. You can develop a core knowledge of business models and concepts, and a strong understanding of processes and practices in order to develop your leadership, financial and project management skills.
The MBA programme covers three distinct but interconnected stages – the Certificate Stage, the Diploma Stage, and the Masters Stage, where you have the chance to complete a comprehensive management qualification or specialise through two pathways delivered on campus. All modules on the course are mandatory. Please note that upon successful completion, on your final award certificate for this course, the course title will be Master of Business Administration and will not refer to the pathway studied, while your transcript will cite the modules studied and will not make reference to the pathway chosen.
Modules
Business Models and Processes – 15 credits

The aim of this module is to introduce you to business model thinking, and innovation and business process design and analysis, providing both knowledge and a higher level of understanding of the role that these play in the global context. 

The Geopolitical, Economic and Legal Environment – 15 credits

This module introduces you to the three main factors that strongly influence business in the external and the internal environment as well as the local and international environment. 

Financial Analysis – 15 credits

This module is designed to develop your ability to interpret and use financial information within the strategic framework of an organisation. It is oriented toward the user rather than the preparer, of corporate financial statements. 

Organisational Behaviour and Learning – 15 credits

This module is designed to provide you with a clear insight into how the behaviours of people within an organisation can impact on an organisation's effectiveness. 

Innovation and Entrepreneurship – 15 credits

This module will foster entrepreneurial and innovation skills in students by blending theory and practice to enhance their understanding of the functioning of modern enterprises to ensure sustainability and growth.

Leadership and Change Management – 15 credits

This module is designed for aspiring leaders and managers who wish to challenge assumptions and develop an in-depth understanding of how to effectively lead an organisation. It also focuses on how leaders understand change and consider what leadership capabilities are required for transformational change. 

Strategy and Decision-making – 15 credits

This module seeks to widen your perspective and understanding of the principles of strategic management and introduces a variety of analytical models of strategic analysis and strategy formulation. You will also explore the pros and cons of strategic choices and consider the impact of and consequences of strategy implementation. 

Global Marketing – 15 credits

The module aims to introduce and develop a contemporary perspective of the global marketplace by focusing on the strategic marketing paradigm. It intends to invite discussion and analysis of key managerial decisions on formulating and executing global marketing activities, keeping in mind the cultural demands of the various markets across the globe. 

Digital Security Risk – 15 credits

This module seeks to provide you with a comprehensive knowledge of digital information security concepts and an understanding of how they are applied using the Internet and mobile technologies. The importance of a security policy and security management is considered.

Network Defence Management – 15 credits

This module will provide you with the knowledge for securing networks that come under cyber-attack via developing the understanding of cyber-attacks, effective defence, and crisis management. The overall aim of the module is to understand the common security controls available to prevent, detect and recover from network security incidents, and to mitigate risk.

Consultancy Project- 30 credits

The aim of this module is to ensure integration between theory and practice. It enables you to apply your skills and management theory in carrying out live consultancy projects within your own or a host organisation. It also provides an opportunity for you to reflect on your knowledge, experience and practice. 
With professional experience option 
The professional experience opportunity2 enables you the opportunity to apply for optional professional experience in semester 1, which, upon successfully securing an opportunity, will extend the duration of your master's to either 16, 20 or 24 months. The professional experience provides an opportunity for you to develop expertise and experience in your chosen field with the aim of enhancing your employability. 
Please note that the optional professional experience modules incur an additional tuition fee, for which 1 semester of professional experience is £1,333.33, for 2 semesters of professional experience is £2666.67, and for 3 semesters of professional experience is £4,000.
Professional experience may also be subject to additional costs, visa requirements being met, subject to availability and/or competitive application. Professional experience opportunities are not guaranteed but you will benefit from the support of our Talent Team in trying to find and secure an opportunity. Find out more about the professional experience option.
We regularly review our course content, to make it relevant and current for the benefit of our students. For these reasons, course modules may be updated.
---
How you'll learn
Study on campus
Actual teaching contact hours will vary depending on the requirements of a particular semester. In a typical week, your contact hours will be divided amongst:
Tutorials and small group teaching
Medium group teaching (e.g. seminars, tutorial sessions and lab sessions)
Large group teaching (lectures)
In addition, you will be expected to undertake significant self-directed study each week, depending on the demands of individual modules. The number of contact hours may vary from semester to semester, however, on average, it is likely to be around 14 contact hours per week.
Study 100% online
You will have timetabled classes, online tutorials, and seminars, with all your learning activities available on-demand so that you can learn at the best time and location for you.
---
Teaching methods include: 
Lectures 
Seminars 
Tutorials 
Presentations 
Group projects 
Workshops 
This course can be studied on a full-time or part-time basis. Whilst we would like to give you all the information about our part-time offering here, it is tailored for each course each year depending on the number of part-time applicants. Therefore, the part-time teaching arrangements vary. Please request information about studying this course part-time. 
---
Teaching contact hours
Each 15 credit module will consist of 150 hours of activities. The activity time will be made up of a mixture of guided and self-guided study.  Students will have access to an experienced team of tutors and lecturers who will support their studies. Each module will have dedicated online tutorials to support the learning.
The contact hours may be made up of a combination of face-to-face teaching, individual and group tutorials, and online classes and tutorials.
As an innovative and enterprising institution, the University may seek to utilise emerging technologies within the student experience. For all courses (whether on-campus, blended, or distance learning), the University may deliver certain contact hours and assessments via online technologies and methods.
In response to the COVID-19 pandemic, we are prepared for courses due to start in or after the 2022/2023 academic year to be delivered in a variety of forms. The form of delivery will be determined in accordance with Government and Public Health guidance. Whether on campus or online, our key priority is staff and student safety.
---
Assessment
This course will be assessed using a variety of methods which will vary depending upon the module.

Assessment methods include:
Formal examinations
Phase tests
Essays
Group work
Presentations
Reports
Projects
Coursework
Exams
Individual Assignments
The Coventry University Group assessment strategy ensures that our courses are fairly assessed and allows us to monitor student progression towards achieving the intended learning outcomes.
---
International experience opportunities
You will have opportunities to collaborate with students from around the world via our online platform FutureLearn. The international nature of our course design and delivery team will provide you with a diverse range of experiences from Asia, Europe and Africa.

Please note that all international experience opportunities may be subject to additional costs, competitive application, availability and meeting applicable visa and travel requirements are therefore not guaranteed2.
---
An undergraduate degree in any discipline, obtained from a recognised university/HE institution, or an equivalent qualification in a business related area.
Applicants will also need to have a minimum of two years post-degree full-time work experience. We will also consider applicants who do not hold an undergraduate degree but who can demonstrate significant work experience or hold professional qualifications.
We recognise a breadth of qualifications; speak to one of our advisers today to find out how we can help you.
Select your region to find detailed information about entry requirements:
You can view our full list of country specific entry requirements on our Entry requirements page.
Alternatively, visit our International hub for further advice and guidance on finding in-country agents and representatives, joining our in-country events and how to apply.
An undergraduate degree in any discipline, obtained from a recognised university/HE institution, or an equivalent qualification in a business related area.
Applicants will also need to have a minimum of two years post-degree full-time work experience. We will also consider applicants who do not hold an undergraduate degree but who can demonstrate significant work experience or hold professional qualifications.
English language requirements
IELTS: 6.5 overall, with no component lower than 5.5.
If you don't meet the English language requirements, you can achieve the level you need by successfully completing a pre-sessional English programme before you start your course.
For more information on our approved English language tests visit our English language requirements page.
---
Fees and funding
2022/23 Tuition fees
| Student | Full time | Part time |
| --- | --- | --- |
| UK | £18,500 per year | Not available |
| International | £18,500 per year | Not available |
For advice and guidance on tuition fees3 and student loans visit our Postgraduate Finance page.
We offer a range of International scholarships to students all over the world. For more information, visit our International Scholarships page.
---
Facilities
Our aim is to offer you sector-leading facilities4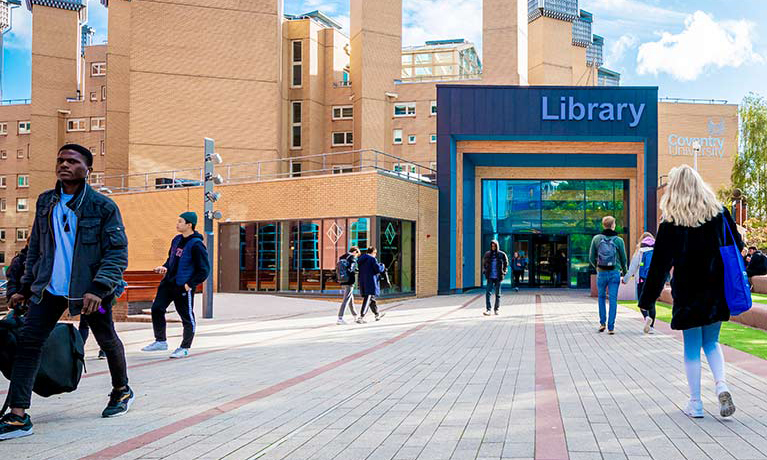 The Lanchester Library is open 24/7, 364 days a year and has 1,400 study spaces, including group and silent areas. It also currently offers more than 550 computers and an additional 120 free-to-loan laptops.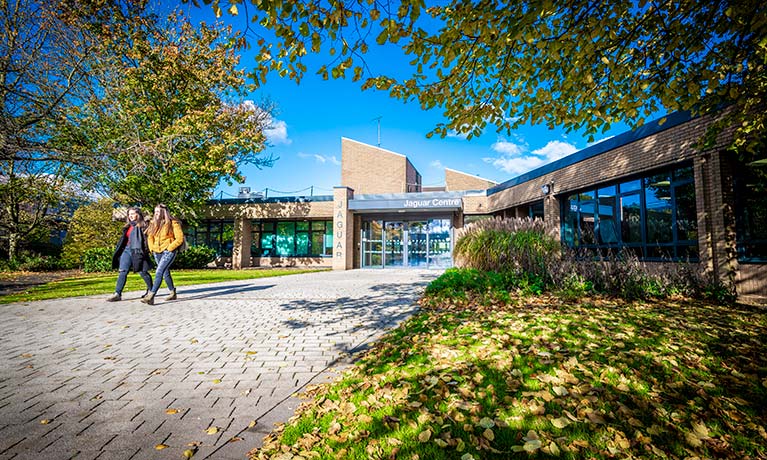 Jaguar Centre
Our refurbished Jaguar Centre has been specifically designed to provide facilities and services to support our postgraduate students including: social spaces, computer suites and separate areas for small group study.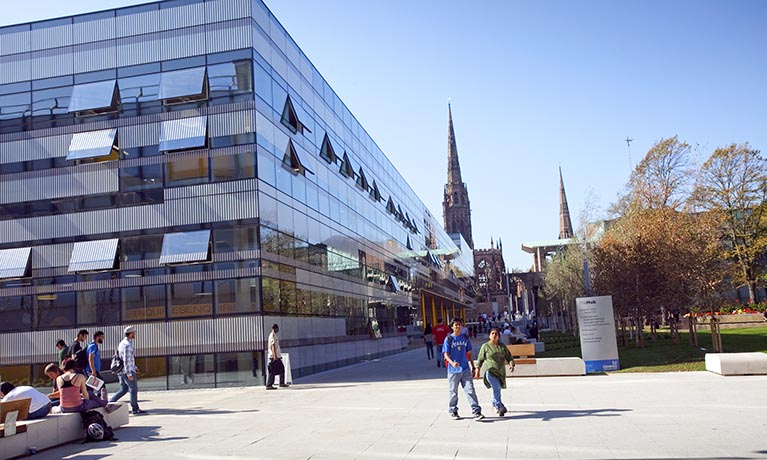 TheHub is the centre of student campus life. It's also home to: The Health and Wellbeing Centre, The Spirituality and Faith Centre, The Tank Studio, The Careers and Add+vantage Office and the Enterprise Hub.
---
Careers and opportunities
On successful completion, you should be able to:
Demonstrate an appreciation of the social and environmental impact of an enterprise, and the need to develop ethical and responsible management practices.
Act in a culturally sensitive manner towards all of an enterprise's stakeholders, through having an understanding of the interconnected global nature of business.
Demonstrate reflective practice for the development and achievement of personal career goals.
Critically assess the basis of an enterprise's value-creating activities and the impact of the external environment on value creation.
Critically assess the manager's role in ensuring that an enterprise creates sustainable value in the context of dynamic internal and external environments.
Demonstrate the ability to think strategically and explore potential solutions to complex and ambiguous problems.
Explore, critically evaluate and apply a range of sector or role-specific models and concepts within a practice setting.
Formulate potential solutions to complex and ambiguous problems whilst acknowledging the risks and evaluating potential outcomes.
Initiate and lead a sector or role-specific change management project.
During the course of your study, you should develop strong analytical skills, clear perspectives on strategy and strategic thinking, and highly effective communication and research skills. These are all in demand from employers in private, public and third-sector organisations around the world.
---
How to apply
UK Students

To apply to study for a postgraduate course at Coventry University, you can apply online.

---

For further support or more information about your course get in touch with us today.

International Students

Full-time international students applying to start in September should apply directly to the university. Read our application pages to find out your next steps to apply.

How to apply

For further support for international applicants applying for postgraduate degree view our International hub.

You can also download our International guide which contains lots of useful information about our courses, accommodation and tips for travel.

---

Get in touch with us today for further advice and guidance.
Disclaimers

1Accreditations

The majority of our courses have been formally recognised by professional bodies, which means the courses have been reviewed and tested to ensure they reach a set standard. In some instances, studying on an accredited course can give you additional benefits such as exemptions from professional exams (subject to availability, fees may apply). Accreditations, partnerships, exemptions and memberships shall be renewed in accordance with the relevant bodies' standard review process and subject to the university maintaining the same high standards of course delivery.

2UK and international opportunities

Please note that we are unable to guarantee any UK or International opportunities (whether required or optional) such as internships, work experience, field trips, conferences, placements or study abroad opportunities and that all such opportunities may be subject to additional costs (which could include, but is not limited to, equipment, materials, bench fees, studio or facilities hire, travel, accommodation and visas), competitive application, availability and/or meeting any applicable travel COVID and visa requirements. To ensure that you fully understand the visa requirements, please contact the International Office.

3Tuition fees

The University will charge the tuition fees that are stated in the above table for the first Academic Year of study. The University will review tuition fees each year. For Home Students, if Parliament permit an increase in tuition fees, the University may increase fees for each subsequent year of study in line with any such changes. Note that any increase is expected to be in line with inflation.

For International Students, we may increase fees each year but such increases will be no more than 5% above inflation. If you defer your course start date or have to extend your studies beyond the normal duration of the course (e.g. to repeat a year or resit examinations) the University reserves the right to charge you fees at a higher rate and/or in accordance with any legislative changes during the additional period of study.

4Facilities

Facilities are subject to availability. Due to the ongoing restrictions relating to COVID-19, some facilities (including some teaching and learning spaces) may vary from those advertised and may have reduced availability or restrictions on their use.

Student Contract

By accepting your offer of a place and enrolling with us, a Student Contract will be formed between you and the university. The 2022/23 Contract is currently being updated so please revisit this page before submitting your application. The Contract details your rights and the obligations you will be bound by during your time as a student and contains the obligations that the university will owe to you. You should read the Contract before you accept an offer of a place and before you enrol at the university.
You may also like
Coventry University (Coventry)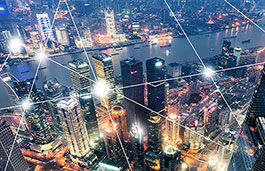 100% online study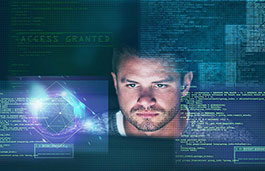 Coventry University (Coventry)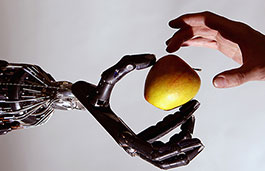 MBA Artificial Intelligence
---