Management of Information Systems and Technology MSc
Study level:

Postgraduate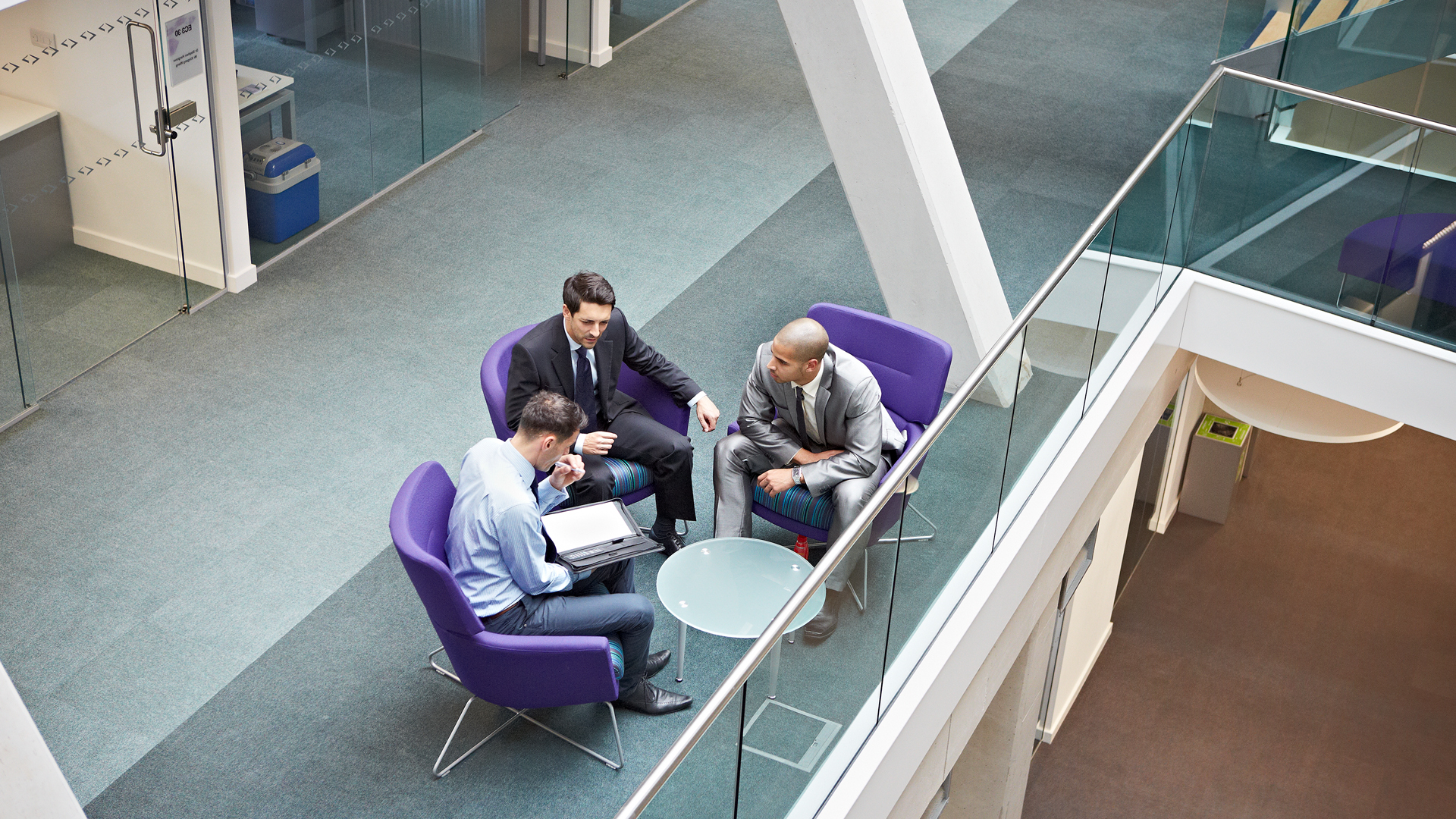 The Management of Information Systems and Technology MSc is designed for students who would like the opportunity to acquire proficient skills in, and develop knowledge of, the key aspects of Information systems (IS) and Information Technology (IT) Management.
Location
Coventry University (Coventry)
Study mode
Full-time
Part-time
Sandwich
Duration
1 year full-time
2 years part-time
2 years sandwich
Start date
September 2023
May 2024
---
Course overview
The course provides a framework within which to develop essential skills required by a wide range of industries both locally and globally.
Some of these are Systems Applications and Products in Data Processing (SAP), Enterprise Resource Planning (ERP), Project Management, AGILE, Scrum (currently one of the most popular frameworks for implementing AGILE) and PRINCE2. This does not include PRINCE2 foundation and/or practitioner certificate.
The course content focuses on key aspects of information technology and information systems in business enterprises. It aims to help equip you with the skills required for capture, organisation and presentation of information and data in a format that enhances efficient communications, while minimising error.
The course provides a framework within which to develop the skills of graduates and professionals, whether employed or studying in preparation for employment, by introducing key aspects of Information Systems (IS) and Information Technology (IT) Management.
You will also have the option to apply for a 'professional work placement' opportunity2, designed to further develop your skills and knowledge with the aim of maximising your employability prospects. See modules for more information.

Joint Top Modern University for Career Prospects
Guardian University Guide 2021 and 2022

5 QS Stars for Teaching and Facilities
QS Stars University Ratings

Top 5 UK Student City (Coventry)
QS Best Student Cities Index 2023
Why you should study this course
The rapid advancement in digital computing technologies has affected the global economy and the way businesses are run and managed. This makes it crucial for graduates and professionals who wish to manage the business information systems and technology to stay abreast of recent technological development in their field, as well as broaden their capabilities in vital areas.
This course aims to combine the best of three fields in one by focusing on Information Technology, Information Systems as well as Enterprise process management. The integration of systems and technology in business enterprises has never been more important than it has become now with the political climate we live in.
Current members of our teaching staff have substantial academic and industrial experience. Teaching staff (subject to change) include former heads of IT, former project managers, managing directors of software development houses and database specialists. They currently continue to conduct research in areas such as project management, big data and Internet Protocol version 6 (IPv6) adoption and assimilation in organisations and aim to share this knowledge within their teaching.
You will be provided with a wide range of business intelligence tools and management software within an operative and tactical context, using it as an enterprise software to manage business operations and customer relations.
The course aims to develop your knowledge of how to plan and streamline business processes of large enterprises across procurement, manufacturing, service, sales, finance and HR with SAP Enterprise Resource Planning (ERP).
A feature of this course is Agile (a process that helps teams provide quick and unpredictable responses to the feedback they receive on their project) and PRINCE2 methodologies. Projects IN Controlled Environments (PRINCE2) is currently a de facto process-based method for effective management of projects across the world.
Accreditation and professional recognition
This course is accredited1 and recognised by the following bodies: 

---
---
This course aims to combine traditional and contemporary theory with the practical skills needed for the management of information systems and technology aspects of businesses, thereby bridging the gap between technology and management. Wherever possible, our teaching incorporates real-life input, which has previously included case studies from the NHS. The current teaching team also uses several teaching approaches (problem-based learning, flipped learning, and traditional learning) and various technological approaches using virtual interactive platforms such as TRELLO, SOCRATIVE and ASANA. This aims to prepare you for digital Location-Independent-Working environments.
Modules
IT Project Management – 15 credits

This module aims to prepare you for managing organisational change through projects. It focuses on projects (such as IT projects) involving major changes, including issues related to new products, new plant and equipment and new operating systems, which will affect the lives of people both within and without the organisation.

Digital Transformation Strategy - 15 credits

This module critically evaluates the theoretical and practical aspects of Digital Technology strategy in the context of global business environment. A robust Digital Technology strategy is constructed as part of the strategic business planning cycle. The drivers, critical success factors and barriers to Digital Technology strategy will be enumerated and discussed. Models for the production of Digital Technology strategy will be examined.

Business Analytics and Artificial Intelligence – 15 credits

Business Analytics (BA) and Artificial intelligence (AI) have been used for supporting decision making in wide range of organisations. This module will introduce principles of various analytics and AI techniques using case study examples.
This module aims to provide you with skills and knowledge about the core capabilities and components of modern Decision Support systems (DSS). Emphasis will be placed on the management of different types of models and their application to management decisions.

Individual Project Preparations – 15 credits

This module provides the background in research study skills and research methods to enable students to carry out taught master's projects.

Business Process Engineering with Enterprise Systems – 15 credits

This module aims to provide an understanding of enterprise systems and the way it supports organisation's business operations. The module will examine the organisational, strategic and implementation issues which surrounds the introduction and implementation of an enterprise-wide system into an organisation.

Big Data Intelligence and Modelling – 15 credits

This module aims to provide you with an insight into big data technologies as well as the state and practice of big data analytics. Modern techniques will be taught which will enable you to discover patterns, relationships and associations in big data sets.

Global Business Management – 15 credits

This module aims to provide you with an understanding of business enterprise in the global market environment. It should help you to gain a sound knowledge of the principles of business, including the way in which private and public sector enterprises operate and the factors that influence the process of making decisions.

Simulation – 15 credits

This module focuses on computer-based simulation, where the model is implemented as part of a computer program, which can then be executed to compute and record the data which describes the simulated system's behaviour. You will learn to model the logic of business processes using visual modelling languages, fit statistical distribution to probabilistic business inputs and develop stochastic simulation models.

Project – 50 credits

The project is intended to provide you with the opportunity to demonstrate your competence in applying the concepts and skills acquired during the taught part of the course. The project may be a solution to a practical problem or focus on a research topic. The project serves the dual purpose of providing a means of integrating previous learning and facilitating the acquisition of valuable professional experience.

Leading Diverse Workforces – 10 credits

This module aims to provide you with a framework of knowledge and understanding of how to effectively lead and develop people in a strategically diverse and inclusive way. Ultimately, you will be given the opportunity to develop strategic priorities for leadership, equality, diversity and inclusion.
With work placement pathway
The 'With work placement' opportunity2 enables you to apply in semester 1 for an optional work placement of up to 12 months, extending the duration of your master's to 24 months. The placement provides an opportunity for you to develop expertise and experience in your chosen field with the aim of enhancing your employability upon graduation. The work placement would take place in semesters 3, 4 and 5.
Please note that the optional placement modules incur an additional tuition fee of £4,000. Placement opportunities may also be subject to additional costs, visa requirements being met, subject to availability and/or competitive application. Work placements are not guaranteed but you will benefit from the support of our Talent Team in trying to find and secure an opportunity. Find out more about the work placement option.
We regularly review our course content, to make it relevant and current for the benefit of our students. For these reasons, course modules may be updated.
---
How you'll learn
Teaching methods may include:
Lectures
Seminars
Discussions
Case studies
Tutorials
Personal supervision and support
This course can be studied on a full-time or part-time basis. Whilst we would like to give you all the information about our part-time offering here, it is tailored for each course each year depending on the number of part-time applicants. Therefore, the part-time teaching arrangements vary. Please request information about studying this course part-time.
---
Teaching contact hours
The number of contact hours may vary from semester to semester, however, on average, it is likely to be around 16 contact hours per week in the taught semesters. Additionally, you will be expected to undertake significant self-directed study of approximately 35 hours each week, depending on the demands of individual modules.
As an innovative and enterprising institution, the University may seek to utilise emerging technologies within the student experience. For all courses (whether on-campus, blended, or distance learning), the University may deliver certain contact hours and assessments via online technologies and methods.
In response to the COVID-19 pandemic, we are prepared for courses due to start in or after the 2023/2024 academic year to be delivered in a variety of forms. The form of delivery will be determined in accordance with Government and Public Health guidance. Whether on campus or online, our key priority is staff and student safety.
---
Assessment
This course will be assessed using a variety of methods which could vary depending upon the module. Assessment methods include development of video clips, reports, written coursework and presentations (oral and poster).
The Coventry University assessment strategy aims to ensure that our courses are fairly assessed and allows us to monitor student progression towards achieving the intended learning outcomes.
---
International experience opportunities
We currently collaborate with other universities across the globe in Collaborative Online International Learning (COIL) projects.
For example, past students worked on a project with IAA Tanzania and GTUC Accra, in which they investigated issues related to leadership in the management of projects and its contextual challenges.
Please note that all international experience opportunities may be subject to additional costs, competitive application, availability and meeting applicable visa and travel requirements are therefore not guaranteed2.
Working full time as an Incident Coordinator allowed me to integrate concepts learned into my daily role and recommendations to management for strategies or processes which can be altered to improve communication, work flows and enhance capabilities across the organisation. Consequently, I have been designated in project undertakings for the organisation and my attained knowledge assisted in addressing various criteria omitting risk and concentrating on value delivery for our clients also streamlining IT processes and strategies. As such I thoroughly enjoyed the course.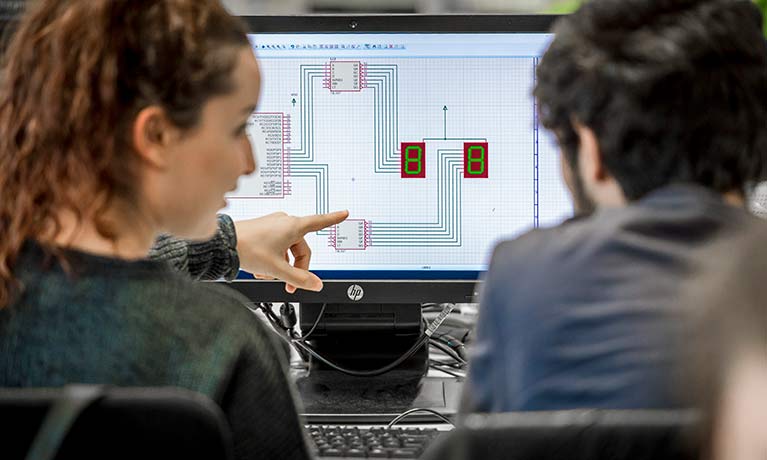 ---
Entry requirements
Typical offer for 2023/24 entry.
To enter the course you need to have one of the following:
An honour's degree (with a minimum of a second class honour's degree), or an equivalent qualification in information systems, computing or information technology related subjects
An unclassified degree in information systems, computing or information technology plus professional experience within the field of computing.
We recognise a breadth of qualifications; speak to one of our advisers today to find out how we can help you.
Select your region to find detailed information about entry requirements:
You can view our full list of country specific entry requirements on our Entry requirements page.
For information regarding specific requirements, please ask a question.
Alternatively, Visit our International hub for further advice and guidance on finding in-country agents and representatives, joining our in-country events and how to apply.
Typical entry requirements
To enter the course you need to have one of the following:
An honour's degree (with a minimum of a second class honour's degree), or an equivalent qualification in information systems, computing or information technology related subjects.
An unclassified degree in information systems, computing or information technology plus professional experience within the field of computing.
English language requirements
IELTS: 6.5 overall, with no component lower than 5.5
If you don't meet the English language requirements, you can achieve the level you need by successfully completing a pre-sessional English programme before you start your course.
For more information on our approved English language tests visit our English language requirements page.
---
Fees and funding
2023/24 tuition fees.
Student
Full-time
Part-time
UK, Ireland*, Channel Islands or Isle of Man
£11,200 | £4,000 (Work placement option additional fee)
Not available
EU
£11,200 | £4,000 (Work placement option additional fee) per year with EU support bursary**
£20,050 | £4,000 (Work placement option additional fee) per year without EU support bursary**
Not available
International
£20,050 | £4,000 (Work placement option additional fee)
Not available
For advice and guidance on tuition fees3 and student loans visit our Postgraduate Finance page and see the university's Tuition Fee and Refund Terms and Conditions.
We offer a range of International scholarships to students all over the world. For more information, visit our International Scholarships page.
Tuition fees cover the cost of your teaching, assessments, facilities and support services. There may be additional costs not covered by this fee such as accommodation and living costs, recommended reading books, stationery, printing and re-assessments should you need them.
The following are additional costs not included in the tuition fees:
Any optional overseas field trips or visits: £400+ per trip.
Any costs associated with securing, attending or completing a placement (whether in the UK or abroad).
*Irish student fees
The rights of Irish residents to study in the UK are preserved under the Common Travel Area arrangement. If you are an Irish student and meet the residency criteria, you can study in England, pay the same level of tuition fees as English students and utilise the Tuition Fee Loan.
**EU support bursary
Following the UK's exit from the European Union, we are offering financial support to all eligible EU students who wish to study an undergraduate or a postgraduate degree with us full-time. This bursary will be used to offset the cost of your tuition fees to bring them in-line with that of UK students. Students studying a Degree with a Foundation Year with us are not eligible for the bursary.
How do you know if you need to pay UK or international tuition fees?

We carry out an initial fee status assessment based on the information you provide in your application. Your fee status determines your tuition fees, and what financial support and scholarships may be available to you. The rules about who pays UK (home) or international (overseas) fees for higher education courses in England are set by the government's Department for Education. The regulations identify all the different categories of student who can insist on paying the home rate. The regulations can be difficult to understand, so the UK Council for International Student Affairs (UKCISA) has provided fee status guidance to help you identify whether you are eligible to pay the home or overseas rate.

If you meet all the criteria required by any one category, including any residence requirements, your institution must charge you the home rate. You only need to find one category that you fit into.
---
Facilities
Our aim is to offer you sector-leading facilities4: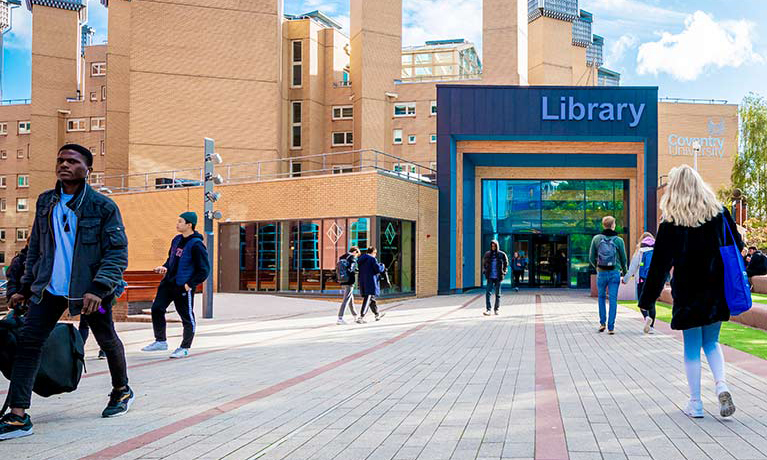 The Lanchester Library is open 24/7, 364 days a year and has 1,400 study spaces, including group and silent areas. It also currently offers more than 550 computers and an additional 120 free-to-loan laptops within the library.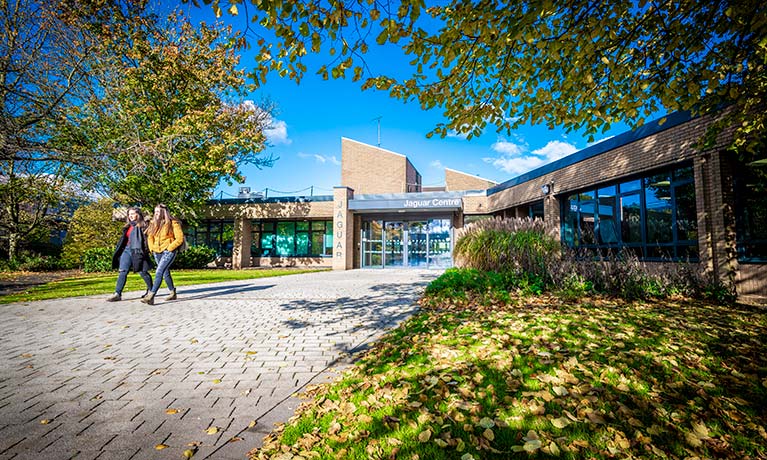 Jaguar Centre
Our refurbished Jaguar Centre has been specifically designed to provide facilities and services to support our postgraduate students including: social spaces, computer suites and separate areas for small group study.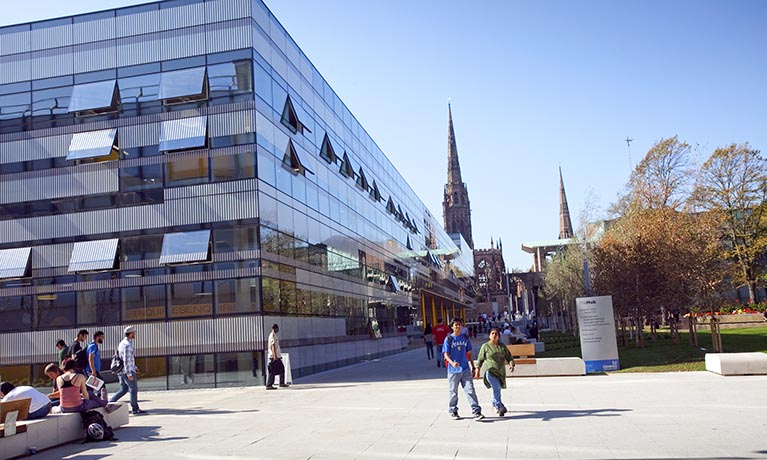 The Hub is the centre of student campus life. It's also home to the Health and Wellbeing Centre, the Spirituality and Faith Centre, the Tank Studio, Student Success Coaches and the Enterprise Hub.
---
Careers and opportunities
Upon successful completion of this course you will be able to:
Demonstrate a critical awareness of current issues in business and management focusing on the alignment of IT strategy to the organisation and business strategy
Critically evaluate and apply appropriate strategies and technologies required by enterprises for data analysis of information in business decision making
Process, analyse and communicate outcomes from the critical analysis of data sets that are too complex for traditional data-processing application software while evaluating ethical and analytical challenges presented by data visualization
Develop a critical understanding of a variety of business processes to study the performance and improve process efficiency using simulation and analytics to support decision-making
Critically analyse systems and activities within an enterprise that connect people, processes and technology within the context of global operations and supply chain
Demonstrate creativity in the application of tailoring and use of appropriate methodological skills in the successful management of IT Projects in diverse business environments globally
Apply a wide range of postgraduate level transferable skills in research, leadership, management, consultancy, problem-solving, decision-making while operating and communicating effectively
Upon successful completion of this course, career and remuneration prospects may be excellent, with current high employer demand for graduates in areas such as systems analysts, SAP administrators, business analysts, IT project managers, IT systems analysts, management consultants and strategic managers.
Coventry University is committed to preparing you for your future career and giving you a competitive edge in the graduate job market. The university's Talent Team provide a wide range of support services to help you plan and prepare for your career4.
Where our graduates work
Past graduates currently work/have worked at Vodafone Group Technology, UK; Middle East College, Oman; Central Bank of Nigeria; Price Waterhouse and Coopers PWC, UK; Accenture, Thailand; Cam Clark Group, Canada; Bærum Municipality, Norway; Featurespace, UK etc.
I am highly thankful for having the opportunity to be part of the MSc Management of Information Systems and Technology at Coventry University. I am so glad I chose it and I would highly recommend it to anyone with a passion for technologies and new knowledge along with valuable practical skills.
---
How to apply
UK students

To apply to study for a postgraduate course at Coventry University, you can apply online.

---

For further support or more information about your course get in touch with us today.

International students

Full-time international students applying to start in September should apply directly to the university. Read our application pages to find out your next steps to apply.

How to apply

For further support for international applicants applying for postgraduate degree view our International hub.

You can also download our International guide which contains lots of useful information about our courses, accommodation and tips for travel.

---

Get in touch with us today for further advice and guidance.
Disclaimers

Coventry University together with Coventry University London Campus, CU Coventry, CU London, CU Scarborough and Coventry University Online come together to form part of the Coventry University Group (the "University") with all degrees awarded by Coventry University.

1Accreditations

The majority of our courses have been formally recognised by professional bodies, which means the courses have been reviewed and tested to ensure they reach a set standard. In some instances, studying on an accredited course can give you additional benefits such as exemptions from professional exams (subject to availability, fees may apply). Accreditations, partnerships, exemptions and memberships shall be renewed in accordance with the relevant bodies' standard review process and subject to the university maintaining the same high standards of course delivery.

2UK and international opportunities

Please note that we are unable to guarantee any UK or International opportunities (whether required or optional) such as internships, work experience, field trips, conferences, placements or study abroad opportunities and that all such opportunities may be subject to additional costs (which could include, but is not limited to, equipment, materials, bench fees, studio or facilities hire, travel, accommodation and visas), competitive application, availability and/or meeting any applicable travel COVID and visa requirements. To ensure that you fully understand the visa requirements, please contact the International Office.

3Tuition fees

The University will charge the tuition fees that are stated in the above table for the first Academic Year of study. The University will review tuition fees each year. For UK (home) students, if Parliament permit an increase in tuition fees, the University may increase fees for each subsequent year of study in line with any such changes. Note that any increase is expected to be in line with inflation.

For International Students, we may increase fees each year but such increases will be no more than 5% above inflation. If you defer your course start date or have to extend your studies beyond the normal duration of the course (e.g. to repeat a year or resit examinations) the University reserves the right to charge you fees at a higher rate and/or in accordance with any legislative changes during the additional period of study.

4Facilities

Due to COVID-19, some facilities (including some teaching and learning spaces) and some non-academic offerings (particularly in relation to international experiences), may vary from those advertised and may have reduced availability or restrictions on their use.

Student Contract

By accepting your offer of a place and enrolling with us, a Student Contract will be formed between you and the university. A copy of the 2023/24 contract can be found here. The Contract details your rights and the obligations you will be bound by during your time as a student and contains the obligations that the university will owe to you. You should read the Contract before you accept an offer of a place and before you enrol at the university.
Coventry University (Coventry)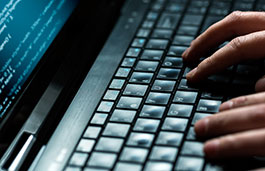 Coventry University (Coventry)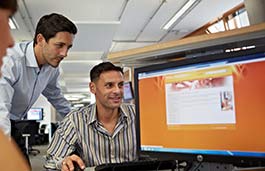 Coventry University (Coventry)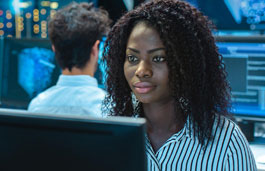 ---