HORIBA MIRA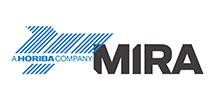 Coventry University enjoys a long-standing partnership with HORIBA MIRA, a global leader in advanced vehicle engineering, research and product testing. The partnership has many objectives including research and testing of autonomous vehicles through the co-developed Centre for Connected & Autonomous Automotive Research (CCAAR).
CCAAR is just the latest strategic investment, building on existing collaborative activity between the two partners, including:
work with other leading industry players to test connected vehicle technology in real-world conditions;
a project exploring how connectivity will help drivers reach their destinations more efficiently and conveniently;
a wide-ranging doctoral research activity exploring, amongst other things, technologies that make journeys safer, cleaner and smarter, as well as the development of more resilient cyber security systems within modern vehicles.
An important part of HORIBA MIRA's research strategy is undertaking longer term research to develop new technologies and skills, as well as the innovation pathways inside the business that are needed to absorb and exploit the new technologies. Links with universities, in particular sponsored PhDs, are a vital component in this strategy. In collaboration with Coventry University HORIBA MIRA has developed a model whereby university PhD students are integrated into the business's structure and culture whilst preserving the academic rigour of the PhD and the freedom to explore new areas. This approach is designed to achieve the best fit between the PhDs and the company's research roadmaps and – crucially – grow the innovation pathways in the business from the moment the PhDs begins.
---
The collaboration with a world leading organisation such as HORIBA MIRA forms an essential part of our strategy to demonstrate the impact of our research. By locating and embedding the activity at HORIBA MIRA, our PhD researchers gain fantastic industrial experience, underpinned by academic rigour and the specialist supervision provided by the University.

Paul Fairburn, Director of Enterprise and Innovation, Coventry University
---