FabLab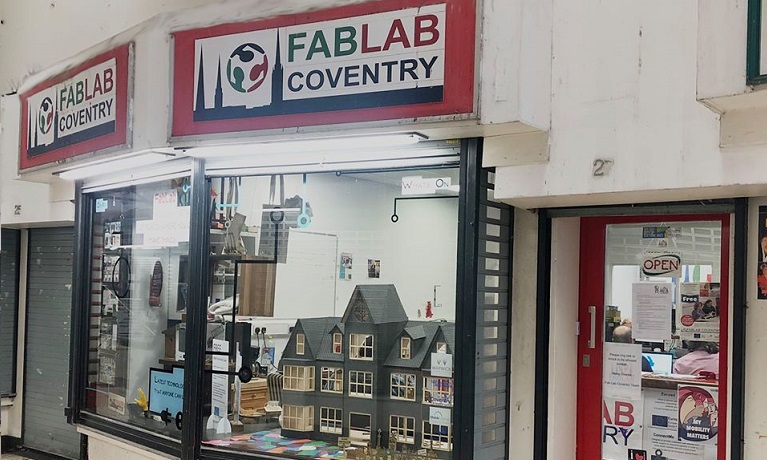 FabLab which supports local people and businesses to learn new skills, has celebrated its fourth anniversary by revealing it has helped more people than ever before.
Community
Fab Lab Coventry is a city-centre maker space backed by Coventry City Council and the Centre for Trust, Peace and Social Relations at Coventry University, focussed on improving local employability.
Designed for and with the community at its heart, FabLab combines research from Coventry University with a practical community maker space to co-create innovative social, economic and environmental programs.
2019/2020
112
Qualifications achieved
245
People enrolld onto projects
6,000
Items of PPE donated to support in COVID-19
1,751
Families and individuals engaged
One of FabLab's core activities is developing the skills of local residents and helping individuals face and overcome their challenges relating to employment, isolation and loneliness. They offer 31 different UK accredited courses and qualifications in a range of subjects including Digital Fabrication, Carpentry, Citizen Social Science and Community Health. They also run more specialised programmes to support target groups such as refugees and those furthest from the job market.
However, the space is open to anyone; from budding entrepreneurs looking to start a making business, school pupils, sculptors and scientists. Based in the city centre shopping arcade, anyone can access FabLab's state-of-the-art computer-controlled tools like 3D printers, CNC and laser cutters, as well as traditional wood working tools. Technicians, researchers and student members are on hand to run classes and provide support for those who want to become citizen social scientists, learn how to use the equipment or test out ideas and develop products.
In 2020, FabLab opened its second venue, the Eco Furniture Factory in FarGo Village. Driven by the need to live more sustainable lives, the Eco Furniture Factory helps people to turn ideas into reality and give new life to once old, outdated or broken furniture.
Exceed in Coventry is a three-year project providing tailored help and support to over 1,300 Coventry residents, enabling them to progress into education, training, job search or employment.
Coventry resident S joined the Exceed programme at Fablab after becoming interested in 3D printing. Already passionate about "pound shop hacks" (upcycling items found in budget stores into something new and unique), S wanted to develop their computer aided design skills through forms of 2D and 3D design.
By participating in a range of FabLab training courses, S has developed those valuable skills that brought them to the centre, but has actually found that FabLab has provided so much more. As for many clients, FabLab offers practical learning support but is also a space where they can be themselves, connect with others, and feel heard.
"Fablab has provided me with a safe, community space where I can socialise with others or just take some time out to rest and recuperate. The guys at FabLab are really friendly and welcoming. Always willing to help, or just to let me eat all their biscuits and drink all the coffee."
S has now become a regular FabLab volunteer and supports with workshops and repair cafes. They are exceptionally keen to continue to develop their skills, share their skills with other users and help out wherever possible.
FabLab Manager Helen reflected on S' journey. "S has come a long way from our first meeting. Initially cautious about providing us with their information for registration, to now being a bustling and really important member of our community, it has been fantastic to see how far they have come. The progress S has made goes far beyond physical achievements in terms of certification and project specific outcomes, and they are a credit to the FabLab community."