Career support
At Coventry University career support does not end when you graduate - the Talent Team is happy to provide lifelong support to our graduates with their next step at any stage in your career – wherever you are in the world!
We can work with you to help you achieve your goal what you choose to do, whether it's for job applications, further study or entrepreneurship. We offer assistance with developing an effective CV and covering letter, help with application forms or practice interview skills.
CV support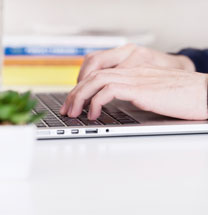 A CV is your marketing tool for selling yourself in the work environment so we provide continued CV support to our community of Coventry graduates.
Whether you're a recent graduate or alumni considering a career change, we're available to review your CV prior to making any job applications.
Consider the following:
What skills and experience do you have relating to the position(s) you are applying for?
Have you tailored your CV and covering letter to the role AND company?
Are there certain questions you are struggling with?
Email your CV to talentteam@coventry.ac.uk if you would like a detailed critique of your CV by one of our dedicated career advisors. It will take up to five working days for our team to review and provide track-change amendments.
Please inform us about any specific details in regards to your job applications so we are able to provide valuable feedback.
Video interviews
Video interviewing has become increasingly popular over recent years with employers viewing it as a cost-effective way to screen candidates and it also enables candidates to apply for opportunities without travelling for the first stage of interviews.
During a video interview, the candidate will be given approximately 30 seconds to read the questions which will appear on the screen, so lots of practice is vital beforehand!
Tips for preparing for a video interview
Ensure you have a secure Internet connection prior to starting the interview.
Do your interview in a quiet, well-lit room, ideally with a plain background so your employer focuses on you.
Address the camera as if you were talking to a real person and try to maintain eye contact. One of the biggest reasons an employer will choose a video interview will be because they can see your personality better.
Make sure you have your CV available to refer to during the interview, but avoid reading directly.
Try to stay relaxed and let your personality shine – always remember to smile and be enthusiastic!
Webinars
We want our international alumni network to make the most of the time spent studying at Coventry University and to continue developing as global professionals.
The Midlands International Group organised and hosted a series of webinars related to developing a global career. The virtual events were aimed at midlands based international students, studying at one of the member institutions of the group and broadly mirrors the international student experience journey.
The Midlands International Group consists of representatives from 16 Careers Services from universities across the midlands.
Below are details of the sessions and links to recorded versions:
| | |
| --- | --- |
| Sea turtle Not Seaweed - Explaining your UK Education and Experience | How do you describe to employers in your home country what you've learnt from your time in the UK? How will your new skills and knowledge benefit them? Join this interactive webinar to build your confidence and plan your next steps. |
| Get Hired - Top tips from international recruiters | Join us for this informative and interactive session which covers top tips from global employers, as well as practical steps you can take to help you research and apply for roles outside of the UK/Europe. |
| What is a global mindset? | Do you know what global employers want from today's graduates? Do your skills and personal qualities meet their needs? Join this interactive webinar to explore how 'global' you really are, develop your global mind-set, and show employers how you match their requirements. |
| FDM - Working globally | How a global IT Service provider provides the transition from University into the workplace for new graduates. What training and roles do FDM offer, and how do they recruit graduates. For more information about FDM go to: http://www.fdmgroup.com/ |
| KPMG operations in China | At KPMG, our purpose is to "Inspire Confidence and Empower Change", helping China to open its doors to the rest of the world and work with our clients to create the future. As one of the world's leading professional firms offering Audit, Tax and Advisory services, we have around 10,000 professional staff working across 17 offices in China. You are invited to come along and view a representative from KPMG China to hear more about our graduate opportunities – not only this, we will talk to you about returning home after graduation and remaining competitive in the job market. We will also offer you some top tips and advice on the recruitment process / interview. |
| Returning to China | Top tips on understanding the Chinese job market for graduates – a unique opportunity for you to find out which employers are recruiting, and what they are seeking from Chinese students who have studied in the UK. |
| Global Career Company - Returning home | Connecting diaspora talent with exciting opportunities in a wide range of global locations from graduate roles through to senior positions. Find out how to search and apply for professional opportunities, prepare for career searching and the make the most of resources in preparation for a role in your home country. |
| Tier 5 opportunities: Access tier 5 and BUNAC | Are you a non-EU student interested in applying for a visa to be a Temporary Worker here in the UK? A Tier 5 visa is a Government Authorised Exchange visa if you: want to come to the UK for a short time to conduct professional work experience, participate in an Overseas Government Language Programme or conduct research or a fellowship through an approved government authorised exchange scheme. Both BUNAC and Access Tier 5 are sponsors of the Tier 5 visa – join this webinar to find out further information on the visas that are available and how to apply. For further information on each company, please visit: BUNAC - http://www.bunac.org/usa/intern-abroad/professional/britain Access Tier 5 - https://accesstier5.com |
| Working in the UK after graduation; visa law, how to apply and tips for applications. By Hanif Lula, Immigration Solicitor, Freeths | The latest information about UKVI visas and immigration if you are thinking of applying for work in the UK following completion of your studies. Freeths are a major national law firm offering a wide range of services to both the commercial and private client across the entire legal spectrum. |
| Writing global CV's and developing your brand' session | This interactive session provides valuable information and ideas for showcasing your brand on your Global CV. Join us to find out how to make your CV work for you, what you should and shouldn't do, things to be aware of and consider as well as top tips for helping you to stand out in the global market. |
| Making the most of online professional networking | Making the Most of Online Professional Networking is a webinar focused on showcasing how you can approach social media platforms to develop your professional network. We will explore using social media and give advice on how to present yourself in a professional context, as well as using tools to develop an international network of professionals. |