Additional benefits
As well as the career and business support we provide to our alumni, we offer many social benefits from meeting up with old friends to discounted gym memberships.
Our alumni benefits are available to all graduates of Coventry University.
Events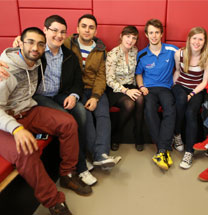 We are here to help you remember your time spent at Coventry as a student. We organise a number of events and reunions throughout the year, which our alumni and their guests are invited to attend.
Our events happen on our campus' in Coventry and London, around the UK and internationally, ranging from formal dinners, reunions, and informal receptions.
Check out our calendar of events to see how you can get involved and see what events we coming up throughout the year.
Offers and discounts
As Coventry University alumni, you are entitled to a variety of exclusive discounts and offers.
Library membership
At no extra cost, you are entitled to associate membership of the Lanchester Library as a Coventry University graduate.
You will have access to:
Over 1200 study areas, 350,000 books, and 2000 print journals.
Borrowing up to 5 items at a time.
Audio-visual services.
And much more…
You will need go to the library in person and take a form of photographic ID.
Gym membership
As alumni, you are eligible for discounted membership and a free induction at the University Sports Centre.
If you graduated less than a year ago, you are eligible for 'graduate membership'. There are different types of membership:
| | | |
| --- | --- | --- |
| Full | Ability to book sports halls; free entry into fitness suite and exercise classes; reduced rate physiotherapy treatment. | Graduate membership - £125.00 Alumni membership – £250.00 |
| Recreation and Gym | Ability to book sports halls; reduced rate physiotherapy treatments; free access into fitness suite and £3 per exercise class. | Graduate membership - £115.00 No Alumni membership available |
| Recreation | Ability to book sports halls; reduced rate physiotherapy treatments; Fitness suite and exercise class entry £3 per exercise. | Graduate membership - £30.00 Alumni membership - £50.00 |
Reunions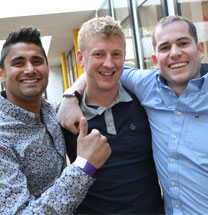 We can help you plan and arrange a reunion for your old friends, or a networking event in your area or profession. This is a fantastic opportunity to get back in contact with University friends and reminisce about your time together at Coventry.
Hosting a reunion is the perfect way to celebrate your friendships and all your achievements. Planning a reunion allows you to tour the city and campus to see how things have changed and visit some of your favourite places!
The Alumni team is here to help you plan every step of your reunion. Please read our step-by-step guide for organising your special occasion.
---