In our students' words: Sylvanus Hingston-Williams
Sylvanus is a graduate from Coventry University and when faced with the option of leaving and returning back to London, he decided it was time to undertake a postgraduate degree and stay in his new home of Coventry.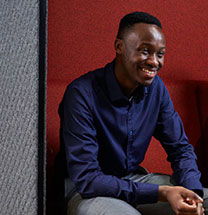 What made you choose to study this course?
I was attracted to the option of doing an internship instead of writing a dissertation for my final semester, providing me with practical experience in the industry. Knowing of Coventry's diverse and multicultural environment I knew it would be the best place for doing an MSc in International Business Management.
Plus, I have already completed a bachelors at Coventry in Advertising & Marketing so I knew I'd be right at home.
Why did you choose Coventry to do your Postgraduate study?
As an undergraduate student, Coventry University provided me with a lot of support and opportunities for growth and development with strong international perspectives to go abroad. So my past experience, along with the easy application process progressing from undergraduate to postgraduate, it was the best option for me.
What are you enjoying most about the experience of postgrad study at Coventry?
Meeting new international friends has been great. I've also been enjoying the opportunities to travel abroad, recently travelling to Belgium on a cross-cultural project in Leuven.
Do you do any extracurricular activities at Coventry?
Yes! I'm a postgraduate Ambassador, Student Engagement Partner and a Bright Futures Society member.
---
There're loads of opportunities for engagement and personal growth.
---
What would your advice be to other people considering studying here?
Go for it! There're loads of opportunities for engagement and personal growth.