Course code:
Study options:
Location:
---
Get in touch
For questions regarding study and admissions please contact us:
Course code:
Study options:
Location:
---
Get in touch
For questions regarding study and admissions please contact us:
Social Work is much more than 'helping people'. At its best it helps save lives, protect vulnerable people from harm and enhance the life chances of those in social need. The social work degree at Coventry University engages the head, the heart and the hands because theoretical knowledge, practical experience and human compassion are all considered essential requisites of an effective social worker.
For these reasons the course aims to enable you to affect positive change in the lives of service users. By doing so we hope that you will have an immensely rewarding career which makes a positive contribution to society.
This course encompasses contemporary issues in social work practice, it aims to give you an understanding of the knowledge, skills and attributes to be an effective social worker and make a positive difference to service users.
Coventry University has been educating social workers for over 50 years. Professionally accredited by Social Work England (SWE), on successful completion, you will be eligible to apply to SWE to register as a social worker (additional costs apply).
97% overall satisfaction - National Student Survey 2019.
95% of students were in employment or further study 6 months after graduating, of which 100% were in a professional or managerial role - Unistats DHLE - data from 16/17)
See the facilities available in our brand new Alison Gingell Building.
Why Coventry University?
An award-winning university, we are committed to providing our students with the best possible experience. We continue to invest in both our facilities and our innovative approach to education. Our students benefit from industry-relevant teaching, and resources and support designed to help them succeed. These range from our modern library and computing facilities to dedicated careers advice and our impressive Students' Union activities.
COVID-19
The University may deliver certain contact hours and assessments via emerging online technologies and methods across all courses. In response to the Covid-19 pandemic, we are prepared for courses due to start in or after the 2020/2021 academic year to be delivered in a variety of forms. The form of delivery will be determined in accordance with Government and Public Health guidance. Whether on campus or online, our key priority is staff and student safety.
Due to the ongoing restrictions relating to Covid-19, some facilities (including some teaching and learning spaces) and some non-academic offerings (particularly in relation to international experiences), may vary from those advertised and may have reduced availability or restrictions on their use.
Global ready
An international outlook, with global opportunities
Employability
Career-ready graduates, with the skills to succeed
Teaching Excellence
Taught by lecturers who are experts in their field
Course essentials
A degree which offers you more, at no extra cost
Accreditation and Professional Recognition
This course is accredited and recognised by the following bodies:
Social Work England
The course is approved by Social Work England for the 2021/22 intake. If the approval of this course changes, we will notify applicants and students as soon as possible. The department are also current active partners on the West Midlands Teaching Partnership for Social Work.
Our partners
Close partnerships exist with employers and other higher education institutions in the Teaching Partnership, and there are particularly established links currently with Coventry City Council, Warwickshire County Council and Solihull Metropolitan Borough Council.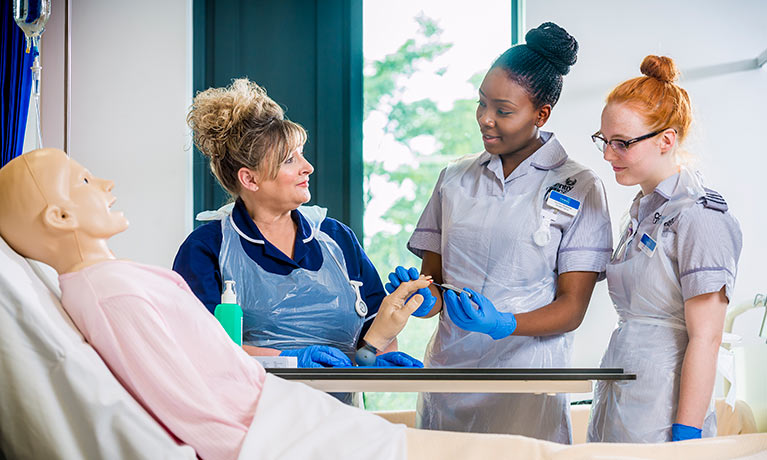 Hospital Wards
We have two fully-equipped mock hospital wards, each containing 4 beds. The wards are built to NHS standards and contain moveable beds, first aid equipment and patient monitoring tools.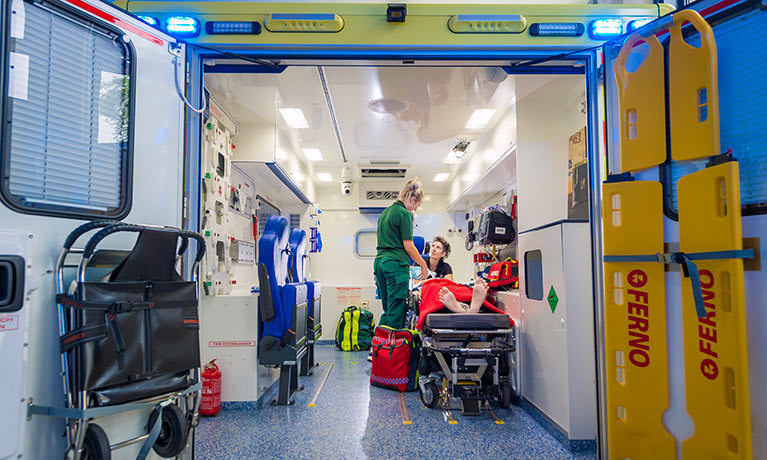 Life Sciences Research
Our facilities include a real ambulance, which students can use as part of their studies, and a purpose-built Clinical Skills and Simulation Centre. This allows for improved training quality in patient care and patient safety.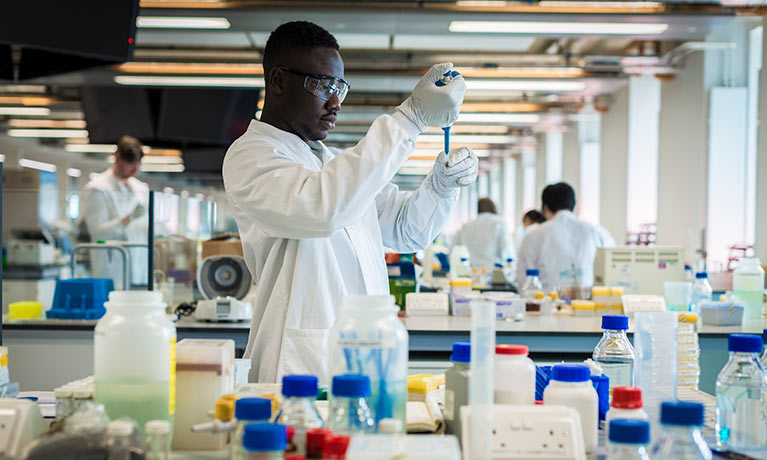 SuperLab
The Alison Gingell building contains a state-of-the-art SuperLab, capable of holding up to 270 people at once. The lab's facilities include equipment for microscopy, DNA analysis and forensic testing.
This course is designed to develop your professional skills and knowledge so that you may achieve a recognised SWE professional social work qualification. The curriculum centres on the Professional Capabilities Framework for Social Work currently held by the British Association of Social Workers (BASW) which comprises 9 domains: professionalism; values and ethics; diversity; rights, justice and economic wellbeing; knowledge; critical reflection and analysis; intervention and skills; and contexts and organisations.
You will study a range of academic topics ranging including the law relating to social work, understanding emotion in social work and essential skills such as communication skills and relationship building , These are all designed to help you to better understand people's needs and life journeys and should quip you with the underpinning knowledge for practice.
The course is grounded in practice so that you can experience first-hand the contemporary challenges and rapidly changing patterns of social work provision. You will undertake two separate mandatory and assessed practice placements, one of 70 days and one of 100 days, which are both sourced by the University*. Supervised and supported by a qualified social worker and team members, you will explore applying theory to practice, undertake direct work with service users and evidence the capabilities required by completion of the degree. Placements potentially cover the whole life cycle from children to older people and a range of service user groups.
*This course may incur additional costs associated with any field trips, placements or work experience, study abroad opportunities or any other opportunity (whether required or optional), which could include (but is not limited to) travel, accommodation, activities and visas.
15th
Guardian University Guide 2020
Modules
Overview
Year one contains a series of modules introducing you to the core learning required in social work education. You will explore baseline concepts and skills development in preparation for assessed practice in Year 2, including an innovative new module exploring emotions in social work. All modules are mandatory.
Modules
Introduction to Social Work

Communication and Relationship Building Skills in Social Work

Legal and Policy Frameworks for Practice

Applied Sociological Theory for Social Work

Understanding Emotion in Social Work

Using Theories and Methods in Social Work Practiceial Work

Readiness for Practice
Overview
The second year designed to develop your knowledge, skills and behaviour, marked by the first practice placement. There follows a trajectory of academic study, focusing on applied work. All modules are mandatory.
Modules
Evidence informed Practice

Social Work Practice 1 - placement module

Critical Reflective Practice 1

Human Growth and Development across the Lifespan

Social Work Practice with Children, Young People and Families

Social Work Practice with Adults
Overview
The final year includes a longer period of assessed practice, in preparation for professional qualification, and a particular focus on employability and independent study. All modules are mandatory.
Modules
Social Work Practice 2

Critical Reflective Practice 2

Management and Leadership for Social Care Professionals

Transition to Professional Practice
We regularly review our course content, to make it relevant and current for the benefit of our students. For these reasons, course modules may be updated.
97%
of Coventry University graduates are employed or in further study. - Undergraduate UK DLHE survey 2016-17
This course has been updated in 2019 to reflect contemporary trends in social work practice, both locally and nationally. Teaching on the degree emphasises the knowledge, skills and values of social work; especially the importance of evidence-informed, person-centred and relationship-based practice.
You will have the opportunity to engage with social work practitioners and people who have used social work service. It also provides opportunities for interprofessional learning as you will complete a module in the final year (Management and Leadership for Social Care Professionals), learning alongside students on other related courses, in preparation for potential future careers in integrated health and social care workplaces.
A staff team experienced both academically and in social care work practice.
170 days of practice learning in two placements.
Upon successful completion of the course you will: -Have developed the knowledge, cognitive skills, ethical understanding and interpersonal skills necessary for qualified social work practice. -Be able to recognise and work with service users from a diverse range of backgrounds in ways that balances the need to be sensitive to difference, cultural and otherwise, whilst remaining committed to upholding universal social work values. -Have developed the self-efficacy, autonomy, self-awareness, reflective ability, emotional intelligence and the organisational skills to work as an effective and empathic social worker.
The broad range of knowledge and skills within the staff team is reflected in diverse teaching methods. You can expect to experience large and small-group sessions, personal development groups, individual and group tutorial and some online content.
Assessment on the programme mirrors the diverse teaching methods with an approach to meet various skills and competencies as required by the regulation of the programme. This includes formative and summative assessment, through assignment, reflective log, class test and practical skill demonstration.
Upon successful completion of this course you will be able to:
Apply to the regulator of social workers in England to be placed on the relevant register as a professional social worker.
Practise effectively as a skilled and person-centred professional.
Recognise the impact of injustice, inequality and oppressive social structures and relations on service users' and carers' lives.
Demonstrate respect for people and for diverse organisations and communities, promoting social justice and combating processes that lead to oppression, discrimination, marginalisation, inequality and social exclusion.
Utilise skills to help people to gain, regain or maintain control of their own lives, choices and decisions, insofar as this is compatible with their own or others' safety, well-being and rights.
Engage in professional relationships with service users and carers that are characterised by openness, reciprocity, mutual accountability and explicit recognition of the powers of the social worker including statutory intervention.
Analyse how to make and implement difficult decisions (including restrictions on liberty) in situations that involve the potential for harm, including critical reflection on ethical principles and dilemmas.
Evaluate the need to deal with complex, multiple and sometimes contradictory accountabilities (for example, to different service users, carers, employing agencies, professional bodies and the public).
Appraise research evidence and knowledge from a range of sources (including theoretical perspectives and evidence from international contexts) to inform understanding and to underpin action, reflection and evaluation.
Appraise the social, political and economic challenges and demands of contemporary social welfare legislation, policy and practice. Analyse and work within ongoing contested debates about the nature, scope and purpose of social work.
Analyse and work within ongoing contested debates about the nature, scope and purpose of social work.
You will receive around 12-14 hours teaching contact time. This is made up of lectures, seminars and tutorials. Whilst on placement you are expected to work full-time. Social Work England define a placement day as usually no less than 7 hours (plus lunch break), but exact hours and working patterns may vary depending on the placement provider.
In recent years the faculty have offered international experiences* and recently social work students have been involved in visits to places such as Finland and the Netherlands.
*International experiences are subject to availability/change, application, additional costs and meeting any applicable visa requirements.
Global ready
Did you know we help more students travel internationally than any other UK university according to data from the experts in higher education data and analysis, HESA?
In 2018/19, we were able to provide a total of 5,469 experiences abroad that lasted at least five days.
Much of this travel is made possible through our Global Leaders Programme, which enables students to prepare for the challenges of the global employment market, as well as strengthening and developing their broader personal and professional skills.
Explore our international experiences
1st for
international experiences
Sending more students overseas than any other UK uni 2016/17
5,469
Student experiences
The number of student trips abroad for at least 5 days in 2018/19
12,000
and counting
The number of students we've helped travel internationally since 2016
12
global programmes
As well as trips, we offer other opportunities like language courses
Entry Requirements
University Course Code: HLSU117
A Level
BTEC
IB Diploma
GCSE requirement
BBB
BTEC Level 3 Extended Diploma: DDM in a Health subject
30 points with 14 at Higher Level
Minimum 5 GCSEs graded 9-4 / A*- C including English Language and Mathematics, or specified equivalents
Portfolio
Additional Information: Applicants must demonstrate an understanding of social work and learning from work and or life experience. Applicants will be required to attend an interview. All offers are subject to satisfactory health clearance, disclosure and barring service/criminal conviction checks and a successful interview.
In line with the National Health Service Constitution we use a values based recruitment approach in seeking candidates with the appropriate values to support effective team working in delivering excellent patient care.
A-Levels
A-Level applicants are required to have three
 A2 Levels. Coventry University may include AS grades within an offer for certain courses, but we are not able to accept two AS Levels in place of one A2 Level. In some courses it may be necessary for entrants to have passed specific A2 Levels in nominated subjects. Please see the course pages for more information.
Access Diplomas
An overall pass in the Access to Higher Education Diploma (60 credits) with 45 Level 3 credits, 30 at Distinction in Health/Social Science Modules.
Coventry University welcomes applicants who have completed, or who are studying, the Access to HE Diploma developed by the Quality Assurance Agency for Higher Education (QAA). Successful completion of the course will require you to gain 60 credits with at least 45 to be achieved at Level 3 (with the remainder at Level 2). In some cases we will require you to have gained Merit or Distinction grades in a number of units or in nominated subjects. For more information on the entry requirements for your chosen course please see the relevant course pages.
BTEC Level 3 Diplomas
The University will accept the BTEC Level 3 Extended Diploma for entry to most courses. In some cases we will require applicants to have studied either certain named modules or a specific named Diploma. The appropriate course page will have full information on the entry requirements. The University also accepts the BTEC Level 3 Subsidiary Diploma and BTEC Level 3 Diploma for entry to degree programmes, provided that they are studied in combination with other qualifications that provide a total volume of study that is equivalent to three A2 Levels. For example, you could be studying a BTEC Level 3 Diploma plus an A2 Level, or a BTEC Level 3 Subsidiary Diploma plus two A2 Levels. Where a specific A2 or BTEC subject is required for entry then you must be offering this as part of your combination of qualifications.
Select your region to find detailed information about entry requirements:

You can view our full list of country specific entry requirements on our Entry requirements page.
Alternatively, visit our International hub for further advice and guidance on finding in-country agents and representatives, joining our in-country events and how to apply.
---
English language requirements

This course requires an IELTS of 7.0 overall, with no component lower than 6.5.
If you don't meet the English language requirements, you can achieve the level you need by successfully completing a pre-sessional English programme before you start your course.
For more information on our approved English language tests visit our English language requirements page.
Our International Student Hub offers information on entry requirements for your country, as well as contact details for agents and representatives should you need more advice.
More detail
What our students say...
Passion, expertise, sheer commitment and intellect have been demonstrated by all the members of staff. They have always been humble and patient in imparting their knowledge and able to modify their approach to suit their audience - it was never a one size fits all. Not only are they intelligent, experienced, passionate, knowledgeable and accommodating, but they are also wonderful people.
Tuition Fees
We pride ourselves on offering competitive tuition fees which we review on an annual basis and offer a wide range of scholarships to support students with their studies. Course fees are calculated on the basis of what it costs to teach each course and we aim for total financial transparency.

For more information, please visit our Finance pages.
Scholarships and bursaries
We offer a variety of scholarships and bursaries to students at Coventry University to help fund the cost of your study. Eligibility may depend on your circumstances and academic achievement.


Scholarships and bursaries
There are a number of scholarships available to international students at Coventry University. EU students may be eligible for a transition bursary.
Course essentials at no extra cost
We're committed to communicating study costs clearly to make sure you're not faced with having to make any unexpected payments.
This is why our 'Flying Start' package provides you with a few course essentials. Your full-time fee for an undergraduate degree will cover the following:
UK field trips
Any mandatory site visits and trips within the United Kingdom.
Key material
This can include core textbooks, software and equipment.
Laser prints
1,000 A4 sides of black and white laser printing credits per year.
Course essentials - additional costs
This course may incur additional costs associated with any placements or work experience opportunities or any other opportunity (whether required or optional), which could include (but is not limited to), equipment, materials, bench fees, studio or facilities hire, travel, accommodation and visas.
EU student fees
EU nationals starting in the 2020/21 academic year remain eligible for the same fees as home students and the same financial support. Financial support comes from Student Finance England, and covers undergraduate and postgraduate study for the duration of their course, providing they meet the residency requirement.
For tuition fee loans
EU nationals starting in the 2020/21 academic year must have resided in the European Economic Area (EEA) or Switzerland for the three years prior to the start of their course. The purpose of that three year residency should not have been mainly for the purpose of receiving full time education.
For maintenance loans
EU nationals starting in the 2020/21 academic year must have resided in the UK and Islands for the five years prior to the start of their course. The purpose of that five year residency should not have been mainly for the purpose of receiving full time education.
Reduced course fees for EU students
The UK Government has confirmed that EU students who are starting their course in September 2021 and onwards will be classified as an international student. To support our EU community who are affected by this change, Coventry University are providing an EU Member State Transition Bursary.
Students ordinarily domiciled in an EU Member State who prior to the 2021/22 academic intake qualified for UK fees (home fee status), are eligible for the EU Member State Transition Bursary. This will bring fee levels for those students across the Group into line with those of UK students for courses starting in the 2021/22 academic year.
Review more details on our EU Member State Transition Award/Bursary page.
Career prospects
Graduate Immigration Route visa
Based on current information from the UK Government, international students whose study extends beyond summer 2021 may be eligible for a visa under the UK Government's Graduate Immigration Route, which will enable students to stay and work, or look for work, in the UK at any skill level for up to two (2) years. Check the most up to date guidance available to check your eligibility and any updates from the UK Government before making an application or enrolment decision.
Previous graduates from social work qualifying programmes at Coventry University have had excellent career prospects in the caring professions, supported by our close links with local employer partners, who are actively involved in the design, delivery and assessment of the programme. There remain healthy employment rates in the local area for qualified local authority social workers, however previous graduates have also gone on to wider range of positions in the NHS and voluntary sector.
Where our graduates work
Previous graduates have benefited from particularly helpful working relationships with local employers who make up the West Midlands Teaching Partnership, and especially Coventry City Council, Warwickshire County Council and Solihull Metropolitan Borough Council.
Disclaimer
By accepting your offer of a place and enrolling with us, a Student Contract will be formed between you and the university. A copy of the 2020/21 Contract can be found here. The Contract details your rights and the obligations you will be bound by during your time as a student and contains the obligations that the university will owe to you. You should read the Contract before you accept an offer of a place and before you enrol at the university.
The tuition fee for the course that is stated on the course webpage and in the prospectus for the first year of study will apply. We will review our tuition fees each year. For UK and EU students, if Parliament permit an increase in tuition fees, we may increase fees for each subsequent year of study in line with any such changes. Note that any increase is expected to be in line with inflation. Following the UK's exit from the European Union, EU students should be aware that there may be a change to UK laws following the UK's exit, this may change their student status, their eligibility to study part time, and/or their eligibility for student finance. We will act in accordance with the UK's laws in force in relation to student tuition fees and finance from time to time.
For International students the tuition fee that is stated on the course webpage and in the prospectus for the first year of study will apply. We will review our tuition fees each year. For international students, we may increase fees for each subsequent year of study but such increases will be no more than 5% above inflation.
Admission to this course is subject to Disclosure and Barring Service (DBS) checks and a successful interview. Find out about the application process.