Clearing 2020
No Clearing places available on this course
This course is not offering places through Clearing. However, you could still study with the Coventry University Group.
Course code:
Study options:
Location:
---
Get in touch
For questions regarding study and admissions please contact us:
Course code:
Study options:
Location:
---
Get in touch
For questions regarding study and admissions please contact us:
Course code:
Study options:
Location:
---
Get in touch
For questions regarding study and admissions please contact us:
Midwives play a pivotal role in supporting the health and wellbeing of women and their families during all stages of pregnancy, childbirth and the early postnatal period. Midwives often describe their role preparing women for the delivery of new life as 'privileged'.
Becoming a midwife means undertaking professional education at degree level. Some midwives are qualified nurses who have chosen to change career direction and undertake the extra study necessary to be registered as a midwife. Others begin their career by working their way up via support roles, such as starting as a maternity support worker, before going on to study for a midwifery degree later.
Ranked 4th for Nursing and Midwifery in the Guardian University Guide 2020, Coventry Univeristy provides you with the opportunity to learn in our multi-million pound Alison Gingell Building with up-to-date equipment and simulators. Strong student satisfaction is demonstrated by the fact that this course has achieved 100% overall in the National Student Survey in 2017/18 and 2018/19. See the facilities available in our brand new Alison Gingell Building.
Why Coventry University?
An award-winning university, we are committed to providing our students with the best possible experience. We continue to invest in both our facilities and our innovative approach to education. Our students benefit from industry-relevant teaching, and resources and support designed to help them succeed. These range from our modern library and computing facilities to dedicated careers advice and our impressive Students' Union activities.
To ensure an optimised and continual student experience, the university may deliver certain contact hours and assessments via emerging online technologies and methods across all courses. For courses due to start in September 2020, in light of Covid-19, we are currently preparing for courses to be delivered in a variety of forms, subject to Government and Public Health guidance. Whether on campus or online, our key priority will be staff and student safety.
Global ready
An international outlook, with global opportunities
Employability
Career-ready graduates, with the skills to succeed
Teaching Excellence
Taught by lecturers who are experts in their field
Course essentials
A degree which offers you more, at no extra cost
Accreditation and Professional Recognition
This course is accredited and recognised by the following body:

Nursing and Midwifery Council
The course is currently accredited by the Nursing and Midwifery Council (NMC). Currently, Coventry University also has UNICEF Baby Friendly Initiative (BFI) accreditation.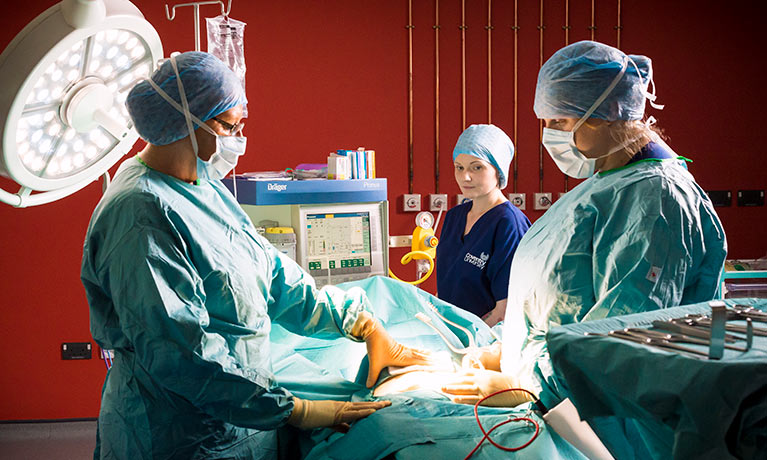 Mock Operating Theatre
Our Alison Gingell building includes a full-size mock operating theatre, containing scrub sinks and theatre lights. We also have a mock hospital ward so that we can study a complete patient pathway.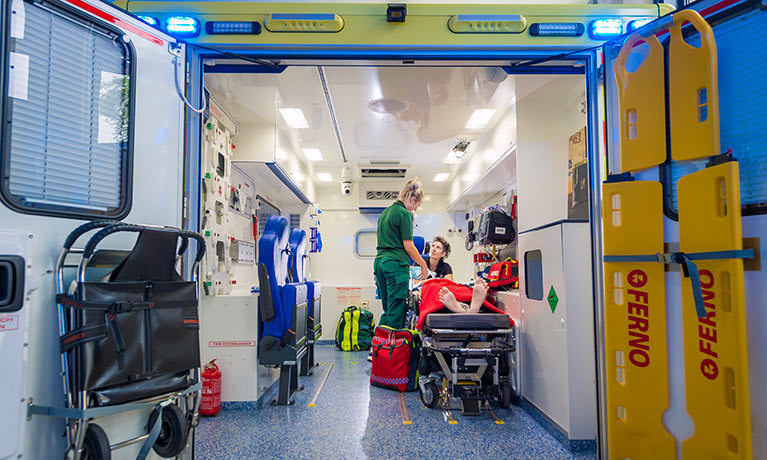 Ambulance
Our facilities include a mock ambulance, which students can use as part of their studies, to help simulate the patient journey. This gives students the opportunity to learn in situations that mirror real life scenarios.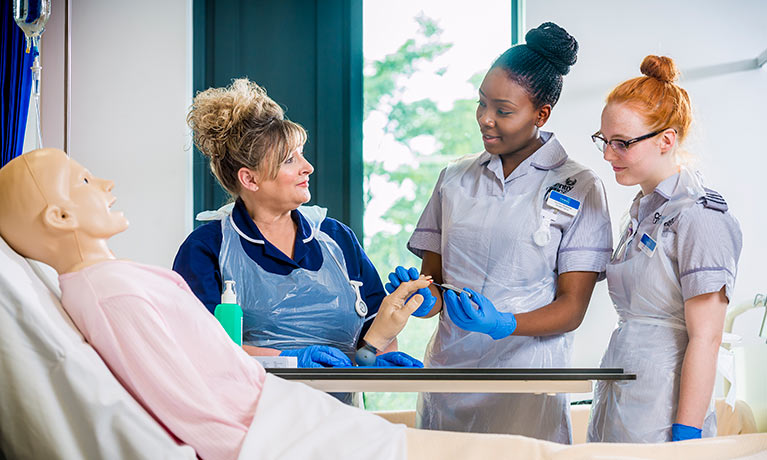 Hospital Wards
We have two fully-equipped mock hospital wards, each containing 4 beds. The wards are built to NHS standards and contain moveable beds, first aid equipment and patient monitoring tools.
Patient testimonial
The Coventry University Midwifery Course provides a transformational course in a supportive environment allowing students to develop professionally and personally.
As a midwife, you will care for childbearing women and families in a changing society and, as such, this course aims to provide you with the knowledge and skills relating to contemporary midwifery practice.
In modern health and social care settings nursing and midwifery students are increasingly required to work towards becoming autonomous practitioners, taking a leadership role in decisions regarding patient care within multi-professional settings. They routinely have the most frequent and intense contact with patients and must be competent in recognising changes in patient condition so that appropriate action can be taken.
You will have the opportunity to study a wide range of subjects, including anatomy and physiology, pharmacology, psychology, sociology and research methods. This course will give you the opportunity to become immersed in learning about the needs of populations, individuals, related health and nursing services with an emphasis on using research to enhance and improve services. This is an integrated course where theory and practice are undertaken simultaneously. As the course progresses the amount of time spent in clinical practice will increase.
The collaborative course curriculum, which you'll study alongside students from other health-related courses, has been developed in response to the need to produce professionals who are effective communicators, caring and compassionate, with good relationship building skills. It recognises the importance of inter-professional working within the health and social care workforce and comprises five core modules in the areas of: the foundations of communication and professionalism; the social determinants of health and wellbeing; evidence informed practice and decision making; working together to lead service improvement; and enhancing practice through evaluation and research.
We constantly review the course content and teaching to ensure we reflect the latest developments in the field and comply with the requirements for Nursing and Midwifery Council (NMC) accreditation. Where required by the NMC for accreditation, the course content may need to change and students will be notified of any such changes as soon as is reasonably practicable.
Modules
Overview
The focus in the first year is on the acquisition of knowledge and skills for normal childbearing and the development of study skills.
Modules
Introduction to Midwifery

Medicines Management in Midwifery

Normal Childbirth

Woman-centred Midwifery Care

Developing Skills in Midwifery Practice

Foundations in Communication and Professionalism

Social Determinants of Health and Wellbeing
Overview
The theme for year two is diversity in maternal and neonatal health with the focus on further development of knowledge and skills in normal midwifery and the acquisition of knowledge and competence to care for women and babies with complex health needs.
Modules
Promoting Healthy Lifestyles

Complexities in Childbearing

Legal and Ethical Issues in Midwifery

International Perspectives in Midwifery

Developing Skills in Parent Education

Evidence Informed Practice and Decision Making
Overview
During the final year of the course, you will have the opportunity to continue to develop midwifery skills and knowledge which should ensure your readiness to assume the full role and responsibilities of a midwife ready for registration with the Nursing and Midwifery Council.
Your degree culminates with a literature review related to one aspect of nursing practice, equivalent to the standard dissertation, for which you will write a 5,000 word report.
Throughout all years, you will have the opportunity to develop skills in communication, health assessment, professional practice, evidence based practice, knowledge of public health and policy, as well as legal and ethical issues.
Modules
Emergencies in Childbirth

Becoming a Competent Practitioner

Clinical Decision Making

Autonomous Midwifery Practice

Enhancing Practice Through Evaluation and Research

Working Together to Lead Service Improvement
We regularly review our course content, to make it relevant and current for the benefit of our students. For these reasons, course modules may be updated.
4th
Our Nursing and Midwifery courses are ranked 4th in the UK by The Guardian University Guide 2020
Helping mothers bring new life into the world must surely be one of the most rewarding professions and a shortage of midwives in the NHS in England alone means that now more than ever they are in great demand.
While there are lots of opportunities for midwives to work on antenatal, labour and postnatal wards and neonatal units in hospitals, more midwives are also now working in the community, providing services in women's homes, local clinics, children's centres and GP surgeries.
This course aims to prepare you for the dynamic and fast changing health and social care system, and to develop you into an adaptable, flexible, reflective, competent and compassionate practitioner. A key benefit of our curriculum is the notion of collaboration across all areas of health and social care: some modules are studied in conjunction with other health and social care professionals; looking at specific issues and challenges they face to broaden your knowledge and expertise.
From the outset, you'll have the opportunity to gain hands-on experience under the supervision of an experienced midwife, who will support you to manage a small caseload during the course. You will be encouraged to develop the clinical and care skills to become a professionally competent midwife who can soundly analyse a woman's needs, plan an appropriate programme of care and then implement it safely, effectively and sensitively.
We emphasise a problem-solving approach, reinforced by the capacity to evaluate the best possible outcome and reflect upon personal performance. You will be encouraged to place the mother, baby and family at the centre of care and will operate flexibly as a member of the wider inter-professional team.
To help increase your employability, the course also incorporates the theory component of the Newborn Infant Physical Examination (NIPE), which delivers the content specific for the knowledge and skills required to cover the NHS Ante natal and New-born Screening Programme as required by the National Screening Committee.
Student satisfaction - 100% overall as reported in the National Student Survey (NSS) 2017- 18.
Fully accredited by the Nursing and Midwifery Council (NMC) providing eligibility for registration to practice on successful completion.
Use of our extensive simulation facilities – from basic life support manikins to high tech simulation dummies, which emulate patient responses and test resuscitation skills. You will also have opportunities to use equipment found in the real world of practice, such as medical devices to assist with all elements of care and especially medication administrations.
Nursing and Midwifery at Coventry is ranked 7th best in the UK by the Guardian University Guide 2019.
Outstanding track record of employability – 100% of BSc Midwifery students were in work in graduate midwifery roles six months after graduating (DLHE 2016/17).
Well established placements for midwifery students in Coventry and Warwickshire at the George Eliot Hospital NHS Trust, South Warwickshire NHS Foundation Trust and University Hospitals Coventry and Warwickshire NHS Trust.
Multimillion state-of-the-art Alison Gingell Building provides facilities for teaching and research, featuring an operating theatre, critical care settings, community housing and other real life nursing environments relevant to practice.
There are also opportunities to undertake a range of interesting fieldtrips, including King's Gordon Museum of pathology in London which is one of the largest pathology museums in the world (such field trips may be subject to an additional fee and are arranged by the Coventry University midwifery team. Places are not limited).
Midwifery practice aims to develop the professional values, attitudes and behaviours required to deliver safe and effective, holistic women-centred care. You'll have the opportunity to cover the key concepts of midwifery practice and factors influencing care, for example, Better Births (NHS England 2016) and you;'ll also have opprotuntiies to develop clinical skills which underpin these care factors through practice in the simulation suites.
Evidence informed practice and decision making: Explores the principles and strategies of Evidence Informed Practice (EIP) to help enable you to apply, creatively, a wide range of sources of evidence for clinical decision making. You will be introduced to research perspectives (methodology and design), audit, health policy, and service user participation as methods to evaluate your EIP plans and interventions.
Communications and professionalism: Communication is highlighted as an essential skill for all health care professionals because it impacts on patient satisfaction. You will have the opportunity to develop the key professional attributes incorporating the six 'C's model of communication, commitment, courage, care, competence, compassion.
This course uses a wide variety of approaches to teaching and learning to suit individual learning styles. This includes a series of interactive lectures with associated seminars, skills lab activities and practical placements. All modules are mandatory to enable you to exit the programme with the knowledge, values and skills to be able to work within integrated care settings and enhance the delivery of care for service users, their families and carers.
The course is underpinned by an approach to professional care which is characterised by empathy, respect, dignity and kindness towards women and their families. We will encourage you to develop an in-depth understanding of the organisation and culture of modern health care systems, which should provide you with the confidence to be able to take a stronger role in the leadership and management of resources in delivering treatment and healthcare options to patients.
You will be introduced to the practice of midwifery in the midwifery skills laboratory and subsequently by working under direct supervision of a midwifery mentor in community and hospital settings, in which you will have the opportunity to experience the 24/7 nature of midwifery care. Placements in non-midwifery areas and the opportunity to work in midwifery triage areas, early pregnancy assessment units and day assessment units are included from Year Two. You will also have the opportunity to undertake a clinical placement in a local intensive and high dependency neonatal unit.
Placements are sourced for students by Coventry University and do not require additional fees or application processes to be made.
This course will be assessed using a variety of methods which will could vary depending upon the module but may include: Essays and reports, Objective Structured Clinical Examinations (OSCE), Presentations, online tests, mock interview, Triad and Dyad in clinical practice, literature review. You will also be assessed within practice placements.
Coventry University aims to ensure that our courses are fairly assessed and endeavours to monitor your progression towards the achieving the intended learning outcomes.
On successful completion of this course, you should have knowledge of:
The theoretical basis of midwifery practice to meet the NMC competencies, essential skills clusters and EU activities of a midwife.
The implications of current legislation, professional regulation, standards of performance and the NMC Code.
Current developments in midwifery and the biological, physiological, pharmacological, psychological and sociological knowledge related to childbearing.
On successful completion of this course, you should be able to:
Demonstrate effective individual and team leadership skills and apply quality monitoring initiatives.
Discuss service user and carer needs in respect of equity, fairness, antidiscrimination, rights, values, customs, culture, beliefs, sensitivity, diversity, lifestyle and environment.
Utilise and disseminate current research findings and other forms of evidence that underpin midwifery practice.
Transfer knowledge and skills to a variety of settings and adapt practice to meet varying, unpredictable and complex circumstances.
Seek clinical supervision to develop safe and effective midwifery practice.
Critically evaluate relevant research, possible interventions and the most up-to-date technology to support quality care delivery.
Critically analyse situations and incidents through reflective practice activities.
Plan, implement and monitor midwifery care, involving service users and carers.
Evaluate and revise expected outcomes, midwifery interventions and priorities in accordance with changes in the individual's condition, needs or circumstances.
Demonstrate a range of essential midwifery skills and seek supervision to develop safe, compassionate, skilful and autonomous midwifery practice.
Consult with service users and carers to identify and respond to their need and desire for health promotion advice, education, support and the development of services.
Co-ordinate the delivery of midwifery and healthcare within one's sphere of professional accountability, including people with complex and co-existing needs.
Provide safe and effective immediate care to women and their families.
As this is a full-time modular course, you are expected to allocate 40 hours per week to your learning, including up to 16 hours of teaching contact, self-directed study and reflection and 24 hours clinical practice.
Self-directed study provides time to undertake assessments, prepare for upcoming lectures and access tutorial support.
You will engage in a module entitled International Perspectives in Midwifery and have the opportunity to explore international midwifery practice by examining the role of the midwife alongside global variations in maternal and infant mortality. Socio-political and cultural differences among developed and developing countries are examined with their impact on childbirth outcomes. International strategies for promoting health and safe motherhood, including the Sustainable Development Goals, are also examined.
A two-week elective placement is incorporated into the courses. You may opt to experience maternity services abroad within Europe or beyond – typically one to two weeks' duration (application and additional costs will apply). You will be expected to share your experiences with fellow students, and also benefit from the experiences of other students who have studied elsewhere.
During placements you will have the opportunity to provide care for women and families from a wide range of backgrounds. This first-hand experience enables you to set midwifery within a broad cultural context.
Global ready
Did you know we help more students travel internationally than any other UK university according to data from the experts in higher education data and analysis, HESA?
In 2016/17, we were able to provide a total of 3,482 experiences abroad that lasted at least five days.

Much of this travel is made possible through our Global Leaders Programme, which enables students to prepare for the challenges of the global employment market, as well as strengthening and developing their broader personal and professional skills.
Explore our international experiences
1st for
international experiences
Sending more students overseas than any other UK uni (HESA 2016/17)
3,482
Student experiences
The number of student trips abroad for at least 5 days in 2016/17
21,000
and counting
The number of students we've helped travel internationally so far
12
global programmes
As well as trips, we offer other opportunities like language courses
Patient testimonial
I wanted to pass on some feedback regarding one of the student midwives who looked after me, Chloe, who I believe is a second year student. What can I say, she was absolutely brilliant.

Chloe always made sure I was ok when observing and made sure I understood everything, answering any questions I had.

She was a kind, calm, patient, knowledgeable, polite, caring, professional and just lovely. She made a massive difference to me and my time in hospital. She will be a really super midwife (she already is really!) and I am grateful to have had her care.
Entry Requirements
University Course Code: HLSU164
A Level
BTEC
IB Diploma
GCSE requirement
ABB to include Science or Social Science. Excludes General Studies, Applied Science or Health and Social Care as a Science subject.
DDM in Health and Social Care.
30 points to include 15 at Higher Level.
Minimum 5 GCSEs graded 9-4 / A*- C including English, and Science. Within the minimum of 5 GCSEs you will also need Mathematics at a minimum grade 6 /B. You must have results certificates at point of interview.

Applicants may be required to attend for interview.You will also need to sit a maths test as part of the selection process.
A-Levels
A-Level applicants are required to have three
 A2 Levels. Coventry University may include AS grades within an offer for certain courses, but we are not able to accept two AS Levels in place of one A2 Level. In some courses it may be necessary for entrants to have passed specific A2 Levels in nominated subjects. Please see the course pages for more information.
Access Diplomas
An overall pass in the Access to Higher Education Diploma (60 credits) with 45 Level 3 credits, 30 at Distinction (majority in biological subjects) & 15 at Merit.
Coventry University welcomes applicants who have completed, or who are studying, the Access to HE Diploma developed by the Quality Assurance Agency for Higher Education (QAA). Successful completion of the course will require you to gain 60 credits with at least 45 to be achieved at Level 3 (with the remainder at Level 2). In some cases we will require you to have gained Merit or Distinction grades in a number of units or in nominated subjects. For more information on the entry requirements for your chosen course please see the relevant course pages.
BTEC Level 3 Diplomas
While Coventry University accept the BTEC Level 3 Extended Diploma for entry to most courses, in some cases we will require applicants to have studied either certain named modules or a specific named Diploma. The appropriate course page will have full information on the entry requirements. The University also accepts the BTEC Level 3 Subsidiary Diploma and BTEC Level 3 Diploma for entry to degree programmes, provided that they are studied in combination with other qualifications that provide a total volume of study that is equivalent to three A2 Levels. For example, you could be studying a BTEC Level 3 Diploma plus an A2 Level, or a BTEC Level 3 Subsidiary Diploma plus two A2 Levels. Where a specific A2 or BTEC subject is required for entry then you must be offering this as part of your combination of qualifications.
Additional Information
Admission on the course is subject to a satisfactory health clearance and Disclosure and Barring Service certificate.
Table of qualifications
UCAS
BTEC
GCE A2 Level
Tariff points
L3 Extended Diploma
A*A*A*
168
D*D*D*
A*A*A
160
D*D*D*
A*A*B


152
D*D*D
A*A*C
AAA
144
DDD
A*A*D
AAB
BBA*
A*AC
136
AAC
BBA
128
DDM
AAD
BBB
ABC
120
AAE
BBC
ACC
112
DMM
BBD


108
CCC
96
MMM
Patient testimonial
I wanted to pass on some feedback regarding one of the student midwives who looked after me, Chloe, who I believe is a second year student. What can I say, she was absolutely brilliant.

Chloe always made sure I was ok when observing and made sure I understood everything, answering any questions I had.

She was a kind, calm, patient, knowledgeable, polite, caring, professional and just lovely. She made a massive difference to me and my time in hospital. She will be a really super midwife (she already is really!) and I am grateful to have had her care.
Tuition Fees
We pride ourselves on offering competitive tuition fees which we review on an annual basis and offer a wide range of scholarships to support students with their studies. Course fees are calculated on the basis of what it costs to teach each course and we aim for total financial transparency.

For more information, please visit our Finance pages.
UK Scholarships
If you're a truly outstanding undergraduate candidate we may be able to offer you a Coventry University Scholarship.

Coventry University Scholarships are awarded to recognise truly exceptional sports achievement and academic excellence.
Course essentials at no extra cost
We're committed to communicating study costs clearly to make sure you're not faced with having to make any unexpected payments.
This is why our 'Flying Start' package provides you with a few course essentials. Your full-time fee for an undergraduate degree will cover the following:
UK field trips
Any mandatory site visits and trips within the United Kingdom.
Key material
This can include core textbooks, software and equipment.
Laser prints
1,000 A4 sides of black and white laser printing credits per year.
Optional year
Pay no tuition fees for optional work placements or study abroad trips.
EU student fees
EU nationals and their family members starting in the 2019/20 academic year remain eligible for the same fees as home students and the same financial support. Financial support comes from Student Finance England, and covers undergraduate and postgraduate study for the duration of their course, providing they meet the residency requirement.
For tuition fee loans
EU nationals must have resided in the European Economic Area (EEA) or Switzerland for the three years prior to the start of their course. The purpose of that three year residency should not have been mainly for the purpose of receiving full time education.
For maintenance loans
EU nationals must have resided in the UK and Islands for the five years prior to the start of their course. The purpose of that five year residency should not have been mainly for the purpose of receiving full time education.
Patient testimonial
I wanted to pass on some feedback regarding one of the student midwives who looked after me, Chloe, who I believe is a second year student. What can I say, she was absolutely brilliant.

Chloe always made sure I was ok when observing and made sure I understood everything, answering any questions I had.

She was a kind, calm, patient, knowledgeable, polite, caring, professional and just lovely. She made a massive difference to me and my time in hospital. She will be a really super midwife (she already is really!) and I am grateful to have had her care.
Career prospects
Graduate Immigration Route visa
Based on current information from the UK Government, international students whose study extends beyond summer 2021 may be eligible for a visa under the UK Government's Graduate Immigration Route, which will enable students to stay and work, or look for work, in the UK at any skill level for up to two (2) years. Check the most up to date guidance available to check your eligibility and any updates from the UK Government before making an application or enrolment decision.
There are thousands of midwives in today's NHS yet the continued rise in the number of births has led the Royal College of Midwives to predict a 3,500 shortfall of qualified professionals in England.
There is a strong practical emphasis on this course, with 50% of the course expected to be spent on placements. On graduating successfully from this course, you can apply for registration with the Nursing and Midwifery Council (NMC) (registration fee may apply), which enables you to practise immediately in either the NHS or independent practice. As a registered midwife, you'll have opportunities to work with a range of other professionals including gynaecologists, GPs, health visitors, neonatal nurses and maternity support workers.
As well as helping you to find suitable work placements and give you advice on how to get the most out of them, the Faculty of Health and Life Sciences' Employability and Placements Unit can provide you with support you when you are ready to begin your professional career.
There will be considerable opportunities for educational and professional development. Learning Beyond Registration (LBR) has always been as essential element within the role of the midwife. A range of continuing professional development modules and courses are available at Coventry University. Please visit our website for further information.
Coventry University is committed to preparing you for your future career and giving you a competitive edge in the graduate job market. The University's Careers and Employability team provide a wide range of support services to help you plan and prepare for your career.
100%
of students were in graduate level employment 6 months after graduating
DLHE 2016/17
Where our graduates work
The majority of our graduates have found employment as qualified midwives in the NHS. As your career progresses, you may choose to specialise in a particular area of perinatal care and eventually apply for the role of consultant midwife. This would require you to provide clinical leadership for midwives and other healthcare professionals involved in maternity services.
As a registered midwife, you could work with specialist midwives such as bereavement midwives and ante natal screening midwives and also a range of other professionals including obstetricians, GPs, health visitors, neonatal nurses and maternity support workers
You could also aim to become involved in practice development or board level management within an NHS Trust.
Patient testimonial
…not only was the clinical experience based in some of the most pioneering, high quality hospitals in the Midlands, the lecturers were so supportive and dedicated to helping you to be the best midwife you could be. With exposure to everything from acute illnesses on high risk obstetric-led units to pool births on the birth centre, the experience you gain makes you incredibly employable as well as a well-rounded, highly skilled midwife.
Disclaimer
By accepting your offer of a place and enrolling with us, a Student Contract will be formed between you and the university. A copy of the 19/20 Contract can be found here. The Contract details your rights and the obligations you will be bound by during your time as a student and contains the obligations that the university will owe to you. You should read the Contract before you accept an offer of a place and before you enrol at the university.
The tuition fee for the course that is stated on the course webpage and in the prospectus for the first year of study will apply. We will review our tuition fees each year. For UK and EU students, if Parliament permit an increase in tuition fees, we may increase fees for each subsequent year of study in line with any such changes. Note that any increase is expected to be in line with inflation. Following the UK's exit from the European Union, EU students should be aware that there may be a change to UK laws following the UK's exit, this may change their student status, their eligibility to study part time, and/or their eligibility for student finance. We will act in accordance with the UK's laws in force in relation to student tuition fees and finance from time to time.
For International students the tuition fee that is stated on the course webpage and in the prospectus for the first year of study will apply. We will review our tuition fees each year. For international students, we may increase fees for each subsequent year of study but such increases will be no more than 5% above inflation.
Admission to this course is subject to Disclosure and Barring Service (DBS) checks and a successful interview. Find out about the application process.