---
Get in touch
For questions regarding study and admissions please contact us:
Course code:
Study options:
3 years full-time
4 years sandwich
5 years part-time
Location:
---
Get in touch
For questions regarding study and admissions please contact us:
---
Get in touch
For questions regarding study and admissions please contact us:
Due to a strong growth in the built environment as a whole and in particular in the importance placed on financial and legal management within the sector, the quantity surveying role has been growing in importance for a number of years and is now seen as one of the key roles in the delivery of successful construction projects.
As a response to the reported skills shortages in this particular role, this programme has been developed to provide you with the necessary skills, training and knowledge to work in roles ranging from professional and contractor quantity surveyors, commercial managers, project managers and similar roles from all sectors relating to the land, property and infrastructure industries. As it is accredited by both the CIOB (Chartered Institute of Building) and RICS (Royal Institute of Chartered Surveyors), you know that you will be gaining an industry recognised and approved qualification at one of the top ranked Universities for providing built environment Courses (4th in Guardian University Guide 2020).
Our state of the art simulation centre allows us to provide you with not only theoretical knowledge and skills but also develop the ability to apply this knowledge to realistic industrial situations yet within a safe environment.
Why Coventry University?
An award-winning university, we are committed to providing our students with the best possible experience. We continue to invest in both our facilities and our innovative approach to education. Our students benefit from industry-relevant teaching, and resources and support designed to help them succeed. These range from our modern library and computing facilities to dedicated careers advice and our impressive Students' Union activities.
To ensure an optimised and continual student experience, the university may deliver certain contact hours and assessments via emerging online technologies and methods across all courses. For courses due to start in September 2020, in light of Covid-19, we are currently preparing for courses to be delivered in a variety of forms, subject to Government and Public Health guidance. Whether on campus or online, our key priority will be staff and student safety.
Global ready
An international outlook, with global opportunities
Employability
Career-ready graduates, with the skills to succeed
Teaching Excellence
Taught by lecturers who are experts in their field
Course essentials
A degree which offers you more, at no extra cost
Accreditation and Professional Recognition
This course is accredited and recognised by the following bodies:

The Chartered Institute of Building
This course is accredited by The Chartered Institute of Building (CIOB) until 1 April 2023, having been judged to meet the CIOB Education Framework. Whilst the University hopes and anticipates that any renewal after 2023 would be successful, if the renewal were to be unsuccessful, this course would no longer be accredited and we would notify applicants and students as soon as possible.
Prospective members holding these qualifications will have full academic exemption and once they have gained three to five years' relevant work experience, may enter CIOB membership as an applicant to progress towards Chartered Membership without the requirement for an Individual Assessment. Further information can be found on the CIOB website.

Royal Institution of Chartered Surveyors
An accredited course leading to membership of the Royal Institution of Chartered Surveyors (RICS). Additional costs may apply. Please check with the membership body for details.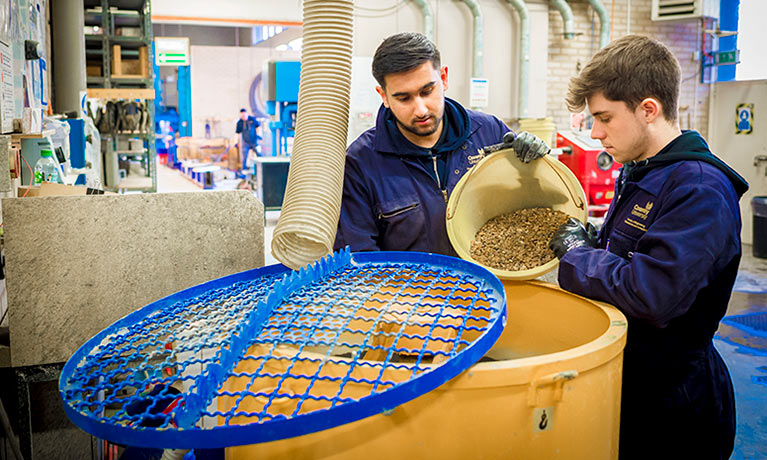 Materials Laboratory
Includes industrial standard timber and steel workshops, a concrete mixing area with 3 pan mixers, programmable environmental chambers, a range of ovens and curing tanks and various materials testing apparatus.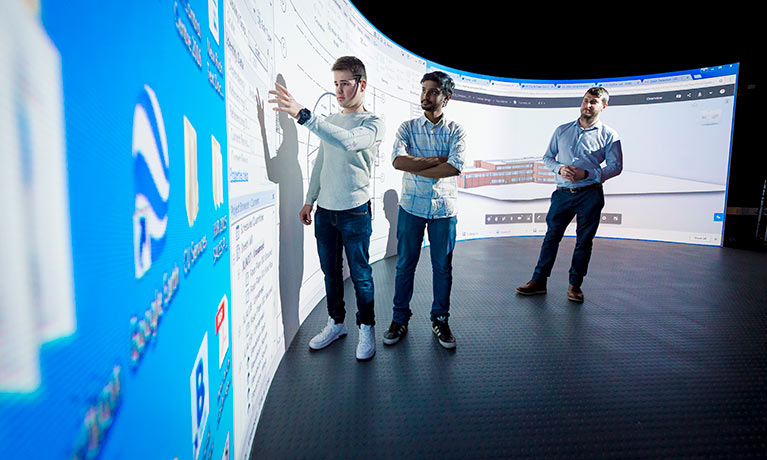 Simulation Centre
Our interactive training centre is used to create a 'virtual' construction site with fully-equipped site cabins and observation deck. Students undertake role play exercises to help prepare them for situations in the workplace.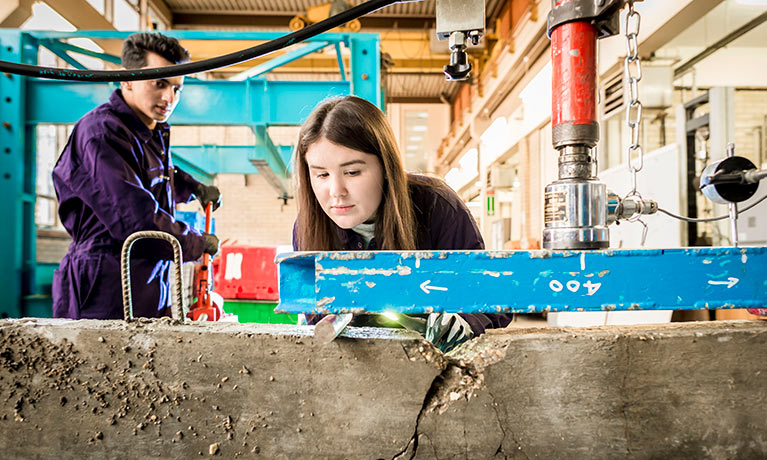 Structures Laboratory
Includes eight test frames, two of which are fully programmable 'top of the range' Instron universal test machines. It also includes a strong floor area with associated framing and ancillary measurement devices.
What our students say...
Coventry university provides you with all the resources you will ever need to tackle this course, it is just a matter of how well you can utilise these to benefit your coursework.

Compared to my first group project, I have gradually improved my collaboration and team working skills and act more maturely and professionally. In comparison to how I tackled the group project first year, this time I had more knowledge, sense of organizational structure, technical skills and presentation skills. It was obvious the other members of group had as well.
The course content has evolved over a number of years and in development with our industry partners we have developed a course structure to provide a mix of technical skills and digital/technological knowledge to equip you for working in this growing sector, and preparing you for future developments in this fast moving industry.
We regularly review our course content, to make it relevant and current for the benefit of our students. For these reasons, course modules may be updated.
4th
Our Building and Town and Country Planning courses are ranked 4th by Guardian University Guide 2020.
Quantity Surveying and Commercial Management (QSCM) is a multidisciplinary subject involved in all aspects of construction, civil engineering works, the real estate and property business. Activities include procurement advice, commercial guidance, measurement of construction items, resource assessments, valuations, costing/estimating, value management, value engineering, contract administration/management, project management and other pre and post contract management decisions.
With excellent prospects and attractive salaries, quantity surveying offers a rewarding and challenging career where no two days are ever likely to be the same. You could find yourself involved in all aspects of construction from feasibility and detailed design right through to construction and operation. A diverse portfolio of projects might range from property developments, including residential, commercial, industrial and retail, to major infrastructure projects, such as motorways, railways and airports.
This professionally accredited course is designed to equip you with the knowledge and skills to give expert advice on the effective management of finance and costs throughout the building lifecycle. You will have the opportunity to gain a solid understanding of quantification and costing of construction works, financial control and reporting, risk management, design economics and cost planning.
You will be taught by staff with academic and professional experience in quantity surveying, architectural practice, civil engineering and the construction industry, having worked in a variety of professional roles such as quantity surveying, building surveying, construction management, architectural technology and a wide range of professional organisations. We also have a strong portfolio of industry-related research, particularly in the areas of low carbon building technology, sustainable construction materials and engineering education, which ensures you stay abreast of new technologies and emerging issues. Many of our teaching team are active researchers and consultants to RICS.
Teaching is highly practical; throughout the course, you will have the opportunity to draw on real-life case studies and participate in integrated project work, where theory is put into practice as soon as it is learned. For example, performing a real quantity survey in a commercial role for a client and presenting your findings to their asset management team. We will also make use of our sector leading simulation centre to allow for safe application of learning in an industrial setting.
You will also have opportunities to apply for industrial placements with a range of local and regional companies where you can exercise your technical skills in a professional environment. In the past, students have found roles as training and graduate quantity surveyors for major construction companies such as Barratt Home Limited, Balfour Beatty Plc, Laing O'Rourke and National Grid, for instance.
Apply for a full year work placement which can count towards your professional Chartered status.
Strong levels of student satisfaction – 100% of quantity surveying and commercial management students stated they were satisfied overall with the quality of the course in the National Student Survey (NSS) 2019.
The average earnings for graduates was £30,000 within 5 years of graduating (Latest LEO results).
A common first year makes it possible to transfer to our degrees in architectural technology, construction management or building surveying in the second year if you wish.
Collaborative links with universities in 20 countries around the world, giving you the chance for you to spend part of your studies abroad (subject to availability, additional costs and meeting visa requirements).
Full accreditation from the Chartered Institute of Building (CIOB) and Royal Institution of Chartered Surveyors (RICS), which is a requirement on the path towards membership of the RICS.
Opportunity to gain additional professional qualifications (at no extra cost, subject to application) as well as your degree – an Autodesk certificate in Computer Aided Design (CAD) and undergo a Building Research Establishment Energy Assessment Method (BREEAM) to become an Accredited Graduate (BREEAM AG).
Study on shared modules alongside students on a wide range of other professional disciplines, such as, construction management, architectural technology, building surveying, building services engineering and civil engineering, reflecting the interdisciplinary nature of today's construction industry.
Your main study themes are:
Quantity surveying practice: You will first be introduced to fundamental construction economics, principles of measurement and simple building measurement. As the course progresses, we will explore the basic concepts, theories and principles relevant to quantity surveying. We will also consider the measurement of construction works and the preparation of pre-tender documentation, including schedule of works, approximate quantities and bill of quantities.
Construction technology: You will have the chance to develop an understanding of various aspects of the design and construction of sustainable and comfortable buildings, by incorporating the most appropriate construction technology and building materials. We will consider the design, construction and environmental performances of low-rise buildings, multi-storey and commercial framed structures, within the context of legislative influences on the layout and planning of buildings and the impact of energy conservation and climate change. We will also explore the range of building services which are installed to provide a suitable internal environment including acoustic, thermal, ventilation and air conditioning systems.
Multi-disciplinary working: Modern construction projects are carried out with high levels of collaboration between various elements of the design and construction team, as such throughout the course you will develop this multi-disciplinary ethos completing projects as part of a team at all levels. This will enable an understanding of practices by other members of the team as well as the skills needed to coordinate and negotiate within this environment.
This course can be studied full-time over three or four years with a sandwich year being taken between the second and third years of study. The programme may be followed part-time by attending up to five modules each year as scheduled for full-time students. You can start in September.
The delivery will be through a mix of structured lectures, seminars, tutorials, informal discussion and support, on line discussion and support, guided self-study and research.
With a focus on your future employability, you will have several opportunities to accelerate your professional development. In your first year, you have the option to undertake a Computer Aided Design (CAD) assessment and, if successful, will receive industry recognised Autodesk certification. Then, in year two, you will undertake a Building Research Establishment Energy Assessment Method (BREEAM), which, on successful completion, enables you to become certified as an Accredited Graduate (BREEAM AG). BREEAM is widely acknowledged as the leading environmental assessment method – which sets the standard for best practice in sustainable building design, construction and operation. It has become one of the most comprehensive and widely recognised measures of environmental performance.
The course is taught using lectures, seminars, tutorials, laboratories, workshop and studio sessions, supervised by academic and technical support staff. In addition, whenever possible your personal tutor will review and discuss your progress with you and will be available for advice. We try to provide you with as much real-life experience as possible and are fortunate that Coventry has such a rich medieval history, offering excellent examples of many period buildings within walking distance of the University's main campus.
In the second year, you will be expected to undertake a professional quantity surveying practice with construction contractors, and consultants; where you will be required to undertake quantity survey and commercial management practice and preparation of professional reports. You will then present to the company's senior management team at their offices, much the same as you would on a regular basis once you start working as a professional quantity surveyor.
The highly practical nature of the course enables you to work with staff and students on real-world problems from industry, commerce and research groups. This means that while you learn the technical content of your degree, these projects develop the professional skills required including: problem analysis and design; project, task and time management; risk assessment; team work and leadership; technical report and bench assessment; troubleshooting and more.
A number of staff who teach on the course are Chartered quantity surveyors and chartered builders, who can provide help and guidance in relation to the process of becoming a member of the Royal Institution of Chartered Surveyors (RICS), specifically in relation to your post-degree assessment of professional competence, which comprises a written submission and professional interview carried out by the RICS regional training advisor.
This course will be assessed using a variety of methods which will vary depending upon the module. Assessment methods include formal examinations, practical or project work, coursework, essays, group work, presentations and posters.
The Coventry University Group assessment strategy ensures that our courses are fairly assessed and allows us to monitor student progression towards the achieving the intended learning outcomes.
On successful completion, you will have knowledge of:
Economics of construction.
The legal and regulatory framework within which buildings are constructed.
Procurement and contract administration procedures.
Current innovations relating to the construction of buildings.
Building technology and construction processes.
Management processes and systems associated with construction.
Building science with respect to materials, structure, services and internal environment.
Design processes used in construction.
How quality is achieved in construction processes and products.
Health and safety in building design and construction.
On successful completion, you will be able to:
Analyse, interpolate and present information.
Analyse and solve construction problems of a technical and managerial nature.
Analyse data and information sources in construction.
Develop price estimates and cost budgets.
Analyse financial information and cost budgets.
Undertake procedures associated with project management.
Prepare pre-contractual documentation.
Prepare valuations and claims.
Assess stage payments.
Actual teaching contact hours will vary depending on the level of study and the requirements of a particular semester. In a typical week your contact hours will be divided amongst personal tutorials and small group teaching; medium group teaching (e.g. seminars, tutorial sessions, lab sessions and workshops); and large group teaching (lectures).
In addition, you will be expected to undertake significant self-directed study each week depending on the demands of individual modules. The number of contact hours may vary from semester to semester, however, on average, it is likely to be around 14-15 contact hours per week in the first and second year dropping to around 12 contact hours per week in the final year as you become a more independent learner.
The content of the course continuously refers to the international context in which construction takes place, which gives an international perspective to your studies and future career as a quantity surveyor. Students will draw examples for many different parts of the world in order to compare and contrast some of the UK based theory that they will cover whilst on the course and within other modules, such as commercial management quantity surveying practice.
In the second year, we endeavour to organise an international field trip to provide you with an opportunity to experience the built environment in another country. In the last four years, students have travelled to Malta and Spain where they were required to undertake commercial management and quantity surveying practices.
Alternatively, you have the option of extending your degree by taking a sandwich year studying abroad; we will endeavour to provide support in finding a suitable placement.
Please note that international field trips and study abroad opportunities may be subject to competitive application, additional costs and meeting visa requirements.
Global ready
Did you know we help more students travel internationally than any other UK university according to data from the experts in higher education data and analysis, HESA?
In 2016/17, we were able to provide a total of 3,482 experiences abroad that lasted at least five days.

Much of this travel is made possible through our Global Leaders Programme, which enables students to prepare for the challenges of the global employment market, as well as strengthening and developing their broader personal and professional skills.
Explore our international experiences
1st for
international experiences
Sending more students overseas than any other UK uni (HESA 2016/17)
3,482
Student experiences
The number of student trips abroad for at least 5 days in 2016/17
21,000
and counting
The number of students we've helped travel internationally so far
12
global programmes
As well as trips, we offer other opportunities like language courses
Entry Requirements
University Course Code: EECU025
A Level
BTEC
IB Diploma
GCSE requirement
BBB-BBC. Excludes General Studies.
DDM-DMM
30 points
5 GCSEs at grade 4 / C or above to include English and Mathematics.
A-Levels
A-Level applicants are required to have three
 A2 Levels. Coventry University may include AS grades within an offer for certain courses, but we are not able to accept two AS Levels in place of one A2 Level. In some courses it may be necessary for entrants to have passed specific A2 Levels in nominated subjects. Please see the course pages for more information.
Access Diplomas
The Access Diploma to include 30 Level 3 credits in Mathematics or Physical Science units, plus GCSE English Language and Mathematics at grade A*-C, or specified equivalents.
Coventry University welcomes applicants who have completed, or who are studying, the Access to HE Diploma developed by the Quality Assurance Agency for Higher Education (QAA). Successful completion of the course will require you to gain 60 credits with at least 45 to be achieved at Level 3 (with the remainder at Level 2). In some cases we will require you to have gained Merit or Distinction grades in a number of units or in nominated subjects. For more information on the entry requirements for your chosen course please see the relevant course pages.
BTEC Level 3 Diplomas
The University will accept the BTEC Level 3 Extended Diploma for entry to most courses. In some cases we will require applicants to have studied either certain named modules or a specific named Diploma. The appropriate course page will have full information on the entry requirements. The University also accepts the BTEC Level 3 Subsidiary Diploma and BTEC Level 3 Diploma for entry to degree programmes, provided that they are studied in combination with other qualifications that provide a total volume of study that is equivalent to three A2 Levels. For example, you could be studying a BTEC Level 3 Diploma plus an A2 Level, or a BTEC Level 3 Subsidiary Diploma plus two A2 Levels. Where a specific A2 or BTEC subject is required for entry then you must be offering this as part of your combination of qualifications.
Please visit our page on European entry requirements for more information about specific country information.
Our International Student Hub offers information on entry requirements for your country, as well as contact details for agents and representatives should you need more advice.
More detail
Select your region to find detailed information about entry requirements:
Our International Student Hub offers information on entry requirements for your country, as well as contact details for agents and representatives should you need more advice.
More detail
Tuition Fees
We pride ourselves on offering competitive tuition fees which we review on an annual basis and offer a wide range of scholarships to support students with their studies. Course fees are calculated on the basis of what it costs to teach each course and we aim for total financial transparency.

For more information, please visit our Finance pages.
UK Scholarships
If you're a truly outstanding undergraduate candidate we may be able to offer you a Coventry University Scholarship.

Coventry University Scholarships are awarded to recognise truly exceptional sports achievement and academic excellence.
Scholarships
If you're a truly exceptional candidate we may be able to offer you a Coventry University Scholarship. Coventry University Scholarships are awarded to recognise truly exceptional achievement and academic excellence.
Scholarships
If you're a truly exceptional candidate we may be able to offer you a Coventry University Scholarship. Coventry University Scholarships are awarded to recognise truly exceptional achievement and academic excellence.
Course essentials at no extra cost
We're committed to communicating study costs clearly to make sure you're not faced with having to make any unexpected payments.
This is why our 'Flying Start' package provides you with a few course essentials. Your full-time fee for an undergraduate degree will cover the following:
UK field trips
Any mandatory site visits and trips within the United Kingdom.
Key material
This can include core textbooks, software and equipment.
Laser prints
1,000 A4 sides of black and white laser printing credits per year.
Optional year
Pay no tuition fees for optional work placements or study abroad trips.
The following are additional costs not included in the fees: Any optional overseas field trips or visits: £400+ per trip Warm waterproof clothing for site visits: £150
EU student fees
EU nationals starting in the 2020/21 academic year remain eligible for the same fees as home students and the same financial support. Financial support comes from Student Finance England, and covers undergraduate and postgraduate study for the duration of their course, providing they meet the residency requirement.
For tuition fee loans
EU nationals starting in the 2020/21 academic year must have resided in the European Economic Area (EEA) or Switzerland for the three years prior to the start of their course. The purpose of that three year residency should not have been mainly for the purpose of receiving full time education.
For maintenance loans
EU nationals starting in the 2020/21 academic year must have resided in the UK and Islands for the five years prior to the start of their course. The purpose of that five year residency should not have been mainly for the purpose of receiving full time education.
Career prospects
Graduate Immigration Route visa
Based on current information from the UK Government, international students whose study extends beyond summer 2021 may be eligible for a visa under the UK Government's Graduate Immigration Route, which will enable students to stay and work, or look for work, in the UK at any skill level for up to two (2) years. Check the most up to date guidance available to check your eligibility and any updates from the UK Government before making an application or enrolment decision.
Quantity surveyors and commercial managers play a pivotal role in the delivery of every construction projects; career prospects can exist wherever new projects are being contemplated, or where facilities are being refurbished, or where building work requires professional control – and this is a global profession so career prospects are worldwide.
With its practical focus, the course is intended to prepare you to enter professional roles on graduation and you have the option to gain work experience by spending a year on professional placement. Our faculty's employability and placements unit the Talent Team, which won the 'Best Placement Service in the UK' award at the National Undergraduate Employability Awards in 2015 and 2016, will help you find a suitable appointment. We also have direct placement agreements with National Grid UK and United Utility Plc.
Coventry University is committed to preparing you for your future career and giving you a competitive edge in the graduate job market. The university's Talent Team provide a wide range of support services to help you plan and prepare for your career.
Where our graduates work
Our graduates have found employment in private practices, contracting organisations, commercial organisations and local/central government, regionally, nationally and internationally. They have gone on to work with companies such as Mace, Galliford Try, Balfour Beatty plc, Lain O' Rourke, Barrett Home Ltd, Watts Construction Ltd, and BAM Construction.
Disclaimer
By accepting your offer of a place and enrolling with us, a Student Contract will be formed between you and the university. A copy of the 2020/21 Contract can be found here. The Contract details your rights and the obligations you will be bound by during your time as a student and contains the obligations that the university will owe to you. You should read the Contract before you accept an offer of a place and before you enrol at the university.
The tuition fee for the course that is stated on the course webpage and in the prospectus for the first year of study will apply. We will review our tuition fees each year. For UK and EU students, if Parliament permit an increase in tuition fees, we may increase fees for each subsequent year of study in line with any such changes. Note that any increase is expected to be in line with inflation. Following the UK's exit from the European Union, EU students should be aware that there may be a change to UK laws following the UK's exit, this may change their student status, their eligibility to study part time, and/or their eligibility for student finance. We will act in accordance with the UK's laws in force in relation to student tuition fees and finance from time to time.
For International students the tuition fee that is stated on the course webpage and in the prospectus for the first year of study will apply. We will review our tuition fees each year. For international students, we may increase fees for each subsequent year of study but such increases will be no more than 5% above inflation.