Course code:
Study options:
Location:
---
Get in touch
For questions regarding study and admissions please contact us:
As a registered Occupational Therapist, you will have the privilege to work with people of all ages to help them participate in occupations that hold personal meaning and value to them.
We are the only profession that uses occupation (the things people do every day which can affect their health and wellbeing) as a therapeutic tool to improve their health, wellbeing and quality of life, enabling them to live the life they want.
You will have the opportunity to enhance your attributes as a compassionate and caring critical thinker with an inquisitive and problem-solving mind, as well as developing your communication skills with people of all ages and abilities.
A degree in occupational therapy (and subsequent eligibility to apply for registration with the Health and Care Professions Council (HCPC)) allows you to work in a limitless variety of fields within health and social care, in the private and public sectors. The unique skill set can allow you to work in specialities such as paediatrics, elderly care, mental health, learning disabilities, end of life care, forensics, schools and emergency services, to name just a few.
While studying with us, the largest provider of occupational therapy education in the UK, you will have a wide range of opportunities to work with students studying for other healthcare professions within an inter-professional collaborative learning framework, as well as professional practice placements.
Occupational Therapy is ranked 6th for student satisfaction in the Complete University Guide 2020.
Why Coventry University?
An award-winning university, we are committed to providing our students with the best possible experience. We continue to invest in both our facilities and our innovative approach to education. Our students benefit from industry-relevant teaching, and resources and support designed to help them succeed. These range from our modern library and computing facilities to dedicated careers advice and our impressive Students' Union activities.
Global ready
An international outlook, with global opportunities
Employability
Career-ready graduates, with the skills to succeed
Teaching Excellence
Taught by lecturers who are experts in their field
Course essentials
A degree which offers you more, at no extra cost
Accreditation and Professional Recognition
This course is accredited and recognised by the following bodies:

Health and Care Professions Council
Royal College of Occupational Therapists
When enrolled on the course, you are able to become a student member of the Royal College of Occupational Therapists.
This course aims to educate you to become a graduate occupational therapists who is eligible to apply for registration with the HCPC and the RCOT. On successful completion of the course, you are able to become a professional member of RCOT and apply for registration to practice as an Occupational Therapist.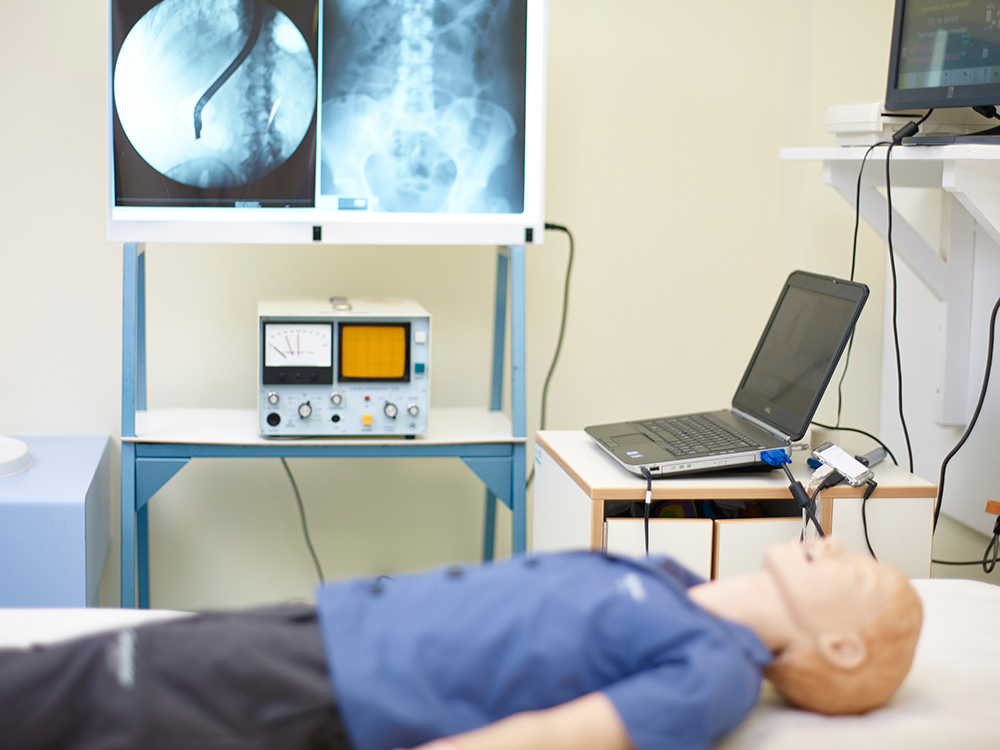 Hospital Wards
We have two fully-equipped mock hospital wards, each containing 4 beds. The wards are built to NHS standards and contain moveable beds, first aid equipment and patient monitoring tools.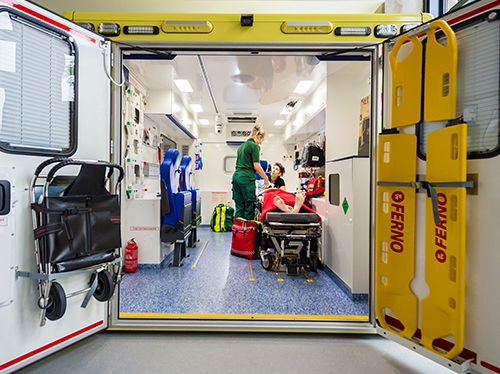 Life Sciences Research
Our facilities include a real ambulance, which students can use as part of their studies, and a purpose-built Clinical Skills and Simulation Centre. This allows for improved training quality in patient care and patient safety.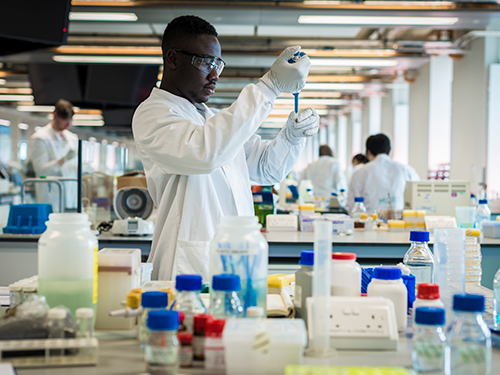 SuperLab
The Alison Gingell building contains a state-of-the-art SuperLab, capable of holding up to 270 people at once. The lab's facilities include equipment for microscopy, DNA analysis and forensic testing.
What our students say...
Studying occupational therapy at Coventry University as a mature student has been simply life changing! Staff support and enthusiasm for student participation and development is excellent, with the programme creatively designed, preparing students for clinical practice and building research skills around evidence based practice. Working collaboratively within the curriculum with fellow allied healthcare student professionals, as well as being part of large and diverse occupational therapy student cohort, drawn from overseas and across the UK have inspired me so, I just can't wait to begin my new career in occupational therapy.
A focus on empowerment, self-awareness and individual responsibility will be ever-present in this course, so that you're prepared to deal with people in real-world situations upon graduating.
The course is made up of practical placements, where you can start to understand how you will perform in a professional setting, as well as workshops, seminars and lectures. Practical placements should also stand you in good stead to secure a professional position upon completion of your course.
4th
for research quality
Complete University Guide 2019
Modules
Overview
Modules
Foundations in Communication and Professionalism

Exploring Evidence to Enhance Learning & Practice

The Person and Occupational Performance

Social Determinants of Health & Wellbeing

Occupational for Health & Wellbeing

Occupational Therapy Process for Practice

Foundations Studies: Professional Skills development

Professional Practice Placement 1
Overview
Modules
Evidence Informed Practice & Decision Making

Therapeutic Skills for Occupational Therapy Practice

Occupation: Reasoning theory and practice

Processional Practice Placement 2

Contexts of Occupational Therapy Practice
Overview
Modules
Professional Practice Placement 3

Enhanced Practice Through Evaluation and Research

Working Together to Lead Service Improvement

Occupational Therapy: Employability and Entrepreneurship
We regularly review our course content, to make it relevant and current for the benefit of our students. For these reasons, course modules may be updated.
The Occupational Therapy course provides you with a mixture of research informed teaching and practical experience. We believe this combination of research expertise (Occupational Therapy and Coventry University is ranked 4th for Research Intensity in the Complete University Guide 2019) and practical experience contributes to the successful outcomes for the course, including being ranked 5th for Student Satisfaction in the Complete University Guide 2019.
The purpose of the course is to educate you to become an occupational therapist, and the assessments employed utilise our world-class simulation facilities and model the skills you will need in practice. There are no written exams as we believe that an oral exam (viva) completed in your final practice setting allows you to demonstrate your ability to verbalise your knowledge and theoretical understanding, reflecting the skills you will require once qualified.
Undertaking one at each level of study, our professional practice placements are perfectly timed (7, 10 and 12 weeks) to consolidate University learning, across a range of traditional and innovative settings.
A teaching team of more than 30 research-active, clinical specialist, registered occupational therapists support and develop your learning. Your named Academic & Personal Tutor will work with you throughout the duration of your studies to support and reflect on your professional, academic and personal development.
There are a wide variety of employability-enhancing opportunities, including a long-running annual student conference, and 94% of graduates are in work and/or study six months after finishing the course, with 96% of those in a professional/managerial job.
There are also international opportunities including online discussion forums, field visits, placements and the opportunity to study modules abroad.
A commitment to working in partnership with students to continually develop and further enhance the programme which has been running for over 25 years.
Our strong links with a wide range of local health trusts, social services, private health, charitable and voluntary organisations who provide practice development activities.
A huge variety of placement experiences and practice placement marks can contribute to your final degree classification.
The course has been designed to provide a practical-focused approach for the personal and professional development of occupational therapists. It will be underpinned by the principles of empowerment, self-awareness and individual responsibility in order to prepare you to work within changing health and social care environments.
Reflecting the variety in the profession of occupational therapy, we offer variety in our teaching methods. Alongside traditional lectures you will participate in seminars, small workshops, problem based learning and practical workshops. The course is designed to develop your lifelong learning skills.
There are three practice placements totalling 29 weeks of full-time clinical practice, which are fully integrated into the course. They provide opportunities for you to develop professional competence and a professional identity in a range of health and social care settings.
The new Science & Health Building offers world-class facilities for simulation opportunities and skills training, including two community houses and a four-bedded ward providing a unique environment to develop your specialist skill set.
Studying a core option module at Level Three allows you to further advance your knowledge of a specialist area of practice.
Teaching methods include: workshops, interactive seminars, lectures, practice placements and online discussions.
This course will be assessed using a variety of methods which will could vary depending upon the module. Assessment methods include placements, coursework, tests, essays, group work, practical or project work and presentations/posters.
The Coventry University Group assessment strategy ensures that our courses are fairly assessed and allows us to monitor student progression towards the achieving the intended learning outcomes. Assessments may include exams, individual assignments or group work elements.
On completion of this course, you should be able to:
Practice as a safe, evidence-based, autonomous and enterprising occupational therapist, eligible to apply for registrations with the HCPC and membership of the Royal College of Occupational Therapists (RCOT).
Develop a range of higher order cognitive skills in order to be prepared for working in dynamic and diverse contexts of practice.
Evaluate your own therapeutic reasoning and practice in relation to person centred care and the unique contribution of occupational therapist in the context of service delivery.
Understand the multi-faceted nature of health and ill health and the impact these factors can have on wellbeing and occupational behaviour.
Be responsible for appraising your own continuing professional development to actively engage in lifelong learning.
Explore issues related to achieving effective and appropriate inter-professional working practice in order to improve the quality of care for patients and/or clients.
Investigate the use of evidence and policy frameworks to implement change and improve services for clients and your career.
In a typical week you will have up to 16 'contact' hours of teaching. In your first year of study this generally breaks down as follows:
Medium group teaching: 15 hours of seminars each week.
Large group teaching: 3 hours of lectures
In Levels 2 & 3 there will be small group teaching (3-8 hours) within an option module and research sets (Level 3), and problem based learning (Level 2).
In addition, you will be expected to undertake a minimum of 20 hours of self-directed study each week, e.g. working on course assignments and small group work. There will also be clinical skills workshops in preparation for clinical practice placements, which include moving and handling, CPR and hand washing.
As a course team and as a university, we are committed to ensuring a variety of international opportunities for our students. These occur in a variety of formats with well-established connections which allows opportunity for all students to practically engage in at least one international experience throughout their time on the course.
We offer placement opportunities abroad in Levels 2 and 3. There is an online discussion forum with occupational therapy students across the globe at Level 3. IC4Life allows an opportunity for students to study a module with international students abroad. In addition, we have voluntary opportunities for students to participate in charitable projects across the world, including most recently Malawi and Lithuania.
Global ready
Did you know we help more students travel internationally than any other UK university according to data from the experts in higher education data and analysis, HESA?
In 2016/17, we were able to provide a total of 3,482 experiences abroad that lasted at least five days.

Much of this travel is made possible through our Global Leaders Programme, which enables students to prepare for the challenges of the global employment market, as well as strengthening and developing their broader personal and professional skills.
Explore our international experiences
1st for
international experiences
Sending more students overseas than any other UK uni (HESA 2016/17)
3,482
Student experiences
The number of student trips abroad for at least 5 days in 2016/17
21,000
and counting
The number of students we've helped travel internationally so far
12
global programmes
As well as trips, we offer other opportunities like language courses
What our students say...
I love the enthusiasm and warmth of the tutors and lecturers and the friendship and support of my fellow students. I also really enjoy the practical aspects of the course.
Entry Requirements
University Course Code: HLSU145
A Level
BTEC
Other
GCSE requirement
BBB - CCC (Excludes General Studies).
DDM in a Health & Social Care related diploma.
Access to Health & Social Care (or other related programme) with a minimum of 36 credits at Merit or Distinction.
Minimum 5 GCSEs at A*-C including English Language and Mathematics, or specified equivalents.

Evidence of recent study is desirable.
We accept other qualifications in addition to those identified above.
Portfolio
Required work experience: A minimum of 2 days occupational therapy work experience is required by 31 July.
All eligible candidates are interviewed following review of their qualifications, academic reference and personal statement. The interview has group, one-to-one and written elements.
A-Levels
A-Level applicants are required to have three
 A2 Levels. Coventry University may include AS grades within an offer for certain courses, but we are not able to accept two AS Levels in place of one A2 Level. In some courses it may be necessary for entrants to have passed specific A2 Levels in nominated subjects. Please see the course pages for more information.
Access Diplomas
The Access Diploma in a Health related subject to include 36 Level 3 credits at Merit or Distinction.
Coventry University welcomes applicants who have completed, or who are studying, the Access to HE Diploma developed by the Quality Assurance Agency for Higher Education (QAA). Successful completion of the course will require you to gain 60 credits with at least 45 to be achieved at Level 3 (with the remainder at Level 2). In some cases we will require you to have gained Merit or Distinction grades in a number of units or in nominated subjects. For more information on the entry requirements for your chosen course please see the relevant course pages.
BTEC Level 3 Diplomas
The University will accept the BTEC Level 3 Extended Diploma for entry to most courses. In some cases we will require applicants to have studied either certain named modules or a specific named Diploma. The appropriate course page will have full information on the entry requirements. The University also accepts the BTEC Level 3 Subsidiary Diploma and BTEC Level 3 Diploma for entry to degree programmes, provided that they are studied in combination with other qualifications that provide a total volume of study that is equivalent to three A2 Levels. For example, you could be studying a BTEC Level 3 Diploma plus an A2 Level, or a BTEC Level 3 Subsidiary Diploma plus two A2 Levels. Where a specific A2 or BTEC subject is required for entry then you must be offering this as part of your combination of qualifications.
Please visit our page on European entry requirements for more information about specific country information.
Our International Student Hub offers information on entry requirements for your country, as well as contact details for agents and representatives should you need more advice.
More detail
Select your region to find detailed information about entry requirements:
Our International Student Hub offers information on entry requirements for your country, as well as contact details for agents and representatives should you need more advice.
More detail
Unconditional offers
We want to recruit the best students to Coventry and having assessed applicants' past, current and predicted performance and commitment to the course we feel that it is appropriate to reward consistently high-achieving students with an unconditional offer from Coventry University. It is a commitment from us with regard to an applicants' potential as an excellent undergraduate and we hope that this will encourage such applicants to join the Coventry community. Personal statements and references will also be taken into account and, for some degree courses, an interview will form part of the assessment. The criteria for unconditional offers will vary across the University as entry requirements for specific courses differ and not all degree courses will be taking part in the Scheme.
We will consider other qualifications for a pre-result unconditional offer providing that you have an appropriate proven performance at GCSE (or equivalent) level and predicted grades in line with grades that we expect to see at A-level. Other qualifications that we may consider for a pre-result unconditional offer include: The International Baccalaureate Diploma, BTEC Level 3 qualifications, Cambridge Pre-U and combinations of qualifications (e.g. BTECS plus A-levels).
An unconditional offer is what it says it is. So, if you don't meet your predictions then your place at Coventry is still guaranteed. However, we would hope and expect that you continue to work hard to make the most of your potential and be best prepared to study at university level.
We can't but our experience over the years has shown us that students with a track record of high grades and excellent predictions are very likely to achieve those grades. Our assessment takes into account all elements of your application to allow us to take a holistic view of your potential. There is also the opportunity to apply to one of the Coventry University Scholarships if you achieve the required grades so there is a financial incentive to aim high. Unconditional offers are only made to individuals who have demonstrated their commitment so we believe their focus and determination is unlikely to waver in the final stages of their qualifications.
No, the unconditional offer is only available to those who will take up their place in 2019.
What our students say...
I love the enthusiasm and warmth of the tutors and lecturers and the friendship and support of my fellow students. I also really enjoy the practical aspects of the course.
Tuition Fees
We pride ourselves on offering competitive tuition fees which we review on an annual basis and offer a wide range of scholarships to support students with their studies. Course fees are calculated on the basis of what it costs to teach each course and we aim for total financial transparency.

For more information, please visit our Finance pages.
UK Scholarships
If you're a truly outstanding undergraduate candidate we may be able to offer you a Coventry University Scholarship.

Coventry University Scholarships are awarded to recognise truly exceptional sports achievement and academic excellence.
EU Scholarships
For the September 2019 intake we're investing in a range of EU Academic Excellence scholarships for high achieving and enterprising students. Fulfil your potential this academic year with Coventry University!
International Scholarships
For the September 2019 intake we're investing in a wide range of Academic Excellence scholarships for high achieving and enterprising international students. Fulfil your potential this academic year with Coventry University!
Course essentials at no extra cost
We're committed to communicating study costs clearly to make sure you're not faced with having to make any unexpected payments.
This is why our 'Flying Start' package provides you with a few course essentials. Your full-time fee for an undergraduate degree will cover the following:
UK field trips
Any mandatory site visits and trips within the United Kingdom.
Key material
This can include core textbooks, software and equipment.
Laser prints
1,000 A4 sides of black and white laser printing credits per year.
Optional year
Pay no tuition fees for optional work placements or study abroad trips.
EU student fees
EU nationals and their family members starting in the 2019/20 academic year remain eligible for the same fees as home students and the same financial support. Financial support comes from Student Finance England, and covers undergraduate and postgraduate study for the duration of their course, providing they meet the residency requirement.
For tuition fee loans
EU nationals must have resided in the European Economic Area (EEA) or Switzerland for the three years prior to the start of their course. The purpose of that three year residency should not have been mainly for the purpose of receiving full time education.
For maintenance loans
EU nationals must have resided in the UK and Islands for the five years prior to the start of their course. The purpose of that five year residency should not have been mainly for the purpose of receiving full time education.
What our students say...
I love the enthusiasm and warmth of the tutors and lecturers and the friendship and support of my fellow students. I also really enjoy the practical aspects of the course.
Career prospects
We are proud of our students who seek to become high quality Occupational Therapists with an understanding and experience of the variety of contexts in which they will work. Staff are proud that the course, as the biggest provider of occupational therapy education in the UK, is ranked 8th (Complete University Guide 2019), and has a student satisfaction score of 96% (NSS, 2017).
In offering three assessed practice placements, students have over 29 weeks of practice experience, and placements occur in a variety of settings (NHS, social care, charitable organisations and private practice). You will be supported by practice educators whose supervision facilitates and enables your development as a rounded professional.
On successful completion of this course you will be eligible to apply to register with the HCPC as a registered Occupational Therapist.
5th
for student satisfaction
Complete University Guide 2019
What our students say...
After graduating in 2010, I started working as a Band 5 Occupational Therapist in a rotational post at my local hospital trust. Arriving on that first day, I had confidence that the course had equipped me with the right practical skills, theoretical knowledge and placement experience to succeed. I progressed into a band 6 role in Paediatrics, using my knowledge of evidenced-based practice to create a motor skills programmes for schools across the county. Throughout my studies at Coventry University, I was impressed with the knowledge, passion and support of the lecturers. I always felt that I, as an individual, mattered to them. I'm proud to say that I have now joined the teaching team and look forward to continuing that ethos.
Disclaimer
By accepting your offer of a place and enrolling with us, a Student Contract will be formed between you and the University. A copy of the 19/20 Contract can be found here. The Contract details your rights and the obligations you will be bound by during your time as a student and contains the obligations that the University will owe to you. You should read the Contract before you accept an offer of a place and before you enrol at the University.
The University will charge the tuition fees that are stated on the course webpage and in the prospectus for the first year of study. The University will review tuition fees each year. For UK and EU students, if Parliament permit an increase in tuition fees, the University may increase fees for each subsequent year of study in line with any such changes. Note that any increase for UK and EU Students is expected to be in line with inflation. For international students, the University may increase fees for each subsequent year of study but such increases will be no more than 5% above inflation.
Admission to this course is subject to Disclosure and Barring Service (DBS) checks and a successful interview. Find out about the application process.