Global Journalism and Public Relations MA
Study level:

Postgraduate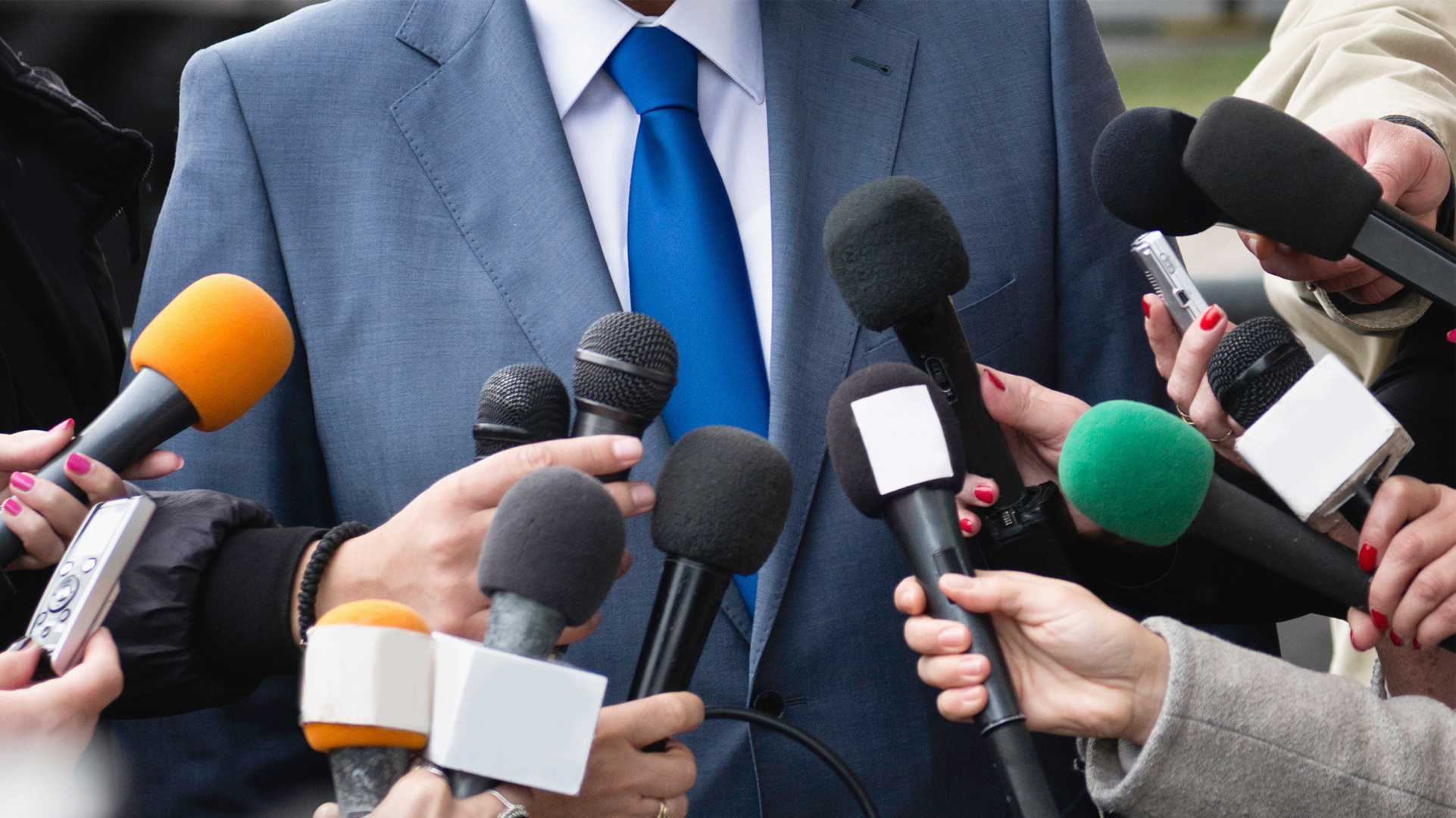 In our increasingly digital world, journalists are frequently called upon to report on diverse global issues and this course prepares you for global journalism and public relations practice and analysis, covering all areas of journalism, from legal and ethical issues to interviewing, writing, broadcast and web skills.
Location
Coventry University (Coventry)
Duration
1 year full-time
16-24 months (with professional experience)
Start date
September 2023
---
Course overview
Covering key areas ranging from legal and ethical issues to interviewing, writing, broadcast and web skills, this course prepares you for global journalism and public relations practice and analysis in a digital and diverse world.
Benefit from our current links with the media industry, including ITV and the BBC, and previous links with Al Jazeera and Africa-based media and online outlets here in the UK and elsewhere including the USA2.
The course is taught by experienced tutors with decades of practical journalism and public relations experience, and in addition, you will have opportunities2 to attend guest lectures by top as well as upcoming journalists and public relations practitioners, including alumni (subject to availability).
Gaining hands-on experience2, you will be expected to work as part of a team on group projects, such as a magazine (see our Magcloud site) and a global collaborative newscast themed around pressing contemporary issues.

Joint Top Modern University for Career Prospects
Guardian University Guide 2021 and 2022

5 QS Stars for Teaching and Facilities
QS Stars University Ratings

Top 5 UK Student City (Coventry)
QS Best Student Cities Index 2023
Why you should study this course
You will be taught and mentored very well by a highly experienced teaching team, whose former roles have included contributing to Al Jazeera's global media analysis show 'The Listening Post', managing communications and PR in Oxford, and editing commercial magazines.
We have links with the journalism-media industry, including BBC and ITV in the UK, so we host high-profile guest speakers (subject to availability), who in the past have included a BBC Director-General, Channel 4 founder, a highly respected Channel 4 News anchor and a famous BBC Newsnight presenter.
We help you to acquire the essential knowledge and practical skills needed for a successful career in global journalism or public relations as we get you used to working with multiple forms of media – generating traditional print, audio and video content, all the while embracing new technologies and creating parallel digital content, including social media, blogs and web-based content.
You get opportunities to work individually and as part of a team on live projects such as a magazine, a global collaborative newscast and student union publications-broadcasts, among others2.
Facilities4 include newsrooms equipped with industry-standard hardware and software, a modern TV studio, radio studios and Media Loan Shop for professional equipment.
---
If you're interested in a career in media industry worldwide, our course is a comprehensive interdisciplinary introduction as well as an advancement of global journalism and public relations knowledge, which is underpinned by a hands-on approach to professional practice from the outset.
In the final stage of your course, there is an opportunity2 to explore issues in global journalism that interest you further through an extensive individual research project, with support and guidance from specialist tutors. Past students have considered anything from the use of diasporic media by British Bangladeshis in Birmingham to the coverage of Africa in Chinese media or fake news images in Digital Age.
Modules
Context: Global Politics and Relations - 20 credits

This module examines global communication(s) and media structures and practices related to them, especially in journalism and public relations. We analyse the changing political, economic, socio-cultural and technological systems, including media-communication systems, and their impacts on content and audiences in a globalised world.

Public Relations - 10 credits

This module covers the principles and practices of public relations (PR). It will provide you with the skills to construct, execute and apply public relations strategies to meet the objectives of an organisation. Acting as consultants on a real-world or imaginary briefs, you will learn how to help clients or employers build and maintain their profiles and reputations. You will be introduced to the code of ethics for public relations and critically engage with debates around ethics and law as it is applied to PR.

Journalism Practice, Law and Ethics - 30 credits

This module focuses on the fundamentals of journalistic practice. It concentrates on the practical, creative and technical skills associated with these professional practices. Topics addressed include ideas, markets and sources, interviewing, notetaking and record keeping, news and feature writing, industry history and structure, conventions and techniques of specialist forms and genres. You acquire practical skills through the production of journalistic pieces, with the support of the module team.

Advanced Journalism: Digital, Social, Mobile - 20 credits

This module focuses on advancing key skills that are employed by journalists on all platforms for various target audiences. The module takes you through the research process, working to a deadline and finally delivering the required product to a professional standard. You work as a team to produce and resource a group project to deadline, under the direction of module staff. This prepares you for the impact that convergence has had on newsrooms. You will be specifically trained on how to produce a single story/topic for two or more key platforms for specific target audiences. The key themes include the importance of a more advanced understanding of the need to tailor the product to a specific target audience, including specialist outlets: developing the story, analysing source material, applying conventions and understanding techniques of production. You will be asked to engage with the ethical debates about journalistic practice in digital contexts and apply their understanding of ethics to their practice. There is a strong emphasis on practical and technical skills required.

Specialist Professional Practice in Journalism and PR - 30 credits

This module provides you with the opportunity to acquire and develop specialist knowledge and skills necessary in your chosen area of global journalism. It builds on practical journalism skills and techniques modules and other modules and it will allow you to expand the depth of your content creation and also devise ways of routinely doing so in your future practice. You will work under the supervision of a mentoring team on live specialist journalism projects either with a host organisation2 or at the university.

Specialist Research and Analysis - 10 credits

This module introduces a range of research tools and associated methods needed to undertake independent research on identified themes and issues in specialist journalism and public relations – relating to texts, audiences and industry. It provides grounding in a range of analytical techniques and ways of interpreting materials and examines how these can be used to explore contemporary themes and issues which concern journalists, and journalism, as well as public relations in the UK and around the world. Concentrating mainly on textual analysis, the module helps to prepare you for research-led inquiry relating to journalism and public relations, including your major research project and investigative journalism.

Major Project - 50 credits

The major project provides you with an opportunity to create an original and intellectually critical extended piece of writing and/or practical project portfolio. With an allocated specialist tutor you will aim to create a major piece of work on a theme or topic or issue which is relevant to your specialist journalism and/or public relations interest and worthy of a sustained in-depth inquiry.

Creative Futures and Social Change - 10 credits

This module explores the changing world of work which Arts and Humanities students enter after study. New technology and the changing global economy mean that jobs and skills are changing and evolving quickly and will continue to do so. This is an exciting and new world, and this module is designed to empower students to realise their potential in it. This module provides tools for students to develop into changemakers, thrive in a changing world of work and participate in creating a better future for society. Students will be guided through a process of reflection that explores four possible futures for the world of work and how to situate their own professional identity as the future of work changes through their careers. This module is designed in collaboration with the RSA (Royal Society of Arts, Manufactures and Commerce), and upon successful completion students will receive RSA digital badging.
With professional experience option
The professional experience opportunity2 enables you the opportunity to apply for optional professional experience in semester 1, which, upon successfully securing an opportunity, will extend the duration of your master's to either 16, 20 or 24 months. The professional experience provides an opportunity for you to develop expertise and experience in your chosen field with the aim of enhancing your employability.
Please note that the optional professional experience modules incur an additional tuition fee, which for one semester of professional experience is £1,333.33, for two semesters of professional experience is £2,666.67, and for three semesters of professional experience is £4,000.
Professional experience may also be subject to additional costs, visa requirements being met, subject to availability and/or competitive application. Professional experience opportunities are not guaranteed but you will benefit from the support of our Talent Team in trying to find and secure an opportunity. Find out more about the professional experience option.
We regularly review our course content, to make it relevant and current for the benefit of our students. For these reasons, course modules may be updated.
---
How you'll learn
The course covers journalism theory and practice, and specialist knowledge and techniques specific to global journalism and public relations.
Each module is taught over approximately 11 weeks with formal course teaching typically taking place over two to three full working days per week. The specialist staff include a former news and features writer with wide experience of global news reporting and academic research. Other tutors include specialists in magazine, digital media and emerging platforms, as well as public relations.
Teaching methods include:
Lectures
Seminars
Tutorials
Presentations
Group projects
Workshops
Practical newsroom/news day sessions.
---
Teaching contact hours
The number of full-time contact hours may vary from semester to semester, however, on average, it is likely to be around 10 contact hours per week in the first two semesters. The contact hours may be made up of a combination of face-to-face teaching, individual and group tutorials, and online classes and tutorials.
Additionally, you will be expected to undertake significant self-directed study of approximately 27 hours each week, depending on the demands of individual modules.
The contact hours may be made up of a combination of face-to-face teaching, individual and group tutorials, and online classes and tutorials.
As an innovative and enterprising institution, the University may seek to utilise emerging technologies within the student experience. For all courses (whether on-campus, blended, or distance learning), the University may deliver certain contact hours and assessments via online technologies and methods.
In response to the COVID-19 pandemic, we are prepared for courses due to start in or after the 2023/24 academic year to be delivered in a variety of forms. The form of delivery will be determined in accordance with Government and Public Health guidance. Whether on campus or online, our key priority is staff and student safety.
---
Assessment
This course will be assessed using a variety of methods which could vary depending upon the module.
Assessment methods include:
Portfolio (of stories)
Reflective essays
Group work (only for formative/interim evaluation to inform final individual submission)
Presentations (live class presentations are only for formative/interim evaluation to inform your final submission)
Projects
Please note that final and summative assessments are predominantly individual submissions and assignments, even where elements are derived from group or collaborative work/projects.
The Coventry University assessment strategy aims to ensure that our courses are fairly assessed and allows us to monitor student progression towards achieving the intended learning outcomes.
---
International experience opportunities
Our course is designed to reflect the increasingly international context of journalism; this is reflected strongly in the course curriculum. Content includes conflict/war situations, governments and inter-governmental organisations, markets and business, civil society and non-governmental actors. You may have opportunities2 to undertake preparatory research before visiting a foreign country or covering an international event and areas include finding and relating with fixer/s, timelines/zones and deadlines, cultural contexts, technological and environmental factors, security considerations, ethical and legal dilemmas.
You will be given opportunities2 to engage with international students at home and abroad, for example, through collaborative online international learning projects such as Pop-up Newsroom and Global News Relay. We also offer a range of short visits and field trips abroad, which are reviewed annually. Recent fieldtrips have included Kenya and Tanzania to cover the urban environment and tourism, as well as Bangladesh, Malaysia, Gibraltar and Italy to write about landscape, culture and food.
Please note that all international experience opportunities may be subject to additional costs, competitive application, availability and meeting applicable visa and travel requirements are therefore not guaranteed2.
The most exciting moments on this course are those in which students have glints in their eyes, like when their course magazine is just published online or 'hot off the press' prints arrive on campus, after they've watched the broadcast of their segment on Global Pop-up News and Global News Relay, or when they rub shoulders with prolific and distinguished guests during high-profile events such as the Global Peace Forum hosted by our Centre for Trust, Peace and Social Relations.

These challenging yet rewarding undertakings help students build their portfolios, confidence and networks useful for professional experience and employability.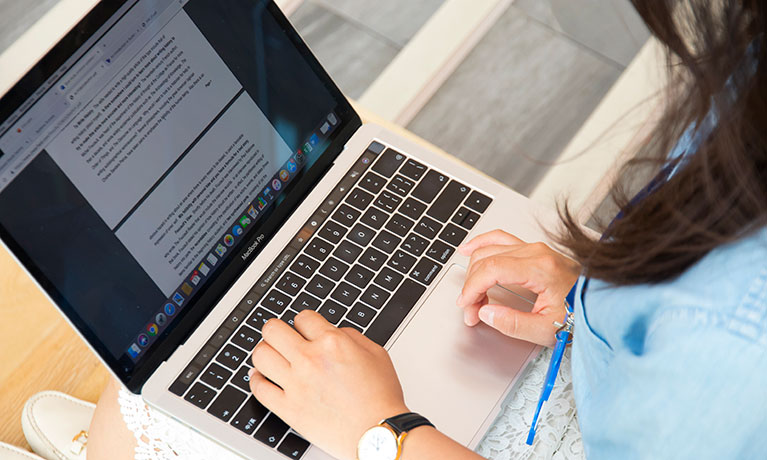 ---
Entry requirements
Typical offer for 2023/24 entry.
Applicants should hold an honours degree of 2:2 or above in any subject. Applications from candidates with relevant experience will be considered on an individual basis.
We recognise a breadth of qualifications; speak to one of our advisers today to find out how we can help you.
Select your region to find detailed information about entry requirements:

You can view our full list of country specific entry requirements on our Entry requirements page.
Alternatively, visit our International hub for further advice and guidance on finding in-country agents and representatives, joining our in-country events and how to apply.
Typical entry requirements
Applicants should hold an honours degree of 2:2 or above in any subject. Applications from candidates with relevant experience will be considered on an individual basis.
Each application will be considered on its merits and the final decision will be made by the course director.
English language requirements
IELTS: 6.5 overall, with no component lower than 5.5
If you don't meet the English language requirements, you can achieve the level you need by successfully completing a pre-sessional English programme before you start your course.
For more information on our approved English language tests visit our English language requirements page.
---
Fees and funding
2023/24 tuition fees.
Student
Full-time
Part-time
UK, Ireland*, Channel Islands or Isle of Man
£11,200 | £15,200 (with prof. experience)
Not available
EU
£11,200 | £15,200 (with prof. experience) per year with EU support bursary**
£18,600 | £22,600 (with prof. experience) per year without EU support bursary**
Not available
International
£18,600 | £22,600 (with prof. experience)
Not available
For advice and guidance on tuition fees3 and student loans visit our Postgraduate Finance page.
We offer a range of International scholarships to students all over the world. For more information, visit our International Scholarships page.
Tuition fees cover the cost of your teaching, assessments, facilities and support services. There may be additional costs not covered by this fee such as accommodation and living costs, recommended reading books, stationery, printing and re-assessments should you need them.
The following are additional costs not included in the tuition fees:
Any optional overseas field trips or visits: £400+ per trip.
Any costs associated with securing, attending or completing a placement (whether in the UK or abroad).
*Irish student fees
The rights of Irish residents to study in the UK are preserved under the Common Travel Area arrangement. If you are an Irish student and meet the residency criteria, you can study in England, pay the same level of tuition fees as English students and utilise the Tuition Fee Loan.
**EU support bursary
Following the UK's exit from the European Union, we are offering financial support to all eligible EU students who wish to study an undergraduate or a postgraduate degree with us full-time. This bursary will be used to offset the cost of your tuition fees to bring them in-line with that of UK students. Students studying a Degree with a Foundation Year with us are not eligible for the bursary.
How do you know if you need to pay UK or international tuition fees?

We carry out an initial fee status assessment based on the information you provide in your application. Your fee status determines your tuition fees, and what financial support and scholarships may be available to you. The rules about who pays UK (home) or international (overseas) fees for higher education courses in England are set by the government's Department for Education. The regulations identify all the different categories of student who can insist on paying the home rate. The regulations can be difficult to understand, so the UK Council for International Student Affairs (UKCISA) has provided fee status guidance to help you identify whether you are eligible to pay the home or overseas rate.

If you meet all the criteria required by any one category, including any residence requirements, your institution must charge you the home rate. You only need to find one category that you fit into.
---
Facilities
Our facilities4 help develop your practical skills so you feel prepared to enter the workplace and inspire your passion for journalism.
You will have access to professional equipment via our dedicated Media Loan Shop and our newsrooms, TV studio, video editing suite and radio studios.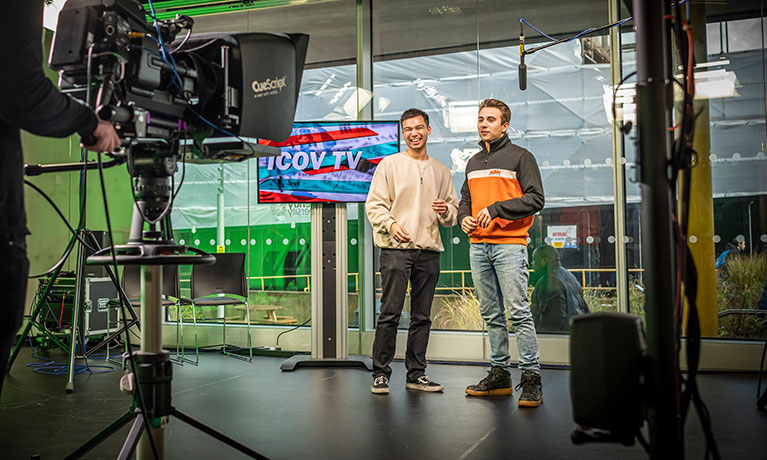 You'll have access to our on-site television studio The Tank, offering specialist equipment such as large cameras, mixing facilities and fibre-optic wiring throughout.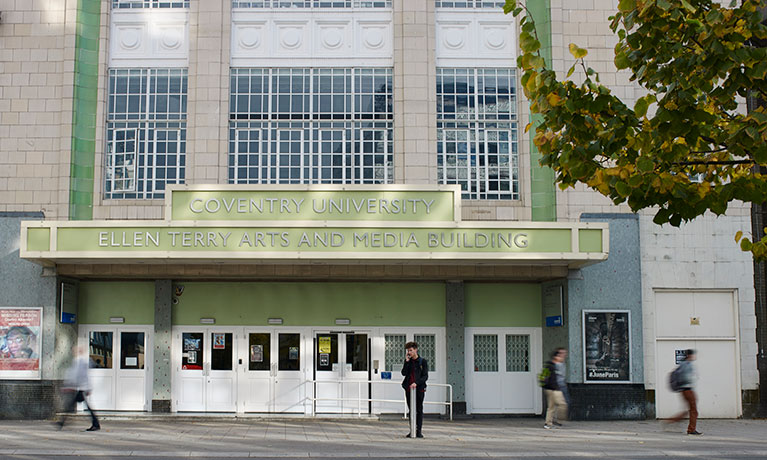 Our media loan shop provides you with access to the equipment and support you need to excel in your studies – from basic audio recorders to professional cameras and expert advice from our technicians.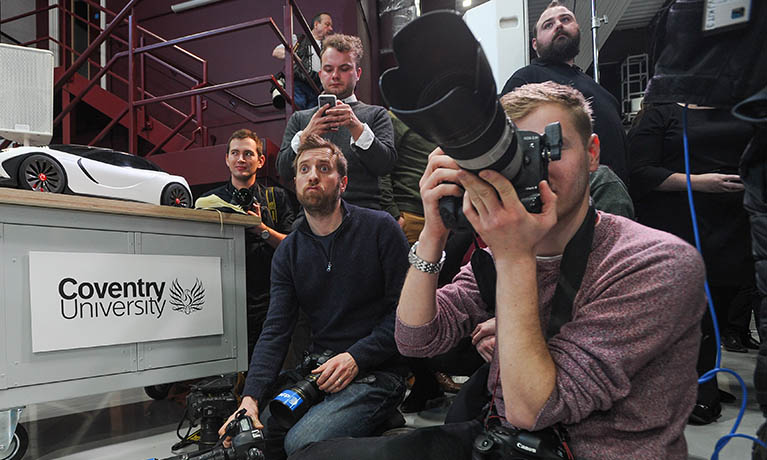 Two radio studies, one digital and the other analogue, are available for radio-audio journalism classes as well as student bookings for independent work.
---
Careers and opportunities
Upon successful completion of this course, you should know how to:
Create content that exhibits awareness of global events and issues to professional standards, for broadcast, print, online-digital and social media.
Understand how global journalism and PR work and how they relate to politics, international relations, business and society in general.
Apply a wide range of journalism and communication skills as well as knowledge, to the production of content that exhibit global awareness, to professional standards.
Work creatively, sustainably and independently within professional situations, employing a range of journalism and public relations strategies and techniques.
Critically evaluate and analyse the broad range of factors that impinge upon professional and creative activities within global journalism and the broader communications industry.
Demonstrate the ability to identify and successfully engage with a range of audiences, genres and media platforms within global journalism and public relations.
Confidently prepare to apply for job roles within journalism, media, communication and PR.
This course prepares you for a broad range of positions in regional, national or international journalism, media, communications and PR – as a researcher, reporter, writer, editor or presenter, for example.
Career prospects are vast and varied, from established national and international media outlets, broadcasting organisations, newspapers and magazines, to emerging broadcast contexts, such as web-based text journalism, web-TV and web-radio.
Our Talent Team is on hand to offer tailored career and enterprise support if you wish to gain employment or take advantage of professional practice opportunities within course-specific industries2. The course equips students for work in a wider range of careers that require transferable knowledge and skills such as global awareness, research, writing and communication with specific or general audiences including via various media. Our dedicated enterprise officers also can offer valuable assistance on how to begin as a freelancer/entrepreneur.
Where our graduates work
Due to the focused and transferable skills that the course offers, our graduates have secured jobs in diverse areas that include TV reporter and presenter at Porto Canal channel in Portugal, radio reporter with German public broadcaster NDR in Hamburg, staff journalist at a Turkish news agency foreign desk, freelance journalist, managing editor for a specialist UK outlet on camping and caravanning, web publisher at global public relations and advertising agency Cheil, marketing for retail chain Sonae MC in Portugal, public relations and marketing communications with London-based Four Agency Worldwide, strategic relationships at associate director level with UK regulator Ofqual, digital workplace manager in Europe, the Middle East and Africa for Canada-based international investment agency Colliers and senior administrator at Coventry City Council.
This course has helped me in jump-starting my career as a journalist. The many journalistic projects I got to participate in because of this course helped me in building a professional portfolio that I can be proud of.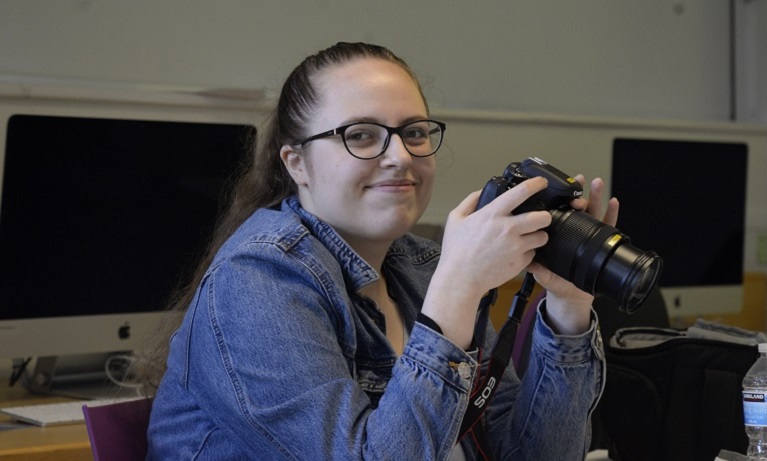 ---
How to apply
UK students

To apply to study for a postgraduate course at Coventry University, you can apply online.

---

For further support or more information about your course get in touch with us today.

International students

Full-time international students applying to start in September should apply directly to the university. Read our application pages to find out your next steps to apply.

How to apply

For further support for international applicants applying for postgraduate degree view our International hub.

You can also download our International guide which contains lots of useful information about our courses, accommodation and tips for travel.

---

Get in touch with us today for further advice and guidance.
Disclaimers

Coventry University together with Coventry University London Campus, CU Coventry, CU London, CU Scarborough and Coventry University Online come together to form part of the Coventry University Group (the "University") with all degrees awarded by Coventry University.

1Accreditations

The majority of our courses have been formally recognised by professional bodies, which means the courses have been reviewed and tested to ensure they reach a set standard. In some instances, studying on an accredited course can give you additional benefits such as exemptions from professional exams (subject to availability, fees may apply). Accreditations, partnerships, exemptions and memberships shall be renewed in accordance with the relevant bodies' standard review process and subject to the university maintaining the same high standards of course delivery.

2UK and international opportunities

Please note that we are unable to guarantee any UK or International opportunities (whether required or optional) such as internships, work experience, field trips, conferences, placements or study abroad opportunities and that all such opportunities may be subject to additional costs (which could include, but is not limited to, equipment, materials, bench fees, studio or facilities hire, travel, accommodation and visas), competitive application, availability and/or meeting any applicable travel COVID and visa requirements. To ensure that you fully understand the visa requirements, please contact the International Office.

3Tuition fees

The University will charge the tuition fees that are stated in the above table for the first Academic Year of study. The University will review tuition fees each year. For UK (home) students, if Parliament permit an increase in tuition fees, the University may increase fees for each subsequent year of study in line with any such changes. Note that any increase is expected to be in line with inflation.

For International Students, we may increase fees each year but such increases will be no more than 5% above inflation. If you defer your course start date or have to extend your studies beyond the normal duration of the course (e.g. to repeat a year or resit examinations) the University reserves the right to charge you fees at a higher rate and/or in accordance with any legislative changes during the additional period of study.

4Facilities

Due to COVID-19, some facilities (including some teaching and learning spaces) and some non-academic offerings (particularly in relation to international experiences), may vary from those advertised and may have reduced availability or restrictions on their use.

Student Contract

By accepting your offer of a place and enrolling with us, a Student Contract will be formed between you and the university. A copy of the 2023/24 contract can be found here. The Contract details your rights and the obligations you will be bound by during your time as a student and contains the obligations that the university will owe to you. You should read the Contract before you accept an offer of a place and before you enrol at the university.
Coventry University (Coventry)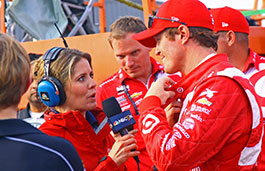 Coventry University (Coventry)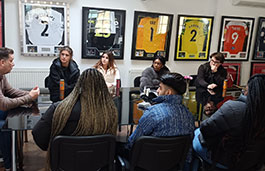 ---