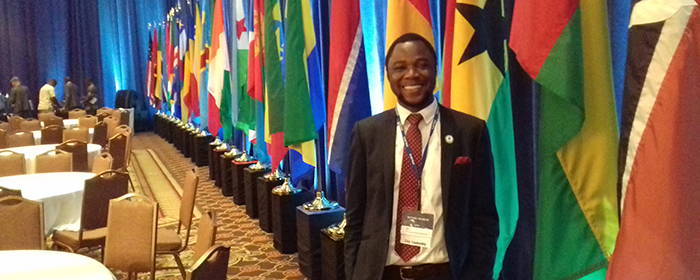 Case Study - Mutaru
Mutaru graduated from Coventry University in 2013 after studying for a Masters degree in Terrorism, International Crime and Global Security. He was recently named African of the year for work against terrorism! We caught up with him to find out about his goal to transform terrorism in West Africa, how he feels about winning this prestigious award and what it was like to meet Barack Obama.
Mutaru Mumuni Muqthar named African of the Year 2017
Mutaru will be presented with the prestigious honour this month in recognition of his impeccable work to de-radicalise scores of would-be extremists across West Africa. Mutaru set up the the West African Centre for Counter Extremism (WACCE) after graduating from a Master's in Terrorism, International Crime and Global Security at Coventry University in 2013. The organisation works to deepen understanding of violent extremism and radicalisation as well as promoting the support available to vulnerable people – hoping to help those at risk reintegrate into society, find work or return to education.
How do you feel about winning this prestigious award?
I am truly excited and honoured to have won this award. And certainly my education at Coventry has helped me on my journey in so many ways.
Working in an area that is highly unpopular and challenging, especially for young people, there is no greater testament and validation of our work than this noble award.
West Africa is one of the deadliest regions for terrorism and continues to serve as an epicentre for radicalisation and violent extremism. My team and I receive this with great excitement and gratitude and are confident that this will forever serve as a motivation to continue to do more.
I dedicate this to all the vulnerable youths I have worked with including the man whom we helped to stop travelling to Syria, the WACCE team, my university professors and to all the innocent victims of terrorism.
How did studying at Coventry University enhance your career?
The rich course content and the strong interaction/relationship that I was able to develop with my professors enhanced my passion to build a career in this area. The seminars, conferences and most importantly my field trip to Sicily, Italy, as part of the International Organized Crime course was very influential. Whilst in Sicily I was exposed to and inspired by the significant contribution Addio Pizzo, a civil society group, were making to the anti-mafia struggle in Italy. I participated in an anti-mafia rally in May 2012 in Palermo, shouting anti-mafia slogans over loud speakers on the streets. This played a significant role in inspiring me to get engaged in counterterrorism work back home.
Following completion of my studies in Coventry including the field work in Sicily and a short internship with the International Office, I decided to return to Ghana in 2014 to set up the West Africa Center for Counter Extremism (WACCE) to contribute to finding solutions to terrorism in West Africa.
I will emphasise that Coventry University continues to expand the professional content of its program to provide students access to a wide network of professional contacts including UK leaders in business, government, and the non-profit sector.
What would you say to a student thinking of studying at Coventry University?
Coventry University is one of the fantastic environments for your ideal educational and career experience with a huge multicultural community. Once you are here, taking advantage of every single opportunity is incredibly important in ensuring your success in your chosen career. Opportunities abound; what you need to do is take advantage of it! Certainly I am very proud to be Coventry University Alumni and will continue to be proud especially with the continuous rise of the university up the school league.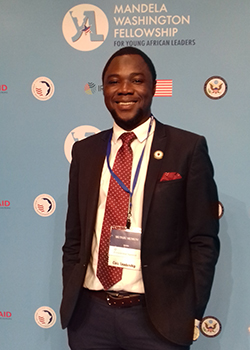 What do you do now and what do you find most enjoyable?
I currently work as Executive Director of the West Africa Centre for Counter-Extremism, an independent not for profit organization focused on counter terrorism research and outreach in West Africa. I engage in conducting research and programs that uncover the underpinnings of violent extremism and radicalization. I organize seminars and training with local community groups and leaders to enable them to help in countering the underlining factors that lead individuals to engage in terrorism. I enjoy working with youth and listening to their ideas regarding these challenges.
How do you feel about being shortlisted for the UK Alumni Awards in Ghana?
I feel very excited and humbled. I feel it is an acknowledgement of my contribution to positively impacting on my society. It will spur me on to aspire for even greater impact in West Africa.
What was it like to meet President Barack Obama at the Mandela Washington Fellowship for Young African Leaders?
Obama, in my opinion, is the most remarkable leader you can ever meet. I felt a special privilege and honour. Looking into his eyes, I felt an air of unaccounted confidence and hope that all the goals I have been aspiring to achieve in my life are possible. It was like the feeling you get when something extraordinary happens in your life. When I shook his hand I felt a sense of validation in the work that I do in contributing to securing West Africa.
What are your plans for the future?
West Africa is one of the deadliest regions for terrorism. My plans are to expand my counter terrorism work to include the entire West Africa region, helping to dissuade vulnerable groups and individuals from engaging in violent extremism and falling into the void of terrorist recruitment.