Past Speakers
The Global Leaders Programme (GLP) offers over 70 high profile Business Leaders talks per year, from a wide variety of sectors. You are encouraged to participate in all talks to increase your knowledge across all global sectors and find out about the wide variety of graduate careers and opportunities each employer offers.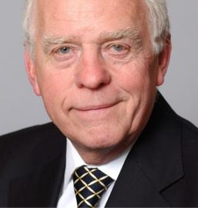 Sir John Egan
Former Chief Executive of Jaguar Land Rover (JLR) Cars
Sir John Egan was instrumental in revolutionising JLR in the 1980s into one of the most successful luxury car brands in the world. Sir John talked about focusing on quality and exceptional leadership to excel in a competitive industry. Sir John engaged in a Q and A session with students, which was full of challenging and perceptive questions.

David Richards
Chief Executive, Prodrive and Chairman,
Aston Martin Lagonda
David Richards – who is an honorary graduate of Coventry University – offered insight into the international motor racing industry where he progressed from training as an accountant to co-driving World Rally champions and running top flight Formula One teams. David highlighted how important it is to engage with people from other cultures to become a successful global leader.

Martyn Hollingsworth
Director, Vehicle Evaluation and Verification,
Jaguar Land Rover (JLR)
An Alumni of Coventry University, Martyn Hollingsworth shared his vast experience gained through working for Jaguar Land Rover on different continents, explaining how knowledge of cultural differences helps you excel in a global workforce.

Neil Churchill
NHS Director of Patient Experience
Neil Churchill is an experienced trustee and non-executive director within the NHS. Neil delivered an insightful talk about leading change in the NHS: the challenge of delivering the Five Year Forward View.

Justin King
Chief Executive, Sainsbury's
The Former Chief Executive of Sainsbury's gave a talk to GLP students about the challenges facing organisations in a tough economic climate.

Menna Rawlings
British High Commissioner to Australia
Meena Rawling discussed how to secure a graduate career within the Foreign and Commonwealth Office and outlined her top three hurdles to success. Meena detailed how confidence is the key to following your career dreams and encouraged students not to listen to negativity and stay focused.

Michael Foale
NASA Astronaut
Michael Foale, the first Briton to perform a spacewalk, has flown on six space shuttle missions, a Soyuz and two Space Stations. In 2003 Michael was made an International Space Station Commander. Michael spoke about the importance of good leadership and challenges to becoming a great leader.

Dr Xiuying Wen
Chinese Director, Scottish Confucius Institute for Business and Communication at Heriot-Watt University
Xiuying Wen is Professor of English at Tianjin University of Finance and Economics and Co-director of Scottish Confucius Institute for Business and Communication at Heriot-Watt University. His research centres on translation studies and cross-cultural communication. He is the author of Translation Criticism—From Theory to Practice, (Nankai University Press), and the co-editor of A Basic Course in English-Chinese Interpretation (University of International Business and Economics Press), A Practical Course Book on English-Chinese Translation (University of International Business and Economics Press).

Msafiri Marwa
Acting High Commissioner of Tanzania
Acting High Commissioner Msafiri Marwa is a career Diplomat with over 15 years' experience in government. In early years of his career he was responsible for coordinating the participation of Tanzania in the activities of the East Africa Community. In mid-2004 he was posted to the Tanzania Embassy in Addis Ababa, Ethiopia where he was responsible for African Union affairs. In the course of his duties, he travelled extensively in Africa and beyond, attending numerous high-level meetings. After six years of service in Addis Ababa he was recalled home and worked as the Personal Assistant to H.E. Jakaya Mrisho Kikwete, former President of the United Republic of Tanzania.

John Cunliffe
CTO Erricson Western & Central Europe
John currently works with customers, research bodies, partners, governments and regulators across 16 countries of Western and Central Europe. In the strategy area his work includes business development and mergers & acquisitions. John started his career in telecoms R&D and has worked on most aspects of fixed and mobile networks and has travelled the world extensively.

Catherine Ward
Group Director Human Resources, Interserve
Catherine's career has covered HR, change management and communications, in roles in the public, private and private equity sectors, in executive roles and as a consultant.
She is currently the Group HR Director for Interserve Plc one of the world's foremost support services companies, annual gross revenues of £3.6bn, 85,000 employees, 55,000 in UK, 30,000 internationally. It is one of UK's top 20 largest private sector employers. Catherine created the role of Group HR Director during the lead in to an 18 month period of extensive acquisition in the UK and overseas, when the Group expanded by 50% to the scale it is today.
Back to the Global Leaders Programme
Return to the GLP landing page.
Go back
Upcoming Speakers
Take a look at some of the upcoming GLP speakers.
Find out more
GLP for Undergraduates
View detailed information on the GLP for undergraduates.
Discover more