International Experience
Gain exposure to different global cultures through Global Leaders Programme (GLP) international experience and learn how business operates around the world.
Our international experiences will enable you to apply the practical skills learnt through GLP activities in a new international setting. You'll also get to meet international employers, gain an understanding of the varying economic climates and make friends from all over the world.
The map shows just a handful of the previous destinations we've taken students to as part of the Global Leaders Programme: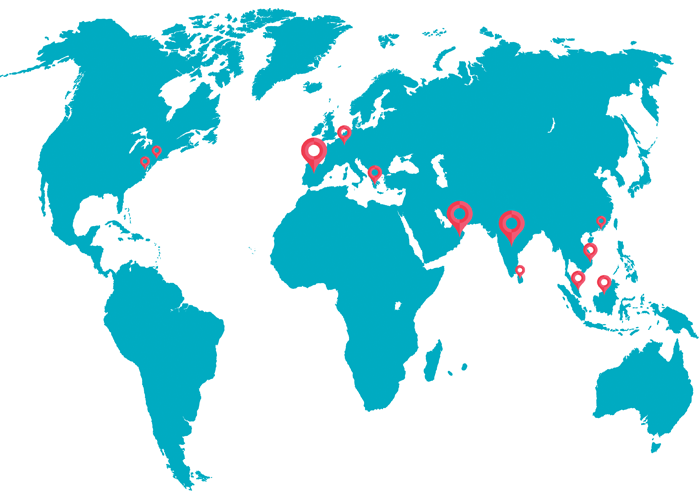 7 ways to gain international experience
The Global Leaders Programme makes it easy to access a wide variety of international experiences. See how you can visit your favourite countries and gain recognition towards the GLP certificate or diploma through the following activities across the globe
Attend a one week GLP trip to destinations such as Malaysia, India, America, Sri Lanka, Spain, Germany, Oman and many more, to experience different cultures and see how business operates across the globe
Fly to an international symposium, a formal gathering in an academic setting with experts in the field. Get inspired by motivational speakers on hot topics such as humanitarian affairs, global issues and modern leadership
Take part in an international field trip organised by your course/faculty - here you can travel with your classmates and increase your subject knowledge
PHD students can take advantage of an international experience grant through the Centre for Global Engagement (CGE), where you can undertake international volunteering or a research project anywhere in the world
Join the Erasmus scheme as an Undergraduate student, to study or work abroad
Learn one of the 30+ languages on offer through the Linguae Mundi programme, such as Conversational English, French, Mandarin, Spanish, Arabic and many more
You have the opportunity to attend a language field trip across Europe. This is a great way of practicing your new language skills
To conclude, any of the above global experiences whether organised by the Global Leaders Programme, The Centre for Global Engagement department or your faculty can contribute towards your GLP certificate.
Experience that you have organised yourself may also be valid although a minimum number of hours are required. If you are not sure, please email the Global Leaders Programme team on glp.uni@coventry.ac.uk.
Back to the Global Leaders Programme
Return to the GLP landing page.
Go back
GLP for Undergraduates
View detailed information on the GLP for undergraduates.
Discover more
GLP for Postgraduates
View detailed information on the GLP for postgraduates.
Discover more