What you need to know before you arrive
Accepting your offer
If your application is successful, you will receive an email with your offer letter attached as a PDF document. Please record your reply (Accept / Decline / Defer) to our offer or alternatively follow the link provided in your offer letter.
If you are an overseas fee-paying student, you can get advice for Visa or ATAS.
Once you have accepted your offer you will receive an induction brochure which will cover all of the events and workshops that have been put into place to support you as start your research student journey.
Several of these are mandatory so please keep these dates free. The induction programme spans the first several months after you have arrived, this programme has been specifically designed with you in mind so please do get involved.
Enrolment Information
Once you have accepted your offer you will need to enrol onto your new degree programme, please follow this link to find out everything you need to know about how and when to enrol.
If you need any help with enrolling we will be running a drop in session the day before induction, full details of the arrangements are found in the induction brochure.
Pre-arrival Twitter Question & Answer: Twitter is a great way to connect with the research community, and will be a useful tool for you throughout your research career. If you haven't already got an account we encourage you to do so, and follow us @CU_ReCap.
Prior to your arrival we will be holding a Twitter Q&A session, please join us with any questions that you have. Further details are found in the induction brochure.
PGR mentors
Introducing our Student Mentors
When you start something new you are bound to have questions and the PGR student mentors are here to help! Whether your questions are about life at Coventry University, the City or what it is like to do a research degree, the PGR mentors are ready and waiting for your questions.
The PGR mentors are research students who have volunteered to support you for the first 6 months of your research degree. Below you will see biographies of each of the PGR mentors, you can contact them before you start your research degree using this email address: PGRMentors@coventry.ac.uk
They will also be available for monthly drop in sessions which you can come along to for a chat and a cup of tea or coffee. Dates of the drop in sessions will be shared at induction.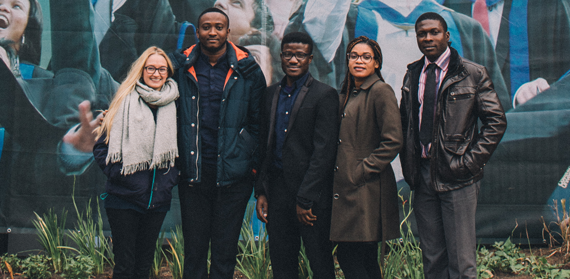 PGR Welcome Day
When you receive your offer you will also be given the dates and times of the PGR Welcome Day. This is a mandatory session for all new research students.
Welcome Day is designed to officially welcome you to the University, to give you an overview of all of the support you have access to and to start you off on your research journey.

Things to consider
Organise your accommodation: If you have not already organised your accommodation please follow this link to find out how the University can support you. The University also has its own private lettings agency with local properties to suit all requirements - visit the futurelets website for more details.
Paying your fees: If you need to make payment for some or all of your fees prior to enrolment, you can do so by following the instructions available here.
Pre-arrival information
If you are a student requiring a Tier 4 visa to study here in the UK, please click here to find out more about the Tier 4 requirements you must comply with during your time here at Coventry University.