Cotutelle PhD Programmes
COVENTRY UNIVERSITY - DEAKIN UNIVERSITY COTUTELLE PHD PROGRAMMES – FURTHER INFORMATION
The Coventry University (UK) – Deakin University (Australia) cotutelle PhD programme offers research students an unparalleled international experience, working alongside world-class researchers across two continents. Cotutelle students start the programme at either Coventry or Deakin Universities depending on their chose project and spend one year at the partner institution. As a result they gain unique exposure to different cultural and scientific environments and substantially increase their employability after graduation.
WHAT IS THE COTUTELLE PROGRAMME?
A cotutelle is a PhD programme where a research student is jointly enrolled at two universities and spends time at each university. The candidate is jointly supervised by academic staff at each institution and, upon successful completion of the PhD programme, the candidate is able to graduate with a PhD or equivalent title from each university.
HOW WILL THE RESEARCH STUDENT BENEFIT FROM THE COTUTELLE PROGRAMME?
The cotutelle programme is a fantastic way to gain wide-ranging research experience within different academic environments, through joint enrolment and research supervision.
Cotutelle research students have the benefit of being part of an exceptional international research team, receiving high-quality supervision from both Coventry and Deakin Universities. They are also part of a prestigious network of global academic staff and research students, creating a vibrant international research community. The breadth of international engagement allows access to a significant programme of seminars and conferences across two continents. The combined offer of both institutions provides access to unique international dissemination opportunities and research networking, supporting research students' future career development. Cotutelle students will also have access to additional funding opportunities, the widest possible research development opportunities, and the latest research equipment and technologies at both institutions, providing a truly world-class research experience.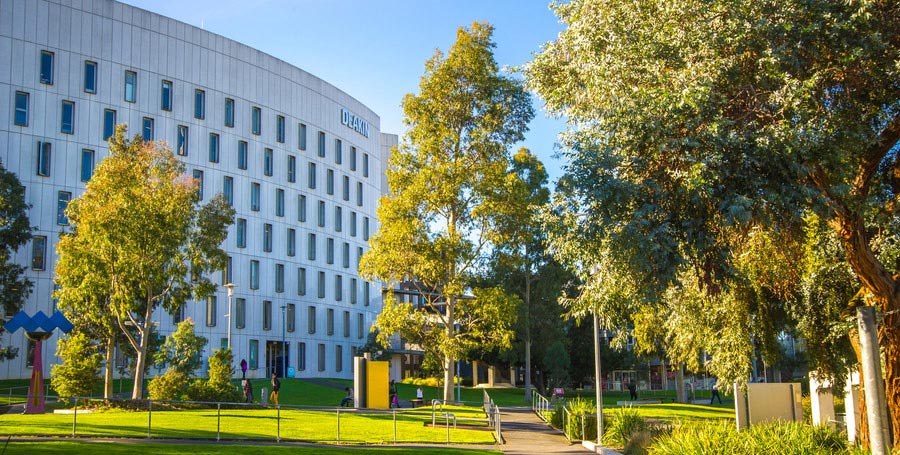 (Deakin University Campus, Melbourne)
WHAT ARE THE ELIGIBILITY CRITERIA FOR APPLICANTS CONSIDERING A COVENTRY-DEAKIN COTUTELLE?
Applicants are required to meet the following entry requirements:
A minimum of a 2:1 first degree (second class honours upper division) in a relevant discipline/subject area with a minimum 70% mark in the project element or equivalent with a minimum 70% overall module average, or
A Masters degree in a relevant subject area, with overall mark at minimum Merit level. In addition, the mark for the Masters dissertation (or equivalent) must be a minimum of 70%.
The potential to engage in innovative research and to complete the PhD within a prescribed period of study.
Language proficiency (IELTS overall minimum score of 7.0 with a minimum of 6.5 in each component).
IF
INTERESTED, WHICH INSTITUTION SHOULD APPLICANTS TO APPLY TO?

All of the research projects have been jointly agreed, and a lead institution identified for each project. The lead institution is clearly identified within the details of each of the advertised research projects. The applicant should apply to both institutions.
WHAT IS THE APPLICATION PROCESS?
Applications are submitted to both institutions. Applicants must ensure they meet eligibility requirements. Selection involves academic staff from both institutions. Shortlisted applicants will be interviewed by a panel including academic staff from each institution. Applicants will need to submit copies of certificates to both institutions in line with their respective requirements.
Find out more about how to apply at both Coventry University and Deakin University
WHAT FEES WILL THE RESEARCH STUDENT NEED TO PAY?
Research students will be enrolled at both universities for the entire length of their programme. Students will be fully funded for this programme, receiving a fee waiver and a living stipend.
Please note that a research student will only receive one studentship at anytime.
In addition, research students will be eligible for one return economy airfare between Coventry University and Deakin University.
WHERE WILL THE RESEARCH STUDENT BE BASED?
Successful applicants will typically spend at least 12 months at each institution. Students will start at the home institution and the timing of the 12 month exchange will be tailored to best suit the project.
WHAT SUPERVISORY SUPPORT WILL BE AVAILABLE?
A team of supervisors from both institutions will jointly supervise the student throughout their programme. Regular meetings and communication will ensure that the team stays engaged with the student. Wherever the student is located, there will be supervisory and skills development support readily available.
WHAT ARE THE PROGRESSION CRITERIA FOR THE RESEARCH STUDENT?
Each institution has its own programme requirements for research students, including relevant development programmes, covering research methodology and academic writing. The research student will be given a tailored programme that meets the requirements of both institutions. Care has been taken to develop this programme so a piece of work or assessment will meet the requirements of both institutions, wherever possible.