Politics and International Relations BA (Hons)
Study level:

Undergraduate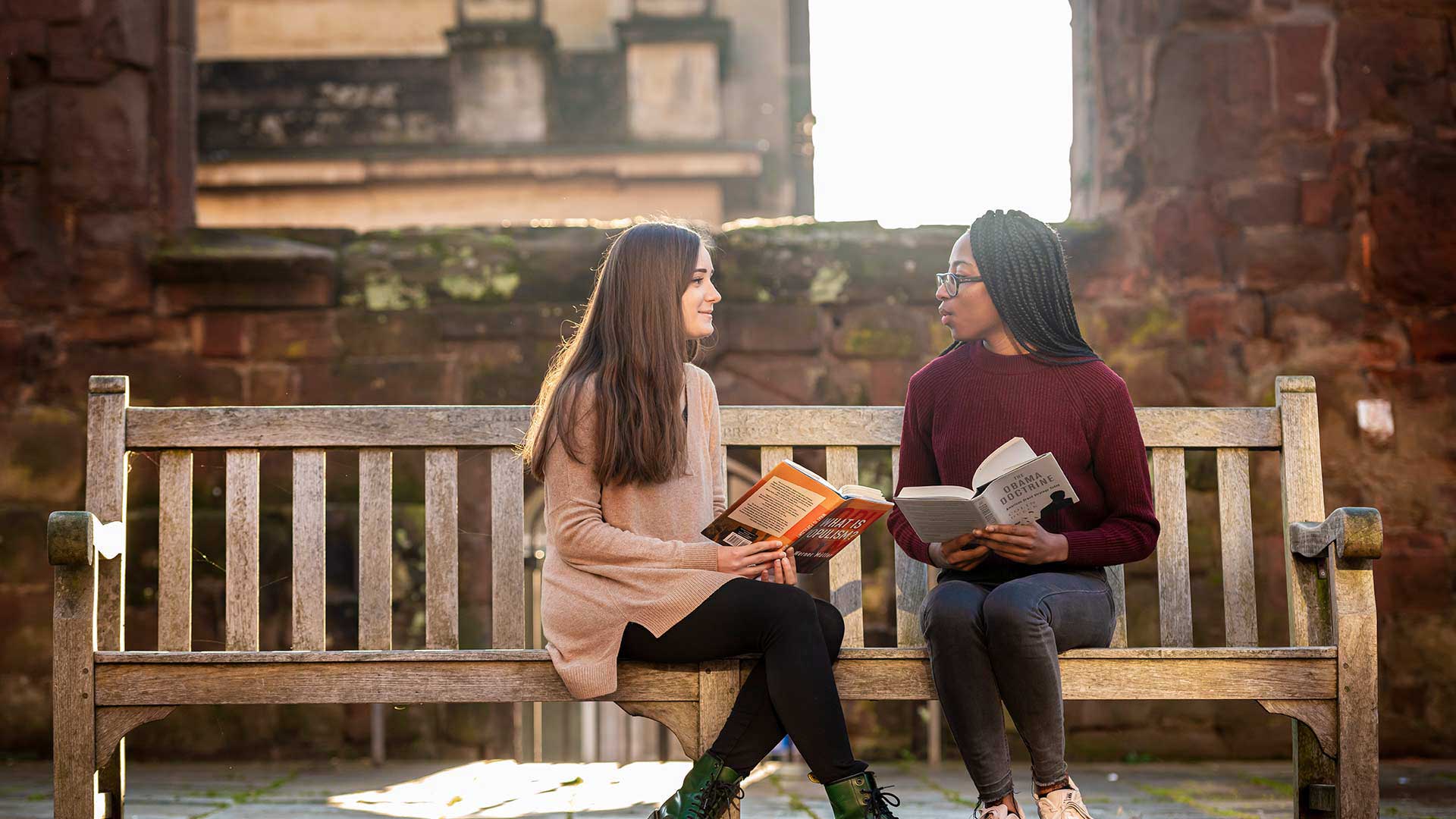 Our BA Politics and International Relations course looks at how countries are governed and decisions are made, what shapes foreign policies, and how national and international political events impact people locally.
Location
Coventry University (Coventry)
Study mode
Full-time
Part-time
Sandwich
Duration
3 years full-time
4 years sandwich
Flexible part-time
Start date
September 2023
January 2024
---
Course overview
Coventry University offers you an exciting and innovative Politics and International Relations degree. You will learn about national and international affairs in depth by:
Having the opportunity to study a range of modules on African, American, European, Middle Eastern, and (South) East Asian politics.
Gaining a deeper understanding of the rationale and value of peaceful and cooperative relations between nations and people.
Learning how the world is becoming increasingly more connected and how this impacts on governments and their agencies, multinational companies, international organisations, non-governmental organisations, and you.

Joint Top Modern University for Career Prospects
Guardian University Guide 2021 and 2022

5 QS Stars for Teaching and Facilities
QS Stars University Ratings

Top 5 UK Student City (Coventry)
QS Best Student Cities Index 2023
Why you should study this course
Academic staff who are actively engaged in high-quality research that informs their teaching and who are qualified lecturers with members of staff being fellows and senior fellows of AdvanceHE (staff subject to change).
Multidisciplinary teaching with experts from national and international politics, history, global security and social theory (staff subject to change).
An intellectually stimulating course that encourages you to sharpen your analytical skills and engage with issues of vital concern for today's world.
You may have the opportunity to focus on specific themes such as North American, European, East Asian, and Middle Eastern politics, social movements or global security as you progress through your course.
The opportunity to develop advanced professional skills such as the ability to think independently and creatively, to advance sophisticated arguments and to communicate ideas confidently as enquired by potential employers.
Learn more about our Degree Show 2023:
---
What you'll study
This course has a common first year.
The common first year enables you to work alongside students doing similar courses to you, to widen your knowledge and exposure to other subject areas and professions. You will have the opportunity to collaborate with other students, so you can share your insights and experience which will help you to develop and learn.
If you discover an interest in a specific subject you have studied, upon successful completion of your first year, you could swap degrees with another course in your common first year (subject to meeting progression requirements).
Common first year courses
History BA (Hons)
History and Politics BA (Hons)
International Relations BA (Hons)
Politics BA (Hons)
Politics and International Relations BA (Hons)
In the first year, the curriculum is shared across related courses allowing you to gain a broad grounding in the discipline before going on, in the second and third years, to specialist modules in your chosen field.
Modules
Themes and Concepts in History, Politics and International Relations - 20 credits

The aim of this module is to facilitate your transition from pre-university level study and provide preparation and support for academic study at degree level. This module will also introduce you to major themes and concepts that guide your studies in History, Politics, and International Relations.

Nations and Nationalism - 20 credits

This module explores the emergence, evolution, and impact of nationalism and the nation state in the modern period. It traces the origins of nationalism from the Atlantic Revolutions of the late eighteenth century to 'Brexit' and the UK's departure from the European Union.

Global Histories - 20 credits

The aim of this module is to introduce you to the ways in which the process of globalisation has altered cultural, social, and economic realities for centuries. This module looks at historical change from the fifteenth century to the present and examines multiple aspects of the emergence of a globalised system that saw ideas, peoples, and goods, exchanged across the world.

World Politics since 1945 - 20 credits

The module provides a survey of the major developments in world politics since the end of the Second World War. It will examine major themes of post-war international politics, such as the Cold War; humanitarian interventions in the post-Cold War; debates about Globalisation; the War on Terror; rise of China; and emergence of populist political narratives.

Politics in Action - 20 credits

This module aims to introduce the study of political institutions and behaviour post World War II. It examines the theories associated with political systems and institutions that form the framework for political life and assesses the extent to which these match the reality of practice.

Ideas, Ideologies and the State - 20 credits

This module aims to introduce you to key concepts employed in the study of politics and enable you to use these concepts to gain both an insight into the workings of modern political systems and an understanding of the ideas and theories underlying contemporary political structures, movements and debates.
In year two, you will develop more advanced knowledge and skills to do with: global security, foreign policy, and modern British politics, amongst others.
Modules
Contemporary Global Security - 20 credits

This module will introduce you to the study of security in International Relations. It will examine conflicts and contemporary security threats like terrorism, crimes against humanity, genocide, and war as well as other threats to security, involving questions of global health and climate change. It will discuss potential pathways to settle these conflicts peacefully and find solutions to these global threats.

Foreign Policy Analysis - 20 credits

The module focuses on foreign policy analysis through theories and practice. The module assesses the ways in which national political systems experience and cope with challenges arising from their involvement in international affairs. Insights will be applied to foreign policy in general and to particular foreign policies in depth including the United States; China; Russia; the European Union; and Britain.

Ethics and International Relations - 20 credits

In this module, you develop a vital understanding of key ethical problems in contemporary international politics as well as the most recent and traditional moral frameworks for thinking about how to approach and evaluate potential ways to resolve these issues.

The Far Right in Contemporary Europe - 20 credits

This module focuses on the rise of Far Right political parties in West European countries. The focus will be on the different explanations put forwards for their success or failure to acquire electoral support, their influence on the behaviour of mainstream political parties and politics in general in the case study countries.

Global Experiences of Liberal Democracy - 20 credits

This module focuses on politics and the state in different countries and continents. It aims to give you an understanding of liberal democracy in theory and practice, methods of gauging the quality of democracy and transitions towards and away from this particular regime type.

British Politics since 1997 - 20 credits

This module aims to introduce and analyse the system of government in Britain, with special emphasis on assessing whether these institutions are appropriate for British society in the twenty-first century. Also, the module will look at recent debates, issues and topics arising within contemporary British political life.
There's no better way to find out what you love doing than trying it out for yourself, which is why a work placement2 can often be beneficial. Work placements usually occur between your second and final year of study. They're a great way to help you explore your potential career path and gain valuable work experience, whilst developing transferable skills for the future.
If you choose to do a work placement year, you will pay a reduced tuition fee3 of £1,250. For more information, please go to the fees and funding section. During this time you will receive guidance from your employer or partner institution, along with your assigned academic mentor who will ensure you have the support you need to complete your placement.
Modules
UK Work Placement – 0 credits

This module 2 provides you with an opportunity to reflect upon and gain experience for an approved placement undertaken during your programme. A placement should usually be at least 26 weeks or equivalent; however, each placement will be considered on its own merits, having regard to the ability to achieve the learning outcomes.

International Study/Work Placement – 0 credits

This module2 provides you with an opportunity to reflect upon and gain experience for an approved international study/work placement undertaken during your programme. A work/study placement should usually be at least 26 weeks or equivalent; however, each placement will be considered on its own merits, having regard to the ability to achieve the learning outcomes.
Year three aims to bring you to the level to enter the world of work by consolidating your knowledge and skills from Year one and two. You could also work on a large final project in an area of your interest, with the support of a mentor and your Academic Personal Tutor. You will be asked to choose optional modules to total 120 credits in your final year
Modules
Independent Project - 20 credits

This module is designed to enable you to develop, enhance and put into practice the research and analytical skills acquired in your previous years of study in order to pursue an in-depth analysis of a subject of your own choosing within the context of your programme of study. This can take the form of an extended piece of writing, or a media project such as a documentary film.

United States' Foreign Policy since 1945 - 20 credits

The aim of the module is to examine in detail a number of major themes and developments in post-1945 US foreign policy. These are examined both for their intrinsic importance and interest, and for the light they throw on the foreign policy making process in the US system and on the development of the international system.

Chinese Politics, Foreign Relations and Security - 20 credits

This module sets out to explore China's domestic political institutions and political culture; deconstruct the country's regional and global foreign relations; and define the military and non-military security challenges for the regional and global systems. It explores the challenges at home and overseas facing the leadership in Beijing and the way that China engages with the international community including the U.S., Japan, Southeast Asia and, perhaps most controversially, Africa.

International Relations of South Asia - 20 credits

This module introduces you to the region of South Asia and, in particular, to the dynamics of conflict, violence and cooperation in the region and their wider implications for global politics. South Asia consists of eight countries, namely India, Pakistan, Bangladesh, Sri Lanka, Maldives, Nepal, Bhutan and Afghanistan.

The Far Right in Britain and France - 20 credits

This module examines the different natures of the far right in Britain and France. The primary focus for both countries will be, the inter-war period, the different experiences and consequences of World War Two, the 1950s, 1970s up to the current time.

The Green Movement: The Search for Sustainability - 20 credits

This module considers the emergence of the modern environmental movement from the 1960s to the most recent climate change activism of Greta Thunberg and Extinction Rebellion as well as identifying the emergence and impact of climate change denial. It will demonstrate possible sustainable futures with an appraisal of alternative ways of living in search of sustainable futures.

Political Ideologies since 1945 - 20 credits

This module examines the major political ideologies of the twentieth century in Britain, Europe, North America and the Third World. It provides an in-depth understanding of the main intellectual and political debates within ten influential ideological currents, namely, conservatism, Christian Democracy, far right populism/neo-fascism, liberalism, socialism, the New Left, feminism, ecologism, political Islam and anti-colonialism.

Politics of the Middle East - 20 credits

This module aims to introduce you to the contemporary history, politics and international relations of the Middle East since 1948. Topics include the process of European decolonisation since the 1940s, the rise of Zionism and national independence movements, the emergence of the Palestinian question, the revival of political Islam, the Western Wars against Iraq in 1991 and 2003, and the Arab Spring Revolutions of 2010-11.
We regularly review our course content, to make it relevant and current for the benefit of our students. For these reasons, course modules may be updated.
---
How you'll learn
This course can be offered on a part-time basis. Whilst we would like to give you all the information about our part-time offering here, it is tailored for each course each year depending on the number of part-time applicants. Therefore, the part-time teaching arrangements vary. Request further information about part-time study
---
Teaching contact hours
We understand that everyone learns differently, so each of our courses will consist of structured teaching sessions, which can include:
On campus lectures, seminars and workshops
Group work
Self-directed learning
Work placement opportunities2.
The number of full-time contact hours may vary from semester to semester, however, on average, it is likely to be around 12 contact hours per week in the first and second year dropping to around 10-12 contact hours per week in the third and final year as you become a more independent learner.
Additionally, you will be expected to undertake significant self-directed study of approximately 15 hours each week, depending on the demands of individual modules. 
Part of university life is undertaking self-directed learning. During a typical week you will have time that allows you to work independently to apply the skills and knowledge you have learnt in taught or facilitated sessions to your projects or assignment briefs. This self-directed learning allows you to use your research skills, consolidate your knowledge or undertake collaborative group work.
As an innovative and enterprising institution, the University may seek to utilise emerging technologies within the student experience. For all courses (whether on-campus, blended, or distance learning), the University may deliver certain contact hours and assessments via online technologies and methods.
In response to the COVID-19 pandemic, we are prepared for courses due to start in or after the 2023/2024 academic year to be delivered in a variety of forms. The form of delivery will be determined in accordance with Government and Public Health guidance. Whether on campus or online, our key priority is staff and student safety.
---
Assessment
This course will be assessed using a variety of methods which will vary depending upon the module.
Assessment methods can include:
Phase tests
Essays
Group work
Presentations
Reports
Projects
Coursework
Individual assignments
The Coventry University Group assessment strategy ensures that our courses are fairly assessed and allows us to monitor student progression towards achieving the intended learning outcomes.
---
International experience opportunities
This course has an inherently international perspective. If you want to further enhance your opportunity to gain an international experience, we will provide support for you to spend a year studying abroad or on placement3.
---
Entry requirements
Typical offer for 2023/24 entry.
| Requirement | What we're looking for |
| --- | --- |
| UCAS points | 112 |
| A level | BBC |
| GCSE | Minimum 5 GCSEs graded 4 / C or above including English |
| BTEC | DMM |
| IB Diploma | 29 points |
| Access to HE | The Access to HE Diploma. Plus GCSE English at grade 4 / C or above. |
We recognise a breadth of qualifications, speak to one of our advisers today to find out how we can help you.
Are you eligible for the Fair Access Scheme?
We believe every student should have the opportunity to dream big, reach their potential and succeed, regardless of their background. Find out more about our Fair Access Scheme.
Select your region to find detailed information about entry requirements:

You can view our full list of country specific entry requirements on our Entry requirements page.
Alternatively, visit our International hub for further advice and guidance on finding in-country agents and representatives, joining our in-country events and how to apply.
English language requirements
IELTS: 6.0 overall (with at least 5.5 in each component area).
If you don't meet the English language requirements, you can achieve the level you need by successfully completing a pre-sessional English programme before you start your course.
For more information on our approved English language tests visit our English language requirements page.
---
Fees and funding
2023/24 tuition fees.
Student
Full-time
Part-time
UK, Ireland*, Channel Islands or Isle of Man
£9,250 per year
Request fee information
EU
£9,250 per year with EU support bursary**
£16,800 per year without EU support bursary**
Not available
International
£16,800 per year
Not available
If you choose to do a work placement2, you should consider travel and living costs to cover this. There is also a tuition fee3 of £1,250 that will cover your academic support throughout your placement year.
For advice and guidance on tuition fees and student loans visit our Undergraduate Finance page and see The University's Tuition Fee and Refund Terms and Conditions.
We offer a range of International scholarships to students all over the world. For more information, visit our International Scholarships page.
Tuition fees cover the cost of your teaching, assessments, facilities and support services. There may be additional costs not covered by this fee such as accommodation and living costs, recommended reading books, stationery, printing and re-assessments should you need them. Find out what's included in your tuition costs.
The following are additional costs not included in the tuition fees:
Any optional overseas field trips or visits: £400+ per trip.
Any costs associated with securing, attending or completing a placement (whether in the UK or abroad)
*Irish student fees
The rights of Irish residents to study in the UK are preserved under the Common Travel Area arrangement. If you are an Irish student and meet the residency criteria, you can study in England, pay the same level of tuition fees as English students and utilise the Tuition Fee Loan.
**EU support bursary
Following the UK's exit from the European Union, we are offering financial support to all eligible EU students who wish to study an undergraduate or a postgraduate degree with us full-time. This bursary will be used to offset the cost of your tuition fees to bring them in-line with that of UK students. Students studying a Degree with a Foundation Year with us are not eligible for the bursary.
How do you know if you need to pay UK or international tuition fees?

We carry out an initial fee status assessment based on the information you provide in your application. Your fee status determines your tuition fees, and what financial support and scholarships may be available to you. The rules about who pays UK (home) or international (overseas) fees for higher education courses in England are set by the government's Department for Education. The regulations identify all the different categories of student who can insist on paying the home rate. The regulations can be difficult to understand, so the UK Council for International Student Affairs (UKCISA) has provided fee status guidance to help you identify whether you are eligible to pay the home or overseas rate.

If you meet all the criteria required by any one category, including any residence requirements, your institution must charge you the home rate. You only need to find one category that you fit into.
---
Facilities
Students will benefit from studying on our well-equipped4, modern campus.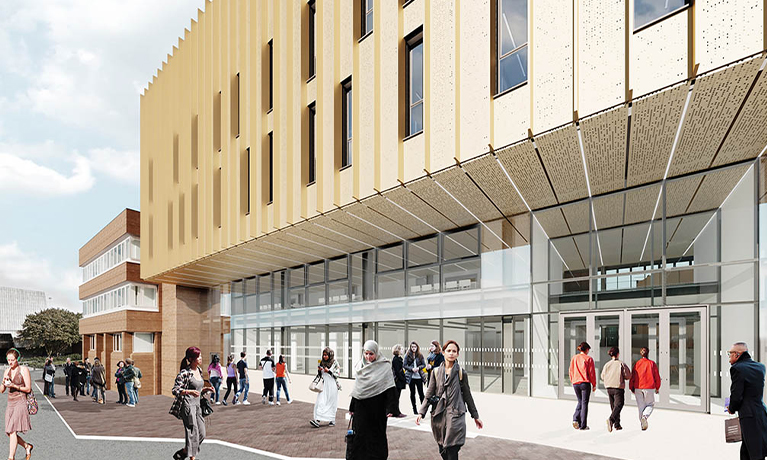 We are currently in the process of a major redevelopment of our Faculty of Arts and Humanities buildings. The building will be open to the public, as well as students, and will feature an expansive gallery space in addition to the capacity for cross-faculty collaborations.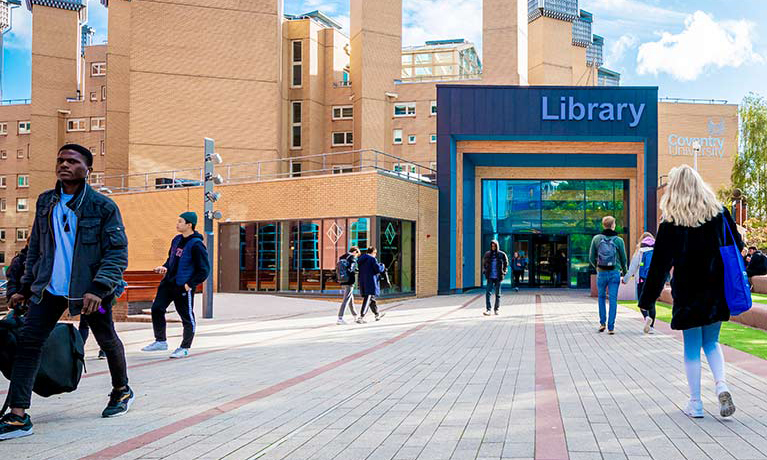 You will benefit from our support designed to help you succeed and our industry-relevant teaching and resources. These include our modern library and computing facilities, dedicated careers advice and Students' Union.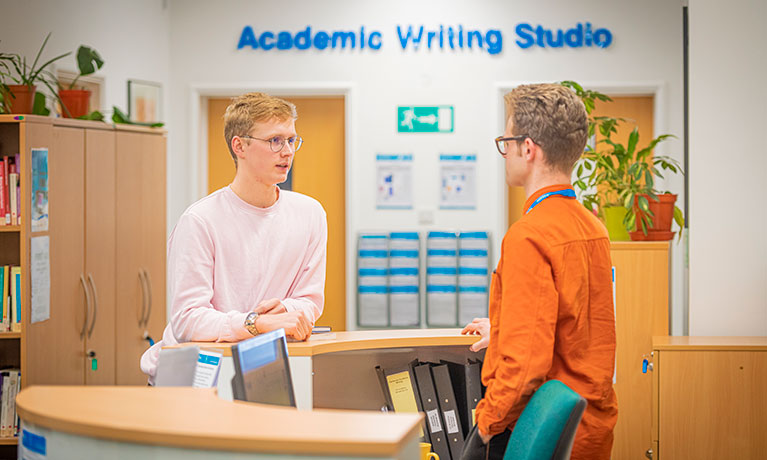 No matter which degree you're studying, you'll find a lot of support on campus, including the Centre of Academic Writing and sigma, which offers mathematics and statistics support.
---
Careers and opportunities
On successful completion, you will have knowledge of:
The origins and character of different political systems.
The origins and character of the contemporary international system.
The key issues, institutions and processes that determine domestic affairs and international relations.
The methods and approaches employed in the study of politics and international relations.
You will be able to:
Identify accurately the issue(s) which need researching and retrieve up-to-date disciplined based information using paper and electronic sources.
Locate a range of information sources, to gather and marshal relevant evidence successfully.
Review critically, synthesise and debate evidence collected by research.
Construct fair, coherent and convincing arguments utilising the relevant key concepts and approaches in the disciplines of politics and international relations.
Analyse problems, take decisions, be creative and show initiative.
Work independently with increasing self-confidence and to reflect upon the process of learning.
Work within a group, to negotiate, to learn from others and to lead an activity.
Manage time effectively, to set objectives and to evaluate the performance of oneself and others.
Develop and debate ideas and to sustain arguments effectively both orally and in written form.
In a globalised world where companies increasingly do business across national boundaries, you can benefit from an in-depth understanding of the international landscape, gaining an insight appealing to many employers. This course is informed by up-to-date research and provides knowledge on issues that are at the forefront of the disciplines of Politics and International Relations and enables you to develop a range of skills that are highly valued by employers. Our students who graduate in degrees that include Politics and International Relations can find a number of exciting careers.
---
How to apply
UK students

Full-time students applying to start in September 2023 can apply for this course through UCAS from 6 September 2022. Read our application pages to find out your next steps to apply.

Part-time students should apply directly to the university.

---

If you'd like further support or more information about your course get in touch with us today.

International students

International codes:
AHU114

Full-time students applying to start in September 2023 should apply directly to the university.

How to apply

For further support for international applicants applying for an undergraduate degree view our International hub.

You can also download our International guide which contains lots of useful information about our courses, accommodation and tips for travel.

---

Get in touch with us today for further advice and guidance.
Disclaimers

Coventry University together with Coventry University London Campus, CU Coventry, CU London, CU Scarborough and Coventry University Online come together to form part of the Coventry University Group (the "University") with all degrees awarded by Coventry University.

1Accreditations

The majority of our courses have been formally recognised by professional bodies, which means the courses have been reviewed and tested to ensure they reach a set standard. In some instances, studying on an accredited course can give you additional benefits such as exemptions from professional exams (subject to availability, fees may apply). Accreditations, partnerships, exemptions and memberships shall be renewed in accordance with the relevant bodies' standard review process and subject to the university maintaining the same high standards of course delivery.

2UK and international opportunities

Please note that we are unable to guarantee any UK or International opportunities (whether required or optional) such as internships, work experience, field trips, conferences, placements or study abroad opportunities and that all such opportunities may be subject to additional costs (which could include, but is not limited to, equipment, materials, bench fees, studio or facilities hire, travel, accommodation and visas), competitive application, availability and/or meeting any applicable travel COVID and visa requirements. To ensure that you fully understand the visa requirements, please contact the International Office.

3Tuition fees

The University will charge the tuition fees that are stated in the above table for the first Academic Year of study. The University will review tuition fees each year. For UK (home) students, if Parliament permit an increase in tuition fees, the University may increase fees for each subsequent year of study in line with any such changes. Note that any increase is expected to be in line with inflation.

For International Students, we may increase fees each year but such increases will be no more than 5% above inflation. If you defer your course start date or have to extend your studies beyond the normal duration of the course (e.g. to repeat a year or resit examinations) the University reserves the right to charge you fees at a higher rate and/or in accordance with any legislative changes during the additional period of study.

4Facilities

Due to COVID-19, some facilities (including some teaching and learning spaces) and some non-academic offerings (particularly in relation to international experiences), may vary from those advertised and may have reduced availability or restrictions on their use.

Student Contract

By accepting your offer of a place and enrolling with us, a Student Contract will be formed between you and the university. A copy of the 2023/24 contract can be found here. The Contract details your rights and the obligations you will be bound by during your time as a student and contains the obligations that the university will owe to you. You should read the Contract before you accept an offer of a place and before you enrol at the university.
---
---