Innovation in supporting people at risk of falling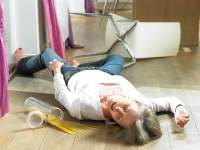 In 2012 it was estimated that 800 people fell daily in the West Midlands and fall detectors were an underused resource. A fall detector does not prevent a fall, but sends an alert so that someone knows a person has fallen, making a difference to living independently by restoring confidence. There is a direct correlation between recovery and how long people lie on the floor after a fall. The speedier the response, the lower the risk of hospital admission and the shorter the length of hospital stay and subsequent support requirements on discharge.
The Health, Design & Technology Institute (HDTI) at Coventry University, and the West Midlands Regional Telehealthcare Network and Warwickshire PCT were funded by NHS West Midlands to evaluate the use of fall detectors in the West Midlands. The project found that there is a lack of knowledge amongst the public and healthcare professionals, which can prevent the use of fall detectors by people who may benefit from them. It was also found that there is a need for sharing of best practice across the region to develop the use of technology within falls services.
For more information about the project, please contact Dr. Gillian Ward, Principal Lecturer in Assistive Technology, Coventry University on +44 (0) 24 7615 8015 or g.ward@coventry.ac.uk.
Resources
As a result of this project, HDTI have produced a range of resources, aimed at health and social care professionals and potential fall detector users, to raise awareness of falls prevention, detection, response, and best practice for professionals.
One page flyer
Read our one page flyer (pdf, 470kb) which gives an overview of the resources developed through the product.
FallCheck app now available to download
Are you or someone you know worried about falling at home? FALLCHECK has been developed by HDTI and based on information from occupational therapists and falls experts in the United Kingdom. The app gives a comprehensive guide to alert you to potential fall hazards that might be present in your own or a relative's home. Information on how to remove or reduce the risk to help prevent falls is provided by the app.
The app works on all mobile platforms and via the web - all you need is an internet enabled device (e.g. computer, Smartphone or tablet)
To download the app, visit: www.coventry.ac.uk/fallcheck
Literature review
A literature review summarising current knowledge and research in the area of fall detectors was published in the Journal of Assistive Technologies:
Ward, G., Holliday, N., Fielden, S., & Williams, S. (2012) Fall detectors: a review of the literature. Journal of Assistive Technologies, 6 (3), pp. 202–215.
This literature review has received an Outstanding Paper award in the Emerald Literati Network's 2013 Awards.</p
Video: Me and my fall detector
Watch a video exploring four fall detector users' views about their device, showing the pros and cons of using technology for detecting and managing falls. A transcript of the video can be downloaded as a pdf file (390kb).
Focus groups with Telehealthcare leads
The results of focus groups with Telehealthcare leads, exploring their views on the successful and unsuccessful uses of fall detectors. Read the report here (pdf, 250kb).
Focus groups with older people and carers
The results of focus groups with older people and carers of those at risk of falling, exploring their awareness, knowledge, and perceptions of fall detectors. Read the report here (pdf, 150kb).
Best Practice Guide: Fall Detectors
The Best Practice Guide is intended to provide staff working in either Telecare or falls services with information to help build good practice in the area of fall detectors. Read the report here (pdf, 100kb).
Service evaluation
A service evaluation following twenty people issued with fall detectors. Read the report here (pdf, 300kb).
Dissemination event
Phase 1 of the project concluded with a dissemination event to practitioners and industry stakeholders to summarise the findings of the reports listed above, and to agree priority areas for action. Read the report on the dissemination event here (pdf, 950kb).
Booklet: Worried About Falling?
A booklet aimed at those who are worried about falling, and their friends and family. The booklet gives some basic background information to falls and fall prevention and signposts people to a variety of sources where they can find further information or support. Download the booklet here (pdf, 600kb).
Care Pathway Review
It has been made apparent from the project research that better guidelines are needed to support staff in the decision making process when considering the use of fall detectors for people at risk of falling. There was poor integration of Assistive Technology (AT) into falls care pathways with no indication of where and when it could be used. Following this, a fictional AT and falls care pathway was created to give examples of where and how AT and fall detectors could be integrated into care pathways. Download the Care Pathway Review here (pdf, 90kb).
Sharing Innovation and Good Practice in Falls Services
This identifies areas of good practice, service innovation and whole system within falls prevention and response services across the region. Download the booklet here (pdf, 200kb).