Bristan Group


The Bristan Group approached HDTI to assist them in the evaluation of an existing walk-in bath design (the Adagio), to ensure that the product's limitations were understood from an end-user perspective.
Following this, an assessment of their latest design of walk-in bath (the Prism) was conducted to better understand the strengths and weaknesses of the new design.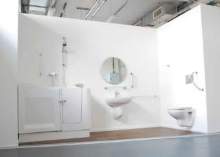 Both the Adagio and the Prism baths were installed in the mock-up suite at HDTI. End users over the age of 65, together with their carers, were invited to HDTI and given the opportunity to experience transferring into and out of the dry baths.
Participants were then interviewed regarding their opinions of the usability and design of the baths. The results of these interviews were fed back to Bristan through a series of recommendations for the future development of the Prism bath.