AHRC Cities of Culture Network: The Coventry Cultural Policy & Evaluation Summit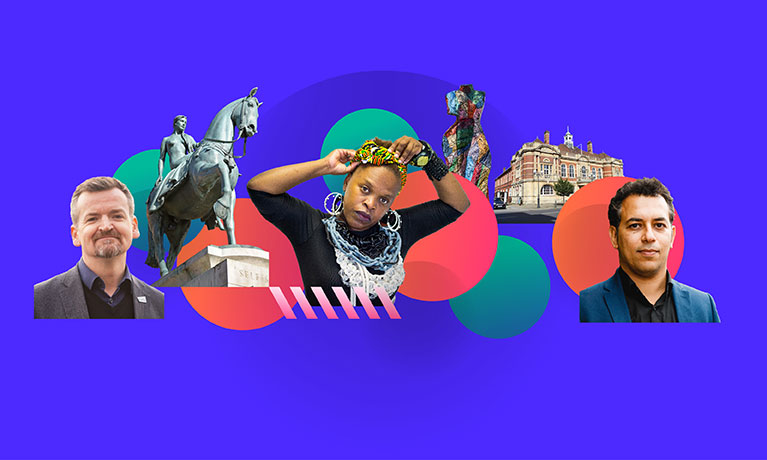 ---
Event details
The programme will include a series of headline one-hour sessions with an invited list of exceptional presenters. Each presenter will use their knowledge and experience to bring a range of perspectives on cultural mega-events and respond to questions from the audience. Each session will be chaired by a representative from the Coventry City of Culture Leadership Programme and will be recorded and available as a free resource.
Find out more about the presenters and speakers.
DAY ONE: Policy perspectives – Thursday 24th June 2021
8.40: Summit opens
8.45 – 9.00: Introduction to programme
Cory Barrett Creative Director & Coventry City of Culture Leadership Programme
9.00 – 10.00: Introductions: The road ahead
Laura Nyahue Creative Director, Maokwo Arts
Franco Bianchini AHRC Centre for Cultural Value, University of Leeds
Martin Sutherland Executive Director, Coventry City of Culture Trust
Martin Reeves: Chief Executive, Coventry City Council
10.00– 11.00: What are the opportunities for culture-led growth?
Julia Goldsworthy Director of Strategy, West Midlands Combined Authority
Laura Dyer Deputy Chief Executive Places and Engagement, Arts Council England.
Moira Sinclair CEO, Paul Hamlyn Foundation
11.30-12.30: What difference can a year make?
Phil Batty Head of Ceremonies, Culture and Queen's Baton Relay Commonwealth Games 2022, Executive Director Festival*UK 2022 and formerly Director of Public Engagement Hull UKCC17
Carrie Cooke Deputy Director, Festival, City of Culture and Major Events, Department for Digital, Culture, Media and Sport
Clare Coghill Leader Waltham Forest Borough Council:
1:00 – 2.15 How can cultural mega-events actively challenge racial inequalities?
Elizabeth Lawal Producer, Coventry City of Culture Trust
Doreen Foster CEO, Warwick Arts Centre
Shanaz Gulzar Chair, Bradford UK City of Culture 2025 Board
2.15 - 3.15: Levelling up; how can 'seldom heard' communities and individuals impact on policy?
Chenine Bhathena Creative Director, Coventry City of Culture Trust
Louise Yates Director at Back to Ours, Hull
Chris Rolls Hull City of Culture 2017 & Coventry City of Culture 2021 learning consultant, 64 Million Artists
3.30-4.15: Research as cultural practice; supporting communities.
Jackie Hodgson: Warwick research lead, Deputy Pro Vice-Chancellor, University of Warwick
Emma Meehan: Cooking Connections Coventry (Coventry University)
Nadine Holdsworth: Homeless Monopoly (University of Warwick)
Daniele Lorenzini, Carolina Rito & Federico Testa: Life Futures (Coventry University & University of Warwick)
4.15-5.00: Research as cultural practice; giving space and voice to the seldom heard
DAY 2: Evaluation in practice - Friday 25th June 2021
8.40– Summit opens
8.45 – 9.00 – Introduction to programme
9.00- 9.15: Day One recap and reflections
John Knell: Summit Rapporteur
9.15 - 10.15: The social value turn in cultural policy-making and funding requirements
Jonothan Neelands: Academic Lead for Research and Evaluation for the Coventry City of Culture Trust, (University of Warwick)
Tarek Iskander: AD and CEO, Battersea Arts Centre
Harman Sagger: Chief Economist, Department of Culture, Media and Sport, Chair Coventry City of Culture Technical Reference Group
10.30-11.30: Re-balancing the social and economic value of culture
Graham Russell: Amion Consultants, Economic Impact Assessment for Coventry City of Culture
Mandy Barnett: Director of MBA Associates, Social Value Assessment of Coventry City of Culture
Ingrid Abreu-Scherer: Civil Society Lead, What Works Centre For Wellbeing, Technical Reference Group, Coventry City of Culture
11.30-12.15: Research as cultural practice; supporting public health policy
Karamjit Singh: Chair of the University Hospitals of Leicester NHS Trust and Culture Growth Coventry
Deborah Biggerstaff: Digital Participative Visual Arts Intervention for People with Dementia (University of Warwick)
Oliver Scott: Route 10, Mercurial Dance
TBC
1.00-2.00: Developing place-based needs assessments to shape social and cultural policy and funding:
Si Chun Lam: Senior data analyst, Insight Team Coventry City Council
Mark Scott: Monitoring and Data Manager, Coventry City of Culture Trust
Katy Raines: Director, Indigo Consultants
2.00-2.45 Making sense of evaluation – towards a common policy
Ben Walmsley: Director, AHRC Centre for Cultural Value, University of Leeds
Eliza Easton: Head of Policy, Unit AHRC Creative Industries Policy and Evidence Centre, Nesta, Coventry City of Culture Technical Reference Group
3.00-4.30: Take outs and take aways – plenary discussion
Chaired by: Beatriz Garcia: Associate Director, Centre for Cultural Value (University of Liverpool)
Chenine Bhathena Creative Director, Coventry City of Culture Trust
John Knell: Summit Rapporteur
Louise Ejgod Hansen Head of Research at Centre for Cultural Evaluation (University of Aarhus)
Cory Barret: Creative Director, & City of Culture Leadership Programme
Jacqui Gavin: Senior Cultural Producer, Caring City Team, Coventry City of Culture Trust
Glenn Burgess: Principal Investigator, AHRC Cities of Culture Network, University of Hull
4.30-4.45 Closing messages