Venue
Hotel Benczur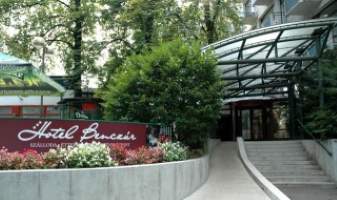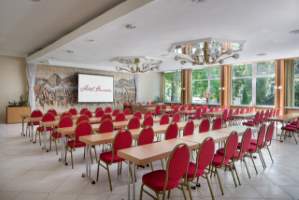 This year's conference will be held at the Hotel Benczur, located in the heart of Budapest. Comprising air-conditioned meeting rooms equipped with the latest technology, conference participants also have access to a terrace and inner courtyard. The hotel is a few minutes' walk from the Metro, and City Park, including the famous Heroes Square, Szechenyi Baths and Vajdahunyad Castle.
Budapest is the capital of Hungary, a major European financial and R&D centre and home to around two million citizens. Split by the River Danube, there are 3 islands within Budapest. Stretching back to Celtic times, the city's architecture, monuments and culture reflect its deep histories of shifting political ownership and governance. One legacy is Budapest's numerous World Heritage Sites, including the second oldest underground railway in the world.
With an international airport, and three international train stations providing direct links to around 25 other European capital cities, Budapest attracts around 4 million international visitors a year.
By Air
Its easy to reach Budapest by air through a number of budget airlines and international offering good service to the Budapest International Airport (BUD).
BUD is located about 16Km to the south-east of Budapest, with trains, buses and taxis providing onward travel into Budapest itself.
All major car rental companies have offices in the arrivals hall of Budapest Ferihegy Airport.
The Airport minibus is a popular and reasonably priced means of transport between the airport and the city.
The public airport bus, BKV bus number 200E goes to M3 station Kőbánya-Kispest (blue line), about 20 minutes away. From here, the metro takes passangers straight into the city centre.
A taxi to the centre of Budapest will cost anything between 3.500 Ft and 8.000 Ft.
Trains also commute between the airport and Nyugati Railway Station, 51 times daily on weekdays and 38 times a day on weekends and holidays. The train ticket price is about HUF 370-615 per person.
By Rail
There are 3 main international railway stations in Budapest: Eastern (Keleti), Western (Nyugati) and Southern (Déli). More than 50 trains a day provide direct links between Budapest and 25 other European capital cities. Trains to Vienna run every 3 hours, 7 times a day. There is also a popular network of Inter City trains linking Budapest with the main Hungarian towns. All three international railway stations are part of the Budapest Underground system, the Metró. The Déli and Keleti are stops on the Red (Number 2) line and the Nyugati is on the Blue (Number 3) line.
The nearest station to the Hotel Benczur is the Nyugati station, although can also be reached from the Keleti station which is marginally further away.
The hotel is served by the yellow (Number 1) metro line.
Weather
September is the start of autumn in Budapest, Hungary. The days are still warm but not as hot as in the summer. Expect plenty of pleasant, sunny days in September, but with cooler temperatures.
Temperature
The average temperature is 17°C, which makes September the fourth warmest month of the year, after July, August and June. The average daytime high temperature is a still comfortable 22°C
Currency
Hungarian Forint, Ft. (HUF)
Time Zone
CET (UTC+1), CEST (UTC+2)
Main voltage
230 V / 50-60 Hz (European standard 2-prong plugs)
Emergency call
112