Metrology for Industry Foundation Degree
Study level:

Undergraduate
Foundation degree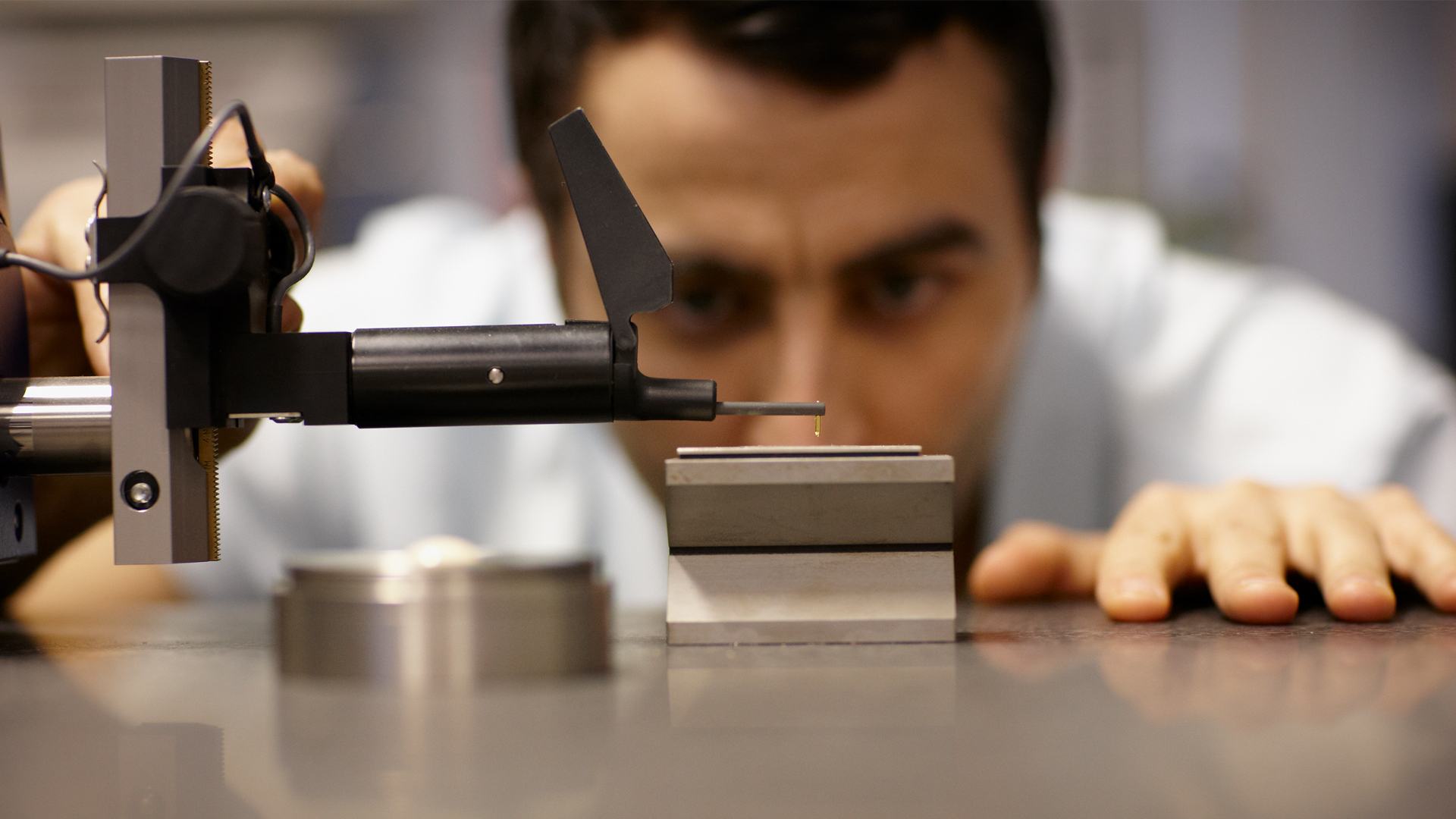 In today's globally competitive marketplace, we believe that metrology plays a crucial part in the manufacturing process to ensure quality and efficiency.
Location
Coventry University (Coventry)
Duration
2 years part-time
Start date
September 2023
---
Course overview
Getting it wrong can prove costly, as bad data can be disruptive to decision making and improvement planning. However, getting it right helps to manage risk and support quality management, continuous improvement and waste reduction activities that enhance productivity.
Developed in consultation with the National Physical Laboratory (NPL), Rolls-Royce Plc, Jaguar Land Rover, Airbus and other employers and stakeholders, this vocational entry course represents the world's first foundation degree in metrology - the science of measurement.
Based around, but not exclusively on, the field of industrial dimensional metrology, this course aims to develop understanding of different measurement systems and metrology tools and techniques across manufacturing engineering, with its many supporting metrology service organisations.
The course is a part-time, work-based Industrial Metrology degree designed by industry, for industry.
Part-time block delivery is designed to link to work-based activity.
You must already be in a role that has access to measurement processes/planning or services.

Joint Top Modern University for Career Prospects
Guardian University Guide 2021 and 2022

5 QS Stars for Teaching and Facilities
QS Stars University Ratings

Top 5 UK Student City (Coventry)
QS Best Student Cities Index 2023
Why you should study this course
Metrology is the science of measurement. Industrial metrology is the application of metrology within manufacturing and its supporting services. It is a keystone of manufacturing trade and productivity. No trade can take place without some form of measurement validation to say that the component part or batch of parts conform to design intent and specification.
Sustainable trade comes from supplying quality parts on time and for a competitive cost, therefore effective measurement is a key function in gaining confidence in data, driving productivity and so a pillar in supporting that business objective.
The aim of this course is to produce industrial metrologists that offer a lead to their organisations in relation to measurement issues and metrology planning. Gaining a deep understanding of industrial metrology planning and evaluation tools as well as the importance of metrology in driving productivity.
---
In the first year you will develop an understanding and appreciation of the causes of measurement variation and their mitigation, measurement good practice and strategy. The role of calibration and traceability and their place in international trade and measurement practices.
An understanding of the equipment types, strategies and idiosyncrasies within coordinate metrology equipment. Underpinned by an understanding of the science and mathematics behind key equipment technologies. These build a foundation of core skills and knowledge required in year 2.
Modules
Study Skills - 20 credits

This module will introduce you to the university, the course, and the tools we provide to help you complete your studies. We will look at academic study and how you can link this to your place of work so that you can input into your organisation whilst you learn.

Introduction to Metrology - 20 credits

We will show how metrology fits and can help productivity within industrial metrology, the organisations that support and underpin its processes and procedures and how metrology can effectively control measurement confidence within your manufacturing context.

Mathematics for Metrology - 20 credits

From first principles of measurement to the latest measurement technology, mathematics plays a large role in the measurement numbers we see. Trigonometry, geometry and statistics all regularly play a role in measurement. We will build up your applied maths to support understanding of metrology and measurement procedures and equipment.

Engineering Science for Metrology - 20 credits

We will show you how measurement results are affected by physics, and how by understanding the basic principles of engineering science, you can mitigate and understand uncertainties within a measurement process.

Standards and Traceability - 20 credits

Core metrology up to the point of measurement is underpinned by a broad spectrum of standardised practices. Some of which are underpinned by legislation, government and international policy and requires managing and traceability of outcome, so that it can be audited and confirmed. The impact of this reaches into almost all companies who wish to trade and comply to supplier requirements. We will look at company quality management systems such as ISO9001 and the wider impact of standards, calibration and traceability.

Coordinate Metrology Practices - 20 credits

By far the most common form of measurement undertaken each day in engineering is coordinate metrology. We use Coordinate Metrology to show you how to dissect any piece of measuring equipment no matter what its output. We show how to break it down into constituent parts and look for individual strengths and weaknesses as well as overall system idiosyncrasies. Whether buying new equipment or evaluating existing equipment, determining system capabilities is a valuable skill for the Metrologist.
Year 2 looks at core metrology tools and how metrology can impact a business. You will learn how metrology planning and assessment can drive continuous improvement and cost efficiency. An awareness is taught of metrology's place in the wider business drive for productivity. You will comprehensively cover Measurement Systems Analysis (including GR&R studies), and Measurement Uncertainty. With an eye on the future, smart metrology and Industry 4.0 is covered. Year 2 culminates and closes the course with a work-based project.
Modules
Business Management Awareness - 20 Credits

As a metrologist you will find yourself making decisions that can severely impact both positively or negatively the company you work for. In this module we will give an insight into key management tools that will support your work, such as project management and lean and agile principles. But also the wider business implications, looking at return on investment and cost/benefit analysis as well as other financial tools that may help any decision making.

Measurement Systems Analysis - 20 credits

How do we know if a measurement systems and process is capable? If performed incorrectly or with bias, it gives us bad information that can undermine productivity and quality. MSA is a way of determining the capability of a measurement process, more than just a GR&R it is a tool box of tests, analysis and reports.

Smart Manufacturing Metrology - 20 Credits

Measurement technologies and the move towards automation and smart manufacturing is an area of metrology that companies need to be aware of and be prepared for, including an awareness industry 4. This module is a look at in process measurement and an introduction to industry 4. The module is delivered at an industry exemplar site (subject to availability). This is currently held at Renishaw who are a very good example of in-process measurement and control.

Measurement Uncertainty - 20 Credits

All measurement is subject to variation. The evaluation of uncertainty is a key tool in calibration but also plays a current and expanding future role in manufacturing measurement. You will learn how to create an uncertainty budget based on accepted international principles. A way of estimating the potential variation without interfering with a running process or when planning a new process.

Work-based Project - 40 Credits

As a final project to finish the degree, you should select a work-based issue or process. Utilising the metrology tools and skills you have gathered over the previous two years, you will provide analysis as to the capability and function of that process, providing conclusions and recommendations for improvement. This project can be a major metrology-related project that supports your organisations ambitions for improvement or, if a suitable work-based project is not viable, a desk top study of an area of metrology or measurement technology can be undertaken.
We regularly review our course content, to make it relevant and current for the benefit of our students. For these reasons, course modules may be updated.
---
How you'll learn
Developed in consultation with Industry and stakeholders, this part-time vocational entry course is a uniquely focused industrial metrology course. The teaching aim is to develop and expand the knowledge of industrial engineers and measurement specialists to optimise metrology within their company.
Lectures are 15 hours per 20 credit module, taught in two day blocks for the six modules per year, for two years. A lecture launches each module, followed by a period of work-based application back in your company. At the end of that module learning period, you are assessed. The employer-driven intent of this course is to improve and deepen knowledge, develop work-based application skills and provide benefit to your company as you learn.
The typical lecture is designed for campus attendance with online tools utilised for remote support. The total contact hours are however a combination of face-to-face teaching and online classes/sessions.
As an innovative and enterprising institution, the University may seek to utilise emerging technologies within the student experience. For all courses (whether on-campus, blended, or distance learning), the University may deliver certain contact hours and assessments via online technologies and methods.
---
Assessment
Each 20 credit module will be assessed by coursework against the modules learning outcomes, assessment will utilise a variety of methods, including written reports, case studies, tests and individual and group presentations. The final module is a work-based project where you, where applicable, can resolve a work-based measurement issue.
The Coventry University Group assessment strategy ensures that our courses are fairly assessed and allows us to monitor student progression towards achieving the intended learning outcomes.
---
Entry requirements
Typical offer for 2023/24 entry.
At least 40 points on the national tariff in one subject at GCE or VCE A-level (or a VCE double award) or equivalent;
At least 60 points on the national tariff in at least one subject at GCE or VCE Advanced Supplementary ('AS') level where the student has attempted and has been fully assessed in, but failed to achieve, an A-level; or
Those without formal qualifications, but with significant relevant work experience and in appropriate employment.
We recognise a breadth of qualifications, speak to one of our advisers today to find out how we can help you.
Select your region to find detailed information about entry requirements:

You can view our full list of country specific entry requirements on our Entry requirements page.
English language requirements
IELTS: 6.5 overall, with no component lower than 5.5
If you don't meet the English language requirements, you can achieve the level you need by successfully completing a pre-sessional English programme before you start your course.
For more information on our approved English language tests visit our English language requirements page.
---
Tuition Fees
We pride ourselves on offering competitive tuition fees which we review on an annual basis and offer a wide range of scholarships to support students with their studies. Course fees are calculated on the basis of what it costs to teach each course and we aim for total financial transparency.

For more information, please visit our Finance pages.
| Student | Full-time | Part-time |
| --- | --- | --- |
| UK | Not available | £6,800 |
| EU | Not available | Not available |
| International | Not available | £10,600 |
How do you know if you need to pay UK or international tuition fees?

We carry out an initial fee status assessment based on the information you provide in your application. Your fee status determines your tuition fees, and what financial support and scholarships may be available to you. The rules about who pays UK (home) or international (overseas) fees for higher education courses in England are set by the government's Department for Education. The regulations identify all the different categories of student who can insist on paying the home rate. The regulations can be difficult to understand, so the UK Council for International Student Affairs (UKCISA) has provided fee status guidance to help you identify whether you are eligible to pay the home or overseas rate.

If you meet all the criteria required by any one category, including any residence requirements, your institution must charge you the home rate. You only need to find one category that you fit into.
---
Careers and opportunities
In today's fast-moving and competitive world of business, we believe that developing good metrology practice has never been more important for securing better data, decision making and managing risk.
We believe that metrology plays a vital role in modern life with specialist skills increasingly relied upon in energy, environment, life sciences, automotive, aerospace, defence, government, manufacturing and commerce. Employees working in measurement and calibration across the UK we consider to be responsible for applications including monitoring pollutants in the air, calibrating radiotherapy equipment or ensuring vehicle safety.
We have tried to shape this course in line with the manufacturing engineering industry with the aim of providing students with the skills and expertise needed in this field, and to help attempt to add substantial value to any current or future employer.
Upon successful completion, you will have knowledge of:
The foundations of metrology (maths, science and standards)
The well-established principles in metrology and the way in which these principles have developed.
The main methods of enquiry in metrology and the ability to evaluate the appropriateness of different equipment and approaches to solving problems.
Understanding the limits of your knowledge and the resources available to enable further personal development.
Industry 4 and its potential impact on metrology.
Business tools in relation to Benefit vs Cost and broader tools that integrate to Metrology.
You will be able to:
Understand the importance of measurement within manufacturing.
Access, analyse and use information from a variety of sources to solve measurement problems.
Evaluate different approaches to the solution of measurement problems within their organisation.
Analyse measurement capability within their organisation and make recommendations for improvement.
Locate relevant information (standards, processes and procedures) to enable informed decision making.
Use scientific methodologies within your field.
Act independently to analyse, plan and implement changes based on verifiable evidence.
Develop the vocational skills valued by their employers.
Where our graduates work
Previous graduates of the course have included inspectors, quality engineers, quality managers, manufacturing or production engineers, laboratory and measurement technicians and metrologists.
---
How to apply
UK students

Students applying to start in September 2023 should apply directly to the university:

Apply now

---

If you'd like further support or more information about your course get in touch with us today.

International students

Students applying to start in September 2023 should apply directly to the university:

Apply now

For further support visit our International hub or download our International guide which contains lots of useful information about our courses, accommodation, tips for travel and guidance on how to apply.

---

If you'd like more information about your course get in touch with us today.
Disclaimers

1Accreditations

The majority of our courses have been formally recognised by professional bodies, which means the courses have been reviewed and tested to ensure they reach a set standard. In some instances, studying on an accredited course can give you additional benefits such as exemptions from professional exams (subject to availability, fees may apply). Accreditations, partnerships, exemptions and memberships shall be renewed in accordance with the relevant bodies' standard review process and subject to the university maintaining the same high standards of course delivery.

2UK and international opportunities

Please note that we are unable to guarantee any UK or International opportunities (whether required or optional) such as internships, work experience, field trips, conferences, placements or study abroad opportunities and that all such opportunities may be subject to additional costs (which could include, but is not limited to, equipment, materials, bench fees, studio or facilities hire, travel, accommodation and visas), competitive application, availability and/or meeting any applicable travel COVID and visa requirements. To ensure that you fully understand the visa requirements, please contact the International Office.

3Tuition fees

The University will charge the tuition fees that are stated in the above table for the first Academic Year of study. The University will review tuition fees each year. For Home Students, if Parliament permit an increase in tuition fees, the University may increase fees for each subsequent year of study in line with any such changes. Note that any increase is expected to be in line with inflation.

For International Students, we may increase fees each year but such increases will be no more than 5% above inflation. If you defer your course start date or have to extend your studies beyond the normal duration of the course (e.g. to repeat a year or resit examinations) the University reserves the right to charge you fees at a higher rate and/or in accordance with any legislative changes during the additional period of study.

4Facilities

Facilities are subject to availability. Due to the ongoing restrictions relating to COVID-19, some facilities (including some teaching and learning spaces) may vary from those advertised and may have reduced availability or restrictions on their use.

Student Contract

By accepting your offer of a place and enrolling with us, a Student Contract will be formed between you and the university. The 2022/23 Contract is currently being updated so please revisit this page before submitting your application. The Contract details your rights and the obligations you will be bound by during your time as a student and contains the obligations that the university will owe to you. You should read the Contract before you accept an offer of a place and before you enrol at the university.
---
---