Automotive Engineering MSc
Study level:

Postgraduate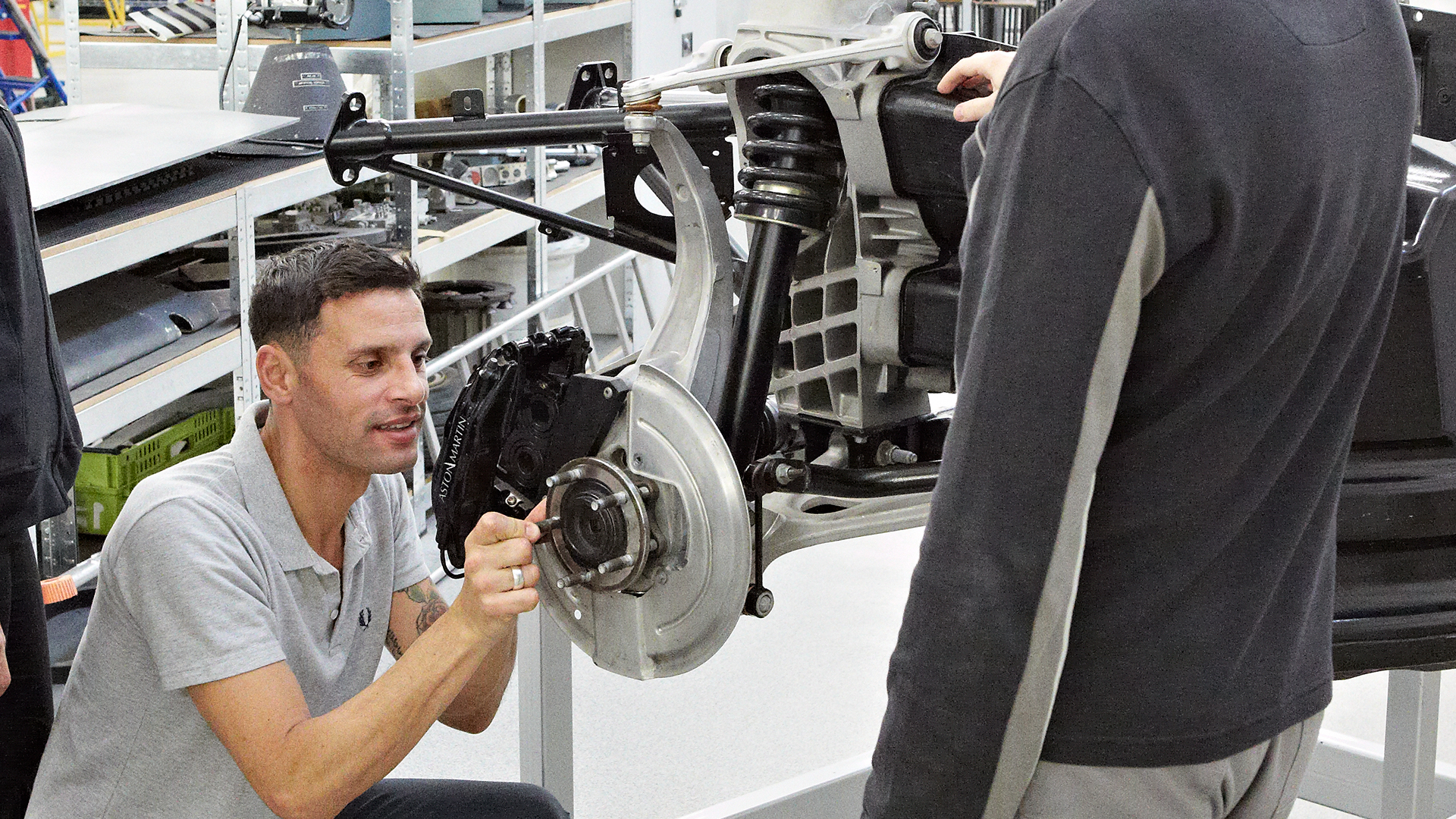 In the modern world of vehicle design and manufacture, companies require engineers who are highly qualified and possess specialised skills. If you have an interest in road vehicles and a mechanical or automotive background, this course could provide you with technical and managerial skills and expertise that are highly sought after by the automotive industry.
Location
Coventry University (Coventry)
Study mode
Full-time
Part-time
Sandwich
Duration
1 year full-time
2 years part-time
2 years sandwich
Start date
September 2023
January 2024
The information on this page is for 2022-23 entry and should be used as guidance for 2023-24 entry. Please keep checking back on this course page to see our latest updates.
---
Course overview
In the modern world of vehicle design and manufacture, companies require engineers who are highly qualified and possess specialised skills. If you have an interest in road vehicles and a mechanical or automotive background, this course could provide you with technical and managerial skills and expertise that are highly sought after by the automotive industry.
This highly focused course has been developed in consultation with our current impressive network of industry partners, including Jaguar Land Rover (industry partners are subject to change). It also draws on the industrial experience of academics and research activity covering the major specialisms, such as aerodynamics, propulsion systems, vehicle safety, vehicle dynamics and connected vehicles.
We aim to equip you with the know-how to design and test vehicles that are more fuel efficient, refined and safe, by studying the design, performance and operation of automotive powertrains and vehicle systems, examining individual components and entire vehicles. This could lead to a career as an automotive engineering specialist in a wide range of engineering, manufacturing, and service organisations.
You will have the option to apply for a 'work placement' opportunity2, designed to further develop your skills and knowledge with the aim of maximising your employability prospects. See modules for more information.

Joint Top Modern University for Career Prospects
Guardian University Guide 2021 and 2022

5 QS Stars for Teaching and Facilities
QS Stars University Ratings

Top 5 UK Student City (Coventry)
QS Best Student Cities Index 2023
Why you should study this course
The course is designed to further your knowledge of the key aspects related to the automotive sector, from managing projects to design, analysis and the introduction and implementation of new technologies within the sector.
It aims to provide a comprehensive understanding of design processes and the ability to generate innovative designs for products, systems, components, or processes. You will have the chance to develop, learn and apply new theories, concepts and methods in novel and challenging situations, analysing emerging technologies, analytical techniques and assessing their limitations. We aim to equip you with the skills and knowledge to analyse and assess commercial risks, management and business practices associated with the introduction of innovation in new situations and environments.
Coventry University has a long and prestigious automotive, transport and engineering heritage. A number of our graduates are employed by automotive vehicle and system manufacturers and design professionals all over the world.
Our course aims to prepare you for a career in the fast-growing automotive sector and you will have the chance to enhance your experimental and computer simulation skills using equipment and software. You will be required to study all the major engineering focus areas in the automotive sector including design and metrology, structural analysis, vehicle aerodynamics, vehicle dynamics, propulsion systems (electric, hybrid and ICE), connected vehicles and engineering management.
To complete your MSc, you will undertake a research project linked with current university research and/or on real-world situations proposed by industry partners. Such industry-related projects are hugely popular. You will be mentored by an academic to make and test components and analyse and present your findings. Recent projects in vehicle systems, combustion, stress and dynamics, finite element analysis, automation, computational fluid dynamics have included collaborations with: Microcab, Unipart, JLR, Aston Martin, GKN.
Accreditation & Professional Recognition
This course is accredited1 and recognised by the following bodies:

Institution of Mechanical Engineers (IMechE)
This degree is accredited by the Institution of Mechanical Engineers (IMechE) up to and including the 2025 intakes under licence from the UK regulator, the Engineering Council. Accreditation is a mark of assurance that the degree meets the standards set by the Engineering Council in the UK Standard for Professional Engineering Competence (UK-SPEC). An accredited degree will provide you with some or all of the underpinning knowledge, understanding and skills for eventual registration as an Incorporated (IEng) or Chartered Engineer (CEng). Some employers recruit preferentially from accredited degrees, and an accredited degree is likely to be recognised by other countries that are signatories to international accords.
Students completing an IMechE accredited degree are deemed to have met part or all of the academic requirements for registration as a Chartered or Incorporated Engineer and are in a strong position to move on to achieve professional engineering status after a period of initial professional development in industry.
The accredited MSc will meet, in part, the exemplifying academic benchmark requirements for registration as a Chartered Engineer. Accredited MSc graduates who also have a BEng (Hons) accredited for CEng will be able to show that they have satisfied the educational base for CEng registration.
It should be noted that graduates from an accredited MSc programme, that do not also have an appropriately accredited Honours degree, will not be regarded as having the exemplifying qualifications for professional registration as a Chartered Engineer with the Engineering Council; and will need to have their qualifications individually assessed through the Individual Case Procedure if they wish to progress to CEng.
---

Chartered Management Institute
As part of this course, you will undertake a professional development module which is currently accredited by the  Chartered Management Institute (CMI) for the 2022-23 intake. Upon successful completion of the module, you will gain the CMI  Level 7 Certificate in Strategic Management and Leadership Practice  at no additional cost.
Coventry University's accreditation with CMI is currently ongoing for the relevant modules and is regularly reviewed and monitored by the CMI through their quality systems.
---
IMechE Membership Partner
We are a Membership Partner with the Institution of Mechanical Engineers (IMechE).
Working in collaboration with the IMechE we aim to ensure our engineers and technical teams meet industry-recognised standards of engineering excellence.
We are committed to the professional development of everyone within our organisation, and recognise that professional registration and recognition are crucial in helping our employees and business grow and excel.
---
Memberships
Students on this course will be able to apply for student membership of the Institute of Mechanical Engineers (IMechE) and the Women's Engineering Society (WES) at no additional cost. Affiliate Membership of CMI on enrolment onto this course.
---
Rhitankar's experience of our extended master's programme
---
There is a strong component of Computer Aided Engineering across the modules studied, from Computer Aided Design (CAD) to Finite Element Analysis (FEA), Computational Fluid Dynamics (CFD) and Multibody Simulations (MBS). You will have the opportunity to use or improve your existing knowledge of engineering simulation software currently in use in the automotive sector. You will get the chance to apply mathematical and computer-based models for solving problems in untried areas and environments.
The course culminates with your individual project, which provides an opportunity to apply the theories and techniques you have learned during your studies. It may focus on one area of study or involve a combination of subjects.
Modules
Project Management - 15 credits

This module prepares you for managing organisational change through projects. It focuses on projects involving major changes, including projects related to new products, new plant and equipment and new operating systems, which will affect the lives of people both within and outside the organisation.

Engineering Simulation and Analysis - 15 credits

The aim of this module is to enable the understanding of the use of advanced engineering methods in the investigation of complex problems. The module will address the use of advanced engineering techniques based on Design of Experiments (DOE) and Optimisation, where FEA (Finite Element Analysis) based problems will be addressed.

Design Principles and Practice - 15 credits

This module aims to develop understanding of a systematic approach to the design process, design management, and creative problem solving, leading to developing an artefact ready for manufacture. Design as a process will be applied via a series of principles to assist the progression of the project to reach a suitable solution and evaluating that against the initial brief.

CAV Contextualisation - 15 credits

This module aims to introduce the holistic concept of Connected Autonomous Vehicles (CAVs) with the overall purpose of enabling an understanding of the necessity for cross-disciplinary and inter-disciplinary working practices to successfully and sustainably design and engineer CAVs of the future.

Ground Vehicle Dynamics - 10 credits

This module aims to provide you with a fundamental understanding of ground vehicle dynamics as applied to wheeled vehicles, covering the areas of vehicle ride and handling, from analytical, modelling and practical viewpoints.

Ground Vehicle Aerodynamics – 10 credits

The aim of this module is to cover the underlying principles governing the flow behaviour associated with ground vehicles aerodynamics. The aerodynamic forces and moments generated by the movement of the air around the vehicle are crucial both for road and race cars.

Advanced Propulsion Systems - 20 credits

The aim of this module is to give you an overview of different power-train layouts and vehicle propulsion systems. Electricity will be discussed in relation to efficiency and adaptability of the electric grid and the efficiency of the energy conversion process. Electric vehicles, hybrid vehicles, battery technology and the technicalities of these propulsion systems in relation to infrastructure and vehicle design will be covered.

Leading Strategic Change through Creativity and Innovation - 10 credits

The aim of this module is to give you the opportunity to apply a range of strategy and leadership problem solving techniques to situations where change is required. You will critically evaluate and develop solutions to complex, inter-related, multi-faceted issues that can be found in a variety of organisations and professional contexts.

Dynamics Theme Viva - 10 credits

This module assesses the combined dynamic responses from aerodynamics and vehicle dynamics to assess the overall vehicle performance. The key output of the module is a viva in front of a panel of academic experts from both fields, where you will be expected to defend your design and setup choices.

Individual project - 60 credits

This Individual Project provides an opportunity for you to apply theories and techniques from your taught modules. It may focus on one area of study or involve a combination of subjects. In addition to the work involved for the individual project, you will be taught and assessed in the required research methods and study skills to complete the project. You will also develop a personal development portfolio and submit this together with the project.
With work placement pathway
The 'With work placement' opportunity2 enables you to apply in semester 1 for an optional work placement of up to 12 months, extending the duration of your master's to 24 months. The placement provides an opportunity for you to develop expertise and experience in your chosen field with the aim of enhancing your employability upon graduation. The work placement would take place in semesters 3, 4 and 5.
Please note that the optional placement modules will incur an additional tuition fee of £4,000. Placement opportunities may also be subject to additional costs, visa requirements being met, subject to availability and/or competitive application. Work placements are not guaranteed but you will benefit from the support of the Talent Team in trying to find and secure an opportunity. Find out more about the work placement option.
We regularly review our course content, to make it relevant and current for the benefit of our students. For these reasons, course modules may be updated.
As an Assistant Lecturer teaching advanced structural analysis concepts, I have found Coventry University's rich academic environment has allowed me to provide high quality teaching that directly relates to leading research and industry knowledge. As a former Coventry University student myself, I believe the breadth and depth of engineering modules prepared me to become the confident engineer I am today.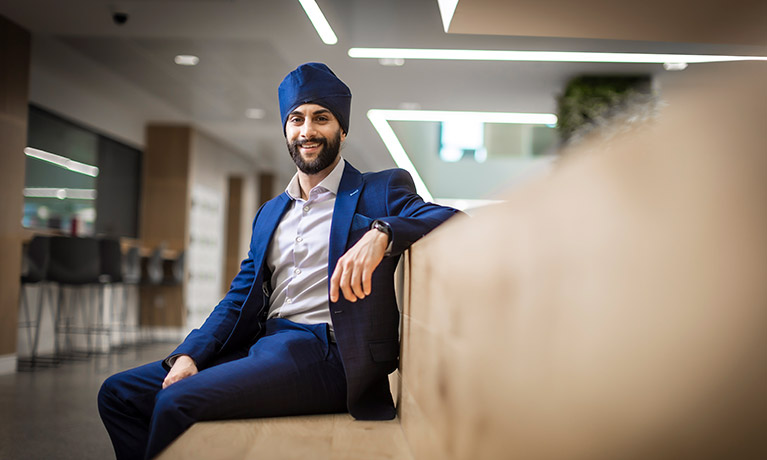 ---
Teaching methods include:
Lectures
Web-based learning
Seminars and discussions
Tutorials
Laboratory testing
Computer laboratory sessions
Case studies
Additionally, you will be expected to undertake significant self-directed study of approximately 35 hours each week, depending on the demands of individual modules.
---
Teaching contact hours
The number of contact hours may vary from semester to semester, however, on average, it is likely to be around 12 contact hours per week in the taught semesters. Your project-based semester will be supervisor supported, self-directed study in the region of 45 hours per week as well as supervisor meetings around 0.5 hour per week and optional workshops supporting your project which can add up to 10 additional hours across your project semester.
The contact hours may be made up of a combination of face-to-face teaching, individual and group tutorials, and online classes and tutorials
This course can be studied on a full-time or part-time basis. Whilst we would like to give you all the information about our part-time offering here, it is tailored for each course each year depending on the number of part-time applicants. Therefore, the part-time teaching arrangements vary. Please request information about studying this course part-time.
As an innovative and enterprising institution, the University may seek to utilise emerging technologies within the student experience. For all courses (whether on-campus, blended, or distance learning), the University may deliver certain contact hours and assessments via online technologies and methods.
In response to the COVID-19 pandemic, we are prepared for courses due to start in or after the 2022/2023 academic year to be delivered in a variety of forms. The form of delivery will be determined in accordance with Government and Public Health guidance. Whether on campus or online, our key priority is staff and student safety.
---
Assessment
This course will be assessed using a variety of methods which could vary depending upon the module. Assessment methods may include reports, tests, exams, practical coursework and presentations as part of individual assignments or group work elements.
The Coventry University assessment strategy aims to ensure that our courses are fairly assessed and allows us to monitor student progression towards achieving the intended learning outcomes.
---
To apply to this course, you should have a minimum 2:2 honour's degree in an appropriate engineering discipline such as Mechanical, Automotive, Motorsport, or Aerospace Engineering. However, entry qualifications are flexible, and applications are welcomed from other technical disciplines, mature candidates, and those with industrial experience. Such applications will be reviewed by the course director.
We recognise a breadth of qualifications; speak to one of our advisers today to find out how we can help you.
Select your region to find detailed information about entry requirements:
You can view our full list of country specific entry requirements on our Entry requirements page.
If you do not have the typical entry requirements, you may want to consider studying this course with an international pre-master's. Upon successful completion our International Pre-Master's - Engineering will provide you with the knowledge and skills you need to progress onto this postgraduate degree.
Alternatively, visit our International hub for further advice and guidance on finding in-country agents and representatives, joining our in-country events and how to apply.
English language requirements
IELTS: 6.5 overall, with no component lower than 5.5.
If you don't meet the English language requirements, you can achieve the level you need by successfully completing a pre-sessional English programme before you start your course.
For more information on our approved English language tests visit our English language requirements page.
---
Fees and funding
2023/24 tuition fees.
| Student | Full-time | Part-time |
| --- | --- | --- |
| UK | TBC per year | Request fee information |
| International | £20,050 | £4,000 (Work placement option additional fee) per year | Not available |
For advice and guidance on tuition fees3 and student loans visit our Postgraduate Finance page and see the university's Tuition Fee and Refund Terms and Conditions.
We offer a range of International scholarships to students all over the world. For more information, visit our International Scholarships page.
Tuition fees cover the cost of your teaching, assessments, facilities and support services. There may be additional costs not covered by this fee such as accommodation and living costs, recommended reading books, stationery, printing and re-assessments should you need them.
The following are additional costs not included in the tuition fees:
Any optional overseas field trips or visits: £400+ per trip.
Any costs associated with securing, attending or completing a placement (whether in the UK or abroad).
How do you know if you need to pay UK or international tuition fees?

We carry out an initial fee status assessment based on the information you provide in your application. Your fee status determines your tuition fees, and what financial support and scholarships may be available to you. The rules about who pays UK (home) or international (overseas) fees for higher education courses in England are set by the government's Department for Education. The regulations identify all the different categories of student who can insist on paying the home rate. The regulations can be difficult to understand, so the UK Council for International Student Affairs (UKCISA) has provided fee status guidance to help you identify whether you are eligible to pay the home or overseas rate.

If you meet all the criteria required by any one category, including any residence requirements, your institution must charge you the home rate. You only need to find one category that you fit into.
---
Facilities
Our aim is to offer you sector-leading facilities4.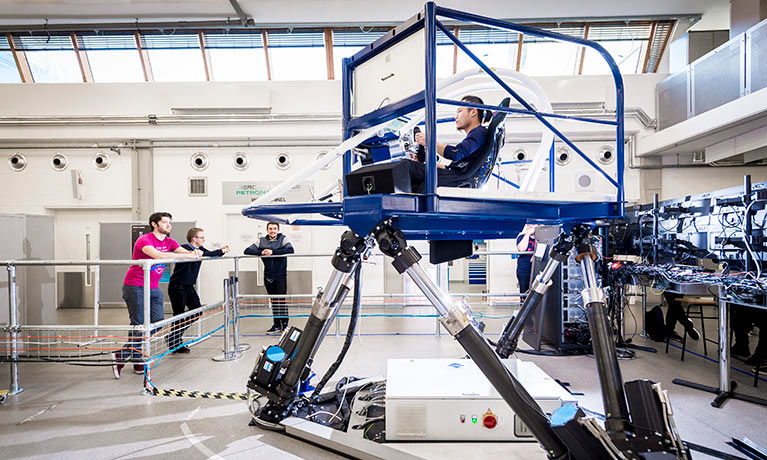 Cruden F1 simulator
The simulator provides a realistic experience of working for a race team in a high pressured and realistic environment. The simulator includes the same software and calculations used by professional racing teams.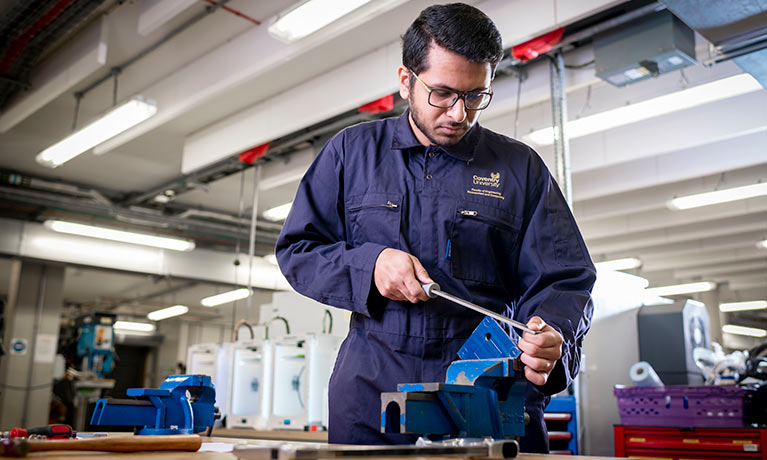 Metals Workshop
Participate in technical work in a hands-on way. The workshop includes lathes, milling machines, fabrication equipment for sheet metal work, CNC machines, work benches, welding lines and a fitting assembly area.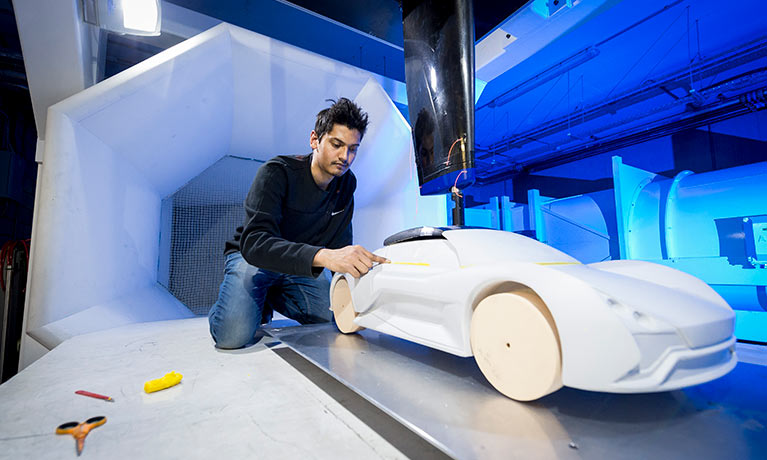 Wind Tunnel
Built and tested by the Mercedes AMG PETRONAS Formula One team, our open jet single return wind tunnel has been designed to accommodate 20% scale open-wheel racing car models with a maximum air velocity of 45 m/s.
---
Careers and opportunities
Upon successful completion, you should be able to:
Apply and demonstrate understanding of the basic theoretical principles and practical techniques used in the solution of engineering problems related to propulsion systems, aerodynamics, connected vehicles, vehicle dynamics and vehicle systems.
Apply computer-based material and manufacturing process selection packages to determine the optimum materials for specific applications and conditions.
Apply engineering management and design tools in the automotive product development process.
Design, assess and analyse vehicle structure components and assemblies using both experimental and numerical methods and redesign components, systems or entire vehicle systems in line with legislation and safety test procedures for vehicle occupants and pedestrians.
Assess the business case for a project, analysing the benefits, uncertainties and risks, including an analysis of stakeholder needs, expectations and their associated impact on the project.
Critically analyse the engineering results from a problem associated with stress analysis, aerodynamics, dynamics, noise and vibrations.
Differentiate between material and process capabilities for component manufacture, as well as proposing material/process combinations for cost efficient and optimum manufacture.
Critically assess and evaluate how to incorporate new technologies within existing vehicles to increase performance and efficiency.
Plan and implement a strategy, using selected computer tools, for the modelling, simulation and analysis of typical vehicle performance tests ensuring an efficient and effective contribution to the vehicle design process.
Understand the requirements of a project, develop work plans and ensure all the deliverables are met at set deadlines and the project is kept on track from start to finish.
A global skills shortage continues to ensure engineers remain among the most in-demand professions; in 2019 Engineering UK predicted 186,000 people with engineering skills will be needed annually through to 2024 to meet demand.
This course has a strong focus on the current demands of the automotive industry and will provide you with an opportunity to gain the skills and knowledge required to help you to start making a positive contribution to the company you work for from day one.
Industry-related projects should give you a feel of what the demands and expectations are likely to be at your future workplace, as well as enabling you to practice and apply your skills to real engineering projects. You can also gain practical, hands-on experience in preparing, running, and analysing results from experimental testing and numerical analysis.
The faculty currently enjoys close links with employers in the performance engineering industry, including Red Bull Racing, the Auto-Cycle Union, Lotus Cars, Penske Racing and Triumph Motorcycles, as well as global manufacturers Jaguar Land Rover, Prodrive, MIRA, Whale Tankers and BAE Systems (close links may be subject to change).
Coventry University is committed to preparing you for your future career and giving you a competitive edge in the graduate job market. The university's Talent Team provide a wide range of support services to help you plan and prepare for your career.
Where our graduates work
Successful completion of this course may provide you with a route into many careers within the global automotive engineering industry. Many of our graduates have gone on to work for JLR, Honda, Bentley, Lotus, TATA technology, Geely, Unipart, Aston Martin Lagonda and many OEMs. Other graduates have continued to PHD studies and moved into research.
---
How to apply
UK students

To apply to study for a postgraduate course at Coventry University, you can apply online.

---

For further support or more information about your course get in touch with us today.

International students

Full-time international students applying to start in September should apply directly to the university. Read our application pages to find out your next steps to apply.

How to apply

For further support for international applicants applying for postgraduate degree view our International hub.

You can also download our International guide which contains lots of useful information about our courses, accommodation and tips for travel.

---

Get in touch with us today for further advice and guidance.
Disclaimers

Coventry University together with Coventry University London Campus, CU Coventry, CU London, CU Scarborough and Coventry University Online come together to form part of the Coventry University Group (the "University") with all degrees awarded by Coventry University.

1Accreditations

The majority of our courses have been formally recognised by professional bodies, which means the courses have been reviewed and tested to ensure they reach a set standard. In some instances, studying on an accredited course can give you additional benefits such as exemptions from professional exams (subject to availability, fees may apply). Accreditations, partnerships, exemptions and memberships shall be renewed in accordance with the relevant bodies' standard review process and subject to the university maintaining the same high standards of course delivery.

2UK and international opportunities

Please note that we are unable to guarantee any UK or International opportunities (whether required or optional) such as internships, work experience, field trips, conferences, placements or study abroad opportunities and that all such opportunities may be subject to additional costs (which could include, but is not limited to, equipment, materials, bench fees, studio or facilities hire, travel, accommodation and visas), competitive application, availability and/or meeting any applicable travel COVID and visa requirements. To ensure that you fully understand the visa requirements, please contact the International Office.

3Tuition fees

The University will charge the tuition fees that are stated in the above table for the first Academic Year of study. The University will review tuition fees each year. For UK (home) students, if Parliament permit an increase in tuition fees, the University may increase fees for each subsequent year of study in line with any such changes. Note that any increase is expected to be in line with inflation.

For International Students, we may increase fees each year but such increases will be no more than 5% above inflation. If you defer your course start date or have to extend your studies beyond the normal duration of the course (e.g. to repeat a year or resit examinations) the University reserves the right to charge you fees at a higher rate and/or in accordance with any legislative changes during the additional period of study.

4Facilities

Due to COVID-19, some facilities (including some teaching and learning spaces) and some non-academic offerings (particularly in relation to international experiences), may vary from those advertised and may have reduced availability or restrictions on their use.

Student Contract

By accepting your offer of a place and enrolling with us, a Student Contract will be formed between you and the university. The 2023/24 Contract is currently being updated so please revisit this page before submitting your application. The Contract details your rights and the obligations you will be bound by during your time as a student and contains the obligations that the university will owe to you. You should read the Contract before you accept an offer of a place and before you enrol at the university.
---