Case Study - Tom Llewellyn
I was an undergraduate in the engineering school studying Automotive Engineering Design, as a thick sandwich course between 1998 and 2002. It really did change my life. On a personal front, I met my wife in the first year, we got married when I was in the third year, and we're just about to celebrate our 20th wedding anniversary! But on a professional front the impact was just a big.
I was (still am) a big fan of motorsport and F1, so I came to university with dreams of F1 and sports cars. However, I have built my career on 2 wheelers, and for this I have Coventry University to thank. It was the Industrial placement team at Coventry that introduced me to Triumph Motorcycles, which ultimately lead to my undergraduate placement in Hinckley. I'm ashamed to say that I wasn't aware at the time of the resurgence in the UK bike industry, but it was the placements team in Coventry that found this opportunity.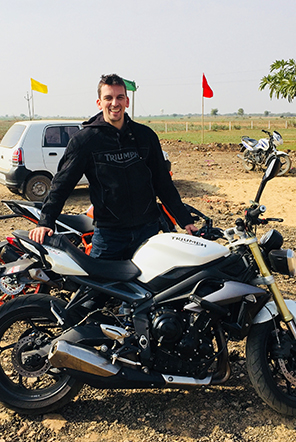 I never really looked back from that point in time. Following a successfully placement, Triumph sponsored my final year at Coventry and I returned to work full time with them post-graduation. I stayed for another 13.5 years. I worked my way up the career structure to become a design team lead in 2007 (I think still the youngest design team lead there has been at Triumph, it certainly was at the time). I lead the Sprint, Speed Triple and Street Triple projects. I think the project focussed nature of the AED course at Coventry really helped my transition into the professional world. Especially at a company like Triumph, that was structured to work in small dynamic teams. Vice versa, the experience of working in the Triumph team in my placement year, was invaluable when I joined the Formula Student team in my 3rd year, and completed the chassis design as my final year project. The guidance from Professor Glynn Bowsher on this activity, and his passion for engineering was also an inspiration.
At the end of 2015 I decided it was time for a new adventure. My family and I moved to Jaipur, India, as I had been recruited for Hero Motorcycles to be their head of Chassis Design. Hero is the largest motorcycle manufacturer in India, selling 6 million motorcycle a year. They had recently opened a new purpose built RnD centre following the end of the technology sharing partnership with Honda. Even at this distance from home I was still working with Graduates of Coventry University, many Indian engineering students elect to do post graduate studies in the UK, and Coventry was a popular choice. It was a pleasure to be able to have this common experience with some of my new team.
As the world started to shift towards electric vehicles, I also shifted. In 2019 I moved to Ola Electric, which is an electric mobility start-up founded by Ola Cabs. Also based in India, but in the southern city of Bangalore. Despite the difficulties of the pandemic, we have developed an electric scooter that promises to bring electrification to the masses of India, by operating at scale, the costs can be controlled so that electric scooters can be accessible to the average 2 wheeler customer in developing markets. This also gave me the opportunity to work on the companies acquisitions and mergers, leading to a few months of work in Amsterdam.
Since April this year I am now back in the UK, and still lucky to live in the Midlands. This area is truly a global hub for the world of EVs. With the recent investment in Norton, BSA and Royal Enfield, it is also becoming hub for motorcycle design and engineering. More recently I have set up my own international EV and 2 Wheeler consultancy business. I am in the prime position here only a few miles from Coventry, the heartland of automotive innovation. Not only this, but I have plans in place to open a second strand to my consultancy business in India, in the midst of the world's biggest 2 wheeler market. All this has started from the journey of motorcycle design that Coventry University started me on back in 1999.
I'm am truly thankful I chose career in engineering. It has given more than just monetary reward over the past 20 years or so. It has kept me interested and engaged, and presented me opportunities to travel the world and experience new cultures. It has also pushed me to continue learning throughout my professional life. I am grateful for Coventry University having such great links with industry. The University introduced me to Triumph Motorcycles as a student, which has been pivotal in my career.
I have always been keen to promote engineering careers to the next generation of students. Whilst at Triumph I gave a number of talks in 6th form colleges, describing a career in engineering and what to expect from an engineering degree. I found a number of A level students were not really aware of Engineering as a career path, despite their aptitude in science and maths. So it was fulfilling to talk about engineering in the everyday world around them, and perhaps inspire some of them to follow a similar path to me through Coventry and into the wider world! Now I am back in the UK, I will also be supporting the IMechE with their Imagineering program in schools. I hope one day to give a IMechE young members talk at Coventry, as I enjoyed these so much when I was a student here.