Organise a reunion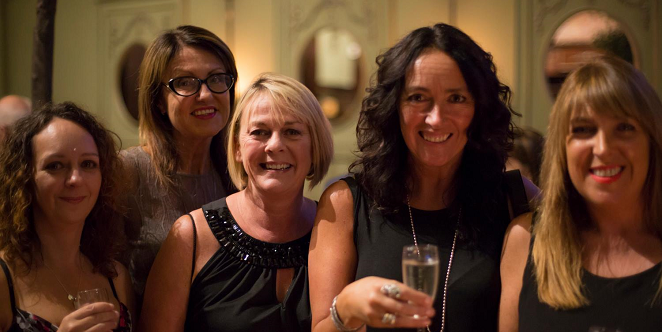 Organising a reunion is an ideal way to get together with friends and reminisce about your university days. It's a fantastic opportunity to put people back in contact and revive friendships. Even if you have remained in close contact over the years, hosting a reunion is great for celebrating your enduring friendship.
Planning a reunion in Coventry means you can tour the city and campus to see how things have changed and seek out some of your favourite places! The Alumni Team is here to help you plan your next reunion and we recommend the following steps for organising your special occasion.
Invitations
Decide on the focus of your reunion – such as former course friends or people from a sports club or society. Remember it's important to consider whether you are inviting partners and children too.
Plan ahead
Notifying the Alumni Team in advance to discuss ideas and promotion can help you form a plan for your event. We recommend a year's notice for larger events.
Remember that work and family commitments often mean your guests will need to be notified early of your plans! We would suggest sending out invitations at least six months in advance and always include an RSVP date.
Keep a budget in mind for your event too, including transport and accommodation costs, and find out how much people are willing to pay before you make final arrangements.
Remember to think about the format of your reunion – it could be a pub gathering, involve a tour of campus and include day and night time activities too.
Alumni Team support
The Alumni Team can help you plan and promote your reunion in the following ways:
Find a friend – support in helping you trace long lost contacts. Under the Data Protection Act we cannot pass on contact details to you directly but we can send a message to someone on your behalf if we have their contact information.
If there is a group of people you wish to contact for a course or society reunion, we can work with you to send out an invitation.
Promoting your event is key to success and we can do this through our website and our social media channels. It's worth setting up a Facebook event for your reunion, too.
If you would like to have a tour of campus as part of your reunion, then please let the Alumni Team know as this can be arranged – even on a weekend. We are also able to put you in touch with your Department and Faculty to arrange meetings with staff members and to see your former classrooms.
The event
On the day of your event, keep a record of everyone who has attended – you could even circulate a book for comments.
Take plenty of photos to include with the ones from your student days.
It's always inspiring to read about reunions that have taken place and we would be delighted to promote your event to other alumni on our website or in the magazine. If you would like us to celebrate your reunion, please send us some highlights and photos from the day.
Mechanical Engineering Reunion
It might have been half a century since the class of 1960/63 graduated but for a group from Mechanical Engineering it felt like only yesterday as they toured the campus. Five graduates and their wives visited the George Eliot building (known to them as B block) and reminisced over tea and cake. They also kept four others from their class, who now live in Australia, informed of their visit.
Graduate John Andrews remembered watching the construction of the cathedral:
"From our windows in the block facing the cathedral we saw most of the structure above ground being built, including the hanging of St Michael and the Devil, which caused quite a stir!"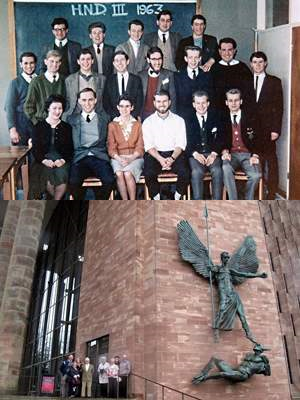 Contact
Get help with organising your next reunion by contacting the Alumni Team on +44 (0) 24 7688 8589 or alumni@coventry.ac.uk. Please provide us with your full name, email address, phone number, year of graduation, subject studied, when you would like to hold a reunion and other other details you can provide.