Student Experience
In the School of Energy, Construction and Environment the student experience extends past our teaching with the dedicated subject societies that our students attend and even run!
The Construction Society aims to improve the student experience and better career prospects for those studying courses in the school of Energy, Construction and Environment.
As a member you can look forward to engaging talks from industry professionals, site visits to live projects and inter-society competitions as well as much, much more. There is also the social aspect to the society, which sees the gap between the many disciplines of construction bridged (pun intended).
Much like a construction project, good communication is key to success; as such the society is always open to suggestions from it's members and actively encourages feedback. On top of this, elections are held annually to ensure students have their say in how it is run.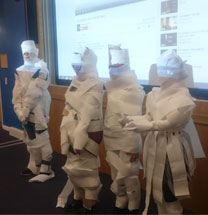 Regardless of which course you study within the school, there is something on offer for everyone!
Find out how to join the Construction Society.
Geography Society
We aim to bring together students from all geography courses and all years to have a good time outside of teaching hours! You can get involved with a number of activities - sociable, charitable and educational – and culminating in an international field trip.
Find out how to join the Geography Society.
International Disaster Concern Society
The International Disaster Concern Society is a group of like-minded students that primarily attracts those who study Disaster Management, Natural Hazards and Geography courses (but not exclusively!)
We're one of the most active societies in the University, and recent events include a talk from world leading Disaster Sociologist Dr. Anne Eyre, an Emergency Planning workshop hosted by CSW Resilience, a trip and tour of the HQ of the leading Disaster Recovery company in the UK, as well as regular socials (including the now legendary annual Viking Social!). Our weekly meet-ups take place at the Urban Coffee Company in Fargo Village every Tuesday from 6-8pm. Come along and we look forward to seeing you!
Find out how to join the International Disaster Concern Society.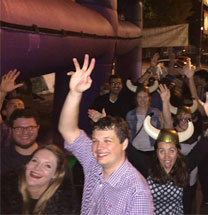 Technical Architecture Society
Whether you're looking for site trips, feedback sessions or a social platform, the Technical Architecture society encourage industrial and educational practice for all our members.
Find out how to join the Technical Architecture Society.
Q&A: Damilola Ola - Construction Management Student
Meet Ada Lovelace Scholarship winner and first year Construction Management BSc student Damilola Ola.
Read Damilola's story