Our PGR Mentors
When you start something new such as a research degree you are bound to have questions, the PGR student mentors are here to help!
Whether your questions are about life at Coventry University, the city or what it is like to do a research degree, the PGR mentors are ready and waiting for your questions.
The mentors are research students who have volunteered to support you for the first 6 months of your research degree. You can contact them at: PGRMentors@coventry.ac.uk
---
Sahar Shahid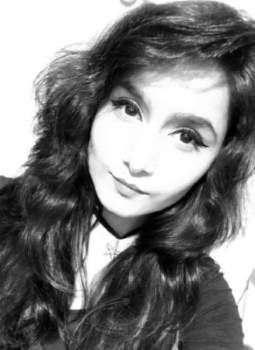 Hi! I am a full-time, first year PhD student in the faculty of Health and Life Sciences. Broadly speaking, my PhD centres around the impact of childhood maltreatment on subsequent violent behaviour, within the discipline of Forensic Psychology. There is plenty of evidence which supports the idea that previous maltreatment can lead to subsequent offending behaviour. However, I am interested in latent trauma which can lead to violence in those who have been abused in childhood, but also the factors which have prevented abused individuals from resorting to using violence as a result of their trauma. Therefore, my research will examine the role of post-traumatic symptomatology, resilience, and protective factors within this link.
I work under the framework (and passion for) violence reduction in society. In terms of academic background, I have a BSc in Psychology and MSc in Forensic Psychology. I came back into education to do my Masters after a few years of working in the sector of Violence against Women and Girls. Almost at the end of the first year of my PhD now, I can definitely say I have enjoyed it immensely but have also found it challenging in many ways. The journey can seem isolating, as research by nature has numerous ups and downs. There are however, various support systems in place which can easily be accessed depending on the type of concern you have. The PGR Mentors – people who have gone through as close to a similar journey as possible – are available to guide and offer support should you need it.
Please do not hesitate to get in touch with me if you need to have a chat with someone or need more specific advice, and I'll do my best to guide you to the right place!
Sophie McFarland
Hi everyone!
My name is Sophie McFarland- feel free to call me Soph. I have applied to be a PGR mentor after finding the first year and transition period pretty daunting and overwhelming at times. Hopefully I can be of use to make your transition easier and pass on useful bits of information I have learned along the way.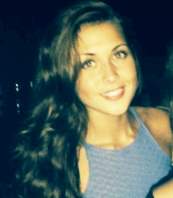 So a little bit about me...I am coming to the end of my first year of full time PhD study and am based in HLS (Health and Life Science Faculty). My research is investigating technology enabled home care with specific regard for nutrition in patients with long term conditions. My background is in Dietetics which I gained by BSc degree in at Coventry University. I now work one day a week as a Registered Dietitian alongside my PhD study to maintain my clinical skills and knowledge.
Current pressures on the health and social care system are of an all-time high with constraints on staff, resources and finances. Meanwhile, the aging population have multiple and more severe co-morbidities for the health system to contend with. Consequently, by 2020-21 there is a projected funding gap estimated at £30 billion. Technology enabled healthcare is a rapidly diversifying and developing field of research interest due to its believed potential to save cost whilst improve self-management and access to healthcare for those most vulnerable. My research aims to focus on nutrition and the potential to use technology to prevent malnutrition in this population group who are more likely to be at risk.
Why did I want to do a PhD? For me, it was the opportunity to embark on a journey in attempt to make an impact on future of healthcare provision and patients' quality of life. Having clinical experience and knowledge of the pressures of the current healthcare setting, I saw this PhD as an option to explore alternatives and contribute evidence based research to my field.
I now live in Coventry and am about to start my 6th year of study here so I hope to be a useful point of contact if you have questions about the university or bits generally about Coventry!
Like I said, I remember feeling a bit lost when I first started my journey and yet after a year here, it all seems a bit clearer- so if I can be of help and a friendly face when you need it, that's what I'm here for!
Top Tip: Make friends- go to social events, seminars and talks held internally and externally from uni. Making a support network is essential to keeping you sane throughout PGR study
Sophie Fletcher
I'm originally from Coventry, I was born here, and I grew up nearby. For my undergraduate degree I studied Natural Sciences at the University of Southampton. Then I decided to move back home to Coventry. I achieved a distinction in my MSc in Pharmacology and Drug Discovery at Coventry University which I studied for on a part-time basis so that I could carry on working at Warwick Hospital to be able to pay for the fees. I was really impressed with the level of support that I received during my taught MSc programme. My master's project was supervised by my current Director of Studies. Based on my previous experience at the university, when I heard of an opportunity to start a PhD with my Director of Studies I was very keen to apply.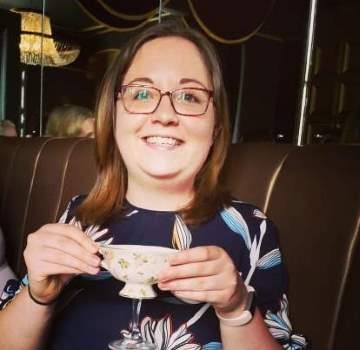 Once I had finished my master's degree but before I started my PhD I spent some time working for InoCardia Ltd who are a spin-out company based at the university. My PhD is now in conjunction with this company, I am also a part of the Centre for Sports, Exercise and Life Sciences.
My research focuses on further developing the work-loop technique which is used by InoCardia Ltd. This technique can be used to identify if new drug candidates will alter the contractility of the heart. Historically, many drugs that alter contractility have reached the clinical stages of drug discovery and it has only been once the drug has been tested in humans that these side effects have been identified. This technique will allow the changes in contractility to identified earlier in the drug discovery process and will result in less harm as the effects will be identified before being tested in humans.
Starting a research degree can be very daunting but it can be made easier if you know where to go for support! Please get in touch if you need help identifying where to go for help or if you are just in need of general advice. Many people forget that meeting other research students is a vital part of your research journey. You may be studying wildly different subjects, but we are all following the same framework and you can always learn something new!
Top Tip: really make the most of any training or workshops hosted by your research centre, the doctoral college or externally, it's a great way to meet new people and learn new life skills!
Rebecca Seymour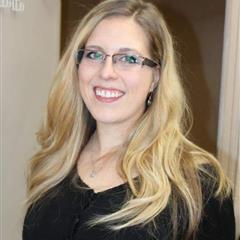 Hello! My name's Rebecca and I'm a 3rd year PhD student in HLS. My PhD looks at the experiences of women with FGM in the post-partum period. I grew up in Dublin, Ireland before moving with my family to Hamilton (outside Toronto), Canada in 2003. My parents are both professors, so I've always had an interest in science and research. I got an undergrad in exercise science before deciding I wanted more hands-on care. I completed my nursing degree in 2012 before starting a Masters in Nursing in 2015. After my masters I took 8months off and travelled before starting my PhD in May 2016. All my previous degrees are from McMaster University in Hamilton.
I am happy to talk about: moving countries for your PhD, how to combat missing home, organizational tips, things to do around Coventry, help with the university process, and to simply provide a listening ear 😊
Welcome to Coventry University! You have made a great decision furthering your education and I look forward to meeting you. Please contact me with any questions you have and I'm sure we can work it out together, remember you are not alone; a problem shared is a problem halved after all!
Lara Carballo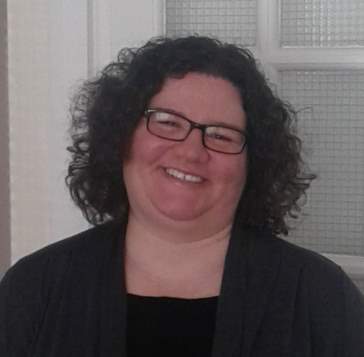 I am coming to the end of my first year as a full-time student in the Faculty of Engineering, Environment and Computing. I am researching older drivers and their driving behaviour at intersections as a result of changes in their peripheral vision. I hope that my work will help to play a part in helping older people to remain safe and independent drivers for longer. With this in mind, I am also examining evidence to support an increase in the current driving licence renewal age from 70 to 75.
I am a mature student, and have come to Coventry University via a varied career path that has included music librarianship, supporting the independence of adults with learning disabilities, and working in human factors within the transport and security industries.
My academic background reflects my career path. My first degree in music was followed by my first masters in Library and Information Studies completed at UCL. Whilst working, I studied with the Open University to gain a Postgraduate conversion to Psychology after which I completed my Masters in Health Psychology at Sussex University. It has been a varied journey that has somehow converged via some weird logic to bring me to Coventry to do this PhD.
Having got here, I have found the experience to be interesting and exciting – although scary at times! The university itself has always proved to be supportive and nurturing along the way.
Top Tip: There will be difficult times as you go through the PhD process, but for every "down" there is always an "up".
Ghazi Alabbadi
Hello everyone, a brief introduction about myself. My name is Ghazi Alabbadi and I am a 3rd year full time PhD researcher from Jordan at the faculty of Engineering, Environment, and Computing, researching the effects of motivation on workers productivity in construction sites. I have obtained my master's degree in construction management from Coventry University 2014/2015, and my bachelor's in civil and structural engineering from the University of Jordan in 2012. After completing my BSc, I worked as a site engineer in multiple construction sites in Jordan.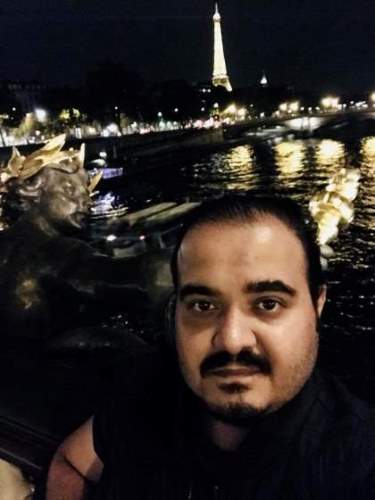 Starting on a PhD journey can be difficult, and it is not an easy decision to make. But it is perfectly normal if you feel overwhelmed and confused in the beginning. And as an international student, it could also take time to adapt to a different culture. However, Coventry in general and the university in particular is diverse with many people from different cultural backgrounds, including students and staff members, which makes Coventry university unique and exciting to study in. Additionally, we as PGR mentors are here to help as you begin your PhD journey, whether you need tips about the university's different services, facilities, and funding opportunities, or simply advice about day to day life in the city of Coventry.
As an international student who has been living in Coventry since September 2014, I have adapted to the diverse culture of the university and became familiar with the various activities hosted in and outside of the university, and I will gladly provide my support in whichever way you need to help you kickstart your PhD with confidence, and hopefully have a pleasant and an exciting journey here in Coventry university.
Top tip: Attend and present at conferences, and network with fellow students.
George Eremionkhale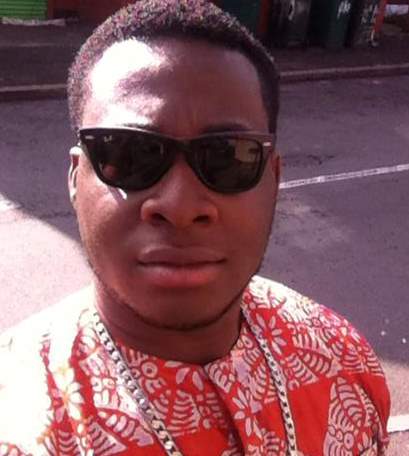 My name is George Eremionkhale, and I am in Centre for business in society and a fulltime student in my first year. I am originally from Nigeria but came to the UK in 2011 to undertake my undergrad, I then went on to do my masters. I decided to get a research degree because during my dissertation for my masters I found the topic very interesting and knew that I would like to go further in the area.
I have a Bachelors in Accountancy and a Masters in Advertising and Marketing, at Coventry University. For my PhD I am focusing on Green marketing and sustainability, I plan to develop a theory that countries who do not have any working sustainability effort can adapt and I plan to use Nigeria as a case study.
When I started my PhD earlier this year, it was overwhelming and fighting just thinking of the idea of writing a research thesis over a period of three years, although I had done my previous studies at Coventry, I knew it would be nothing compared to a PhD. Now that I am settled, and I have an idea of what I am doing, it does not seem as scary anymore. Best of all, I have enjoyed every bit of it so far. What helped me was being organised, I went through the framework and looked at all the different requirements and most importantly having a good relationship with your supervisors and regular meetings with them. I know it may seem so scary, but I can assure you that everyone went through that feeling too, it is beneficial to have someone you can ask questions do not hesitate to get in touch or ask questions.
Top tip: Be proactive. I advise you get a grip on your cycle of your PhD by actively asking questions and seeking information, take advantage of all the workshop available and build a good relationship with your supervisory team.
Kayode Richard Abeleje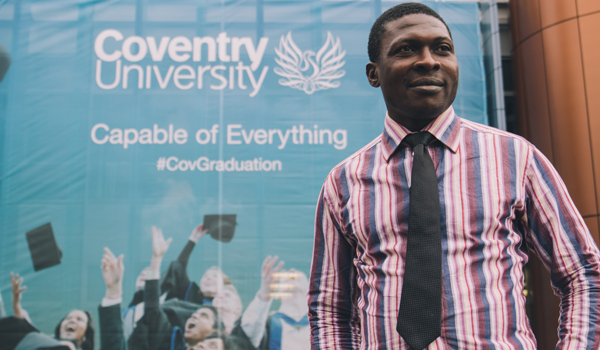 My name is Kayode Richard Abeleje and I am from Nigeria. I was attracted to undertake a research degree through the advice of a mentor and supervisor while I was completing my Master's degree. I obtained my first degree from University of Ado-Ekiti, Nigeria in Accounting in 2002. I have been in the UK since then and got my masters from Sheffield Hallam University in 2013.
I am a full-time year two doctoral researcher (PhD) in Accounting with the Faculty of Business and Law. My research focuses on the influence of adoption of IFRS on Earnings management: A cross Country Analysis. It is a comparative study on developed economies and the developing economies.
I was previously a lecturer in accounting and finance, since 2008, I have taught both at classroom and professional levels, and to a large number of students in Nigeria. I came to the UK for my masters in 2012, but Coventry's reputation attracted me to move here for my PhD. While in transit to Sheffield on a coach, a couple of students wore T-Shirts with the Coventry University. That was the first time I saw the name and was just a tip of the iceberg and that encounter led me to research the University and led me to my future. While considering taking up a research degree in accounting, I had the best of support right from my application stage to my induction from Coventry University.
I am proud to be a research student of this great institution and am happy to serve in the capacity of a mentor. I am a chartered accountant equipped with over seven years post qualification experience in the area of accounting and finance. I possess good research and information technology skills that could be applied in solving business problems I am a team builder, having excellent interpersonal communication and good analytical skills. I love research and enjoy writing for publication. I am always willing to share my knowledge and enthusiastic to assist on accounting and finance related courses.
I am welcoming you to Coventry University, a nice place to be, where you will always get the support of your colleagues, erudite mentors and faculty members that can keep you informed on getting the best from the great facilities that Coventry University offers.
Please make full use of the mentors – we are here to help!
Kayode's Top Tip: Be free to ask questions to get the most of your stay in Coventry and the UK. I would recommend making the most of what your faculty/department have to offer.
Ezinne Merianchris Emeana
I am a full time second year PhD researcher at the Centre for Agroecology, Water and Resilience at Coventry University. I am from Imo State, Nigeria, West Africa. My passion for agriculture, extension, sociology, rural development, climate change, disaster management, sustainable food security and farmers' livelihood motivated my interest in the alternative ways of farming and feeding the world's increasing population with healthy food without causing further harm to the environment and stress for the farmers.
My experience in agriculture is dated back in 2007 when I obtained a Bachelor's Degree in Agricultural Extension (B. Agric. Tech.) at the Federal University of Technology Owerri, Nigeria. After which I took up a Research Assistant role at the Imo River Basin Authority, Nigeria (2008-2009). I contributed in different water resource management projects such as species and habitat conservation, and water drilling for agricultural irrigation. I later proceeded to work as an Agricultural Produce Officer alongside as an Agricultural Extension Liaison Officer, Edo State Ministry of Agriculture and Natural Resources, Nigeria (2010-2012). I participated in various rural development projects that benefited the rural farmers. I acted as the official mediator between farmers and the agricultural research centres, monitoring and evaluation of new crop varieties.
Due to my striving attitude towards achieving excellence and quest for acquiring new skills, I took a further step in 2012 to assume the post of an Agricultural Research Officer at the Federal Ministry of Agriculture and Rural Development, Abuja, Nigeria before I decided to take a career break in that same year for further studies. Whilst discharging my duties as an Agricultural Research Officer, I discovered that the recent farming practice in Nigeria is affecting the environment. I moved to Coventry University and obtained a Master's Degree in Environmental Management, specialising in Ecological Management in 2013.
In the quest to implement my experience into practice, I realised that farmers need to be informed about alternative way of farming known as Agroecology Farming System which does not only provide sustainable healthy food, but also preserve the environment. The wake of the above motivated my recent PhD research which is focussed on the use of mobile phone for agroecology information dissemination in Nigeria. Exploring how mobile phone application use and the interaction amongst farmer to farmer/farmer to extension agents can be used to scale-up the adoption and practice of agroecology.
As a full time international research student who has been living in Coventry (a walking distance to the university) since the start of my postgraduate studies in 2012, I have tremendously adapted in the community with diverse ethnicity and cultural background, and have familiarised myself with the various activities within and outside the University which a new research student should be aware of. Therefore, as a new research student seeking first-hand information I am available to support you to enjoy your research experience at Coventry University, I can offer help and advice on the following:
How to settle with ease into the community
How to manage your professional development alongside your research
The strategies for completing the supervisee journey successfully
How to explore the available opportunities in the University
Ezinne's Top Tip: Always remember! A positive approach, determination and maximising available opportunities are significant.
Benin Ibn Wahab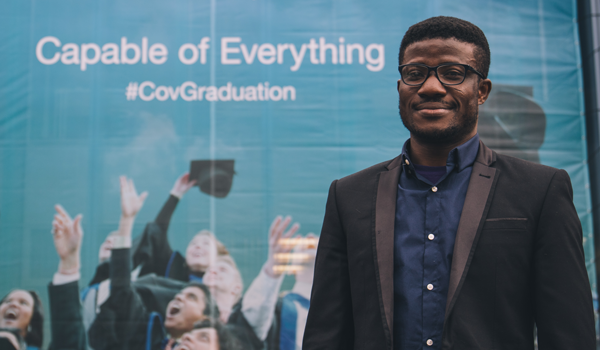 I am a Ghanaian, second year, full time PhD Student my research topic is "Critical Economic and Operating Cost Evaluation of Oil and Gas Plays: A Retrospective View of Ghana Keta Basin and the UK North Sea". The main aim of my research is to contribute my thoughts on cost reduction in the upstream oil and gas operation to the existing ones in the industry and academic environment. I hold an MSc in Oil and Gas Management from Coventry University 2011/2012 UK, BSc in Accounting and Finance from University of Professional Studies Accra (UPSA) 2009/2011 Ghana and HND in Accounting from Tamale Polytechnic 2006/2008 in Ghana.
Currently, I am in my second year of my PhD programme at Coventry University in the faculty of Engineering, Environment and computing, researching petroleum economic and fiscal systems. The research findings will provide knowledge on cost reduction strategies, economic analysis, negotiation and contract analysis of upstream sector of petroleum industry; I started my PhD in September 2015. After completing my MSc, I worked as a Teaching Assistance in Coventry University, as a volunteer Lecturer at UPSA, a part-time lecturer at Ghana Telecom University and Springs College University all in Ghana before returning to pursue a PhD in petroleum Economics.
I will aid beginners and those yet to start their PhD on where to locate their needed service points around the University and the city of Coventry, and share with them my experiences as a PhD student in Coventry University for past year.
Coventry University and Coventry city is the hub of excitement with diverse cultural backgrounds of people, students and staffs, which makes studies, learning and life exciting at Coventry University. The University has academic professors, industry professionals and a well-equipped library, and funding opportunities for students' who want to attend abroad conferences and workshops. I am a beneficiary of a grant from the Centre for Global Engagement which I used for two workshops in Canada and US. Coventry University is the only place to study if you want to pursue a PhD. I am ready to answer your questions about life and studies in Coventry University.
Ibn's Top Tip: I suggest to students to get involved and attend both internal and external seminars, workshops and conferences as these will help them to network and shaping their research ideas.
Mandeep Singh Sehmi
I am a full time and a final year PhD Researcher and Research Assistant at the Centre for Trust, Peace and Social Relations (CTPSR). I am exploring British Asian Sikh Attitudes to Marriage within the context of the 21st century. I am covering areas such as divorce, same-sex marriage, inter-faith marriage and the spiritual marriage. Using grounded theory as my chosen methodology to qualitatively analyse interviews conducting throughout the UK, my thesis will provide original insights into this aspect of British Sikhs' attitudes, social relations and spiritual identities. There is little academic research available with reference to Sikh attitudes to marriage, especially within the 21st century and this is one of the first studies in the UK to explore British Asian Sikh attitudes to marriage. My academic background is in Sociology having studies a BA (Hons) Sociology with Policy Studies, Birmingham City University followed by a MA Sociology, University of Birmingham.
This was the first time I had studied at Coventry University and it is the best decision I have made. My DoS is very supportive. She points me in the right direction and encourages me to attend conferences, give papers, but most importantly, to think carefully about the structure of my thesis and the content. The research centre I am in provided a generous grant for two years, which covered my travel expenses, fieldwork costs and other expenses related to my PhD study. I have organised conferences and given papers at Harvard University and The University of Cambridge. Lastly, the Centre for Global Engagement (CGE) funded three trips in relation to my PhD, including a conference in the USA, and two trips to India. None of the above would have been possible without the support of Coventry University and I am grateful for these academic opportunities.
Students (including mature students) can contact me regarding part time or full time research degrees, the available facilities to help students with their research and advice on how to making timetables to reach their desired goals. Having successfully passed all of my yearly reviews (Progress Review Panels) I will also share the positive points that lead to a successful pass.
I believe one must be "approachable" in order to help others. If you are unsure of anything (e.g. finding buildings, attending conferences, paying fees, places to eat, or you just need someone to talk to), please contact us on the mentor e-mail.
Mandeep's Top Tip: Time Management - Open Mindedness – Precision
You need to be passionate about your subject area as this will be your life for the next few years. Time management is key. How you choose to manage your personal and academic study time is ultimately a PhD student's responsibility and you will have to be committed to ensure you are meeting your deadlines. You are going to discover many unexpected findings during your fieldwork (and after) and therefore, it is essential to remain non-judgemental (i.e. remain open-minded) and focus upon the outcome of your study. Stay on point and be precise in what your study is trying to deliver. With an open mind and using your time effectively, make sure you read your work several times, and question yourself on every point you make and make sure your paragraphs are flowing.
Nora Lanari
I am a full-time second year PhD candidate at the Centre for Business in Society (CBiS) at Coventry University. My research investigates the role of commercial agriculture within the context of water governance in South Africa's Western Cape. Most paradigms within the water governance literature do not take factors outside of the water sector sufficiently into account. Ultimately, this results in inefficient decision-making and policy-formulation. My research aims to partly fill this gap by looking at the specific example of commercial agriculture – a large water user – and how regimes governing agricultural production and trade impact water governance. My academic background is in geography and I hold a BSc and MSc in Geography from the University of Bern, Switzerland. Although CBiS is the specialist research centre for Coventry's Business School, I fit right in, as CBiS emphasises interdisciplinary research.
When I started my PhD in May 2016, I was overwhelmed and a bit frightened by the idea of writing a PhD thesis over three (!) years. Originally from Switzerland, I also had to adapt to the quite different UK higher education culture. Now that I am more than halfway through, it does not seem as scary anymore. Best of all, I have enjoyed every bit of it so far. What really helped me through the first difficult stages was getting myself organised: getting to know the Curriculum Framework, the different requirements, setting out a plan for the first 6 months with concrete targets, etc. and also meeting my supervisors, and clarifying expectations. I effectively took control over my research project and that took some of that scariness away. To do so, you need information, and as everything can be a bit overwhelming at the beginning, it is sometimes difficult to find that information. It is really nice and useful to have someone you can ask all these questions. Please do not hesitate to get in touch and ask, there really are no stupid questions in a PhD.
Top tip: Be proactive. I recommend proactively getting to grips with the different cycles of your PhD, actively seeking information, participating in workshops, and asking questions. This also applies to your relationship with your supervisor. Organise meetings with your supervisors proactively, set the agenda for your meetings, ask concrete questions or ask for specific feedback, and agree on fixed deadlines.
Dzariff Zainal Abidin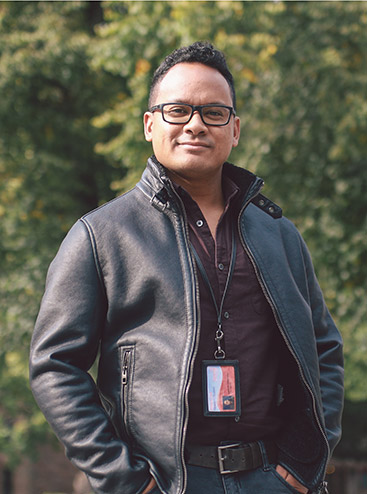 Hi everyone! It's great to know that all of you are keen to embark on this journey, I believe the transition you are making is the right choice! It may look scary in the beginning, but that's what we are here for, to help you transition smoothly and make you feel more comfortable and confident facing situations which can look difficult and overwhelming at first.
A little bit about myself. My name is Dzariff Zainal Abidin (you can call me Dzariff for short), and I am a first year full time PhD student from Malaysia at the Centre for Flow Measurement and Fluid Mechanics. I am working on a smart pipe or sensor augmented project in developing novel interrogation techniques and configurable sensor suites for flow measurement and structural health monitoring as applied to smart applications. I obtained my Bachelor's degree in Electrical and Electronics Engineering from Cardiff University and my Masters in Oil and Gas Engineering here at Coventry University, winning the award for best MSc student in my year.
What made me want to do what I do? Well, long story short, I have always been keen to know the answer to my everyday problems, which lead me to an interest in engineering and science. I realized that this field provides a massive opportunity to contribute knowledge to society. I believe with the right sense of responsibility, you will be prepared to face any consequences that arise through this journey with confidence, and achieve excellence!
I have lived and studied in the UK since 2012. It's normal to be worried about being away from family and friends, especially for an international student miles away from home, getting mentally prepared to step out from your own comfort zone and adapt to a new environment. For someone who has experienced similar circumstances, it's a chance for me share my knowledge and prepare you for what to expect on the journey you are about to embark on. The journey you make is definitely worthwhile, keeping in mind you will meet new friends for life, acquire superior knowledge and build networks, resulting in becoming a better person and acquiring those goals you have yet to realize that will change your way of life, tackling the challenges that await!
The staff and faculty will always be available to help, and to equip you with the necessary skills to go beyond your limits as postgraduate students, provide diverse experience, and support you. It can be tense at first, finding your way through your course and sorting out the important steps of the program, therefore it is essential to stay organized, prioritize your tasks and take care of yourself by staying healthy, both physically and mentally. Planning is the key to having a balanced structure, ensuring a stress free experience, and avoiding complicated situations. Planning your actions will help to manage between your studies and personal life.
Dzariff's Top Tip: Your aim is not just about getting that scroll at the end of your graduation but to also enjoy the time being given to you!