Innovative designs of sustainable agro-hydro-health systems
Funder
British Council
Value
£45,000
Collaborators
Universiti Putra Malaysia
Project team
Sue Charlesworth, Martin Wilkes, Marco Van De Wiel, Tom Wakeford, Irene Sotiropoulou, Abdul Halim Ghazali, Zed Zulkafli, Badronnisa Yusuf, Balqis Mohamed Rehan, Mohd Shahrizal Ab Razak, Aidi Hizami Alias and Syazwani Idrus.
Duration
April 2017 – January 2018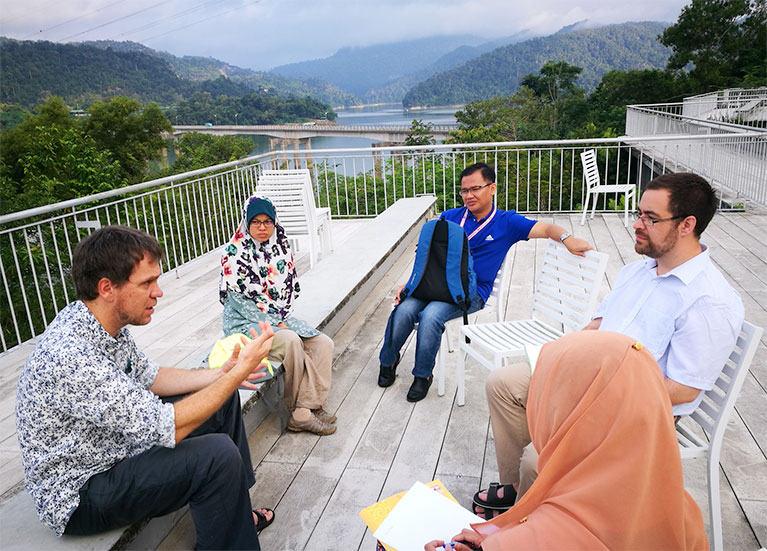 PROJECT OBJECTIVES
Under the Researcher Links scheme offered within the Newton Fund, the British Council and Akademi Sains Malaysia held a 5-day workshop in Kuala Lumpur, Malaysia which commenced on 31 July 2017. The workshop was coordinated by Professor Sue Charlesworth and Associate Professor Dr. Abdul Halim Ghazali and included contributors from other leading researchers. The workshop explored research topics in relation to 'off-grid' communities. These communities that reside in remote areas and, due to their location, are deprived of direct access to municipal water supply, electricity, wastewater or other utility services.
Participatory action research
Water, sanitation and hygiene (WaSH)
Sustainable urban drainage systems (SUDS) or bio-ecological drainage systems (BIOECODS)
Surface water and sediment modelling and management
Biomonitoring and bioassessment
Small scale hydropower, design and mitigation
Public health
Environmentally and socially sustainable financing for technology transfer and development
The CAWR team returned from their trip to Malaysia where they were inspired to tackle challenging research on the wellbeing of the Orang Asli ('original people') against a background of rapid economic development in the country. Several lines of investigation are now being pursued, ranging from ecotourism and sanitation to biodiversity conservation and water resources, working with the indigenous communities of Belum Rainforest.
For more information about this project please contact Sue Charlesworth.
The photo shows 22 stakeholders, including government departments, NGOs and the Orang Asli, plus the 32 researchers who took part in the workshop.