Project Team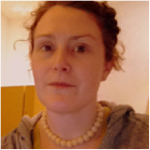 Professor Beth Grunfeld
(Professor of Health Psychology)
Beth is a chartered Health Psychologist and HCPC registered Practitioner Psychologist. Prior to joining the Centre for Technology Enabled Health Research in June 2014, she held academic positions at Aston University, King's College London and the University of Birmingham. Her research focuses on perceived and actual threats to health. Beth is the Principal Investigator for the WorkPlan study.
---
Lauren Schumacher
(Research Assistant)
Lauren completed her undergraduate psychology degree at the University of West Florida, later obtaining her MSc Psychology here at Coventry University. In 2014, Lauren was an intern at the Anna Freud Centre, working on the IMPACT-ME trial, which examined the personal experience of young people undergoing therapy for moderate to severe depression and incorporating the experiences of their families and therapists. Lauren was also involved in the SIPS Jr trial at King's College London, developing and screening alcohol interventions for young people aged 14-17. In her free time, Lauren volunteers with Cruse Bereavement Care, providing counselling styled support for children, young people, and adults experiencing difficulties related to grief.
---
Dr Anjali Zarkar
(Consultant Clinical Oncologist)
After her medical qualification, Anjali received her postgraduate degree from Mumbai University in 1996. She did her specialist clinical oncology training in Liverpool and West Midlands. She has been appointed as a consultant clinical oncologist at University Hospital Birmingham in 2006, and is the visiting clinical oncologist at Birmingham Heartlands Hospital. She is also an honorary senior clinical lecturer at the University of Birmingham, and is a principal investigator for many national and international clinical trials.
---
Dr Andrew Sutton
(Lecturer in Health Economics)
Andrew is a lecturer in mathematical modelling in the Health Economics Unit at the University of Birmingham. He was awarded his PhD at Warwick University in 2007, which focused on the mathematical modelling of interventions that target injecting drug users in a prison setting against blood-borne viruses. Andrew is a module co-ordinator on the MSc Health Economics and Health Policy course run by the Health Economics Unit, and is currently involved in a number of projects that utilise both mathematical modelling and health economics. He is also a co-director of teaching within the Health Economics Unit.
---
Dr Steven Sadhra
(Senior Lecturer and Director of Education for Occupational Health)
Steven is a Senior Lecturer and Head of Education for Occupational Health at the School of Health and Population Sciences. He is the programme lead for the MSc in Occupational Health and CPD programmes. Steven has published over 60 research papers and government reports, is the co-editor of two textbooks, has written eight book chapters, and is the co-editor of the first Oxford Hand Book of Occupational Health. He heads the departmental research on the evaluation of occupational health services and the development of workplace interventions for risk reduction. Steven has over 20 years experience in research, teaching and training in Occupational Health and his contribution has been recognised through Honorary fellowships of the Faculty of Occupational Medicine (FOM) and the Society of Occupational Medicine (SOM). More recently, he was awarded the RoSPA international award for services to Occupational Health.
---