Saif Alatrash announced as Coventry University's Postgraduate Researcher of the Year 2021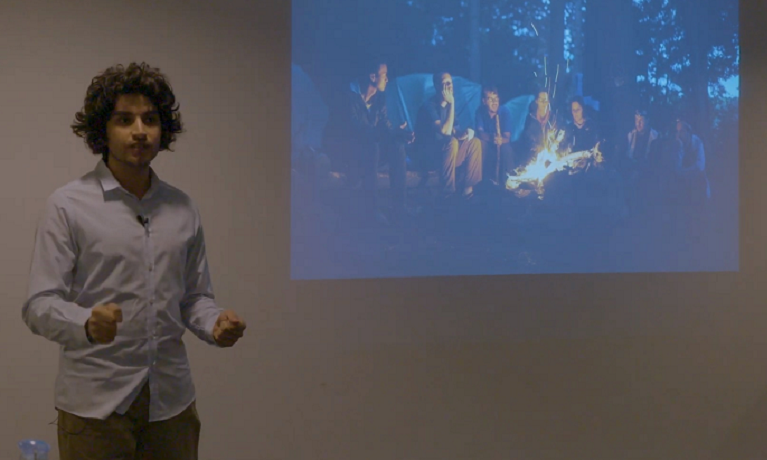 ---
Friday 22 January 2021
Press contact
---
Saif Alatrash, a Cotutelle PhD candidate in the Centre for Postdigital Cultures, has been awarded Postgraduate Researcher of the Year 2021.
Saif represented the Faculty of Arts and Humanities, delivering his presentation on 'Gamified storytelling experience for engineering and design heritage'.
Saif's research aims to explore new ways of engaging museum visitors through the use of immersive technologies and gamification, which will enable audiences to interact with objects in new ways.
He was praised for his innovative and trailblazing research, as well as the engaging graphics he used to depict his research and its impact.
The Postgraduate Researcher (PGR) of the Year competition takes place annually as part of the Coventry University Research Hootenanny. Organised by the university's Centre for Research Capability and Development (RECAP), the Hootenanny brings together researchers from across the university to showcase their work, share knowledge and experiences, and celebrate their successes.
For the competition, nominees are chosen by senior members of staff across the university to represent their faculties and research centres and are asked to put together an abstract and impact statement. They then present their research in an engaging 10 minute presentation, ensuring that their work is made accessible to a non-specialist audience.
A select judging panel mark the presentations, looking for those who deliver engaging and accessible topics which illustrate significant impact. Nominees are then invited to discuss their research with the panel of judges, explaining the research and its impact in more detail.
The winner receives a cash prize of £1000, while other nominees each receive £100 for taking part.
Saif's achievement this year follows his previous successes in the Visualise Your Thesis and 3 Minute Thesis competitions in 2020.
During the Hootenanny event, we saw extraordinary PhD students across the faculties, students who are passionate about their research!

I would like to thank all my supervisors for their guidance through the process, especially Prof Sylvester Arnab and Kaja Antlej. This is the most highlighted milestone of my PhD journey so far. And I am grateful for Coventry University, the RECAP team, and the judges for delivering such a wonderful Hootenanny.

Saif Alatrash, PGR of the Year 2021
I am extremely proud of Saif. He is very driven and passionate about his research. Being the recipient of the award serves as a motivation for Saif to continue to excel in his doctorate research journey and most importantly his development and growth as a researcher.

Professor Sylvester Arnab, Professor of Game Science and PhD supervisor
The nominees for this year's competition included:
Zeng Tongyan, representing the Faculty of Engineering, Environment and Computing
Sarah Charles, representing the Centre for Trust, Peace and Social Relations
Stephen Powley, representing the Institute for Future Transport and Cities
Jiani Ma, representing the Faculty of Health and Life Sciences
Katherine Blundell, representing the Centre for Global Education: Learning and Attainment
Marsha Smith, representing the Faculty of Business and Law
Rovier Verdi, representing the Centre for Agroecology, Water and Resilience
Videos from the competition will be made available shortly.
Watch Saif's winning video from the 'Visualise Your Thesis' 2020 competition below.
Read about last year's Postgraduate Researcher of the Year, Molly Browne.
Find out more about PhD Studentships at Coventry University.
Find out more about Coventry University's Cotutelle PhD programmes.