Coventry design graduate wins illustrious automotive industry award
Wednesday 26 November 2014
Press contact
---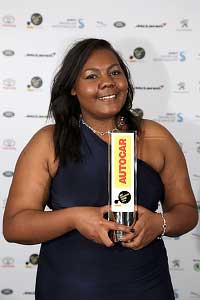 A former transport design student from Coventry University has won a prestigious automotive industry award for innovation just a week after graduating from her course.
Nicole Agba was announced as the winner of the Autocar-Courland Next Generation Award 2014 during the Society of Motor Manufacturers and Traders' (SMMT) annual dinner in London last night.
The 23 year-old from Rainham, Kent, impressed the judging panel – which included Autocar magazine editor-in-chief Steve Cropley – with her concept for a biometric steering wheel, which uses a smart fabric with sensors to monitor the driver's heart and respiration rate.
Nicole's design would also be capable of detecting signals indicating fatigue, anger or nervousness in a driver, and could even be used to detect alcohol in their system – immobilising the car automatically if he or she is over the limit.
The competition, which is sponsored by manufacturers including Jaguar Land Rover, McLaren Automotive, Peugeot, Skoda and Toyota, saw six semi-finalists whittled down to three finalists who were invited to the SMMT dinner.
Designed to give aspiring young innovators a launch pad into the competitive automotive industry, the award is one of the most illustrious of its kind, with the winner receiving £7,500 plus five months of hands-on work experience, shared between award sponsors Jaguar Land Rover, McLaren Automotive, Peugeot, Skoda and Toyota.
Nicole, who graduated from Coventry University last week with a degree in transport design, said:
It's been a fantastic experience taking part in the Autocar-Courland awards and I'm so thrilled to have won. The work experience that I'll be getting as a prize is sure to open some amazing doors for me in the automotive industry, and help me pursue my career ambitions in the field of automotive and transport design. I hope that my story will inspire people to go out and achieve their goals with hard work, passion and dedication.
Speaking at the awards ceremony, Autocar editor-in-chief Steve Cropley said:
Once again we have been bowled over by the calibre of the entries received for this year's competition, making Nicole an all the more deserved winner. It just goes to show that you do not have to be studying for a degree as a technician to produce a creative idea with real gravitas and commercial appeal.
Nicole is the second Coventry University alumnus to have won the Autocar-Courland Next Generation Award since it started six years ago. Transport design graduate Mohsin Basharmal was the inaugural winner of the prestigious accolade in 2009.
In 2011, transport and product design graduate Callum Nash made the final three in the competition but just missed out on the top prize.
For further information, please contact Alex Roache, external press and media relations officer, Coventry University, on +44 (0)24 7765 5050 or email alex.roache@coventry.ac.uk.