Would be writer's prize winning poetry captures Coventry's essence
Wednesday 12 November 2014
Press contact
---
An up and coming author from Coventry has won a local poetry competition for his collection of works depicting the city and its people.

Raef Boylan, a third year English and Creative Writing student at Coventry University, has won the inaugural Fred Holland Poetry Collection Award, named in honour of the late poet and one of the city's best loved voices.

The university's Coventry Words magazine and blog, which offer students the opportunity to hone their writing skills, established the competition this year as a further creative outlet for their talents.

Hundreds of students entered the contest but Raef emerged the winner, impressing the panel of judges - including poet Adam Steiner from Here Comes Everyone magazine - with his trio of poems which offer an affectionate but sometimes scathing portrayal of his home city.

Raef, who had one of his short stories nominated for The Big Issue in the North New Writing Award last year, collected the £1000 top prize provided by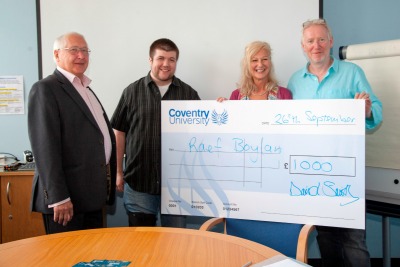 competition sponsor David Smith, trustee of the Frederick Holland Trust.

Audiences will have the opportunity to enjoy Raef's writing as excerpts from his poetry are being incorporated into the Deputy Vice-Chancellor's speech at next week's university graduation ceremonies in Coventry.
Raef said:
To be the first winner of the Fred Holland Poetry Collection Award is a real honour.

Fred was a talented poet and well-loved by people in Coventry so I'm glad that the judges felt my poems did a good job of representing our city.

It's also important for new writers to build up a reputation within their communities so on a personal level this award is very important to me, especially as I'm Coventry born and bred.

Alyson Morris, executive editor of Coventry Words and course director for the university's English and Creative Writing degree said:


The judging panel enjoyed all of the poems that were submitted - the quality of work was exceptional - but Raef's bittersweet and highly personal work really stood out. He was a worthy winner of the award.

Competitions like this really enhance the student experience. This year's contest was a great success and thanks to the generous support of our sponsor we are now looking to run the award as an annual event.

Raef Boylan's award-winning poetry can be viewed at the Coventry Words online blog.

For further press information, please contact Mark Farnan, communications assistant, Coventry University, on +44 (0)24 7765 8245 or email mark.farnan@coventry.ac.uk.