Three in a row for Coventry University as graduate wins top fashion award
Wednesday 29 October 2014
Press contact
---
A Coventry University fashion graduate has won a major accolade in a prestigious industry competition.

Kamilla Jones, from London, was voted 'Best Young Designer of the Year' at the Midlands Fashion Awards 2014, which were hosted by ITV presenter Lucy Kite and which took place at the CBSO Centre in Birmingham last Friday (24 October).

This is the third year running that a Coventry University graduate has won the 'Best Young Designer' title at the awards, which have run for the past five years and which showcase the work of up and coming fashion designers, stylists, make-up artists and accessory designers across the region.

Kamilla, who graduated earlier this year with a Fashion BA (Hons), was one of five Coventry University fashion graduates amongst 40 shortlisted candidates across all categories selected to exhibit their work at this year's event.

She took the title after impressing the expert judging panel of industry insiders with her chic women's collection inspired by the traditional costumes worn in Japanese martial arts and translated into an elegant modern day look.

Before going on to compete at the Midlands Fashion Awards Kamilla took advantage of Coventry University's Erasmus programme during her time there, studying fashion at the internationally renowned NABA design academy in Milan. She is now working in London as a freelance fashion designer and fashion analyst.

Kamilla said: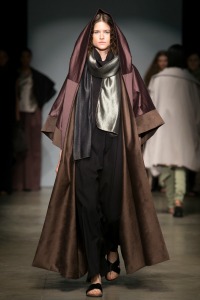 Having recently graduated, I was delighted just to have been shortlisted for the awards so I'm ecstatic about having won the title of Best Young Designer. It's given me a tremendous boost and motivated me to strive to achieve the highest standards in my work.

I'd also like to thank everyone at Coventry University for their help and support during my time there. I learned so much on my course and the experience and skills I gained there have really helped to set me up for a career in the fashion industry.
Ann Muirhead, head of fashion at Coventry University, said:
On behalf of my team I'd like to congratulate Kamilla on winning the title. It is a fantastic achievement. She was up against some very talented opposition – not least her fellow Coventry University graduates - but she is without doubt a worthy winner.

It's great for us here at the university to see one of our own triumph yet again at these awards and I would also like to pay tribute to all of our graduates who were selected to take part in this year's show. We are very proud of them and hope that they can take confidence from this experience. They've all got very bright futures ahead.