Chelsea Flower Show 'refugee camp' garden linked to university project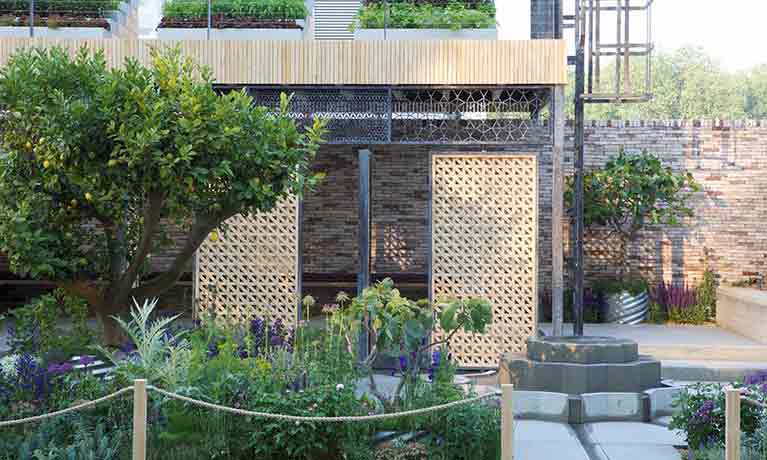 ---
Wednesday 23 May 2018
Press contact
---
A 'refugee camp' show garden inspired by a project in Iraq involving Coventry University has been awarded a silver gilt medal at the RHS Chelsea Flower Show.
The Lemon Tree Trust show garden represents the type of green space created by families and communities at refugee camps and was created with the help of people living in the Domiz camp in Northern Iraq.
The university works with the Lemon Tree Trust to help improve conditions for families living in such camps by encouraging them to grow fruit, vegetables, trees and flowers.
The gardens, often created on tiny patches of arid, inhospitable land in between concrete huts, help boost food production, health and well-being, and create much-needed shade in the harsh environment of the camps. Waste water is used to irrigate the land.
The trust also organises its own annual garden competitions at refugee camps in Iraq to help instil a sense of pride and competition among participants.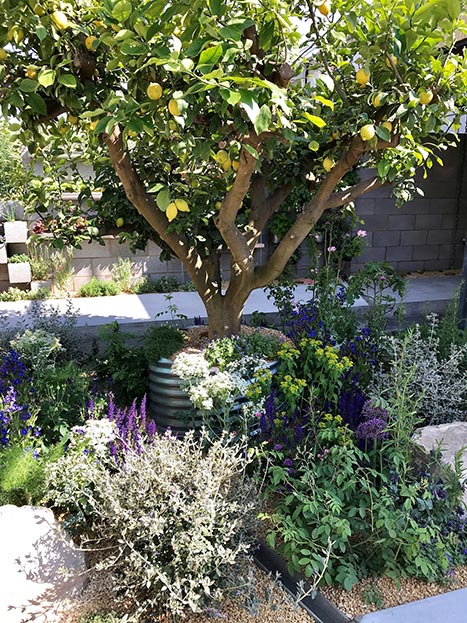 The Lemon Tree Trust garden at Chelsea Flower Show. Image credit: Britt Willoughby-Dyer.
Coventry University's Centre for Agroecology, Water and Resilience (CAWR) has provided technical support to the organisation, which works across Iraq, Jordan and Syria, since its launch in 2015. The centre's Dr Andrew Adam-Bradford is the LTT's chief technical advisor.
The Chelsea Flower Show garden was designed by Tom Massey and built by Landscape Associates and includes drought-tolerant plants that are often grown in Northern Iraq; fig and pomegranate trees; as well as other edible produce and herbs that are regularly used in cooking in the region.
The garden also features a lemon tree and has pieces of concrete and steel, as well as other everyday materials that are widely available in the camps, incorporated into its design.
Water is pumped around the garden in channels, pools and through a central fountain, to highlight the importance of reusing waste domestic water (known as greywater) for irrigation in refugee camps.
The sounds of the running water and smells of plants within the garden aim to transport visitors' minds to another part of the world.
This year more than 918 gardens in five refugee camps have been entered into the Lemon Tree Trust's own competition, with the overall winner announced today – a day after the Chelsea Flower Show medal winners were revealed.
Dr Adam-Bradford, a senior research fellow in stabilisation agriculture, who is currently in Iraq at the Gawilan Camp has helped organise the garden competitions since 2015. He said:
The gardens I have seen created in refugee camps over the years and the human stories behind them are a real inspiration. I have repeatedly witnessed the pride and hard work that goes into developing beautiful and productive green spaces in such harsh environments as well the positive impact these gardens have on people's lives.

Moreover, with the increased awareness from Chelsea, now is the time that these innovative gardens are recognised and supported at the programme and policy level, so the impacts from improved environmental sanitation, enhanced micro-climates, contributions to food security and social and therapeutic benefits, can all be mainstreamed into camp design.
The garden's designer Tom Massey said:
The Lemon Tree Trust garden has been inspired by the resilience and determination of people in situations of forced migration and displacement and designed with their input.

Even in the toughest of times people still have that desire to create gardens and to be around green and beautiful spaces. I think that's something that no matter where in the world you are from, we can all relate to.