Concentrate on prevention of FGM rather than prosecution, says expert
Friday 27 April 2018
Press contact
---
More attention must be paid to preventing female genital mutilation (FGM) in the UK rather than chasing 'extremely difficult' prosecutions, says an internationally-renowned expert.
Coventry University's Professor Hazel Barrett, who has been working with communities affected by FGM for more than a decade, spoke ahead of the launch of the Petals For Professionals web app, which takes place on Monday 30 April.
It's the first ever web app created to be a 'one-stop-shop' for information for nurses, teachers, social workers, police officers and other professionals who may come into contact with girls and women at risk of FGM.
The Coventry University-developed web app helps them recognise the crucial warning signs that a girl or woman may be at risk of the harmful practice, and gives information about their own legal and safeguarding responsibilities.
It's designed to give them more confidence to help prevent FGM – as well as a better understanding of why it's carried out.
Professor Barrett believes offering more support to professionals in this way could be key to reducing the rates of FGM in the UK, rather than concentrating on pursuing difficult and time-consuming prosecutions.
She says professionals need a greater understanding of what to do if they recognise the warning signs for FGM –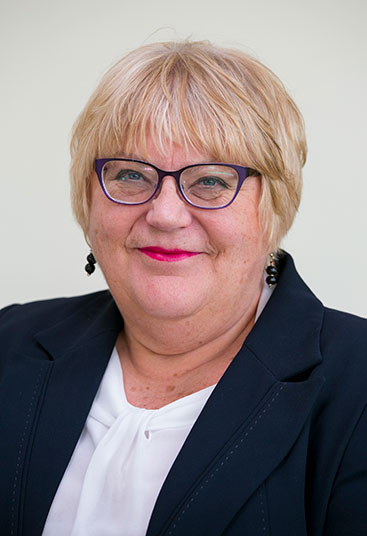 Professor Hazel Barrett
whether that is speaking to other professionals, such as social workers or the police, and following professional guidelines on reporting.
She also says professionals need to understand the significance of the so-called 'cutting season' when girls are most at risk.
Now is a key time of year for teachers, nurses and social workers to be aware of the practice as the 'cutting season' approaches. Many girls are flown abroad during the school summer holidays to undergo FGM.
But there are warning signs that professionals - particularly teachers - can be alert to. These include girls talking about going abroad for a large family party, or suddenly becoming more withdrawn and introverted.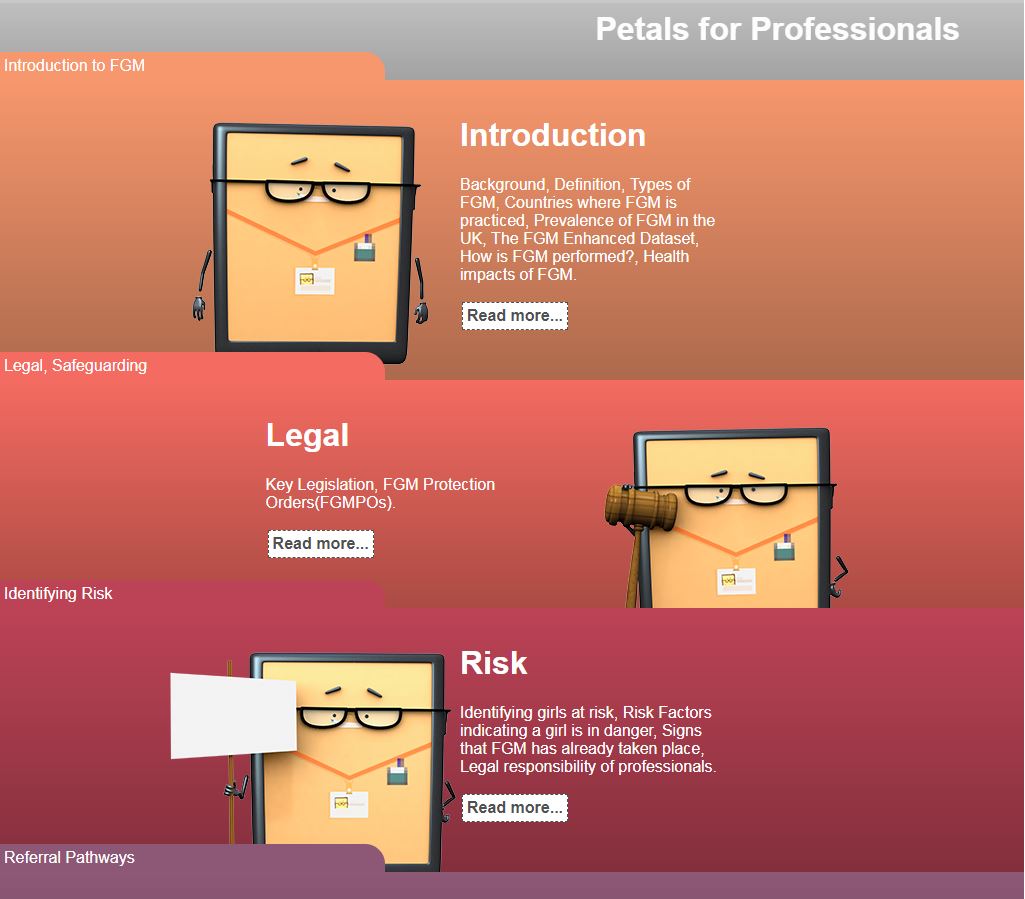 Since the 2015 Serious Crime Act came into force healthcare professionals, social workers and teachers in England and Wales have been required by law to report to the police if they think a girl aged under 18 is at risk of FGM.
FGM has been banned in the UK since 1985. But in 2014 the House of Commons Home Affairs Select Committee heard that 65,000 girls aged 13 or younger were estimated to be at risk of FGM in the UK.
Three people have been cleared of committing FGM in separate court cases over the past few years.
The Petals for Professionals web app is due to be officially launched today at an event in London, which includes speeches by Baroness Lynn Featherstone and a police officer, teacher and council employee who have used the web app.
The invited audience includes police officers, teachers, social workers, safeguarders and council employees – some of whom have already started using the web app.
The invited audience includes police officers, teachers, social workers, safeguarders and council employees – some of whom have already started using the web app.
It has been tested by Coventry City Council, as well as several other local authorities and schools over the past few months.
It's a follow-up to the award-winning Petals for Young People web app, which was launched in 2015 and endorsed by the NSPCC. This was primarily designed for young people living in FGM-affected communities in the UK.
Professor Barrett, from Coventry University's Centre for Trust, Peace and Social Relations, said:
It seems to be proving extremely difficult to prosecute anyone for FGM here in the UK. We need therefore to concentrate more on prevention.

The law is very useful. It's a good backup. But these cases are very complex. A prosecution could hinge on just one stitch. That is a very difficult case to pursue.

We need to arm teachers, nurses, social workers and other professionals with the tools so they are more aware and can help stop this violation of human rights. At the moment many do not understand their legal responsibilities.

Professionals can be very, very nervous about this subject. They do not have the wider awareness of why families do this, of the community beliefs or social norms that lead to this. People are scared because it is culturally sensitive and they don't want to be regarded as racist; they're embarrassed about discussing it; or they just don't believe it is happening.

Many people view this as women's business. They think of the mothers' role, but don't consider the fathers' part – or even the part a grandmother may play in subjecting a girl or young woman to FGM. The gender dynamics of these families is key.

I appreciate that these professionals have difficult jobs to do already. I just want to make sure they have the correct support to make a difference in the fight against FGM.

We need to raise awareness of the issue, then we can change attitudes and then that will lead to a change in behaviour.

The web app is a really easy way professionals can access this information on their phones, tablets or computers. There is nothing else like it out there.

The response we have had so far is that it's a really useful tool and could have a real impact in how professionals tackle FGM.
For further press information please contact Alison Martin, press officer, Coventry University, on 02477659752 or email alison.martin@coventry.ac.uk.