Monday 11 and Tuesday 12 September 2023
We're excited to welcome you to Coventry University and have lots of activities taking place across campus during Welcome Week and beyond.
Join us at The Hub on Jordan Well, where staff and students will be available between 10am and 4pm for our Welcome event in collaboration with Your Students Union.
Getting to campus
Plan your journey to campus or find a map here.
Once you get here, our Wayfinder app will help you find your way around campus.
Parking is available during the Welcome Week. You can find more information on parking rates at Coventry university student parking.
What's happening on campus?
Campus tours

Our team of student ambassadors will be available to show you around campus and give you a first-hand insight into Coventry University's student experience. These tours will feature our main campus buildings, which will help you get to know your way around campus.

Campus tours begin from 10.30am, 12:30pm and 1.30pm on Monday 11 and Tuesday 12 September. Look out for our meeting point sign, located outside The Hub.

Welcome fair and other events

Visit our Welcome Fair at The Hub from 10am to 4pm on Monday, 11 and Tuesday, 12 September 2023. This fair will showcase the range of support we offer our students, such as:-

Health and Wellbeing Centre
Student success coaches
Sport and Recreation
Your Students' Union
Phoenix+
Spirituality and Faith Centres
Square One
Library services
Flying Start
FutureLets
ResLife
Centre for Academic Writing
Protection services

Your Students' Union will also be present at the Welcome Fair where you can enter exclusive giveaways from many local and national brands.

To find out all of the welcome events happening across campus, visit the Student Portal: https://livecoventryac.sharepoint.com/sites/students-portal#upcoming-events.

Lanchester library

Arguably the most iconic building on campus, Lanchester Library has more than 1,400 study spaces and over 500 computers across its five floors. The library is also home to academic support centres such as the sigma Mathematics and Statistics Support Centre and the Centre for Academic Writing. It has a variety of different study environments to suit all needs.

The library is open 24 hours every day including weekends, so if you want to pop in and look around, please do. Our Welcome Desk staff will be happy to see you.

You can also check out all the upcoming activities and workshops here.

Student success coaches

After completing your enrolment, we will assign a Student Success Coach to you. Their aim is to ensure you have the support you need to make the most of your course and all that university life offers.

Whether you need help accessing services, want to learn more about peer-to-peer mentoring or get support in managing your studies, your coach is here to help!

Visit them in their office next to The Hub (near the supermarket) to learn more.

Monday to Friday, 8am - 5pm (Saturdays available upon request).

Get to know your Student Success Coaches

Accommodation Drop-In
Monday 11 - Friday 15 September, 13:00 - 16:00
Student Success Coaches will be visiting Bishop Gate, Cycle Works and Godiva Place

Meet your Student Success coaches, find out more about Phoenix+ and 1:1 coaching support.

Enjoy various freebies and essentials for university, including toiletries and stationary. Join us for a game of pool!

Coaching Carnival Event
Monday 11 - Friday 29 September, 10:00 - 16:00
Join your Student Success Coaches at The Coach House, just outside the Hub entrance, to take part in traditional carnival games and get to know each other.

Lost Property

Our Lost and Found Property Office is on the Ground Floor of Priory Building / Foundation Campus.

You can also speak to this team about personal safety or other security queries.
The Office is open from 12pm to 2pm and 4pm to 6pm, Monday to Friday.

Student Services

Student Services consist of Health and Wellbeing, Sports and Recreation, Spirituality and Faith and Square One venue.

Meet the Health and Wellbeing team and Spirituality and Faith team at the Welcome Fair on Monday 11 and Tuesday 12 September at the Hub.

Get involved with sports and recreation at the below welcome events and drop-in sessions or visit the Sports Centre to sign up for a 7-day free trial.

Welcome events (free of charge)

Event
Location
Time and date
GLOW Badminton
Sports Centre
Thursday 14 September 5:00pm - 8:00pm
Thursday 14 September 5:00pm - 8:00pm
GLOW Yoga
Sports Centre
Tuesday 19 September 6:30pm - 7:30pm
Bootcamp
Sports Centre

Tuesday 19 September 5:45pm - 6:30pm
Tuesday 26 September 5:45pm - 6:30pm

GLOW Volleyball
Sports Centre
Thursday 21 September 5:00pm - 8:00pm
Latin Night
Square One
Wednesday 27 September 7:00pm - 11:00pm

Drop-in sessions

Event
Location
Tine/date
Fitness drop-in (Free)
Sports Centre
Monday 11 September 7:00pm - 8:00pm
Tuesday 12 September 7:00pm - 8:00pm
Wednesday 20 September 12:00pm - 1:00pm
Wednesday 20 September 7:00pm - 8:00pm
Badminton drop-in (£3 entry)
Sports Centre
Friday 15 September 12:00pm - 2:00pm
Friday 22 September 12:00pm - 2:00pm
Friday 29 September 12:00pm - 2:00pm
Basketball drop-in (£3 entry)
Sports Centre
Friday 15 September 9:00pm - 10:00pm
Friday 22 September 9:00pm - 10:00pm
Friday 29 September 9:00pm - 10:00pm
Table tennis drop-in (£3 entry)
Sports Centre
Monday 18 September 6:00pm - 8:00pm
Monday 25 September 6:00pm - 8:00pm

More events can be found on the Student Portal.
Welcome to Your Students' Union
Your Students' Union is dedicated to improving your student experience, and this all starts in Welcome Week... but this year we are bringing you Welcome Month! We have four weeks of activities planned just for you. Starting on Monday 11 September, we are bringing you freebies, bingo, escape rooms, Lush workshops, pet therapy, speed-friending, garden parties and more!
Sign up for free and view more welcome week events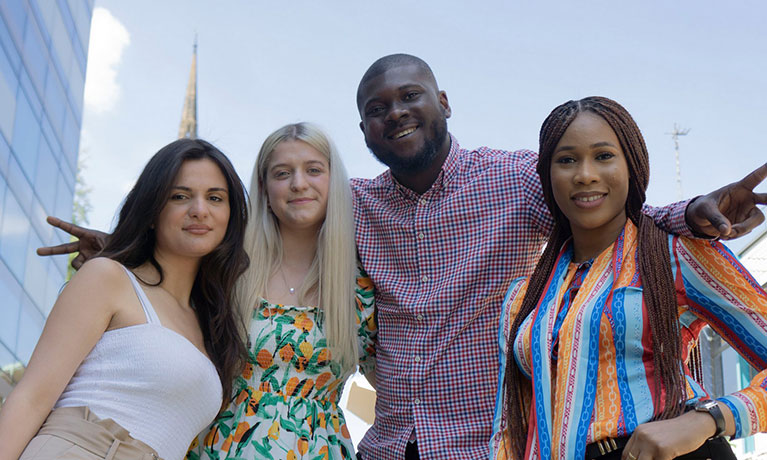 What's on in relation to my course?
Follow your online timetable to find your way to our teaching spaces. Staff and students will be on hand across the campus to point you in the right direction. Students and their guests are welcome to come to chat with senior staff members from 10am - 2pm on 11 and 12 September in the reception areas of the following buildings:
Delia Derbyshire Building

School of Art and Design
School of Humanities
School of Media and Performing Arts
School of Psychological, Behavioural and Social Sciences

Engineering and Computing Building

School of Computing, Mathematics and Data Science
School of Energy, Construction and Environment
School of Future Transport Engineering
School of Mechanical Engineering
School of Life Sciences

George Eliot
Richard Crossman Building

School of Nursing, Midwifery and Health
Clinical Psychology and Public Health

William Morris Building

School of Economics, Finance and Accounting
School of Marketing and Management
School of Strategy and Leadership
What else is happening in the city?
Discover Coventry's rich history by exploring its iconic landmarks. Take a stroll to Drapers Hall and the newly restored Regency building. Both are located close to the campus.
Don't miss the opportunity to visit Holy Trinity Church and Coventry Cathedral. Steeped in history and culture, you can learn a lot about the city's heritage and architectural beauty. For an interactive experience, head to the Herbert Art Gallery and Museum (next door to The Hub), where you can meet Dippy the Dinosaur!