Social Media Hub
Welcome
Here you will find all you need to know about each of our Coventry University channels, from catching our latest videos on YouTube to Tweeting us a selfie. Our social media pages aim to keep you up to date on all the latest University news, highlight all the great things that our staff and students are up to and give you a voice of your own.
We'd love to hear from you if you have news, an event, fundraiser or sporting fixture of your own that you wouldn't mind sharing. Just email us with all the details and where possible we'll post your ideas through our social media channels.
Send your event, item or anything you think we might be interested in to socialmedia.mea@coventry.ac.uk.
You never know, you might just see your event featured!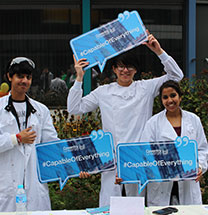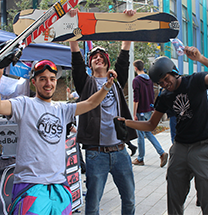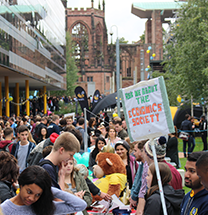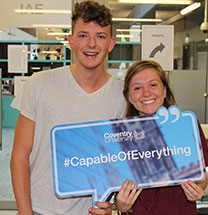 Twitter
Where can I find it? You can find our Twitter page at @covcampus
What's going on there? On our Twitter you can see links to all the latest Coventry University news as it's happening, links to great articles from across the globe, answers to your burning questions and more. Our social media team is on hand to help you and always try to get back to you as soon as possible.
How can I get involved? Follow us! And once you've done that tell us what's happening. We love it when our students inform us of fun things going on that we might've missed. You can send us a tweet of you enjoying campus life, training with your sports team, getting work done in TheHub or whatever you fancy. We'll always aim to share the best, so don't forget to join in in the conversation.
---

Follow us on Twitter
Facebook
Where can I find it? You can find our Facebook page at https://www.facebook.com/coventryuniversity
What's going on there? Twitter not your thing? No problem, you can find all the links to the latest news stories and articles from around campus and the globe here too. Plus, you can easily discuss current events with other students or ask our social media staff about anything you need.
How can I get involved? The first thing you can do is hit the 'Like' button so you can keep up to date with us in your news feed. Then you can leave comments and feedback on our posts so we know your opinion on the things that really matter to you.
---

Join us on Facebook
Instagram
Where can i find it? You can find us on Instagram at @covuni
What's going on there? All the things you'd expect from any good Instagram account, selfies, artistic filters, fun comments and more! We at Coventry University are proud to post lovely shots of our campus, our sports teams and societies, big events, artwork, successes, and, of course, you. Now everyone gets to see what it's like to be part of such a vibrant and diverse university.
How can I get involved? Much like our Twitter page you can follow the account and send us your own photos. Maybe you've got a great picture from Freshers' week you want to share? Or perhaps you've just finished an assignment you're particularly pleased with? Whatever it is, if it highlights the spirit of our university, we'd love to share it. Tag @CovUni in your post for a chance to have your photo shared.
---

Follow us on Instagram
YouTube
Where can I find it? You can view our YouTube page at youtube.com/CovStudent
What's going on there? Here you can view videos from all aspects of life at Coventry University. From event highlights, to guest lectures, course summaries and more, there's always something interesting and inspiring to see.
How can I get involved? Watch, learn and share! There are plenty of videos on our YouTube page to sink your teeth into, so enjoy picking out ones that take your fancy. The aim with all of our videos is to educate and inspire, to help you take something away that makes you want to embrace university life even more. Perhaps you'll have a desire to join a sports team now, or see an event that you want to be a part of. You can share any video across social media, as well as gathering up friends to show them what's going on and spread the word.
---

Find us on Youtube
Snapchat
Where can I find it? You can read every post at @coventry_uni.
What's going on there? Another way to view events and life on campus at Coventry University is through our Snapchat stories. You'll be able to see Coventry University in a whole new light with all the fun filters and quick posts you've come to expect from this media tool.
How can I get involved? To follow us, simply add @coventry_uni on your Snapchat or hold your mobile device up to the snapcode to the right and get involved today.
And don't forget, if you're sending snaps from around campus, be sure to use our special Coventry University geofilters!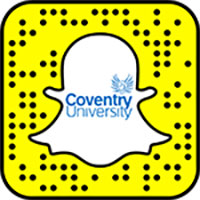 ---
Blogs and more
Blogs
Coventry University run a series blogs:
UnCOVered
Our student blog that not only addresses everything that goes into being a student, but being a young adult too. Latest university news, music reviews, advice from previous students and staff and life in Coventry are just some of the themes you can expect to read about at UnCOVered. The direction of UnCOVered is based around the feedback that we receive, so the best thing you can do is read and reply. You can find a comments navigation on the right side of each post to tell us exactly what you think. It's a great chance to have your voice be heard. There's also an opportunity to submit your own blog to be considered to be published.
---
CURB
(Coventry University Research Blog)
Focusing on current events that are effecting the globe and the research behind them. The staff behind the blog cover areas such as health, sciences, culture, art, world affairs and more, to give you a comprehesive look at the world around us today.
---
CUBB
(Coventry University Business Blog)
Aiming to take current business stories, both globally and local, and get to the bottom of what they really mean. From the latest techonology to economic changes, now you can find out how it all affects you right in one place. You can find CUBB at
---
It's never too early to start thinking about the future, and Coventry University is always looking to help. LinkedIn is a fantastic way to network and build towards the start of your career, which is why we created this group to aid you through early stages of the process. Simply follow the page and share your thoughts and experiences with us and your fellow students.
CU Alumni
CU Alumni, is the central hub for any support you may need, no matter how big or small. You can find help in getting on the career path, catching up with old friends, or even finding employable graduates. CU Alumni enables you to connect, give back and aid you in your chosen career path all at once.
Joining CU Alumni is quick and easily done as you can use your LinkedIn or Facebook profile to fill in your details and get straight to networking and communicating.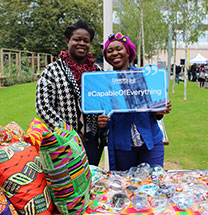 International
Coventry University prides itself on being an all-inclusive, multicultural university. And with that said, there are certain social media pages we have designed just for our international students, to keep you up to date with events on campus.
WeChat (China)
Weibo (China)
Naver blog (Korea)
KakaoTalk (Korea)
For our Chinese students, we also have a Bilibili video page which is perfect for catching up with our latest videos, without any need for translations.