Sport Management MSc
Study level:

Postgraduate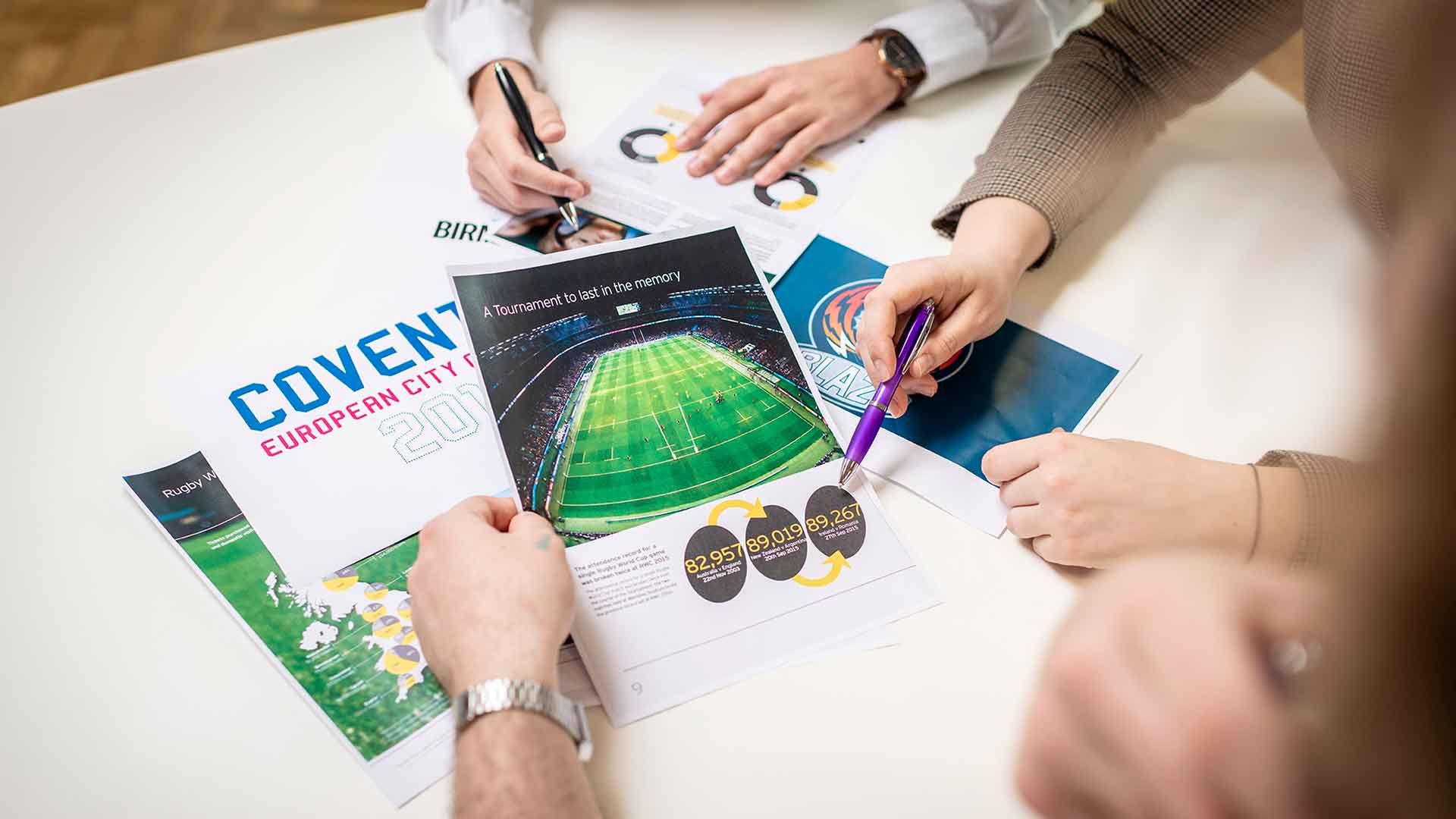 The Sport Management MSc at Coventry Business School aims to provide specialist training for sport business managers who are working in the sector or those who are seeking a professional career in the industry.
Location
Coventry University (Coventry)
Study mode
Full-time
Part-time
Online/Blended
Duration
1 year full-time
2 years part-time
Up to 2 years, with professional experience
Course code
FBLT024
FBLT025 (with professional experience)

Start date
September 2023
January 2024
---
Course overview
The global sports market is seeing prolific growth – and it is now estimated to be worth between $600-700 billion a year to the global economy.
Our course helps you acquire the skills and attributes to become a leader in this dynamic, growing sector, upon successful completion.
Aims to prepare you to be a professional sports management practitioner
In the 2021 Sportbusiness postgraduate global ranking and 2021 Eduniversal, we were number 15 in the world, and number 1 in the UK
Opportunities to gain real world industry experiences with our Professional experience opportunities2. Please see the Professional Experience section of the study section for more details.

Joint Top Modern University for Career Prospects
Guardian University Guide 2021 and 2022

5 QS Stars for Teaching and Facilities
QS Stars University Ratings

Top 5 UK Student City (Coventry)
QS Best Student Cities Index 2023
Why you should study this course
Opportunities to do a consultancy project supported by an internship2 during the Project module which could greatly enhance your employability, upon successful completion of this and the course overall.
Volunteering opportunities2 (e.g. Aston Villa, Wasps Rugby, Coventry Blaze; ECB/ICC) and opportunity to go on international field trip to Lausanne, the Olympic Capital.
Develop your analytical and creative skills, crucial for sound decision making, innovative problem solving and developing flexible business strategies, through the extensive use of examples, case studies, group work and projects.
The opportunity to develop management and leadership skills through the study of a module accredited1 by the Chartered Management Institute in your final semester. Please see the Accreditation and Professional Recognition section for further details.
Supported by expert staff with experience of the sport sector, as well as having the opportunity to attend numerous guest lectures given by industry professionals throughout the year (subject to availability).
Accreditation and Professional Recognition
This course is accredited1 and recognised by the following bodies:

---
Memberships
Chartered Association of Business Schools
Coventry Business School is currently an active member of the Chartered Association of Business Schools, which has a membership of over 120 business schools and higher education providers and supports its members in maintaining high standards of teaching and research. There is currently no intention for this membership to lapse however if it was not to be renewed we would notify applicants and students as soon as possible.
European Foundation for Management Development
Coventry Business School is currently an active member of the European Foundation for Management Development, a global membership organisation dedicated to management development, covering over 900 members across 90 countries. Coventry Business School is recognised by the above memberships for the 2023/24 intake. There is currently no intention for this membership to lapse however if it was not to be renewed we would notify applicants and students as soon as possible.
Thank you sincerely for the opportunity to deliver my crisis management simulation to your students.

I can honestly say that this year's cohort were tremendous fun to work with - and that the group contained several really first-class budding CEOs!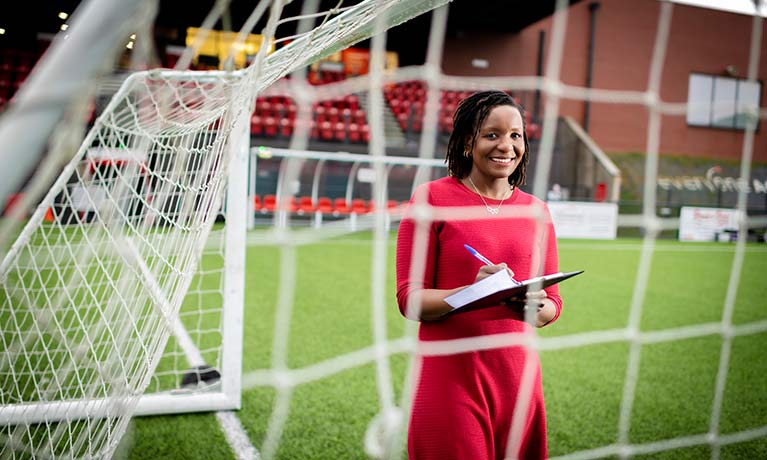 ---
All modules are mandatory, and the semester breakdown below is subject to change. In your final semester, you will also have the opportunity to study a module developed in collaboration with the Chartered Management Institute (CMI), Global Professional Development – Consultancy which can lead to a professional qualification upon successful completion. Also, in your final semester you will work towards a final project through the Project module, which could see you undertake an internship2 in a host company.
Modules
Sport Marketing and Sponsorship - 15 credits

The purpose of this module is to critically analyse the unique nature of marketing for sport. You will learn about various tools and techniques and their application in the context of sport marketing. The module also examines the role of sponsorship in the management of sport and encourages you to think strategically about the marketing function.

Managing People in Sport - 15 credits

The purpose of this module is to provide a rigorous framework of knowledge and understanding concerning the managing of people within organisations throughout the employee life cycle in the context of the sport industry. The module will critically evaluate the potential contribution of: people managers & supervisors to the achieving of an organisation's aims and objectives, Human Resource Management practices to organisational effectiveness and efficiency and the specific issues arising from managing volunteers. The module introduces learners to major debates about theory and practice in the specific fields of occupational psychology (motivation & emotions at work), sociology of work, management & leadership, and change management, the aim being to help you become an effective manager, to manage others fairly and effectively and to deploy practises to increase levels of engagement, commitment, motivation and performance.

Sport Legal Environment - 15 credits

This module aims to support you in acquiring a critical appreciation of the legal issues and national and international regulatory structures which impact on the management of sport. You examine the application of legal principles to practical problems that may arise in sport management and the circumstances and extent to which the law and legal institutions will intervene in sporting issues and disputes. A further key focus is on the relationship between competitors and sports governing bodies and the evolution of lex sportiva and sports arbitration.

Sport Governance and Strategic Management - 15 credits

The purpose of this module is to critically discuss the organisation and governance of sport and to provide you with an understanding of the key strategic analysis tools and common strategic options available to sport organisations. You will examine the exciting and changing nature of the external environment of sport organisations and how this may impact on the internal operations and people.

Sport Finance and Business Analytics - 15 credits

This module is designed to develop your ability to interpret and use financial information, and more generally data, within the strategic framework of a sport organisation. It provides you with the practical tools for assessing financial performance and economic condition of sport organisations and appreciate the importance of using data to support decision making. Considerable emphasis will be on the financial reports of real-world sport organisations. It will also introduce you to key ratios and management control tools supporting decision making and sound (financial) management.

Sport Facilities Operations Management - 15 credits

The aim of the module is to critically examine the operations management of sport facilities. Aspects including examining operations management, event management, health, safety, and security procedures, and the importance of the business functions in managing such facilities will be explored from a theoretical orientation and their application to real cases discussed. The conflict between customer satisfaction and resource productivity will be explored, and factors affecting management of facilities in a volatile environment will be examined.

Sport Development and Policy - 15 credits

This module aims to develop your understanding of sport development and policy. This module goes beyond looking at sport policies in isolation, but takes a comparative approach to develop a critical understanding of how sport is utilised by governments and international organisations in order to achieve a wide range of outcomes. Debates around mass participation vs elite development, the role of sport for development and how sport development is managed and funded are some of the important issues addressed in this module.

Managing Sports Events - 15 credits

This module introduces you to the principles of event management delivered in context with the world of sport events. It expects them to understand the logistics of planning sports events, of all sizes, both on a UK scale and on a global dimension. Using a variety of examples, it will develop your knowledge to understand all skills involved in the planning, coordinating and evaluating of an event. This module aims to develop your understanding of the legacies and impacts of sport events. You will be challenged to consider both the negatives and positives of bidding for and hosting events, from the initial decision to bid, to the post-event period. As part of the module, you will engage in a crisis management simulation, analyse past hosting bids and prepare your own bid video to host a sporting event.

Global Professional Development – Consultancy - 10 credits

The aim of this module is for you to critically evaluate and develop solutions to complex, inter-related, multi-faceted issues that can be found in a variety of organisations and professional contexts. The module will normally involve you working together with other students, across disciplines and or from a range of workplace settings, to facilitate an appreciation of how different sectors solve internal issues and how different sectors can learn and adopt or adapt solutions from other fields. International, cultural and ethical issues will underpin the practical and theoretical developments in the module coupled with the principles of consultancy and the theories and practices found in leadership. The module will engage you in wide-ranging debates and problem-solving exercises using examples from real-life issues.

Project - 50 credits

You will also have the opportunity to try to develop your own area of expertise through the Postgraduate Dissertation/Consultancy Project. This could provide a pathway for early research career progression if, upon successful completion of the course, you are interested in progressing to a PhD, or for progression to a digital marketing management position. Please note that further study opportunities may be subject to criteria and fees.
With professional experience option
The professional experience opportunity2 enables you the opportunity to apply for optional professional experience in semester 1, which, upon successfully securing an opportunity, will extend the duration of your master's to either 16, 20 or 24 months. The professional experience provides an opportunity for you to develop expertise and experience in your chosen field with the aim of enhancing your employability.
Please note that the optional professional experience modules incur an additional tuition fee, which for 1 semester of professional experience is £1,333.33, for 2 semesters of professional experience is £2,666.67, and for 3 semesters of professional experience is £4,000.
Professional experience may also be subject to additional costs, visa requirements being met, subject to availability and/or competitive application. Professional experience opportunities are not guaranteed but you will benefit from the support of our Talent Team in trying to find and secure an opportunity. Find out more about the professional experience option.
We regularly review our course content, to make it relevant and current for the benefit of our students. For these reasons, course modules may be updated.
---
The teaching on this course is designed to inspire and engage you through a range of techniques which encourage lively, interactive learning, and by drawing on relevant research and professional practice. Methods may include:
Lectures
Seminars
Industry visits2
Field trips2
Individual and group mini-project activities
Videos
Guest lectures (subject to availability)
Peer-assessment
Presentation
Case study-based learning
These sessions should allow you to critically link theory and practice by utilising and applying frameworks and concepts into complex and realistic situations. The variety of methods will also encourage you to contextualise and reflect on your learning, putting it in perspective with your own experience.
This course can be offered on a part-time basis. Whilst we would like to give you all the information about our part-time offering here, it is tailored for each course each year depending on the number of part-time applicants. Therefore, the part-time teaching arrangements vary. Request further information about part-time study.
---
Teaching contact hours
We set out below the typical teaching contact hours that you will receive on this course. In addition to the contact hours below, we offer the opportunity to attend additional optional sessions, such as guest lectures (subject to availability), or to meet with staff during their advice and feedback hours.
In your first and second semester, you will have around 12 contact hours of teaching a week. The contact hours may be made up of a combination of face-to-face teaching, individual and group tutorials, and online classes and tutorials.
In addition, you will be expected to undertake roughly 20 hours of self-directed studying and revising in your own time each week, including some guided study using handouts, online activities etc.
A strong emphasis is placed on the Project module in your final semester and therefore total teaching contact hours may be reduced.
In response to the COVID-19 pandemic, we are prepared for courses due to start in or after the 2023/2024 academic year to be delivered in a variety of forms. The form of delivery will be determined in accordance with Government and Public Health guidance. Whether on campus or online, our key priority is staff and student safety.
As an innovative and enterprising institution, the University may seek to utilise emerging technologies within the student experience. For all courses (whether on-campus, blended, or distance learning), the University may deliver certain contact hours and assessments via online technologies and methods.
---
Assessment
This course will be assessed using a variety of methods which will vary depending upon the module.
One formal examination
Presentations
Reports
Marketing proposal
Sports centre simulation
Grant bid writing
The Coventry University Group assessment strategy ensures that our courses are fairly assessed and allows us to monitor student progression towards achieving the intended learning outcomes.
---
International experience opportunities
Those studying the Sport Management MSc have had the opportunity of international field trips in the past. Visits and talks have included international sports organisations such as FIBA, WADA, FEI, visits of the Olympic Study Centre and Olympic Museum, as well as participation in sports industry networking events. We have also provided the unique opportunity to attend The Spot, a unique event, based in the Olympic Capital – Lausanne, allowing you to network with influential individuals within the national and international sporting world2.
The Sport Management department at Coventry University is also proactive in seeking new international opportunities to help develop its courses. For example, in 2020 we signed a strategic partnership with the Asian Electronic Sports Federation, to provide opportunities for our students in the dynamic and growing sector of esports, through potential international experiences and through embedded esports expertise in modules.
---
Entry requirements
Typical offer for 2023/24 entry.
The course is subject to the general University admission procedures and access policies.
Accepted applicants will normally hold an honours undergraduate degree (minimum 2:2) in a relevant academic discipline. Applicants with a degree in another discipline may be admitted after consideration on a case-by-case basis.
Applications from candidates with relevant experience are encouraged and will be considered on an individual basis.
We recognise a breadth of qualifications; speak to one of our advisers today to find out how we can help you.
The course is subject to the general University admission procedures and access policies.
Accepted applicants will normally hold an honours undergraduate degree (minimum 2:2) in a relevant academic discipline. Applicants with a degree in another discipline may be admitted after consideration on a case-by-case basis.
Applications from candidates with relevant experience are encouraged and will be considered on an individual basis.
Select your region to find detailed information about entry requirements:
You can view our full list of country specific entry requirements on our Entry requirements page.
Alternatively, visit our International hub for further advice and guidance on finding in-country agents and representatives, joining our in-country events and how to apply.
If you do not have the typical entry requirements, you may want to consider studying this course with an international pre-master's. Upon successful completion our International Pre-Master's - Business will provide you with the knowledge and skills you need to progress onto this postgraduate degree.
Alternatively, visit our International hub for further advice and guidance on finding in-country agents and representatives, joining our in-country events and how to apply.
English language requirements
IELTS: 6.5 overall with at least 5.5 in each component area
If you don't meet the English language requirements, you can achieve the level you need by successfully completing a pre-sessional English programme before you start your course.
For more information on our approved English language tests visit our English language requirements page.
---
Fees and funding
Tuition fees 2023/24
Student
Full-time
Part-time
UK, Ireland*, Channel Islands or Isle of Man
£15,400 | £19,400 (with prof. experience) per year
Request fee information
EU
£15,400 | £19,400 (with prof. experience) per year with EU support bursary**
£20,050 | £24,050 (with prof. experience) per year without EU support bursary**
Not available
International
£20,050 | £24,050 (with prof. experience) per year
Not available
If you choose to study this course with a professional placement2, you will need to pay a fee of £1,333.33 for 1 semester, £2,666.67 for 2 semesters, £4,000 for 3 semesters. This will cover support throughout your time taking the professional placement.
For advice and guidance on tuition fees3 and student loans visit our Postgraduate Finance page and see The University's Tuition Fee and Refund Terms and Conditions.
We offer a range of International scholarships to students all over the world. For more information, visit our International Scholarships page.
This course may incur additional costs associated with any professional experience (up to £4000 for 3 semesters) and field trips2, which could include (but is not limited to) travel, accommodation, activities and visas.
*Irish student fees
The rights of Irish residents to study in the UK are preserved under the Common Travel Area arrangement. If you are an Irish student and meet the residency criteria, you can study in England, pay the same level of tuition fees as English students and utilise the Tuition Fee Loan.
**EU support bursary
Following the UK's exit from the European Union, we are offering financial support to all eligible EU students who wish to study an undergraduate or a postgraduate degree with us full-time. This bursary will be used to offset the cost of your tuition fees to bring them in-line with that of UK students. Students studying a Degree with a Foundation Year with us are not eligible for the bursary.
How do you know if you need to pay UK or international tuition fees?

We carry out an initial fee status assessment based on the information you provide in your application. Your fee status determines your tuition fees, and what financial support and scholarships may be available to you. The rules about who pays UK (home) or international (overseas) fees for higher education courses in England are set by the government's Department for Education. The regulations identify all the different categories of student who can insist on paying the home rate. The regulations can be difficult to understand, so the UK Council for International Student Affairs (UKCISA) has provided fee status guidance to help you identify whether you are eligible to pay the home or overseas rate.

If you meet all the criteria required by any one category, including any residence requirements, your institution must charge you the home rate. You only need to find one category that you fit into.
---
Facilities
As part of the Coventry Business School, this course will take place primarily in the Faculty of Business and Law building and with that you have access to a number of innovative learning spaces4.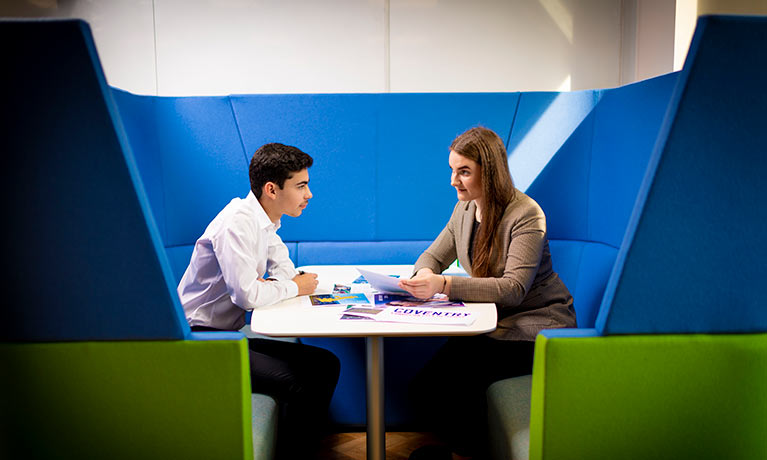 Designed to build creative minds, the DigiComm Lab is currently equipped with the latest industry-standard marketing and advertising software and devices to support your creative development.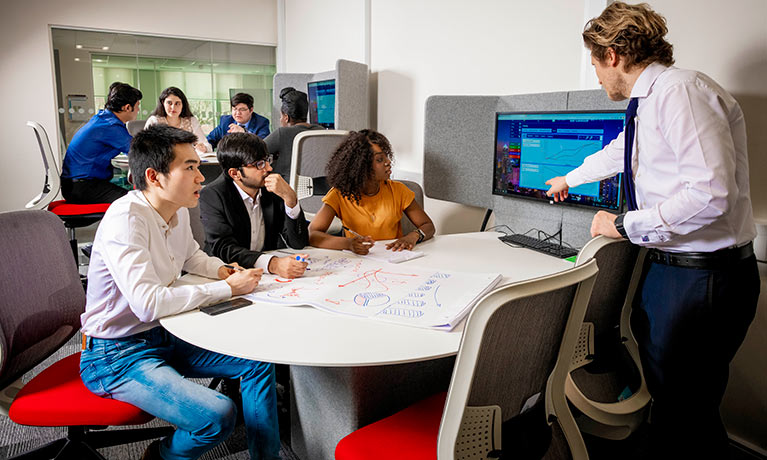 Coventry Business School's Business Simulation Suite utilises the latest business simulation software to give you the opportunity to improve your business skills.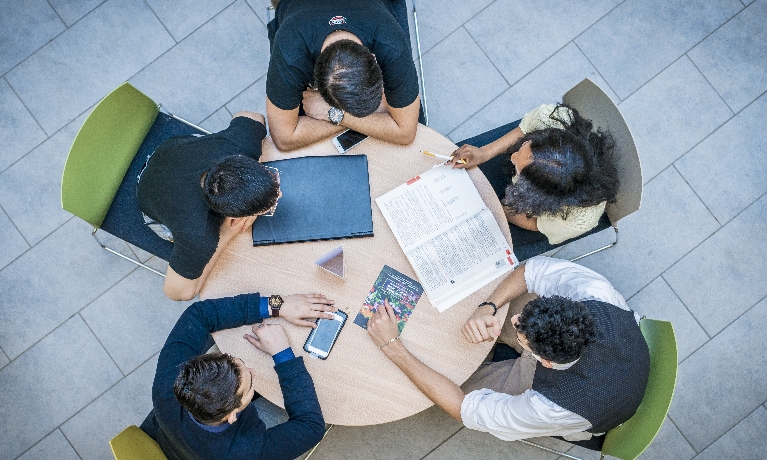 Our dedicated Talent Team can assist you in applying for work placements, graduate level jobs and offer skills development workshops. They also aim to organise networking events to introduce you to potential employers and industry contacts2.
---
Careers and opportunities
On successful completion of the course, you will be able to:
Evidence a systematic in-depth understanding of the development, characteristics, issues and influences relevant to sport management locally, nationally and globally.
Review and analyse the key socio-cultural, political, economic, technological, ethical and environmental factors that shape the sport sector regionally, nationally and internationally.
Demonstrate the power of critical inquiry, logical thought, creative imagination and independent judgement to support ethical and responsible decision making and research.
Demonstrate skills relating to communication, entrepreneurship, teamwork, project planning, intercultural competence and responsibility for individual learning.
Evaluate and select innovative technologies to plan, design, execute, and evaluate a range of sport management-related activities.
Work independently to solve complex problems and undertake research, reaching informed decisions and critically reviewing them by drawing on the latest development in disciplinary knowledge.
Develop the capacity to manage your personal continuous learning and development, thus becoming a 'reflective' sport management professional and future leader within the sector.
As well as the opportunity to apply for an internship2 in the regular course as part of the Project module and the option to extend the course with professional experience (please see the Professional experience section in the Overview section on this page for further details), employability is supported by practical and applied activities such as industry visits, guest speakers and the use of innovative assessments that put a strong emphasis on employability and industry engagement2.
Where our graduates work
Previous graduates have secured exciting and rewarding positions in a wide variety of marketing areas such as brand management, creative advertising development, working with the leading organisations worldwide such as Airbus, Millward Brown, Silverstone and many others.
---
How to apply
UK students

To apply to study for a postgraduate course at Coventry University, you can apply online.

---

For further support or more information about your course get in touch with us today.

International students

Full-time international students applying to start in September should apply directly to the university. Read our application pages to find out your next steps to apply.

How to apply

For further support for international applicants applying for postgraduate degree view our International hub.

You can also download our International guide which contains lots of useful information about our courses, accommodation and tips for travel.

---

Get in touch with us today for further advice and guidance.
Disclaimers

Coventry University together with Coventry University London Campus, CU Coventry, CU London, CU Scarborough and Coventry University Online come together to form part of the Coventry University Group (the "University") with all degrees awarded by Coventry University.

1Accreditations

The majority of our courses have been formally recognised by professional bodies, which means the courses have been reviewed and tested to ensure they reach a set standard. In some instances, studying on an accredited course can give you additional benefits such as exemptions from professional exams (subject to availability, fees may apply). Accreditations, partnerships, exemptions and memberships shall be renewed in accordance with the relevant bodies' standard review process and subject to the university maintaining the same high standards of course delivery.

2UK and international opportunities

Please note that we are unable to guarantee any UK or International opportunities (whether required or optional) such as internships, work experience, field trips, conferences, placements or study abroad opportunities and that all such opportunities may be subject to additional costs (which could include, but is not limited to, equipment, materials, bench fees, studio or facilities hire, travel, accommodation and visas), competitive application, availability and/or meeting any applicable travel COVID and visa requirements. To ensure that you fully understand the visa requirements, please contact the International Office.

3Tuition fees

The University will charge the tuition fees that are stated in the above table for the first Academic Year of study. The University will review tuition fees each year. For UK (home) students, if Parliament permit an increase in tuition fees, the University may increase fees for each subsequent year of study in line with any such changes. Note that any increase is expected to be in line with inflation.

For International Students, we may increase fees each year but such increases will be no more than 5% above inflation. If you defer your course start date or have to extend your studies beyond the normal duration of the course (e.g. to repeat a year or resit examinations) the University reserves the right to charge you fees at a higher rate and/or in accordance with any legislative changes during the additional period of study.

4Facilities

Due to COVID-19, some facilities (including some teaching and learning spaces) and some non-academic offerings (particularly in relation to international experiences), may vary from those advertised and may have reduced availability or restrictions on their use.

Student Contract

By accepting your offer of a place and enrolling with us, a Student Contract will be formed between you and the university. A copy of the 2023/24 contract can be found here. The Contract details your rights and the obligations you will be bound by during your time as a student and contains the obligations that the university will owe to you. You should read the Contract before you accept an offer of a place and before you enrol at the university.
---