Professional Legal Practice LLM
Study level:

Postgraduate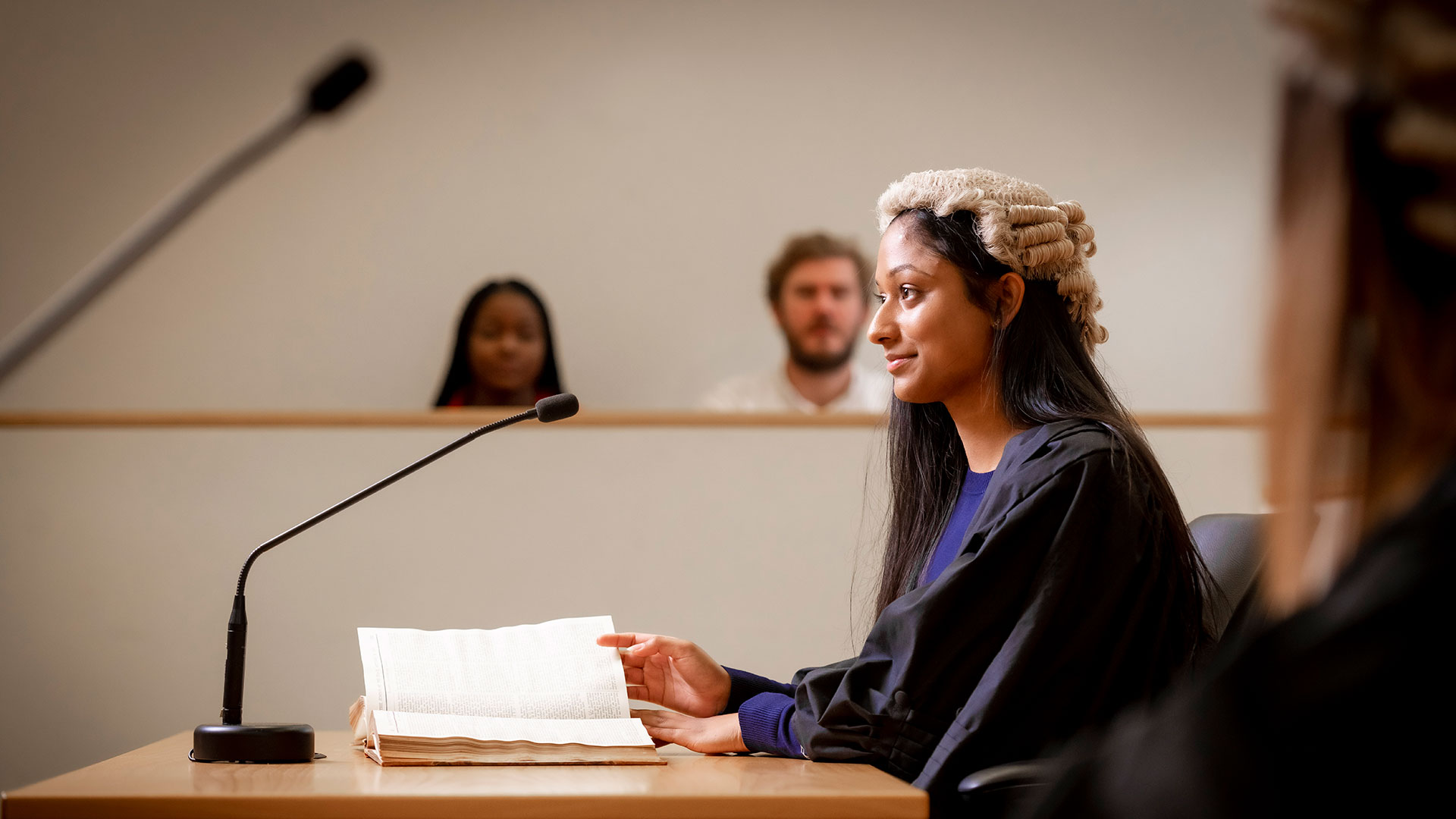 The LLM Professional Legal Practice course provides a comprehensive course of study that will provide you with the knowledge and understanding of the legal principles and professional practice, as they relate to the work of a Solicitor and CILEX Lawyer and a master's level award.
Location
Coventry University (Coventry)
Study mode
Full-time
Part-time
Online/Blended
Duration
1 year full-time
2 years part-time
---
Course overview
The course aims to:
Prepare you to take the professional level qualifications required to pursue a career as a Solicitor or a CILEX Lawyer (See section exemptions for more information).
Develop your ability to apply legal knowledge and skills, to both the theory and practice of law utilising complex authentic scenarios.
Develop your understanding of the professional ethics requirements of a legal practitioner, based upon the Code of Conduct of the SRA and CILEX.
The course will be of interest to anyone seeking a career in professional legal practice who is a law graduate or has completed Coventry University's PgCert in Principles of Law or a similar course.
On completion of the course, students are required to arrange and take the applicable examination with the Solicitors Regulation Authority (SRA), if they wish to become a solicitor, or with CILEX if they wish to become a CILEX lawyer and pay the associated fee.
The course is designed to prepare students to sit the Solicitors Qualifying Examination Part 1 and Part 2 – this is not embedded in the course. Students will have to sit the exam independently directly with the SRA.
The course is also designed to prepare students to sit the CILEX Lawyer professional examinations (CPQ) – this is not embedded in the course. Students will have to sit the exam independently directly with CILEX.

Joint Top Modern University for Career Prospects
Guardian University Guide 2021 and 2022

5 QS Stars for Teaching and Facilities
QS Stars University Ratings

Top 5 UK Student City (Coventry)
QS Best Student Cities Index 2023
Why you should study this course
This course will provide you with:
Preparation to sit the Solicitors' Qualifying Examination (SQE) part 1 and 2
Preparation to sit the CILEX Professional Qualification (CPQ)
Extensive tutor support throughout the duration of the course and flexible study options for those already working in legal practice and looking to qualify
The opportunity to immerse yourself in legal practice through the exploration of authentic case studies (subject to availability)
Access to Coventry Law School's 'Raising the Bar' scheme, that offers you the opportunity to network with members of and gain an honest insight into the legal profession.
Memberships
International Association of Law Schools
Coventry Law School is a member of the International Association of Law Schools, an association of around 160 law schools from over 55 countries, representing around 7,500 law faculty members. Having this status allows you to access a variety of international experiences, including with our partner institutions across the world.
European Law Faculties Association (ELFA)
Coventry Law School is currently a member of the European Law Faculties Association with over 250 members from Europe and beyond.
British and Irish Law Education and Technology Association
Coventry Law School is currently a member of British and Irish Law Education and Technology Association, one of the largest Technology Law associations in Europe.
These memberships are renewed annually and there is currently no intentions for these memberships to laps. However if our membership is not renewed for any reason, we would notify applicants and students as soon as possible.
---
Collaborations
Central England Law Centre
Coventry Law School collaborates with the Central England Law Centre in order to offer a powerful professional element to your learning, through our Law Employment and Advocacy clinics. Students who participate in the clinics get involved with everything that the solicitors do at the Law Centre with supervisors who are currently working in practice and experts in specific areas of law. They get hands-on-experience doing reserved legal activities, providing supervised advice and assistance to members of the public.
Immersive learning: 3 faculties combine in mock criminal law case
---
Throughout the year, develop your legal knowledge and skills, and apply them to real life problems as you prepare yourself for a career in law.
Modules
Business Law and Practice – 20 credits

This module aims to provide you with the knowledge, understanding and skills to identify and deal with a range of legal and ethical issues likely to be encountered in business. The module covers business formation, including the types of business, funding and liability. It also explores the nature and function of various company structures, the rights and obligations of shareholders and directors, and how business may come to an end. You will examine how business law principles are applied in professional legal practice, as well as the fundamentals of business ethics, including decision-making, governance and corporate social responsibility in a global economy.

Dispute Resolution – 20 credits

Dispute resolution is wider than litigation and it has become common place for disputes, particularly those relating to contract and tort law, to be settled out of court through a variety of mediums. This module aims to look at the various types of arbitration and mediation that are used as a means of alternative dispute resolution. You are provided with the opportunity to learn and apply the rules and etiquette used in such forums to provide access to justice and resolve of legal disputes. This module will be highly practical in nature and will involve the development of key negotiation skills through exploration of authentic case studies.

Property Law and Practice – 20 credits

This module aims to provide you with the knowledge, understanding and skills to identify and evaluate a range of legal and ethical issues likely to be encountered in property law and practice. You will examine the types of title to land, commercial and residential tenancies and the conveyancing process. In addition to exploring how the key principles, theories and concepts of property law apply in professional legal practice, you will explore the various ethical dilemmas that individuals and organisations may face when dealing with property law issues. In particular you will explore the impact of professional ethics within land transactions including money laundering.

Wills, Administration of Estates and Trusts – 20 credits

This module aims to provide you with the knowledge understanding and skills to identify and deal with a range of legal and ethical issues likely to be encountered when drafting wills and subsequently dealing with the estate when the client is deceased. This will include an examination of testate and intestate estates and related succession matters. You will cover the drafting of a will, what makes a will valid and the planning of the administration of the estate. You will then explore the rights, powers and duties of the parties involved and how the estate is distributed after the death of the client.

Solicitors Accounts and Tax – 20 credits

Through this module you will explore the accounting techniques used in legal practice and a range of legal issues likely to be encountered by solicitors when dealing with taxation. You will explore how accounts are compiled and analysed to enable professional legal practices to record all financial transactions and analyse these to make strategic and operational decisions relating to their business. You will examine how the ethical frameworks and accounting presumptions operate and consider the fundamentals of ethical decision making in relation to tax and the recording of financial transactions. The module will cover the main taxes in the UK i.e. income tax, capital gains tax, inheritance tax, corporations tax and value-added tax. It also considers more specific taxes that only arise in certain circumstances e.g.stamp duty tax.

Civil and Criminal Litigation – 20 credits

This module aims to develop an advanced knowledge and understanding of how criminal and civil law works in practice. You will acquire the knowledge and skills necessary to understand how the criminal and civil law is applied in practical situations and is governed by the Criminal Procedure Rules and Civil Procedure rules respectively. You will have the opportunity to develop your advocacy skills through practical sessions that involve role-plays that reflect the representation of clients both in the criminal and civil courts.

Case Study Project – 60 credits

This module draws on and develops the professional legal skills gained throughout the course. You will act as a legal professional acting for a hypothetical client facing a variety of circumstances requiring legal assistance e.g., starting a business, buying a property, and drawing up a will. You will apply the professional legal skills that you have developed, to provide solutions in response to a complex case study that is commensurable to the type of real-world problems that arise in legal practice. This case study project provides you with the opportunity to demonstrate a wide array of legal skills by tackling a range of tasks and thereby collating oral and written evidence of these skills, e.g. attendance notes, negotiation strategy, skeleton arguments.
We regularly review our course content, to make it relevant and current for the benefit of our students. For these reasons, course modules may be updated.
---
How you'll learn
The LLM Professional Legal Practice course can be taken as a 1 year full-time or 2 year part-time course.
Due to the modular design of the programme, there is a high degree of flexibility in how the course can be undertaken. Whilst we would like to give you all the information about our part-time offering here, it is tailored for each course each year depending on the number of part-time applicants. Therefore, the part-time teaching arrangements vary. Please request information about studying this course part-time.
The course will be delivered in groups by dedicated subject specialist tutors who are in or have recently been engaged in professional practice. Teaching will be delivered through a combination of online content and highly interactive workshop sessions that can be conducted face-to-face or online.
Teaching sessions will involve the use of role plays, live case studies, the use of real-world data and special legal databases, simulations and presentations. Learning throughout the course will be support by our virtual learning environment, which is currently Aula.
---
Teaching contact hours
On this course you can normally expect 2 hours of on demand online lectures, 2 x 2 hour synchronous workshops, 2 hours guided and 12 hours self-guided study per module. During your project semester, you can expect 2 hours of on demand lectures, a 2-hour workshop, 1-hour live Q and A session, 14 hours of guided activities such as action learning sets, and 12 hours of self-guided learning.
As an innovative and enterprising institution, the University may seek to utilise emerging technologies within the student experience. For all courses (whether on-campus, blended, or distance learning), the University may deliver certain contact hours and assessments via online technologies and methods.
In response to the COVID-19 pandemic, we are prepared for courses due to start in or after the 2022/2023 academic year to be delivered in a variety of forms. The form of delivery will be determined in accordance with Government and Public Health guidance. Whether on campus or online, our key priority is staff and student safety.
---
Assessment
The LLM Professional Legal Practice is designed to prepare you for the Solicitors Qualifying Examinations (SQE) and CILEX professional level (CPQ). These are external examinations that you will arrange and sit independently having completed the course here at Coventry (additional fees will apply). Currently the external examinations consist of:
SQE 1 tests functioning legal knowledge and is assessed 100% by multiple choice questions (MCQ). This covers the knowledge of law and professional practice. SQE 2 is assessed by a series of skills-based activities testing the development of professional legal skills e.g. advocacy, negotiation, client interviewing, drafting etc.
CILEX Professional Level Qualification is assessed by a portfolio of multiple-choice questions, short answer questions and skills-based activities.
In order to prepare you to do this, it is essential that the assessment on the LLM Professional Legal Practice reflects what you will encounter in those external exams. Consequently, the course is assessed by MCQ test and portfolio that may comprise of MCQ test, short answer question and skills-based activities.
---
International experience opportunities
Throughout the course you will be encouraged to recognise the influence of different cultural and international perspectives to the application of the law and legal concepts in the UK. Modules such as Business Law and Practice, Dispute Resolution and Wills, Administration of Estates and Trusts use cases that have an international aspect thereby helping you to recognise and contextualise the global dimension to your studies.
As well as having an international focus throughout your studies, the course aims to offer opportunities to attend field trips overseas2 and to engage in collaborative online international learning (COIL) projects with students from universities elsewhere in the world. Where available, these opportunities stand to enhance your ability to examine issues from several perspectives and gain a deeper understanding of how issues would be addressed in different legal systems.
---
Applicants will normally be required to hold a UK law degree (minimum 2:2), the Graduate Diploma in Law (or equivalent law conversion course) or have completed the PGCert Principles of Law at Coventry University.
Alternative qualifications or work experience will be considered on a case-by-case basis.
We recognise a breadth of qualifications; speak to one of our advisers today to find out how we can help you.
Select your region to find detailed information about entry requirements:
You can view our full list of country specific entry requirements on our Entry requirements page.
Alternatively, visit our International hub for further advice and guidance on finding in-country agents and representatives, joining our in-country events and how to apply.
Applicants will normally be required to hold a UK law degree (minimum 2:2), the Graduate Diploma in Law (or equivalent law conversion course),or have completed the PGCert Principles of Law at Coventry University.
Alternative qualifications or work experience will be considered on a case-by-case basis.
English language requirements
IELTS: 6.5 overall, with no component lower than 6.0.
If you don't meet the English language requirements, you can achieve the level you need by successfully completing a pre-sessional English programme before you start your course. For more information on our approved English language tests visit our English language requirements page.
---
Fees and funding
2023/24 tuition fees.
Student
Full-time
Part-time
UK, Ireland*, Channel Islands or Isle of Man
£11,200 per year
Request fee information
EU
£11,200 per year with EU support bursary**
£20,050 per year without EU support bursary**
Not available
International
£20,050 per year
Not available
For advice and guidance on tuition fees3 and student loans visit our Postgraduate Finance page and see the university's Tuition Fee and Refund Terms and Conditions.
We offer a range of International scholarships to students all over the world. For more information, visit our International Scholarships page.
Tuition fees cover the cost of your teaching, assessments, facilities and support services. There may be additional costs not covered by this fee such as accommodation and living costs, recommended reading books, stationery, printing and re-assessments should you need them.
The following are additional costs not included in the tuition fees:
Any optional overseas field trips or visits: £400+ per trip.
Any costs associated with securing, attending or completing a placement (whether in the UK or abroad).
*Irish student fees
The rights of Irish residents to study in the UK are preserved under the Common Travel Area arrangement. If you are an Irish student and meet the residency criteria, you can study in England, pay the same level of tuition fees as English students and utilise the Tuition Fee Loan.
**EU support bursary
Following the UK's exit from the European Union, we are offering financial support to all eligible EU students who wish to study an undergraduate or a postgraduate degree with us full-time. This bursary will be used to offset the cost of your tuition fees to bring them in-line with that of UK students. Students studying a Degree with a Foundation Year with us are not eligible for the bursary.
How do you know if you need to pay UK or international tuition fees?

We carry out an initial fee status assessment based on the information you provide in your application. Your fee status determines your tuition fees, and what financial support and scholarships may be available to you. The rules about who pays UK (home) or international (overseas) fees for higher education courses in England are set by the government's Department for Education. The regulations identify all the different categories of student who can insist on paying the home rate. The regulations can be difficult to understand, so the UK Council for International Student Affairs (UKCISA) has provided fee status guidance to help you identify whether you are eligible to pay the home or overseas rate.

If you meet all the criteria required by any one category, including any residence requirements, your institution must charge you the home rate. You only need to find one category that you fit into.
---
Facilities
Our learning facilities4, which include modern classrooms, open learning spaces and our Moot Room, allow you the chance to get the most out of your learning experience.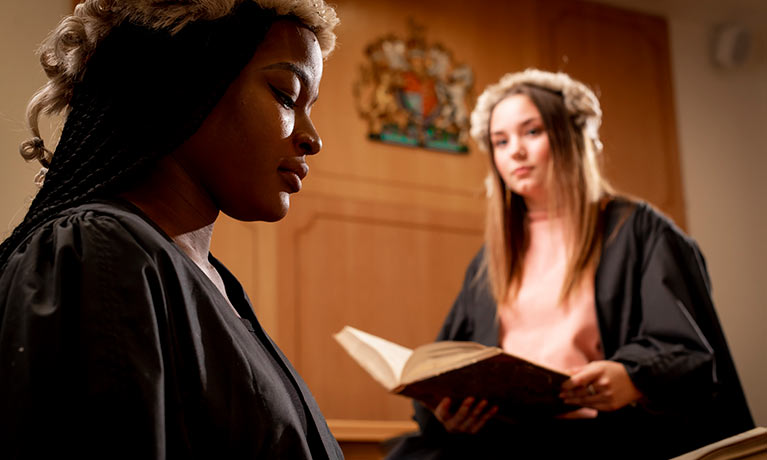 Our Moot Room allows you the opportunity to develop those vital and practical legal skills. You can practise your legal skills in a realistic setting, as well as having the chance to take part in mooting competitions.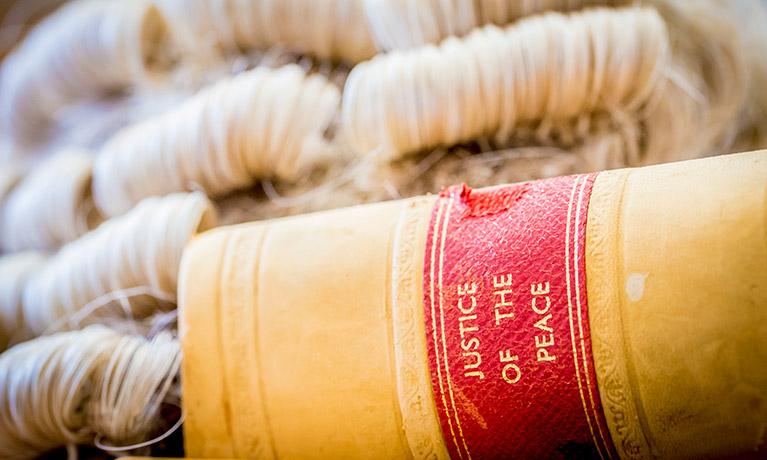 Use the Legal Clinic to develop your practical legal skills and help you stand out in your future career. You will have access to 'real' clients and work alongside trained solicitors and lawyers.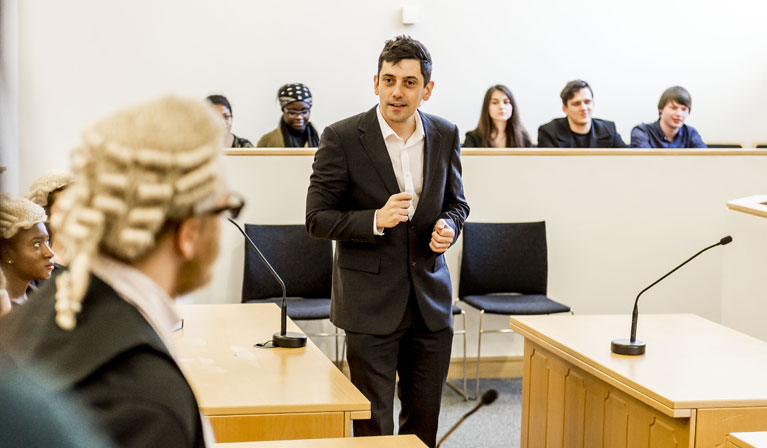 Want to know more on how Coventry University can kick start your legal career through our preparation courses.



---
Careers and opportunities
On successful completion of the course, you will be able to:
Understand and critically evaluate knowledge of legal principles, concepts and theories as they apply to professional practice.
Demonstrate the professional legal skills required for professional legal practice.
Understand the professional ethical requirements for the legal profession and apply ethical decision-making.
Draw reasoned conclusions through the application of legal principles and knowledge and legal practice to complex authentic problems, whilst tolerating ambiguity and recognising alternative legal and practical outcomes.
Communicate effectively and professionally, by conveying and explaining legal information, ideas and arguments in appropriate contexts to a range of specialist and non-specialist audiences e.g., supervising legal professionals, clients.
Identify and critically evaluate relevant information from primary and secondary legal sources, using both digital and non-digital resources, whilst adhering to principles of academic integrity.
Demonstrate self-management, including through reflective practice, make effective use of feedback, and work independently or collaboratively as appropriate.
Develop and apply a range of practical professional legal skills through a hypothetical authentic case study, evidencing professional conduct and ethical decision making.
Understand the role and responsibilities of the various branches of the legal profession and how the UK legal qualifications apply both in the UK and around the world.
This course is designed to facilitate a graduate moving into a career as either a solicitor or CILEX Lawyer and as such, prepares you for the professional level assessments in these two legal career destinations.
On successful completion of the course, it is anticipated that you will arrange and undertake the assessments for your chosen career destination and once successfully completed transition into your chosen field of professional legal practice, subject to meeting the requirements of the relevant regulatory bodies.
In addition to working as a Solicitor or CILEX Lawyer, a wide variety of other career destinations are available to graduates due to the highly transferable nature of the skills developed on the course.
Where our graduates work
Previous law graduates from Coventry Law School have gone on to work at a wide variety of organisations and firms including:
DAC Beachcroft
NFU Mutual
PwC
Deloitte
Linklaters
Countrywide Tax and Trust Corporation
Oracle
Squire Patton Boggs
Stobbs
Co-op Legal Services
Further study
After completion of this course, further graduate level study such as a PhD may be considered.
---
How to apply
UK students

To apply to study for a postgraduate course at Coventry University, you can apply online.

---

For further support or more information about your course get in touch with us today.

International students

Full-time international students applying to start in September should apply directly to the university. Read our application pages to find out your next steps to apply.

How to apply

For further support for international applicants applying for postgraduate degree view our International hub.

You can also download our International guide which contains lots of useful information about our courses, accommodation and tips for travel.

---

Get in touch with us today for further advice and guidance.
Disclaimers

Coventry University together with Coventry University London Campus, CU Coventry, CU London, CU Scarborough and Coventry University Online come together to form part of the Coventry University Group (the "University") with all degrees awarded by Coventry University.

1Accreditations

The majority of our courses have been formally recognised by professional bodies, which means the courses have been reviewed and tested to ensure they reach a set standard. In some instances, studying on an accredited course can give you additional benefits such as exemptions from professional exams (subject to availability, fees may apply). Accreditations, partnerships, exemptions and memberships shall be renewed in accordance with the relevant bodies' standard review process and subject to the university maintaining the same high standards of course delivery.

2UK and international opportunities

Please note that we are unable to guarantee any UK or International opportunities (whether required or optional) such as internships, work experience, field trips, conferences, placements or study abroad opportunities and that all such opportunities may be subject to additional costs (which could include, but is not limited to, equipment, materials, bench fees, studio or facilities hire, travel, accommodation and visas), competitive application, availability and/or meeting any applicable travel COVID and visa requirements. To ensure that you fully understand the visa requirements, please contact the International Office.

3Tuition fees

The University will charge the tuition fees that are stated in the above table for the first Academic Year of study. The University will review tuition fees each year. For UK (home) students, if Parliament permit an increase in tuition fees, the University may increase fees for each subsequent year of study in line with any such changes. Note that any increase is expected to be in line with inflation.

For International Students, we may increase fees each year but such increases will be no more than 5% above inflation. If you defer your course start date or have to extend your studies beyond the normal duration of the course (e.g. to repeat a year or resit examinations) the University reserves the right to charge you fees at a higher rate and/or in accordance with any legislative changes during the additional period of study.

4Facilities

Due to COVID-19, some facilities (including some teaching and learning spaces) and some non-academic offerings (particularly in relation to international experiences), may vary from those advertised and may have reduced availability or restrictions on their use.

Student Contract

By accepting your offer of a place and enrolling with us, a Student Contract will be formed between you and the university. A copy of the 2023/24 contract can be found here. The Contract details your rights and the obligations you will be bound by during your time as a student and contains the obligations that the university will owe to you. You should read the Contract before you accept an offer of a place and before you enrol at the university.
Coventry University (Coventry)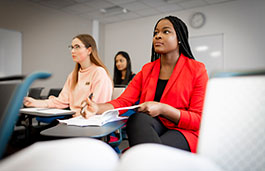 Understanding Legal Practice PGDip
Coventry University (Coventry)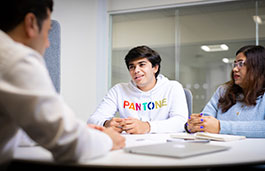 ---