Being a City Year Mentor
What made you decide to come to Coventry University?
I had an up-and-down high school experience. I enjoyed the social aspect of school, but found the academic side difficult. I managed to gain a two year football scholarship with the club I was playing for and studied a BTEC Level 3 Extended Diploma in Sport and Exercise, which I graduated from with a triple distinction star.
I wanted to move to a city with more opportunities educationally, to meet new people and have better employment prospects.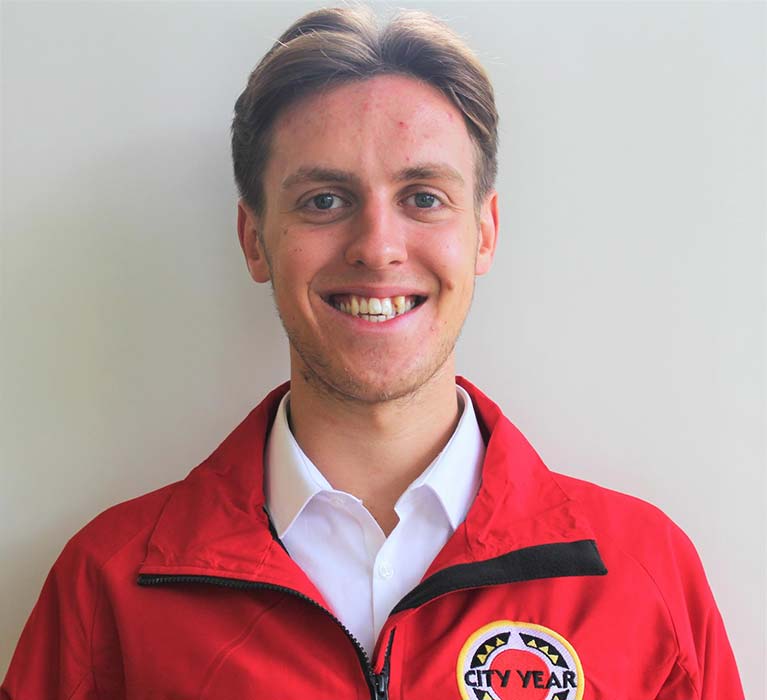 I really liked how the Coventry University campus is situated right in the city centre and Coventry had just won the City of Culture bid for 2021, so I knew I was moving to a city with a really positive vibe.
Why did you choose to volunteer at City Year?
I wanted to take a year out of university to enhance my employability skills and for my personal development. I have always been passionate about giving young people equal opportunities to succeed so City Year's goal of tackling educational inequality really resonated with me. I wanted the opportunity to work in classrooms, as teaching is something I am really interested in, and City Year was the perfect opportunity.
What professional and personal development has volunteering at City Year given to you?
City Year is a leadership development programme and allows you to track your professional development through your year of service. My role at the school has allowed me to take on increased responsibility with more challenging students. This has helped me to develop my leadership, decision-making and problem solving abilities.
Being on placement has also allowed me to step away from the university bubble and experience a workplace environment. As a result, my time management and organisational skills have both massively improved. I feel that this will put me at an advantage when I apply for jobs after university, because I will already have a good understanding of workplace demands and expectations.
What difference has City Year and being a mentor made to the pupils and school?
I definitely feel that the pupils I work with now feel like they have someone they can rely on. They can feel confident in asking for support both in lessons and in a mentoring environment that makes them feel valued and listened to. The behaviour of my pupils also improves when I am in lessons with them. Having a closer working relationship with my pupils is beneficial when pupils need behaviour checking or if teachers are having problems with them. As an energetic person, I try to make my experiences with the pupils fun and creative, which they appreciate.
What would you say to students thinking about becoming a volunteer mentor?
City Year is the perfect opportunity for anyone who is passionate about making a meaningful difference and gaining professional experience at the same time. The experience is challenging, but the feeling of making a long-lasting impact to a young person is worth so much more. You are on the frontline, part of the movement, making an impactful difference, working towards giving a child an opportunity they might not have had if you weren't there. You're a role-model, mentor, listener, provider, supporter, leader, teacher, rejoicer, and motivator… all in one role.