Coventry and Warwickshire's museums, theatre, dance and outdoor arts organisations, all look set to benefit from the testing and exploring of digital and immersive technologies that can operate on a 5G network.
Grant-funded by Arts Council England and supported by the Coventry Business Improvement District (BID), the 5G Creative Explorer project brings together some of the region's leading arts and cultural organisations to create game-changing experiences for their audiences.
Coventry University has already embraced 5G technology by becoming home to the UK's first 'standalone' 5G network, thanks to a collaboration with Vodafone. The 5G Creative Explorer project aims to build on the legacy of the city's 2021 UK City of Culture status by providing a space for artists to learn about 5G technology and prototype their ideas in an open, supportive and inherently innovative environment.
Artificial intelligence (AI), virtual, augmented and extended realities (VR, AR and XR) are increasingly important to many sectors, and the arts are no different: as the university opens its doors on a multi-million-pound new building for the Faculty of Arts and Humanities in 2023, this new and immersive technology will take its place alongside traditional artistic disciplines.
The 5G Creative Explorer project aims to draw back the curtain on the use of immersive technologies in creative practices, facilitating new, faster and increasingly innovative ways of working, and bringing people together from across the globe.

Boot Camp
Monday 25 July 2022 saw the 5G Creative Explorer 'boot camp' style launch event take place on campus, in Coventry University's Armstrong Siddeley building.
Representatives from all eight of our collaborator organisations literally got 'hands-on' with some of the latest virtual and augmented reality technology, supplied by the Faculty of Arts and Humanities.
Exploring a full range of tools and immersive software, participants experimented with the technology - learning how to build virtual worlds, creating animated characters that could be augmented in the room, as well as linking up with others virtually, using telepresence technology (real-time interactions at distance).
The participants learned about how 5G's capacity and applications could deliver a whole new toolbox of creative opportunities, e.g. virtual performances and events, digital and augmented exhibitions, hologram use and haptic projects that harness technology to recreate the feeling of touch.
It's been interesting to be part of discussions exploring the possibilities and opportunities 5G capabilities offer us as artists. There's a real tension for us between the accepted corporate and business framing of opportunities new tech offers when, as artists, we place far more value on exploring new ways of engaging audiences in the stories we are telling, than in the tech's capital-generating capability. The 5G Explorer talks, exploratory workshops and conversational space have allowed for a rich exploration of our inclination as artists to creatively harness these tools for good.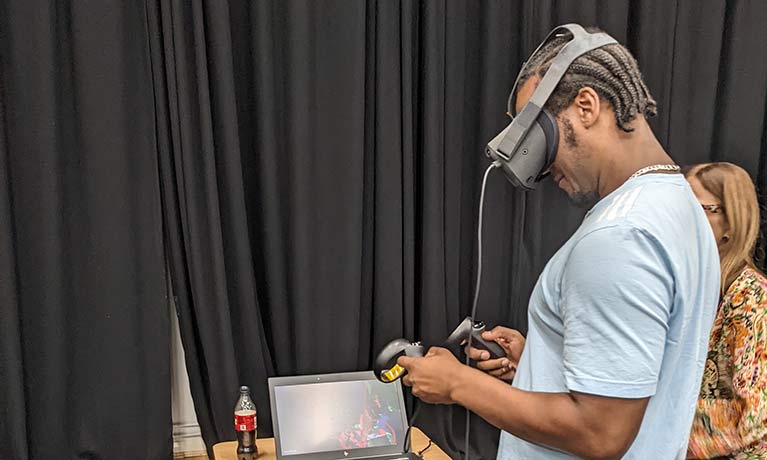 How 5G-enabled technology is transforming the arts.
The arts open our minds to the core of what it means to be human: spawning difficult conversations, making people laugh, inspiring others and laying bare the highs and lows of other people's lived experiences, however the arts manifest themselves in our lives, they help us make sense our environment, ourselves and each other.
Coventry University's 5G Creative Explorer project, places some of the region's most exciting and originative arts and cultural organisations at the forefront of the kind of technological advances, that will transfigure and innovate the sector for years to come.