A Community-Centred Educational Model for developing Social Resilience (ACES): Playfulness towards an inclusive, safe and resilient society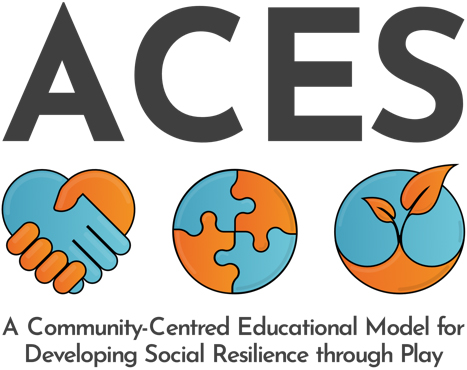 The ACES project, funded by the UKRI-ESRC under the Global Challenges Research Fund (GCRF), is building on the empathic and inclusive playful and gameful research and practice of Coventry University's award-winning GameChangers initiative and its sister initiative – CreativeCulture in Malaysia.
In the ACES project, we are investigating the impact of transformative education through playful approaches and experiences towards developing social resilience, targeting young people in Malaysia, Vietnam, and Indonesia. Aligning with the United Nation's Sustainable Development Goal on equitable, inclusive quality education, we are developing an innovative pedagogical model and its associated programme of playful, experiential, co-creative, and participatory activities. The ACES model aims to bridge formal and informal educational contexts and spaces towards an inclusive, safe, and resilient society.
Through the community-centred aspect of the approach, young people will be able to develop non-discipline specific capabilities that can sustain them as active life-long learners and contributors to their communities. Teachers and local community groups are engaged in the project to draw on local knowledge and experience, and to extend the co-creation and ownership of the educational process to the community. Project outcomes will be translated into policy and practice recommendations.
Project objectives
Investigate the context of the three countries in terms of the educational model mapped against the target sustainable development goals (SDGs) related to wellbeing, poverty and gender equality.
Co-develop, co-create and localise the playful ACES programme of activities with the project partners (with a focus on young people and school teachers) as the instruments to investigate an educational model that will enable social innovation in the community.
Co-design and co-develop participatory studies, involving ways to onboard and engage the local, rural and indigenous communities in Malaysia, Vietnam and Indonesia, targeting young people, school teachers and wider community residents.
Facilitate, capture and evaluate the experience, learning outcomes and transferability of the ACES approach, including the social and educational value of the proposed educational practice, and its ability to connect and reconnect communities into civic participation, social action and innovation towards achieving social resilience.
Consolidate the outcomes and findings, and the extent to which the educational model is replicable and scalable beyond the target communities.
Impact statement

Young people will benefit from the creative and innovative means for experiencing learning and applying knowledge - an educational experience that is inclusive and equitable, allowing them to develop their interests, knowledge, skills and talents, and contribute to the community. Teachers will be upskilled in the community-centred playful pedagogy. The creative, innovative and frugal approaches will make their teaching more relevant and emphatic to the local community and national development goals.

Other practitioners will benefit from the ACES model of education - how education can include social innovation and enterprise as means for contextualising cross-subject teaching. Community actors and groups will be mobilised to respond to local challenges, leading to tangible outcomes that will consequently empower those involved. Makerspaces and the likes can be part of the community-centred educational model. ACES will provide recommendations for how educational institutions, such as schools and universities can redesign the way the curriculum is delivered. The frugal approach to sustainable social innovation will empower the community groups, young people and practitioners to excel despite the lack of resources towards economic diversification, impacting socio-economic value through social entrepreneurship. Creative and innovative capabilities are also crucial assets to the creative economy.

ACES' practice and policy recommendations will provide an overarching direction for how this model of education can be situated alongside existing curriculums, recommending future development and redesign of the curriculums to embed social innovation - towards more sustainable poverty alleviation. The advisory board members will be directly involved in the process by reviewing strategy and outcomes from the project, whose practice will also be impacted. Policy makers will have access to the recommendations, informing youth development and education agenda in the countries and beyond.

Outputs