On Gesture
Project Team
Darren Berkland
Project Objectives
The project aims to open research avenues around the topic of gesture and gesturality, in order to explore their role in the emerging postdigital landscape. Drawing upon the ongoing research developed by the organisers, this project comprises a series of research seminars that approach a number of elements that articulate the overarching structure of the project. More specifically, they are:
- The inputs from a variety of disciplinary fields, all exploring the idea of gesture;
- The methods employed to explore gesture across academic fields and artistic practices;
- A number of key concepts emerging in association with gesture and the most established literature around it.
Following these elements, the project is structured in three phases. The first phase of focuses on Approaches & Questions and culminates with a first open and free event, whose main objective is to create a platform for exchange revolving around the key concepts, issues and texts describing and analysing the idea of gesture at large. We want this to be a truly explorative moment, it is of vital importance to bring together the contributions from within CPC and Coventry University, and a set of external, interdisciplinary voices on the matter. We believe this is key to initiate a fruitful dialogue leading to the identification of key areas of interest, which can potentially serve as shared interests to be further explored in future projects and collaborations.
The second phase of the project focuses on Sites & Practices and culminates with a second research event that aims to put into practice the theoretical questions discussed in the first phase of the project by exploring how to best apply the emerging methodologies.
The third and final phase of the project ties together the previous two and reshuffles the key points which emerged and were discussed transferring them onto the level of creative and cultural production. This phase will have with a particular focus on Forms & Aesthetics.
As of October 2019, phase one of the project has produced an interdisciplinary research day that has created a space for fertile discussion on gesture through a variety of disciplines and subject-areas without settling on any one specific definition or formulation of the topic. Rather, the multifaceted interest around the idea of gesture and gesturality was kept unfettered and aimed to extend and complexify the vocabulary surrounding gesture as opposed to tying it down to a single characterisation.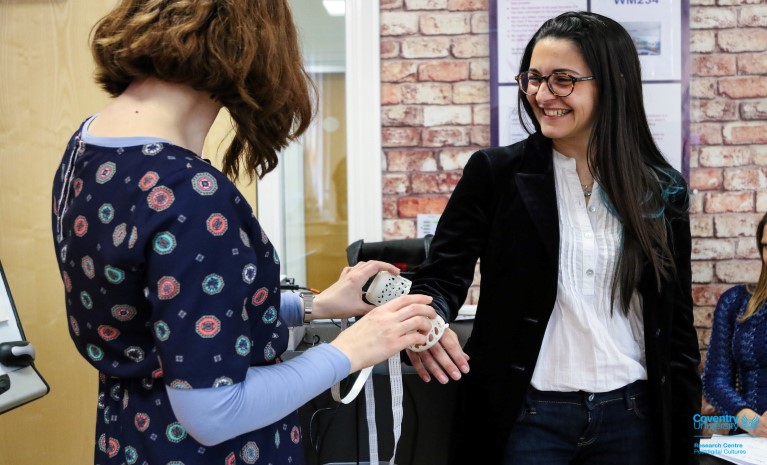 Media Outputs

Click on the name of the speaker to listen to their the talk:

Bonnie Evans: Cinema, Gesture, and the Invention of Psychological Normality
Caroline Molloy: The Politics of the Smile: Looking at framing and gesture in early studio practices
Tina Kendall: Gesture and the Biopolitics of Networked Media: Vine Videos and #Boredom
Darren Berkland: Presenting a Research Paper: a Gesture

See photos and images from the event on Flickr

Presentation Session Speakers

Darren Gary Berkland is a South African-born PhD candidate in the Centre for Post-Digital Cultures at Coventry University, UK. He obtained his Bachelor's degree at Nelson Mandela University in Port Elizabeth, completing an Honours in post-colonial literature and a Master's in media studies and visual design. His current research interests explore the complex relationship between the selfie, the mirror, and the way we embody our mobile devices. He has presented papers on gesture at various symposia and conferences across a variety of disciplines including photography, journalism, and health and wellbeing. Darren was a team member on the Google Digital News Initiative project Coventry Blitz VR which aimed to explore the pedogeological possibilities of virtual reality and gamification.

Tina Kendall is Principal Lecturer in Film & Media at Anglia Ruskin University. She has published on extreme cinema and on negative affect and the new materialism in cinema, in a range of publications including Cinema Journal, Film-Philosophy, New Review of Film & Television Studies, and New Cinemas: Journal of Contemporary Film. Her current project theorises boredom and attention in relation to twenty-first century media, and her most recent publication is '"BOREDWITHMEG": Gendered Boredom and Networked Media' (New Formations 93).

Bonnie Evans is a Wellcome Trust Senior Researcher at Queen Mary, University of London. She is interested in the history of film and its relationship to scientific and artistic change in the twentieth and twenty-first century. Her 2017 book The Metamorphosis of Autism: A History of Child Development in Britain (Manchester University Press) explored how autism came to achieve such significance within the psychological sciences over the course of the twentieth century. She is now working on the role of film in establishing psychological norms. She has a BA from Sussex University in the History of Art, an MSc in Economic and Social History from Oxford University, and a PhD from the Department of History and Philosophy of Science, Cambridge University. She has lectured in the history of child sciences, race sciences and eugenics and has explored the role of documentary film within this. She has also worked as a policy and media advisor.

Caroline Molloy is a senior lecturer in Photography, alongside of which she is a part time PhD candidate at the Centre for Photographic History at Birkbeck, University of London (expected completion 2019). She has an MA from the Royal College of Art in photography and an MA in visual anthropology from Goldsmiths, UoL. She has spoken at a number of international conferences, including Visualising Home at the University of Cumbria, Format photography festival, the International Conference of Photography and Theory in Nicosia, Cyprus and the Photography History Research Centre in De Montfort University. Her work was exhibited at the JAIPUR photo (2017) and Doh Mix Me Up (2014) Leverhulme Arts event with Oxford University.

Artist Talk and Round Table Session

Dr. Agata Mergler contributed to the study day with a performative artist talk drawing upon Haptic/Visual Identities, a collaborative medi art project initiated in 2015 in Canada and created in association with Ecuadorian artist and researcher Cristian Villavicencio (adjunct at the University of the Arts Guayaquil and PhD student at University of Basque Country).

The project brought moving image works (Portbou and Bilbao y el Mundo) to Jihlava International Documentary Film Festival in 2016, Garden Exercises to Jihlava IDFF in 2017, and to a nukber of galleries in the form of vídeo installation (Khora, Quito; BilbaoArte 2017 and 2018; NawNawNaw, Cuenca 2018; Violenta, Guayaquil, Ecuador 2019).

The project has been presented in numerous conferences and art talks in Postdam, Prague, Quito, Guayaquil, Toronto, Amsterdam, Corvalis, and it has been the subject of articles such as "Haptic/Visual Identities – A Project between Art and Research", Dokrevue, February 2017; "Collaboration, Media, Praxis: Haptic/Visual Identities Project", Post(s) vol 3, 2017.

A selection of photographs from Caroline Molloy's doctoral project was on display so as to complement the talks.