Comprehensive Tourism Revival Framework for Socio-Economic Development in Post-conflict Kashmir: Lessons from Northern Ireland
Funder:
UKIERI - British Council
Duration of Project:
01 April 2019 to 31 March 2022
Value:
£199,990
Coventry University Project Team:
Dr Maharaj Vijay Reddy
Collaborators:
Prof Stephen Boyd (Ulster)
Prof Sandeep Kulshreshtha (IITTM)
Prof Parikshat Manhas (Jammu)Project Partners:Ulster University
University of Jammu (India)
Indian Institute of Tourism and Travel Management
---
Objectives
Tourism can contribute to peace-building by strengthening the socio-economic foundations and contributing to inter-communal dialogue in post-conflict areas (e.g., Northern Ireland, Croatia and Rwanda).
This international project's focus will be on one of the important and challenging areas in South Asia – Kashmir, which used to be a leading tourist destination for generations. However, the conditions for tourism and allied industries in the region are made exceptionally difficult by the legacy of more than 30 years of violence,
political instability and military tensions between the nuclear neighbours, India and Pakistan.
Based on the lessons that emerge from Northern Ireland, this project aims to explore the factors affecting the tourism sector in (the Indian-part of) Kashmir by investigating the multi-stakeholder perspectives on the opportunities and challenges to propose a revival framework to adapt during future crisis. It will also analyse international and domestic tourist perceptions.
A strong research strategy, dissemination and stakeholder engagement plans are also proposed by the research team.
Impact Statement
This challenging, high impact research project is the first of its kind and is delivered by leading international experts in tourism and disaster management from the UK and India.
Field research will be undertaken in Northern Ireland to gather the views of different stakeholders and discover the actions which facilitated the development of tourism after the Good Friday Agreement. The tourism framework that emerges will then be applied to field research in Jammu & Kashmir destinations.
After analysing the data, the project will engage Kashmiri and India based stakeholder groups in tourism revival workshops in Jammu & Kashmir to disseminate findings as well as to develop their capacities in handling crisis situations.
Tourism is widely recognised as contributing towards 2030 Sustainable Development Goals. The project investigators from Coventry, Ulster, IITTM and Jammu will prepare the manual or framework with a set of strategies (c. 100 pages) for post-conflict tourism revival in Kashmir with an aim to strengthen thousands of local businesses and ailing communities, and foster socio-economic development in the region.
In addition, this project will help in terms of capacity building and to increase awareness among Indian tourism researchers to handle tourism crises following sudden events in India. The latest events include, Mumbai terrorist attacks (2008), floods in Uttarakhand (2013) and Jammu & Kashmir (2014), and recent events following the Uri Army Base attack by terrorists (September 2016).
Internationally, lessons from Northern Ireland and Jammu & Kashmir can provide useful findings for tourism revival in other destinations where there were conflicts in the past (e.g. Bosnia & Herzegovina), and ongoing conflict areas (e.g. Ukraine).
Outputs
This project will result in a minimum of four peer-reviewed international articles.
Kashmir Tourism Revival Manual (c. 100 pages).
Stakeholder workshop/symposium in Northern Ireland.
Stakeholder workshop/symposium in Jammu & Kashmir.
An international conference will be organized with the leadership of IITTM and Coventry University.
Additional Information
This project funds two PhD studentships, on Northern Ireland and Jammu & Kashmir, to be based at Coventry University. The two PhD theses will significantly add to our understanding of the crisis theory with particular reference to situational (tourism-centered) crisis in post/conflict areas.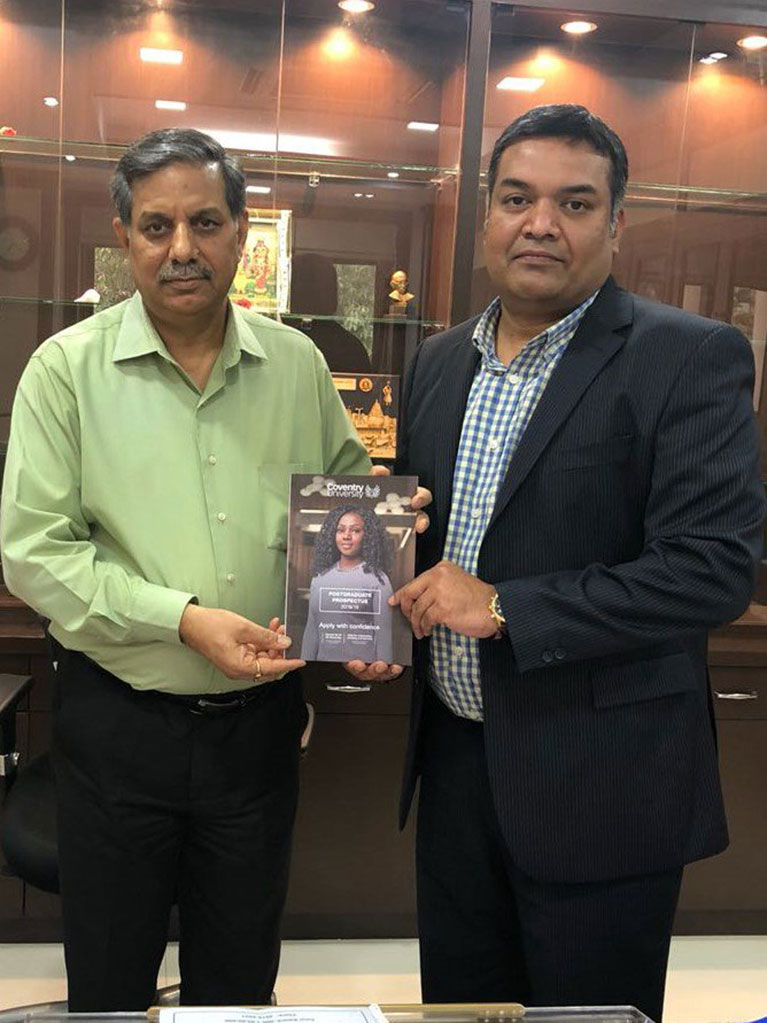 Dr Reddy meeting with UGC India Chairman, Prof D.P.Singh