'EEEP' - Enhancing Engineering Education Project, with WSU and SU
Funder
Department of Higher Education and Training, RSA, University Development Capacity Programme
Duration
06 June 2018 to 05 June 2022
Collaborators
Walter Sisulu University (WSU)
University of Stellenbosch (SU)
Project lead
Dr. Katherine Wimpenny
katherine.wimpenny@coventry.ac.uk
Team
Dr. Farzana Aslam,
Hannelie Du Plessis-Walker,
Dr. Luca Morini,
Barbara Howell
Project objectives
This project is in collaboration with the Walter Sisulu University and the University of Stellenbosch, South Africa. The project is focused on enhancing staff capacity building for knowledge exchange in engineering education and postgraduate supervision. The project is being researched in terms of staff and curriculum development, staff capacity development towards teaching for the 'world of work', application of Activity Led Learning/Problem Based Learning as a teaching and learning strategy, development of staff capacity to undertake postgraduate supervision and research on curriculum mapping as a tool for curriculum analysis.
Project impact
This knowledge-exchange project will take an holistic view of the engineering education space at WSU, seeking to capacitate staff to enable student engagement in effective meaning-making processes and practices as aligned to industry needs, and supported through explicit curriculum mapping and problem-orientated pedagogic initiatives.
Project progress
Professor Katherine Wimpenny
We recently returned from our first partner visit (1 – 3rd October 2018) to the Walter Sisulu University (WSU), South Africa, with colleagues from Stellenbosh University (SU). Our project partnership is focused on knowledge exchange for the enhancement of the Engineering Education programmes at WSU, with particular attention directed to staff capacity building. Five (connected) activities shape the project.
Staff and curriculum development for improving communication skills of the engineering graduates
Staff capacity development towards teaching for the "world of work"
Application of Project and Problem Based Learning as teaching and learning strategies
Development of staff capacity to undertake project supervision
Research on curriculum mapping as a tool for curriculum analysis
During our partner visit Dr Farzana Aslam and myself were able to:
Meet with partners from WSU and SU, with time to get to know one another, and talk about our shared understanding of the project and its ambition.
Understand more about the local context and to visit the various sites of the WSU campus, where the engineering programmes are delivered. Here we could have chance to speak with students and staff, look at the teaching and learning environment, including the physical resources, as well as understand more about economic and socio-political dimensions.
Contextualise how questions within the toolkit we are working on at Coventry University, can be designed to access / understand baseline perspectives from students, staff and employers about the engineering provision and its ability to ensure graduates from the WSU engineering programmes are 'work ready'. In addition, to ensure the toolkit does not duplicate previous 'data' collection, nor serves to overwhelm, or divert from the focus of the project.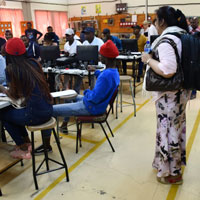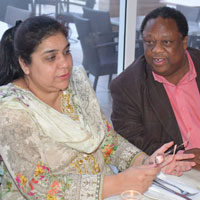 Knowing more about the aforementioned could serve to inform our baseline understandings and perspectives on how the project activities can begin to be negotiated.
When looking more closely at the contextual issues as we visited the various sites and spoke with staff and students we learnt a lot about governance, management and leadership, the student learning environment, institutional cultures, teaching and learning practices, research and knowledge systems, and the political economy of WSU. What was also evident was the way in which students were keen to speak with us and engage with us as we visited their various classrooms. There was an energy and enthusiasm apparent, and despite only having a few hours to talk with students, those we met with only
wanted to hear more about the project and ways in which they could get involved. Similarly, when speaking with staff, especially at our full-day event following the site visits, it was evident that there is a positive energy and excitement about the potential of the project and what it can achieve, and we already have staff keen to join the activities, as our local partners, from across the Centers for Learning and Teaching Development and academic lecturers from across the various Engineering programmes.